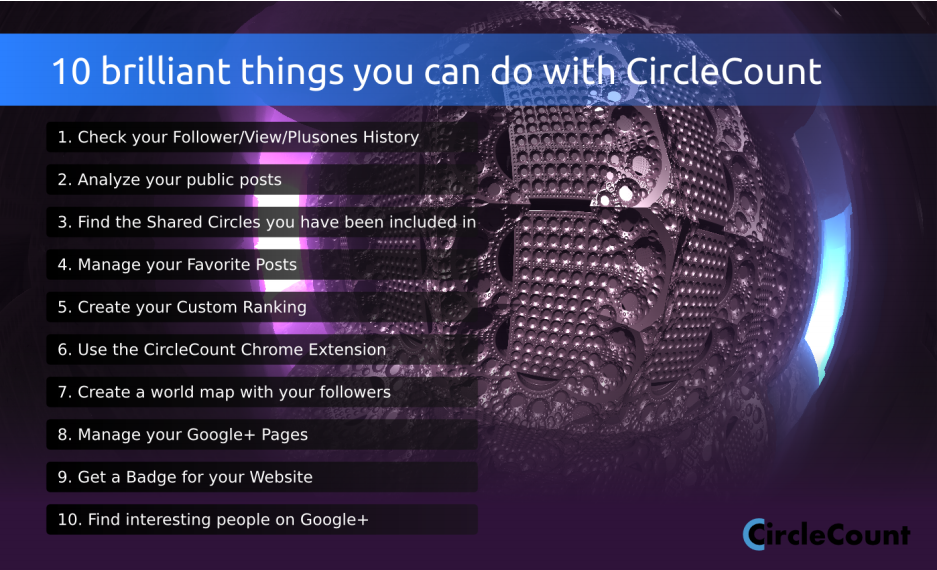 Circlecount really is an amazing site - here are just 10 of the cool things that it will enable you to do!
1. Check your Follower/View/Plusones History
On CircleCount.com we are tracking the follower count and the view count daily. For Google+ pages we are tracking the plusone count as well. We are only tracking publicly visible numbers so that everyone can check how up-to-date these numbers are.
Here you find for example the follower history of +CircleCount: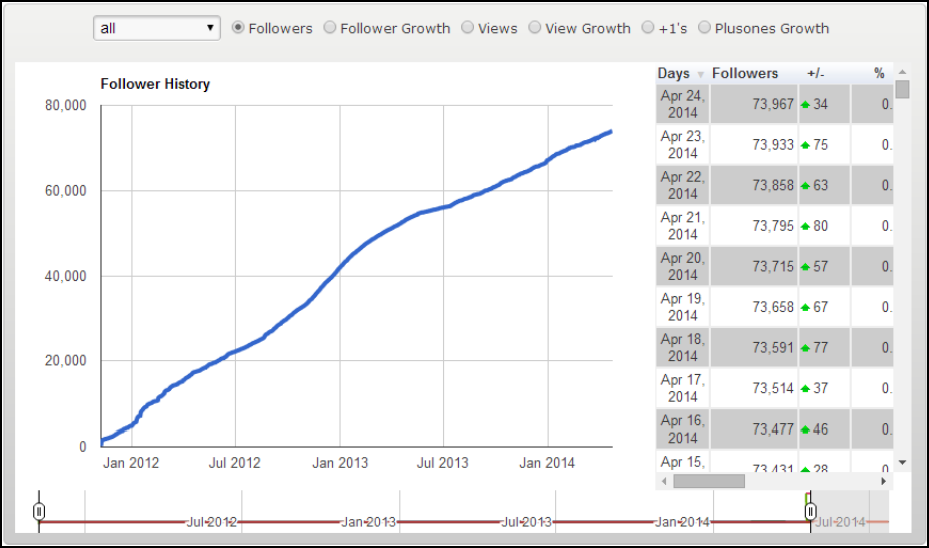 To get your profile or page tracked, you just need to login with your Google+ Sign In on http://www.circlecount.com/freelogin/ or add your Google-ID in our startpage: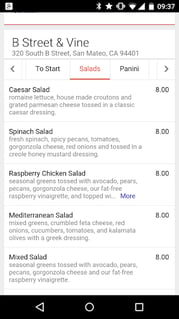 2. Analyze your public posts
On CircleCount you can get an analysis of your Google+ posts for free.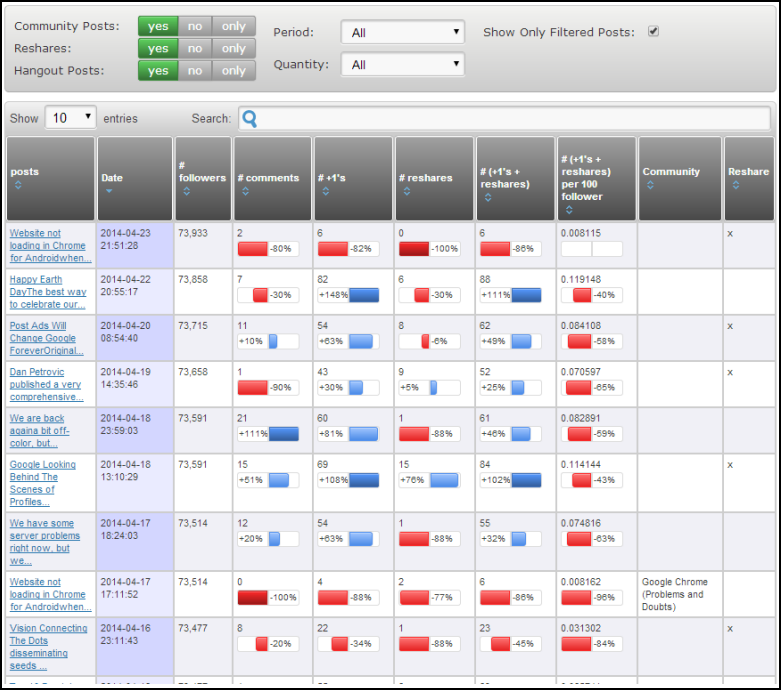 You can order your posts by different metrics, like the number of comments, reshares or plusones.
Furthermore, you see at a glance which posts got more responses and which ones did not get any response.
Another cool feature is that you can search without any page-reload within your posts with the search field at the top of the posts table: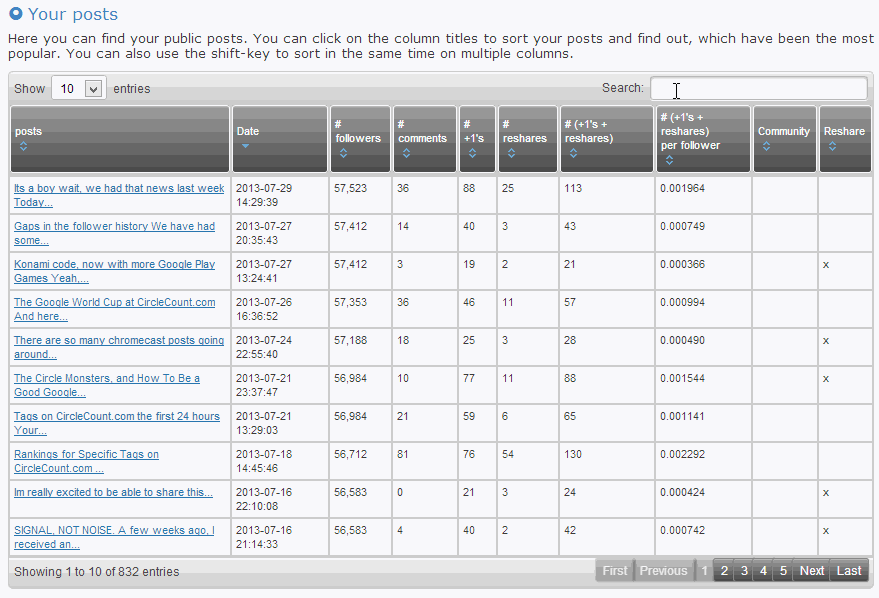 3. Find the Shared Circles you have been included in
Shared Circles are a way to recommend the people and pages you like on Google+. Everyone can create a circle and share it publicly. You can add such shared circles with just one click to your own circles on Google+.
There is no notification on Google+ when you have been included in such a shared circle so that you do not have a chance to see them all.
On CircleCount on the other hand, we are indexing most of the publicly shared circles and you can check every day on your profile, if you have been included in a new shared circle.
Why not stop by there and say a short 'Thank you' to the person who has recommended you?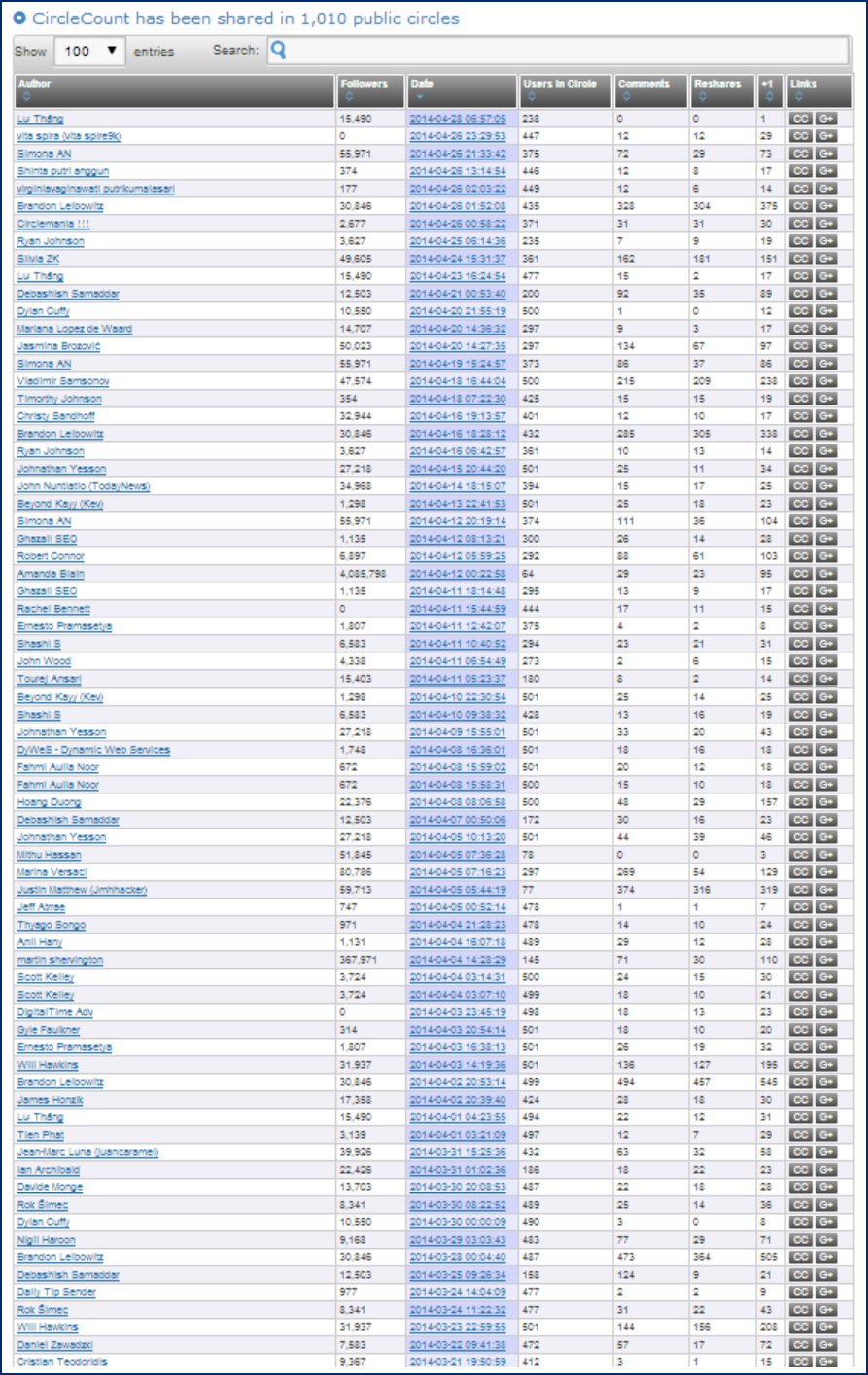 4. Manage your Favorite Posts
Managing your favorite posts is pretty difficult on Google+, since there is no native way to do so.
You can create an empty circle and share a post just with this circle or create a private community and share a post into this community. Both ways have the effect that you have to reshare a post, which is not bad, but can lead to confusion for the original author ('why did he/she reshare this post and with whom?').
On CircleCount you can manage your favorite posts with just one click (when you are using our Chrome Extension, see point 6) or by copying and pasting the url of the post into your favorite posts. You see, both ways are pretty convenient.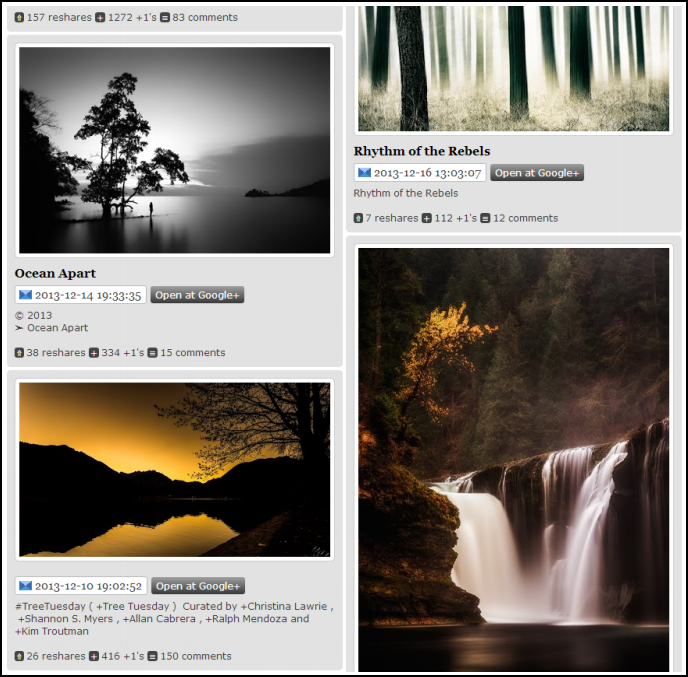 Here are a few examples:
Start your own collection here and share it with us!
5. Create your Custom Ranking
There are many different rankings on CircleCount (by follower count, by view count, by engagement and so on).
With the Custom Ranking feature you can define your own criteria to create your personal ranking.
It is possible for you to include:
the number of followers
the average number of comments, plusones or reshares per post
the country
profiles and/or pages
when last public post was done
the minimum number of characters per post
You can also share your custom ranking and show everyone how to find:
6. Use the CircleCount Chrome Extension
With the Chrome Extension of CircleCount you can get additional information on any Google+ profile or page without having to leave Google+.
The hovercard, which is available on Google+ will get expanded like shown in the following screenshot and you are going to get information like the number of followers, the average response on the last posts, the last public post, the country, if the person is following you or not and much more:

On every profile or post page you will see a follower chart with a direct link to the CircleCount.com profile, no need to search anything anymore: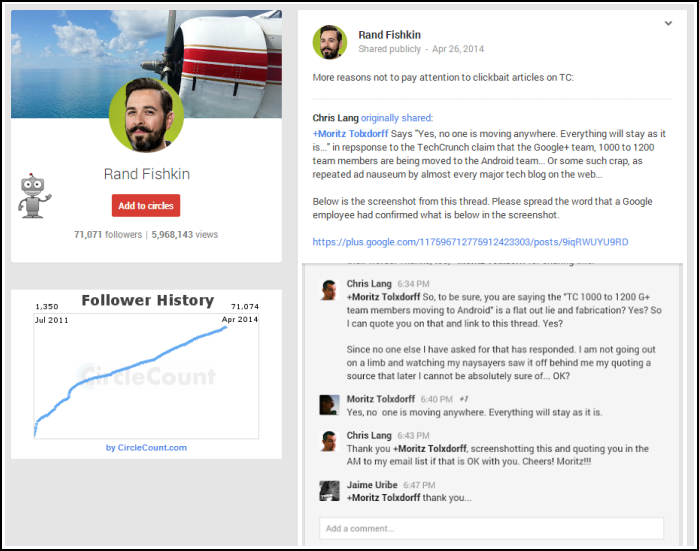 You can get even more information with a click on the CircleCount icon in your toolbar: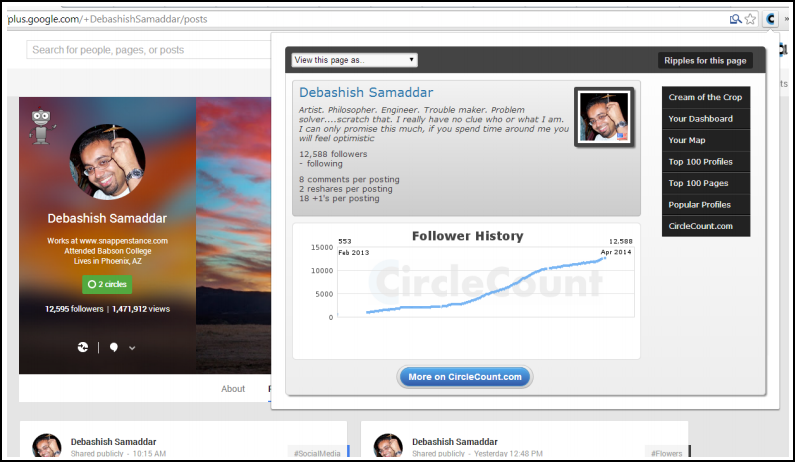 As you can see in the previous screenshot you also have the option to view the current profile/post/community as one of your pages. It is pretty cumbersome if you want to get there without any help.
You get the possibility to highlight comments written by the author of a post, mentioning you or written by you. With this feature you won't need ctrl+f anymore: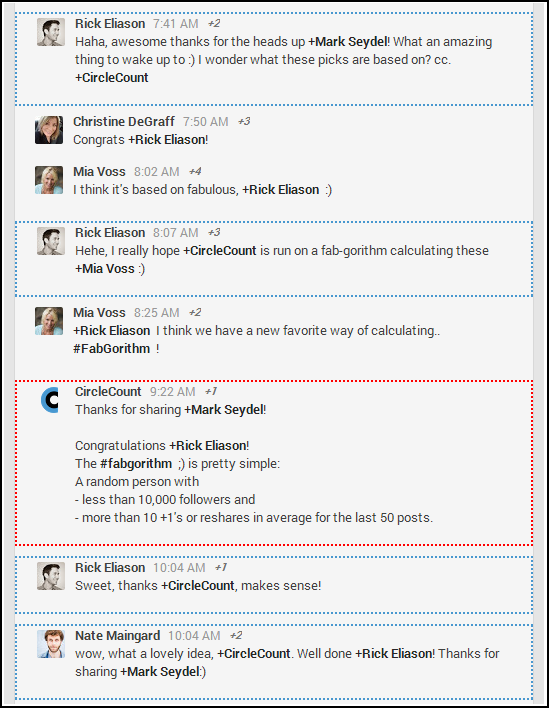 You will also get some additional buttons for each post, so that you can add a post to your favorite posts on CircleCount.com with one click (see '4. Manage your Favorite Posts' above) , add a shared circle to our index (see '3. Find the Shared Circles you have been included in' above) or just open the ripples of this post without having to search for the context menu at the top right of the post.
With the Chrome Extension you are aslo able to sort the communities on Google+ alphabetically, so that you won't need to search for one of your communities anymore, it will always be at the same place.
7. Create a world map with your followers
The best way to visualize a global project like Google+ is to put the users on a map. In this case you can put your followers on a map and see the great reach you have on Google+: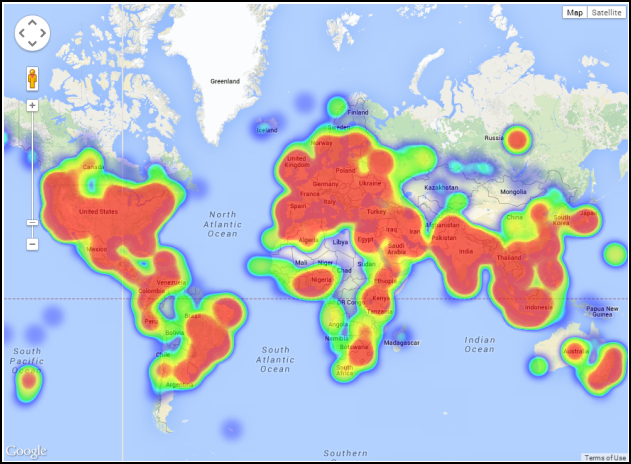 Get your follower map here!
This is the result of putting all profiles we have in the index on a map.
The next image is created only by putting the users on a blank image, no map is used here! +Rick Lutz has added some colors on the generated image afterwards.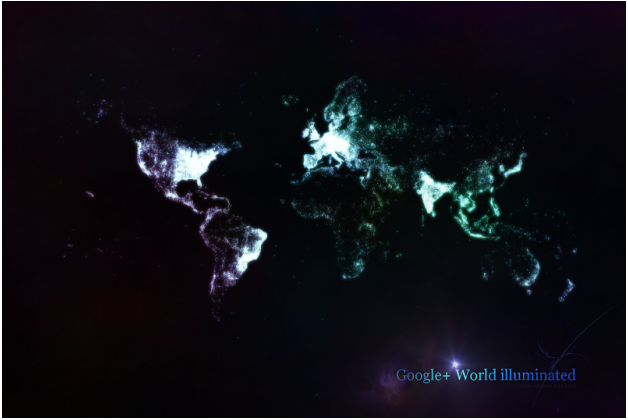 8. Manage your Google+ Pages
You can use most of the features already mentioned for your Google+ pages as well. The easiest way is to create a login for your page. Here is the help page of Google+ describing what you need to do.
But you can also add your page here by using our own authentication process.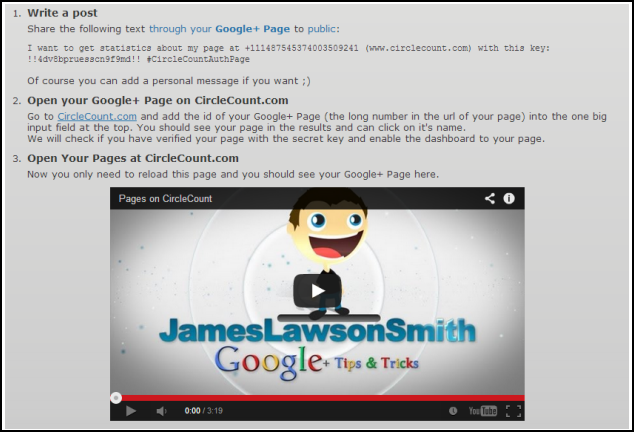 9. Get a Badge for your Website
Google+ is offering a badge for your website. We have seen many people wishing a badge with more information and that's why there is a Google+ Badge by CircleCount.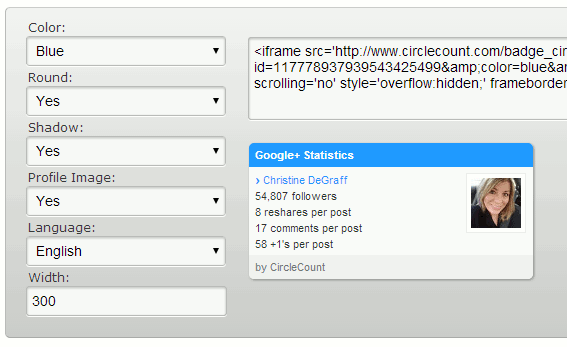 You can customize the badge so that it fits perfectly into your page. Change the color, the corners, the shadow, the image, the language and get it at any width you like.
10. Find interesting people on Google+
There are many different ways to find interesting people on CircleCount.
On every page/ranking you can use the filters at the very top of the page:
the gender
the country
the tags
You can even combine these filters to find for example:
As you can see, there are endless options to find interesting people by using CircleCount.
Another way to find interesting people is by using the shared circles we have indexed.
There are some great curated shared circles on this page.
You can also open the profile of someone you know and check the shared circles he/she has been included. The chance is big that you will find shared circles including people with the same interests.
For example, you can start with the profile of +Richard Green if you are interested in Mathematics and you will find this shared circle of scientists created by +Bob Calder.
Just another way to find interesting people is to check the Cream of the Crop on a daily basis.
Here you will find people having:
less than 10,000 followers and
more than 10 +1's or reshares in average for the last 50 posts.
We hope you were able to find out about some interesting features of CircleCount.com and you will be able to incorporate them in your everyday business.
Please feel free to contact us via our Google+ page or via the contact form on the webpage, if you have any ideas, suggestions, questions or if you just want to wish a great day.