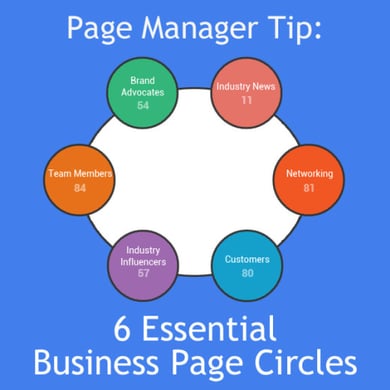 Google Plus has a fantastic system for managing the people and pages you follow, called Circles. For those familiar with Twitter, they are like private Twitter lists, in that the person you are following knows that they have been added to your circles, but they do not know how many circles, nor the names of them.
As you navigate the news stream of content on Google Plus, you have the ability to jump into a single circle and view the posts shared by only those users within the circle.
For page managers, this is a big productivity tool.
Now, there are many circle strategies, and I would add that circle management should be a small part of the daily tasks of every Google Plus user. But for business pages, the following six circles are essential:
1. Brand advocates
Your brand advocates on Google Plus should be in a special circle, so you can maintain good relations with them by plussing, commenting on, and sharing their posts. What's more, the network that they have built around themselves will see your activity on their posts, and possibly lead to new business opportunities and followers.
2. Team members
This is an obvious circle; place all your team members and page managers in a circle, for the same reasons as the brand advocates. You should also turn on notifications for this circle, so you can keep track of what your team members are posting on Google Plus, and ensure that they continue to represent your brand properly.
3. Industry or keyword influencers & bloggers
Depending on your industry, you might want to break this circle into smaller circles. The premise here is to be able to track the Google Plus posting activity of those who are most influential in your business. The more opportunities you have to build relationships with them, the higher the chance that they share one of your posts to their huge network, write you up in a blog, etc.
4. Customers
The goal of interacting with customer posts is to foster the relationship much like your brand advocates. But be careful: while the names of your circles or who is in each one is not publicized, the people in your circles can be shown on your page's About tab. You have the option to exclude that circle if you wish, so competitors don't come and cherry-pick the people who look like your customers.
5. Networking
Google Plus offers tremendous opportunities to network with others. For example, if you are an IT recruiter, you could have a circle of IT bloggers that you notify when you have new positions you need to fill. They can, in turn, help get the word out. And of course, be sure to reciprocate whenever possible.
6. Industry news
Staying on top of your industry's news is easy to do on other social networks, and it is just as easy to do here on Google Plus. If the major news outlets for your industry are posting on Google Plus, you can reshare their posts to your profile to keep your followers abreast of the latest developments. Or, you can use this circle to find new information which you then post yourself with insightful commentary. This way, if your posts are shared, your insights aren't lost as they would be with a reshare of the original Google Plus post.
There are many more ways to break this down, of course, but these six circles are essential to any business. What would you add?