Introduction:
Blab is a new broadcasting platform. And a fun one at that.
You'll find it here: blab.im
There are four 'seats' available, and the display looks like this: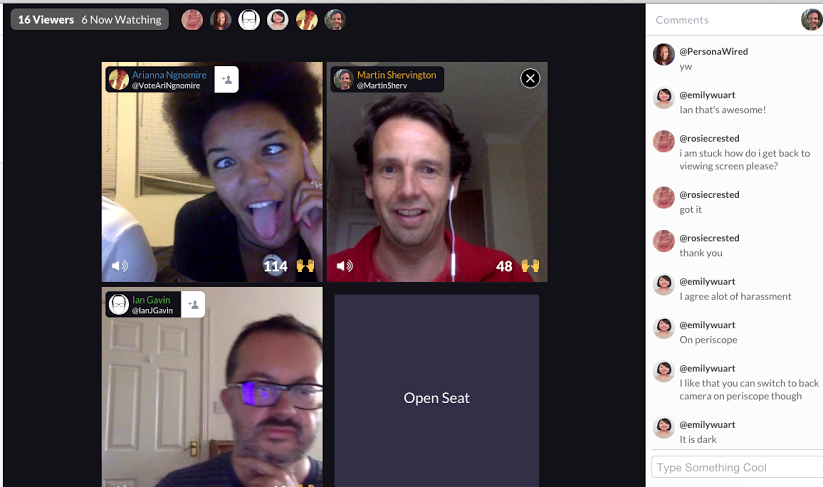 I know what you are thinking, "Do we need yet another way of communicating?" and "I've only just got 10,000 hearts on Periscope, and now you are telling me about this!"
But let me explain...
Every platform is different, yes. Every platform develops a culture, and a user base guides it. And right now there is a reason people are exploring Blab - they are doing some of the work for content creators, making it easy to take 'a blab' (broadcast) and have it automatically delivered as MP3, MP4 and embed codes for your site.
Personally I find Google Hangouts to be a very flexible too - both on air and off air versions, yet can see the appeal after playing about for a day or so.
One BIG bonus with Blab is the ability to toggle the event on and off air. I think used well, it could really save time editing post an event - loads of ideas around this, but maybe for another day.
Thanks to Arianna and Hermine Ngnomire for their guidance, and to Ian Gavin for his tips too.
Quick overview
First off, here is their official Tips and Tricks guide here...
https://medium.com/blab-blog/blab-faq-851d23e3bdfb
I see one of the main business applications as podcasting, but as with all community building platforms (you can have people follow you, subscribe for scheduled events) it is good for brand building.
And more than anything, it is really new, so could well attract some content creators that work out cool applications soon as well.
Here are a few features:
The overview page will show you the events that are live now, and ones scheduled: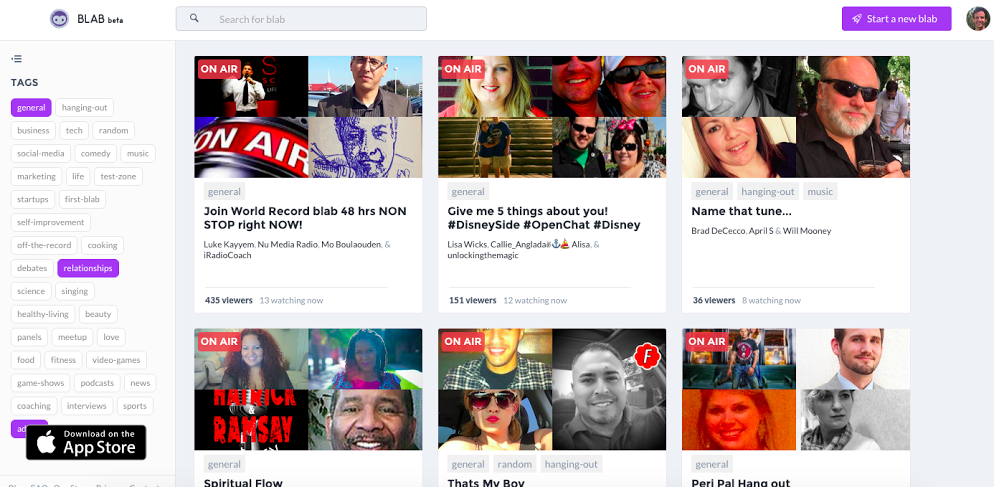 Setting up a broadcast
It really is easy to host a Blab. And you can choose in a 1,2,3 step process a Title, tags (good for surfacing), and 'now or later'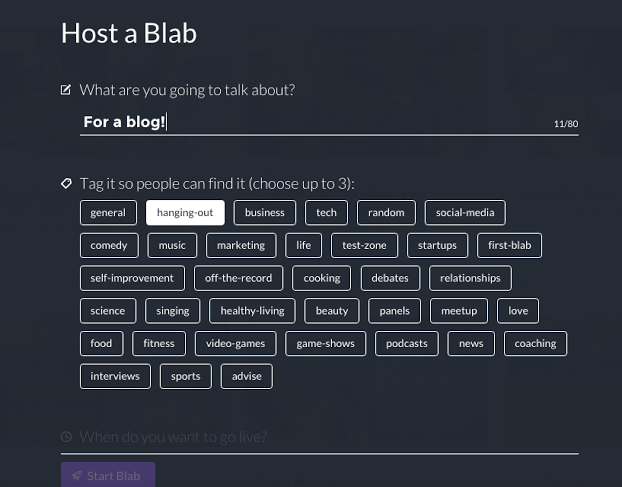 When you are in a Blab...
1. One of the main, best features is the ability to go on/off air - i.e. only recording the bits that you want.
2. They will send you an MP3 (e.g. add to Soundcloud, or upload to iTunes), and MP4, and an embed code (apparently within 10 minutes of the broadcast ending)
3. You can easily tweet people that you/others are live
4. Stream of comments to the right on a desktop
5. People can request to enter, or can you 'lock it' and prevent that functionality
6. People can 'like' - clap - an individual's screen and give some love, but these do not show post event on the recording
7. You can use /q to draw attention to a question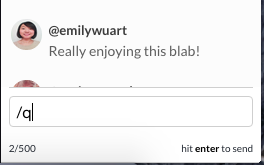 And it will show: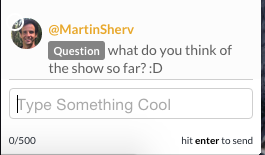 8. You can use /topic to change (take over) the Blab name
There is also this on their blog: "/shrug or /tableflip to express yourself. ;)" (try that one for yourself!)
9. You can star/like someone's comment (like a plus one, reinforcement in the stream)
10. You can reply to someone's comment, and it will auto populate with their @name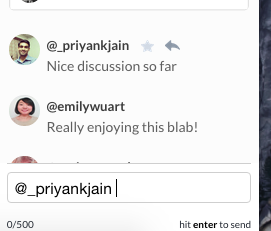 11. You can follow them on Twitter, just a click away.
12. I've started to add people to a Twitter list to make the most of connecting across platforms.
Tip: if you are having issues with your camera, click on the 'lock' in the upper right of your browser and you will get this window - change your permission by clicking on that tab.
(thanks Hermine!)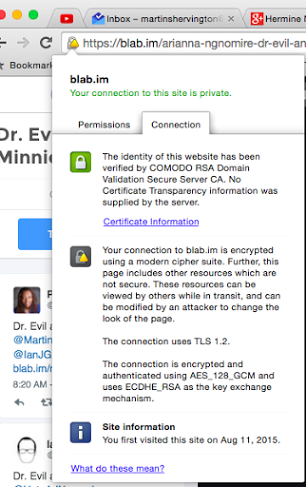 And finally...
This really is just the beginning, and with new features promised it will be interesting to see how people's creativity flows.
It is different to the rest and deserves your attention, if you dig such things. And let's face it, we all do.