Our mission
To build a new type of global cat loving, feline posting, business network using Google+, putting the #Caturday community first.
(But those who know the PYB team, will spot we are making sure people value REAL social activity, and authority building, not just trying to get page view counts!)
Who is it for?
Do you love the odd gif? I mean, who doesn't, right?
But what if we had a system that would help you succeed on Google+ just using just cat gifs?
That'd be sooooo cool?
Well, this is for anyone looking to take their 'cat gifology' much further!
What is the evidence your courses?
I've had 120,000+ views on the +Plus Your Cat! page with just a few cat gif. And you can do the same!
Course Levels and Catification
There are five levels, all constructed around a competence framework and rigorous testing process, and peer review.
Level 1 - Kittens
Level 2 - The Cats Pajamas!
Level 3 - Purr machine
Level 4 - Dog chaser
Level 5 - Purebred
*At Levels 3 and 4, you will be able to make your gifs fly!
As you can see from the diagram below...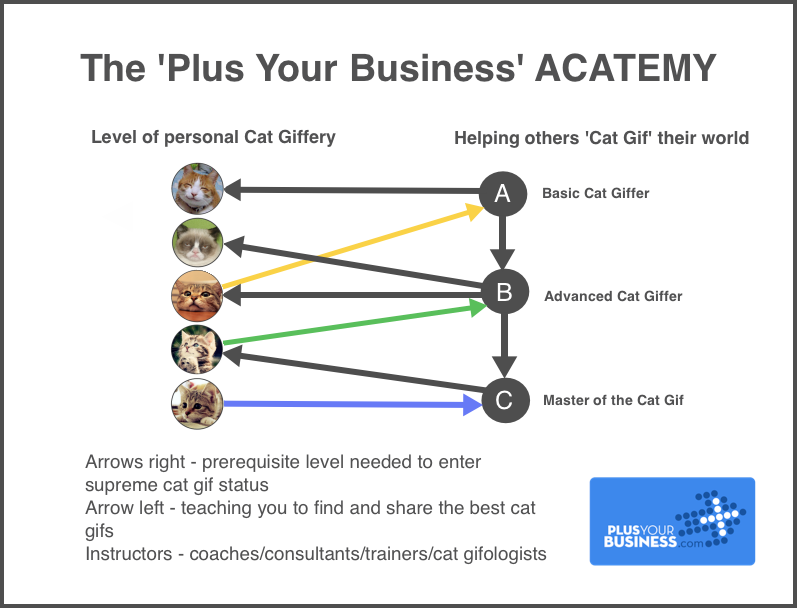 Course standards
These are set by the feline loving PYB team. The Levels go beyond abilities reflecting general Google+ skills to include, a full list of competencies, general business ethos, and catiquette.
As the person will be representing Plus Your Business we reserve the right to refuse anyone from joining the programs. No dog lovers allowed (ok, maybe just the small ones as they are like cats really).
What you will learn?!
The courses will cover how to...
[list-arrow]
Create AMAZING original content, using cat gifs
Learn how to DISTRIBUTE cat gifs across all channels DISCOVER the more influential people in your niche, who love cat gifs Generate a
NETWORK of people that matter for you and your business, using nothing but cat gifs
BUILD long lasting relationships based on reciprocity, of sharing cat gifs
Develop a community around you that LOVES what you do, especially your cat gifs
Create campaigns to get people EXCITED using cat gifs, and and have your content surface at prized positions in Search...
[end-list]
You, your boss and your business will be as happy with your social media marketing using Google+, as a feline friend on catnip!
Are you interested to be first to know more?
Well, get in touch and we will send you information on the opportunity.
2014 is the year Google+ will skyrocket, and we will help you be on board. Register your interest NOW by filling in the form below! Please note, this special offer of FREE places to the ACATEMY are limited so sign up straight away to avoid a catastrophe!
p.s. You know I am joking, right?
Join the 'Plus Your Business' Academy and make your content really work to get your social interaction and enable it to surface in Google Search. Cat gifs? Really? (ok, maybe occasionally but we will show you how to become an authority in YOUR niche, not kittens)