HOA Events are fantastic places to create interaction and build valuable relationships. They allow you to combine the power of a HOA (Hangout on Air) with the Event tool's awesome 'Landing Page' features.
Events are pages on Google Plus that host activity that starts at a certain date and time.
We recently had an HOA Event to host a live video demonstration (HOA) on how to create and utilize HOA Events to encourage interaction and relationship building... watch how to properly setup a HOA Event here.
The problem surfaces when you are setting up the Event. Many people know they want the Event to hold an HOA so naturally they are looking for an HOA choice when the Event tool gives them options.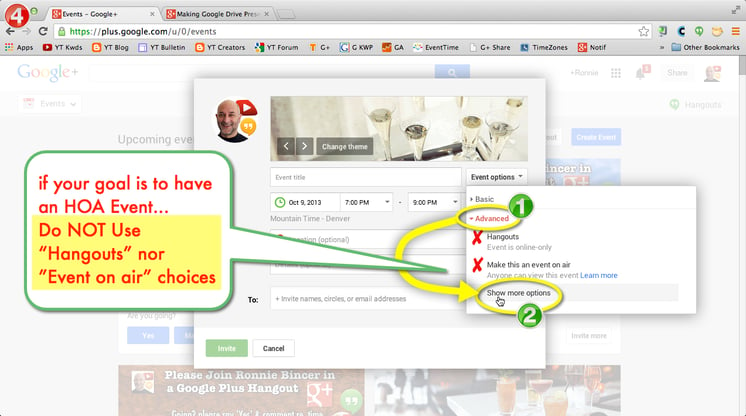 The main problem is that the tool currently does not have an HOA option listed. It has "Hangouts" or "event on air" but no HOA or Hangout on Air option.
The Event is one thing and the HOA is another... you bring the two of them together via the Event tool's Advanced option that shows "more choices" and then the "YouTube URL" field.
That YouTube URL Event field is the special field you use to hold the HOA's YouTube URL - which is only available to you once you have started up the HOA process just before show time.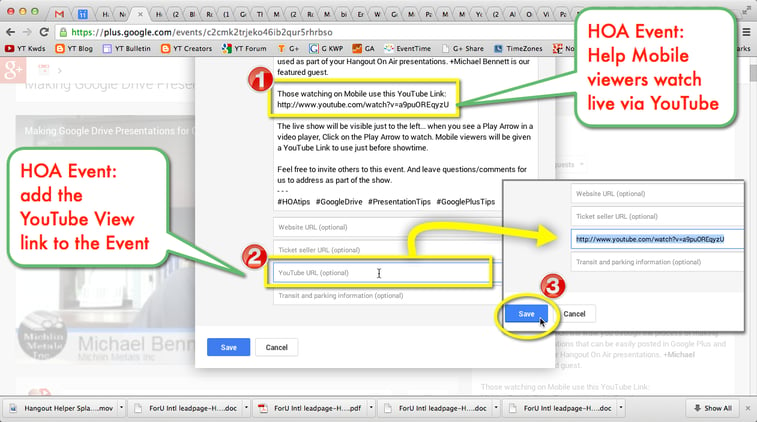 Watch the HOA Event to see the process used to build HOA Event's properly.
If making HOA Events and utilizing Hangouts on Air is part of your plans, be sure to follow +Ronnie Bincer on Google Plus.