Introduction
Let's begin with what Google say..."Helpouts connects people who need help with people who can give help over live video." And when I was on a call with them the representative also said "real help, real time, real people".
You will find Google Helpouts here.
How do they work?
Well, you will connect with people on a subject in which you are interested using the Google Hangout audio/video system. It could be everything from learning to play the guitar through to computer support through to learning how to perfect your asanas (it is a Yoga thing). Whatever you decide, there will be two options: free or paid.
Searching for Google Helpouts
Let's begin looking at receiving a Google Helpout yourself, or you may like to explore and see who else is providing Helpouts in the category which you would yourself provide.
You can do this by:
1. Searching in the top bar, or by
2. Searching by category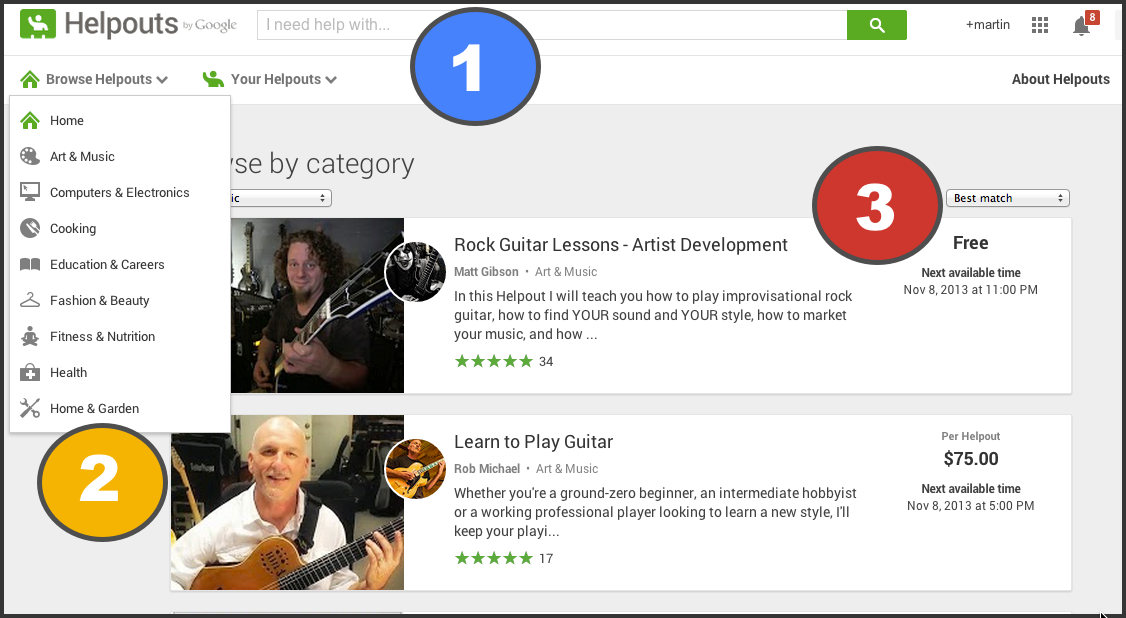 3. Then, once you have chosen a category, you can filter by: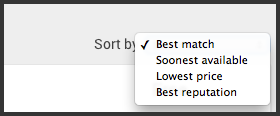 So, let's say you want to go ahead and have a Helpout:
Firstly, you will need a Google+ account. (More information here.)

And if you don't have a Google Account you can sign up here.
Thanks to John Elstone for supplying me with the links and keeping me up to speed on these aspects. (Doesn't he have a job?)
What technical specifications do you need?
Well, they are video and audio calls so you will need a camera and a microphone, but more on that here.
How do you pay when you are receiving a Helpout yourself?
If it is not free, then Google Wallet is required. More on that here.
Whether you are giving or receiving, there are two types of listing to consider...
Free listings
With the official launch of Helpouts on 5th November, but with a pre-launch starting a few weeks earlier, you will find a lot of people getting their feet wet through the free listings. Very often this will be a 15-20 minute session, but that is decided upon by the person who sets up the Helpout.
Paid listing
As a vetted provider (see below) you decide on the length of the session and the price for it.
How much do Google take as their cut?
20%
100% Money Back Guarantee
Here is what it says in the literature:
"If you are not completely happy with your experience, Helpouts has a 100% Money Back Guarantee. First, we'll suggest that you request a refund from the Provider of your Helpout. If the Provider does not issue a satisfactory refund, and you have complied with Helpouts Terms of Service and policies, Google will issue a refund."
So, also note from the providers viewpoint that this is the case.
The process of signing up to deliver Helpouts
Anyone can browse and book, but...
1. At present you will need to be given an access code to be able to get to the next stage of creating a Helpout listing. You can find that screen here: Google Helpouts
Then...
2. You will need to request a code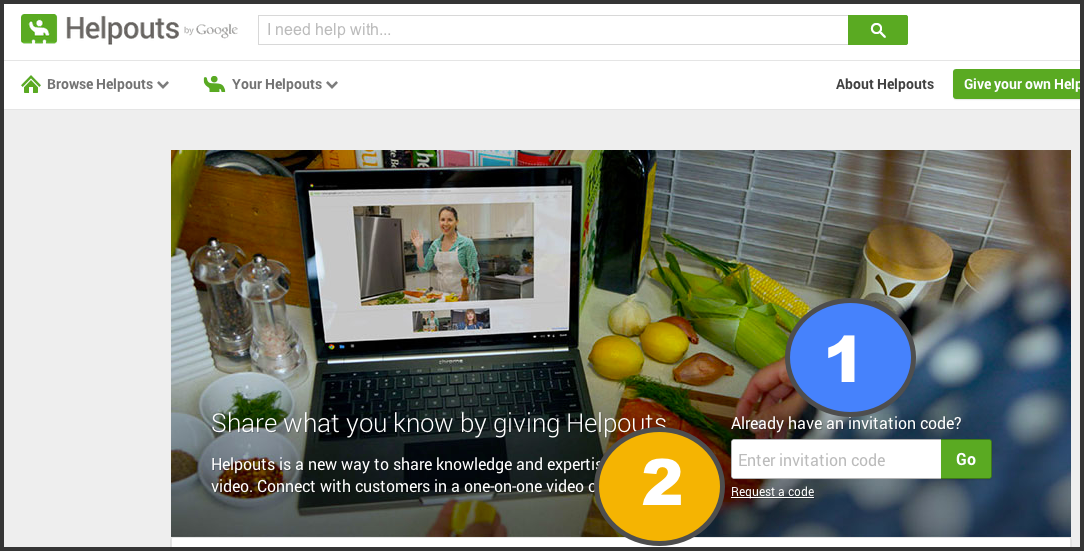 Once you've submitted your code you can then create a free or a paid listing. At this point you will agree to the terms of service for Helpouts. You really should read them, including this too.
Note: you will need to connect a Google Wallet account to your Helpout account in order for you to create a paid listing.
Creating your first listing
The step-by-step process is very easy to follow.
1. Give the title of the listing
2. Choose a category from the dropdown
3. Give a description of the listing - the first 140 characters will be shown when in its reduced format (but will be seen in full when they click to view the listing).
You can also include in this listing will be a little about yourself too in a box called 'Qualifications'.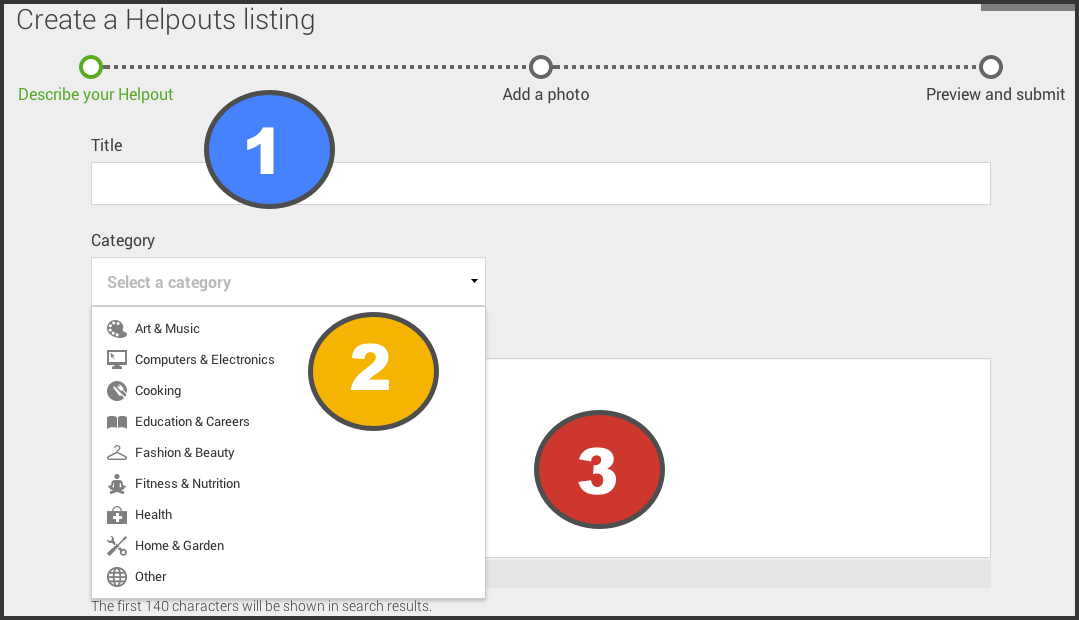 Next you can:
1. Choose Free or Paid
2. Set the price (you will need to link with your Google Wallet account at this step to receive money)
3. You can charge a cancellation fee by checking the box, which means...
Helpouts priced per Helpout will be charged half the total price.

Helpouts priced per minute will be charged for 5 minutes of service.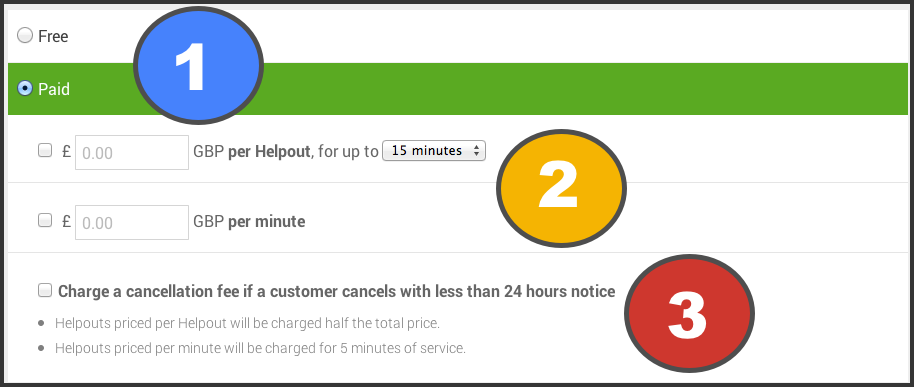 Then you can submit the listing for review and set up Helpout for an interview with a Google employee.
This is the same process when you create more listings in the future.
Are you looking to provide 'Health Services'?
Well, there are some guidelines you will need to read here.
Adding a 30 second video introduction
This is a great way to connect with people and 'sell' them on picking your services. It can recorded straight from your webcam or you can upload one from your computer. Simple.
The interview process
Really, this is more like a coaching session but there is a little bit of vetting that goes on too.
I don't know if they 'refuse' to allow people to deliver a service, but would assume that if you say you will be training "DIY brain surgery" and you received your qualifications from DubiousUniversity.com then I expect you won't have much joy.
I was interviewed by a very supportive chap called Ronnie who helped me shape my listing to make it personable and appropriate for 'Google+ Coaching and Consulting'.
A extra tip:
You can create two listings e.g. one free listing that is immediate, and then have another listing with the same content that is to be scheduled. Or vice versa.
Linking your account to Google Analytics
Once you have linked your Helpout account to Google Analytics you will see stats on who had booked, and cancelled, sessions with you. You will also see how many people have viewed your listing.
Managing your schedule
One of the great things with Helpouts is the ease at which you can make yourself available and manage who can book in a Helpout.
When you are too busy you will be seen as 'booked up' and the person seeking the Helpout can send you a message.
Building up your reviews
Right now there are a lot of people building up their reviews for 'free listings' and seem to be getting a lot of five stars too. This can be very useful for social proof.
Note: you can convert a free listing to a paid listing and this will allow the reviews to go with it.
What determines your position when people search for a listing?
John Elstone says "It certainly looks like available now people get pushed up highest - then I suspect number of reviews and score would come in to play. Here is the official information on that: How to improve your position in Helpouts search results.
Settings
Here a selection of the settings you will find when you click the gear/cog:
1. When you will be reminded about a Helpout
2. Choosing to receive notifications, and how
3. Whether you want this information integrated with Google Calendar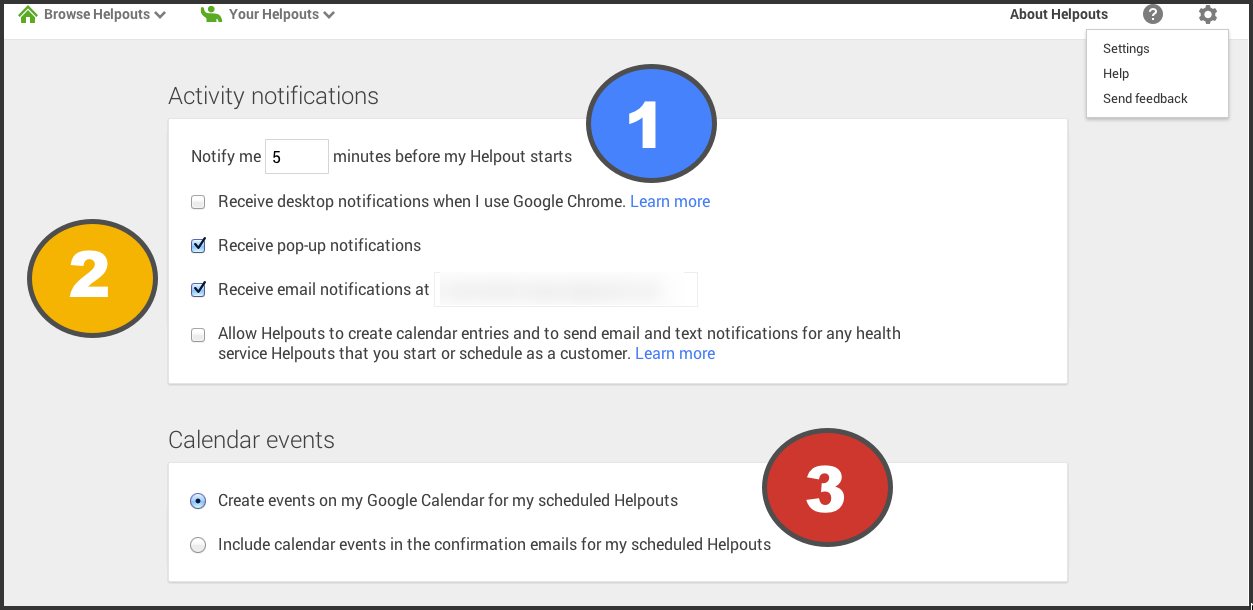 Promotion
You can add information about your Helpout offering to your website, share it as a like on social networks, and even add it as an annotation to a YouTube video. More on that here. But note, this is one way i.e. you can promote your Helpout on your sites but in the Helpout you cannot encourage people to go to your site...
Going a little deeper
If you are thinking about using Helpouts as a way of 'filling the funnel' of your business and then services that requirement 'off the Helpout platform' then think twice. This would be a breach of the terms of service agreement that you signed up to at the start of the process.
I will quote a representation from Google, named Olivia (who was AWESOME), to whom I spoke for 40 minutes to build up this article content (Google can bill me later).
So, let me give you the low down with the scenarios I ran past her. Note: the questions are mine, and the answers are my interpretation of what I was told. The key here is the concept of 'redirection'.
1. When you have a session with a person in a Helpout that is 'paid', and they want to have a paid session, does that session have to be as a Helpout to remain within TOS?
Answer: Yes it does.
2. Same as above, but when the initial session is 'free'.
Answer: Yes it does.
3. Can a person be moved in e.g. monthly retainer basis from either of these situations and it remain within TOS?
No. If you are using a Helpout with such an intent then you will be in breach of the agreement into which you've entered at the start.
4. Can a person be encouraged to join a paid community (i.e. monthly) from these 2 scenarios?
No. Once again, this is seen as 'redirection'.
So, in summary: She says, "There can be no re-direction. Period."
In other words, you cannot use helpouts to 'funnel people into' something else.
How do you deal with this if someone raises the question in a Helpout?
Well, you can move the person from a 'Free' Helpout into a 'Paid Helpout' and directing people in that direction is perfectly allowed and, in fact, a very good plan.
But let's say someone 'knows you already' and wants to talk with you about other services you could or do provide off the platform?
Well, the response you should give, and I quote Olivia from my call with Google, is: "I cannot talk about that, merely for the sole purpose is to provide this helpout."
What if you've already built up a sizeable following and community around you?
Well, Olivia also stated that Google cannot control what you do in relation to this "outside the platform" and by the platform, as I felt it necessary to clarify, means the 'Helpout' platform. So if, for instance, a week or a month later the recipient of the Helpout were to contact you and ask for your service then that it would seem would be 'ok' as you did not use the Helpout to 'redirect'.
If in doubt please contact Google on the numbers below: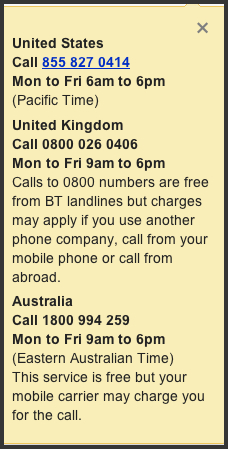 Where is this going?
Here at Plus Your Business, we see this as a transformation in the provision of online services. It really could well change the world as we know it. And there is something else...
We can only speculate right now, but I believe the real power will be Google Search. With Search Plus Your World (SPYW) all about personalization, with many results coming from people who may well be 'in your circles, then having listings present when you search for 'How can I learn how to cross stitch?' or 'How can I fix my PC?' or even 'How can I get more fit?', then having listings appear in Search makes sense. Pure speculation though.
Setting up as an individual or a business
In this post I have covered everything relating to an individual as if you enquire to do this as a business in the usual channels you will receive a polite reply of 'not at the moment'.
You will see, however, companies who are listed i.e. not a person, but a team. As such, here at PYB we like to connect you so team member Ronnie Bincer very kindly has done the work for us and found a friendly contact here who you can approach about this facility. Ronnie says...
Here is the info to send on to Steven from the Helpouts team:
(Please don't use this email for general information, only to enquire about singing up)
Send the following information filled in to steven.gonzalez@google.com
First Name:
Last Name:
Country (currently only for: USA, Canada, UK, Australia):
Email (used for your G+ Profile account):
optional... (Company name, Company website, Phone number)
Finally:
This is an incredible opportunity for people to connect with an audience who want to receive services. Over the coming months it is likely we will see people flood onto the platform and a new form of social system will begin to flourish. Hope you get involved and thrive along with them, meeting new people from all over the planet at the same tim.
Here are the main links you'll need to get rolling: