What are Google Hangouts?
They are video calls with up to 10 people on a standard account and 15 people on an Google Apps account, and also text chat with up to 100 people; as well as live events streamed on YouTube, and conference calls too.
Really though, Google Hangouts enable your conversations to be brought together in one place, even integrating text message on Android devices and allowing calls to mobiles and landlines (with USA numbers called for free).
What are the benefits/differences to other services?
Well, the whole 'free' thing helps, especially when you want to simply share your screen!
I've experienced Skype refuse to do this with just one other person, and I know you have to pay for a call when there is more than one other participant.
It does, of course, depend on what you are used to, but Google Hangouts and 'Hangouts-on-Air' (live events) have some very cool features including:
Collaborate on Google Drive documents in a group in the Hangout
You can live stream your content straight onto YouTube, and download it later
Using UberConference (paid service for the higher levels) you can turn the hangout into a broader teleconference (this is not for Hangouts-on-Air though)
There is also a tele-conference system available using the Chromebox. More on that here. And below too.
Bring in YouTube videos (using the app) and watch them as a group (not when 'live')
Many quality third party apps enable enhance experience including the Hangout Toolbox, where you can e.g. customise your lower third.
Integration with YouTube for streamed content i.e. Hangouts-On-Air
The ability to record private Hangouts - ideal for seminars and re-packaging later on (see below)
Using Google+ circles for invites, or individuals, or simply giving people the Hangout link
What will you need to get started?
You will need a Google+ account to initiate a hangout and can set that up here.
Also, participants will need an account too.
Get the Hangout App!
This is not essential on a desktop as Google+ comes with hangouts integrated, but it very useful.
Get it here: http://www.google.com/hangouts/
This video covers just about everything you need to know about Google Hangouts!
This video covers just about everything you'll need to know about Google Hangouts, including Hangouts-On-Air.
Check out http://www.plusyourbusiness.com for more information on Google+ for Business.
Would you like to skim the main content from the first video?
Or would you like a PDF of this content? Click here to download!
Well here you go!
Introduction
It's time to take an in-depth look at Google Hangouts.
If you click on the green speech icon, it gives you the option to sign into hangouts.

Google hangouts are both chat - which may only be an individual, or it could be a larger group - or they are video calls. They can also be a combination of the both.
Starting a 'hangout party'
Anytime you see the 'speech marks' you will be able to start a hangout party.

At its most simple level, you'll see in this section, your contacts, the people who you want to chat with.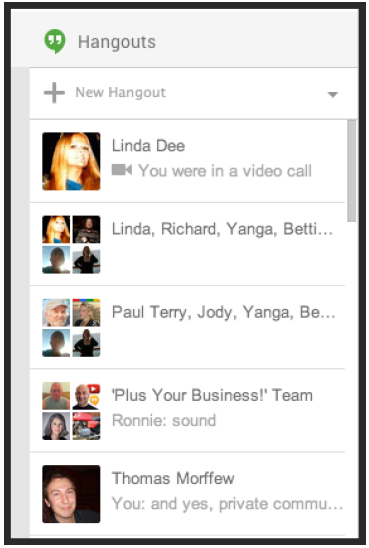 Chatting with an individual
Let's begin using Google Hangouts as if it was just with one person.
1. If you hover over an individual, that brings up their hover card.
You also know if a person's available to chat because there's a green line under their image.
2. Then you can add them into circles or you could click on the name and go to the profile.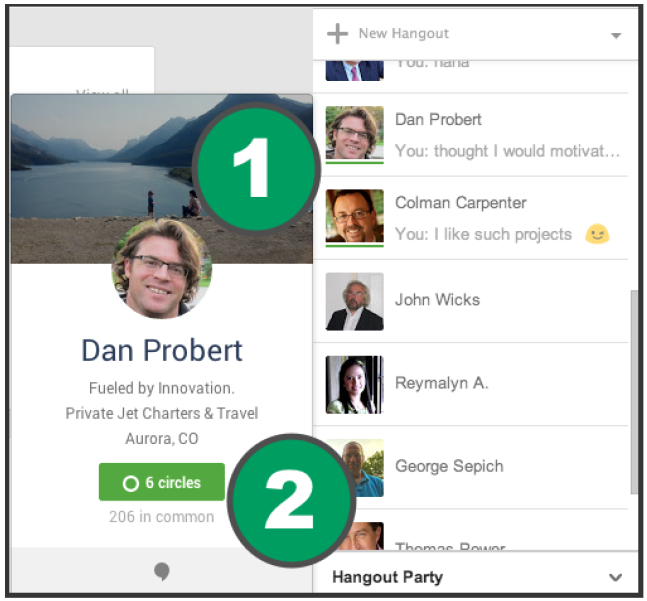 If you want to chat, you just click in the section on the right, and that will bring up a chat box.
You can write in the chat box, as you would expect and press 'return' to send the message.
Also the hangout has many features, including:
1. In the lower left, there's a smiley face, which if you click on it, it will give you the option of adding images into the chat.
2. On the lower right, if I click the camera symbol, it brings up the option for me to bring images in either from my computer or from within Google+.
3. If you go to the camera symbol, and you click that, that will invite the individual to a video call.
4. Next to it, you can add more people to this hangout. And this is the text part of the hangout. And I can choose names, emails, somebody's telephone number, or a specific circle.
Looking on the upper right, there's a cog. And if I click that, you get these settings for this particular hangout party with this individual.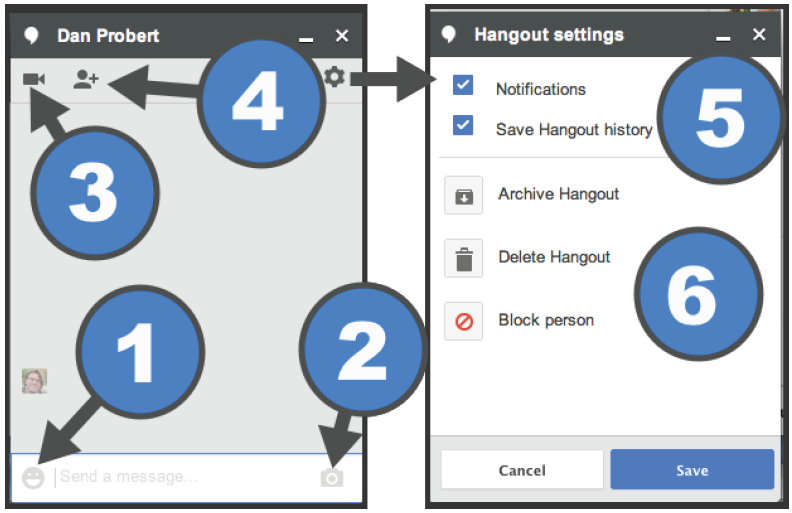 5. So if I want to receive notifications when they come into the hangout and start chatting, I can chat that or not. You can save the hangout history, or you can have that unchecked.
6. Now when you are finished with the hangout, you might like to delete it so it doesn't appear in the right hand hangout bar. But when you delete a hangout, it means that that party's over, and you can't just re-enter it.
So instead, sometimes you may like to use archive hangout, which will just move it off the bar on the right hand side, and it means you can reenter the party later on.
The final thing to know here is that there's an option to block an individual. When you've chosen your settings, you can click save.
Hangouts with groups
The same principles will apply to groups as with individuals, but the options will be slightly different.
1. Here's the hangout party that's had 61 people in it.
2. If you click on this icon you can see the individuals that have been in this party - you can add more people to the hangout by clicking 'add people' from this screen.
Note: this hangout party is actually still going on.
3. From there you can types e.g. a circle of people to invite and then,
4. Click 'add people'.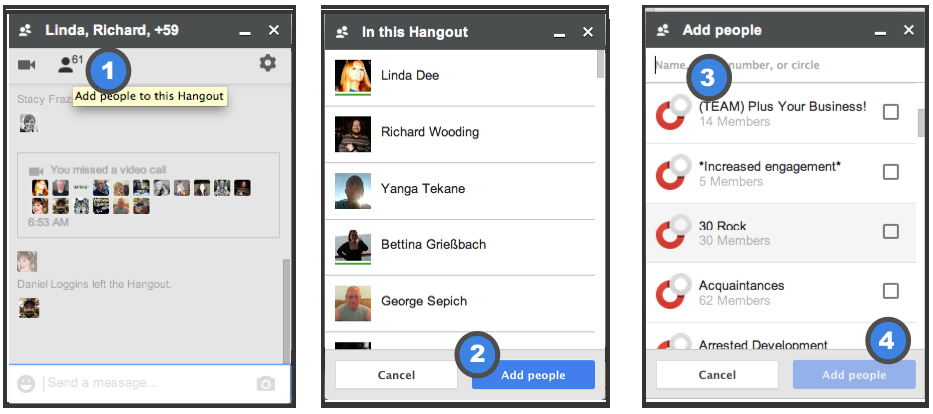 Initiating a Video Call
You can initiate a video call with that person or that group just by clicking on the camera icon whenever you see it.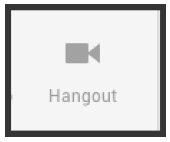 If you click on the video call icon, and it would ask everybody within that hangout party if they'd like to join the video call. There's a maximum number on the video call, but everybody would get the invite.
This aspect of the hangout is like a conversation, where you can even see by hovering over how far people have read up to. If a person's typing, you'll see 3 green dots appear next to their image.
You'll also see people joining and leaving the hangout as their image appears and disappears.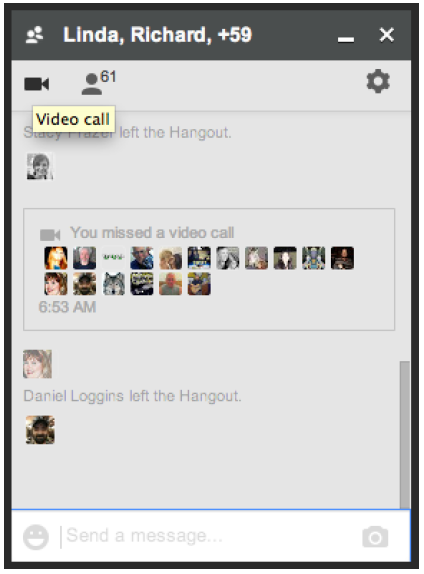 Options when in a group hangout
This is a group party and when you click on the cog, you have a slightly different option, not to delete the hangout, but to leave it. If you click on leave hangout, you can choose whether to stay or leave.
This is really where the importance of the archiving comes in, as when you leave, then you have to be invited back into that same hangout in order to rejoin the party.
You may have many hangout parties going on at the same time, you can also add a name and then you'll know what the purpose was of that party.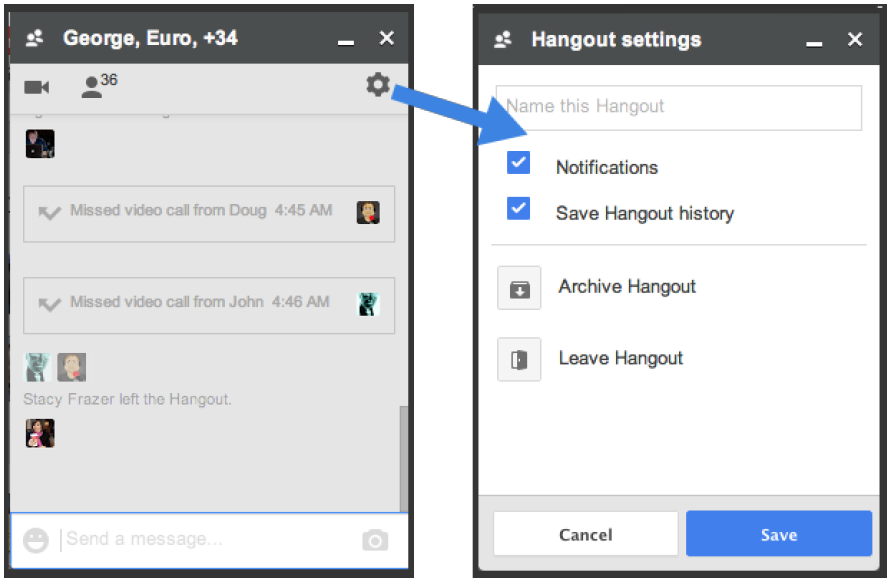 Joining an existing video call from a hangout chat
Sometimes you will see a hangout chat where there's a video call going on, and you can see which individuals are already in 'the room' as their icons are showing the the green section. If you wanted to join, you can just click on the green.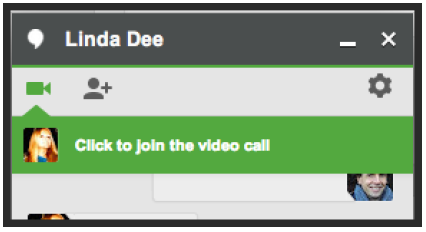 If you want to start your own hangout party, you can do so by:
1. Clicking on "new hangout" and then invite the names, email addresses, numbers or circles to that hangout. When you start one this way, you have the option whether to send a message or whether to start the video call.
2. Alternatively, you can start a video party by clicking 'Start a video Hangout' and that will open up so you can start a video call
3. Or join ones to which you are invited, if you click any of the invitations you'll join the video party.

Once you enter the hangout
When you're in the video call, it will look very similar to the screen below, and here is a tour of some of the features:
1. You can expand or contract a chat bar (the blue icon), which is called group chat on the right hand side.
2. The next step down is 'screen share', which you click to share your screen.
3. The next one is 'capture', where you can take a picture of the hangout whilst it's going on.
4. Then you have YouTube, which brings up the app within this particular hangout so you don't have to leave the hangout in order to watch a YouTube video together with the group of people who you're hanging out with.
For instance, the Google Drive app is excellent for collaborative working as it allows you to bring files into the hangout and then work on them collaboratively.
5. Click to add more names, circles, or email addresses.
6. Next to it, there's a little microphone, and if I click that, that mutes, and means that people in the hangout can't hear when I'm speaking.
Note: When you have more than 3 people in the video call part of the hangout, and you enter, you'll be automatically muted. So you'll need to come and unmute yourself.
Next to the microphone, you have the ability to turn your camera off, and then your icon will appear, and you can turn it back it on again.
7. Then you have the ability to adjust your bandwidth (great if you are having challenges with the reception).
Next to that you have 'settings' which you can click in and change the settings for your camera and for your audio.
Finally, when you're ready to end the call, you just click the exit button.
There is a lot more to hangouts, including 'apps'
1. click on the "expand apps" button to show the names of the apps
2. You will see apps such as 'the Hangout Toolbox' that has some great additions to the standard Google Hangout e.g. adding a 'lower third with your name.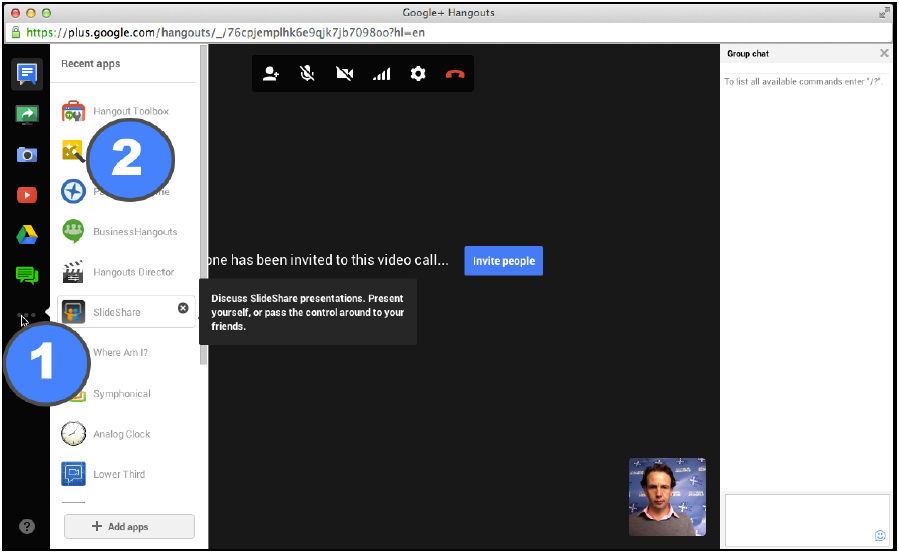 Also, if you click on the cog/gear at the top of the screen you will bring up your settings - you can change microphone and video inputs here.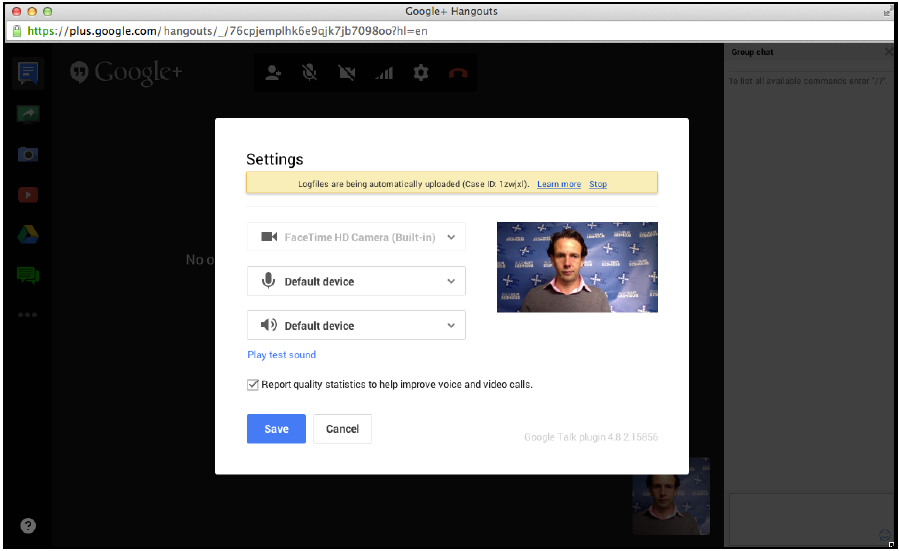 Controlling what goes into the central screen.
A couple of other things to point out.
1. You can mute the person by clicking on that microphone. So if someone's being noisy in the hangout, you can mute them. You'll probably find that there's a block button there as well.
2. If you hover over the bottom picture and then click on the person's name, that will take you to their profile.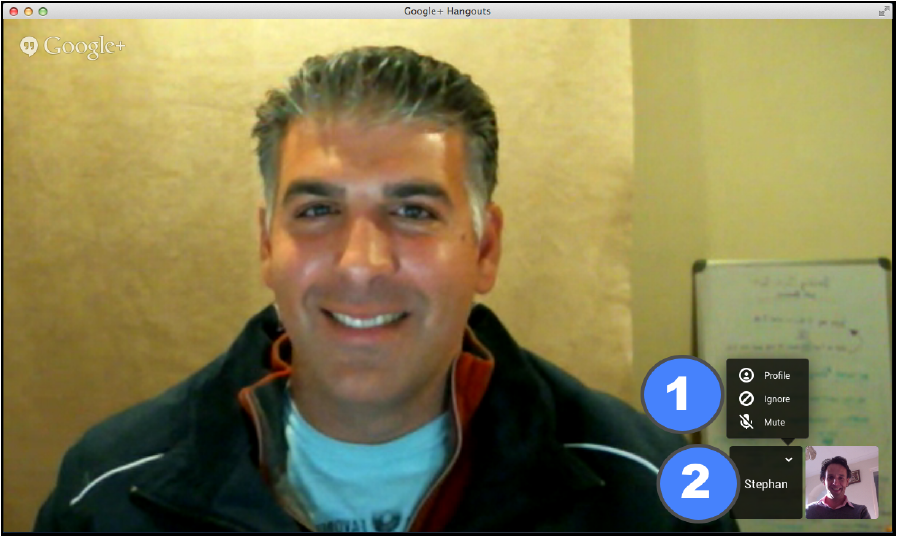 Next if you click on anyone's screen on the bottom section, it will bring them into the central screen, which is called 'blue boxing'.
What will happen otherwise is that the individuals, when they speak, will be jumping back and forth into the screen, which is a very dynamic way of interacting within the video call.
However, if you want to fix one person on the screen - maybe they're screen sharing at the time, and you don't want people jumping back and forth, then you simply click, and that puts a blue box around and fixes them in the central screen.
Global Hangout settings
There's a very important tab in the upper right on the bar.
If you click, it drops down and you can see you can snooze your notifications for an hour, for 8 hours, for 48 hours, across all of the hangouts.
You can also look at which hangouts you've archived.
If you 'click', it gives you the options of which hangouts you want to have left from archive.
You can then go to the cog on that hangout, and you can choose if you want to (or not) archive it, which will mean it will return to being included in your hangout list.
Also in this section, you can see the hangout requests you've had. You can see how many people you've blocked. And you can unblock them just by clicking. You can ask for help. You can send feedback. You can also sign out of hangouts totally.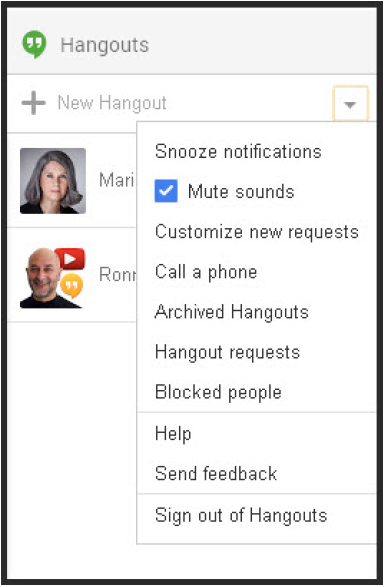 Recap: if you click on the "customize new request," it will take you to a screen in your settings that will allow you to decide who can send you a request or who can hangout with you.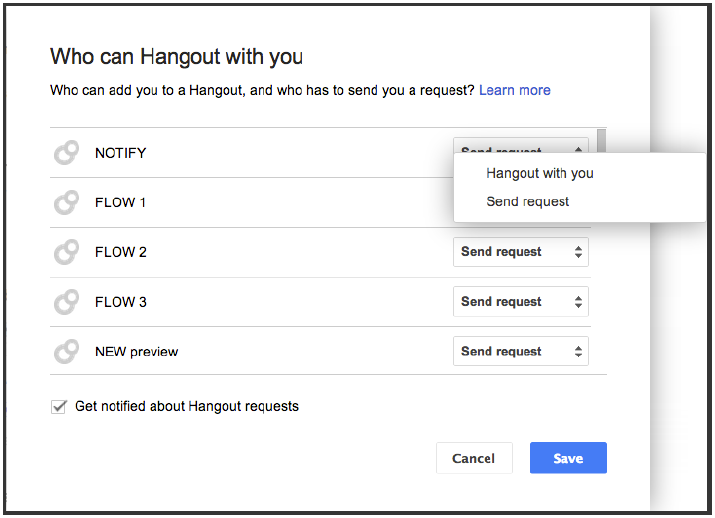 You may even like to set up a specific circle, which is your hangout circle and all of those people can then send you a request.
How to use Google Hangouts for conference calls using a Chromebox
As mentioned in the introduction, you can use hangouts with larger groups.
And here is just one method you can use, as shown by 'Business Hangouts':
There are many systems now appearing which allow hangouts to be taken even further.
How to create a private Hangout-on-Air from your YouTube Channel
This is REALLY handy if you want to save a hangout for later on, but you will only be able to do this from YouTube, not Google+...
There is a lot to hangouts, and you can even have people ask you questions, show the event viewers which you are answering, and then increase your engagement as well...
How to create and run a Q&A Hangout-on-Air
Want to gain even more interaction with your audience? Well, the Q&A App for a Hangout-on-Air let's you do just that!
Finally, let's look at using hangouts for collaboration...
How to use Google Hangouts and Google Drive for collaborative working
Alongside Hangouts, Google Drive is incredible for collaborative working; and this video shows you the process we use at Plus Your Business to help the team communicate together with ease.
How to be a great Hangout or HOA guest
If you are invited to be a Guest on a Hangout on Air or even just invited into a regular Hangout Video Call, it is nice to have an idea of what you can expect when you enter the 'video room'. This video from PYBer Ronnie Bincer will help you understand what to expect and prepare you to be the best guest possible when inside a HOA or Hangout Video Call.
You'll now be even more prepared when you are using hangouts!
Would you like to know more?
Well, get in touch and we will help you learn the ins and outs of Google Hangouts for you and your business.