You've finally hit the point where you need help. You've got a million and one responsibilities, and there simply isn't enough time in the day to give every marketing channel the attention and care they deserve. To top it all off, keeping up with the steady flow of changes to platforms and tools simply takes more time than you have.
Regardless of whether you decide to pursue help from an individual consultant or would prefer to leverage the expertise of a digital marketing agency, there are a few questions to ask yourself which will help start any new partnership off on the right foot.
How quickly do I need to see an ROI?
This is an important question to have an answer to because it sets the right expectation and can guide which paid or organic marketing strategies you'll utilize during the early stages of a campaign. Is it critical you need to see an ROI from your marketing budget in 2 months or within 1 year?
As an example, if you're a new business with a new website, it can take time to build authority, and become visible for your targeted keywords in organic search results, making search engine optimization (SEO) a longer term play in this example. Other channels like pay-per-click (PPC) may be able to provide you with faster results while you work to establish your online presence across all channels. Setting this expectation right from the start will help your new digital marketing agency set a strategy that aligns with your needs and expectations.
How would I rate my own website?
Your website and the experience it provides to users will be a critical part of your success. Important questions to ask yourself regarding your website include:
Does my site look dated?
Is it optimized for mobile users?
How frequently do I update my content?
Are my calls-to-action easy to find and clear?
What is my average conversion rate across all channels?
Your website will be the center of all inbound marketing activities and a sub-par website could easily equate to sub-par results.
Heat map software and clickstream analysis tools, such as Google Analytics, can also provide insight into the experience visitors have on your website.
If you're not savvy with Google Analytics and don't have budget for heat map software, Peek by UserTesting offers a free service that provides you with a 5-minute video of a reviewer's experience on your website and can help to identify potential UX issues that may need to be looked at more closely.
What resources do I have available to work with my new agency?
Every holistic digital marketing campaign requires assistance from multiple departments that could include, but not be limited to, the following:
Social media strategist
Graphic designer
Internal SME (subject matter expert)
Web developer
PR representative
Content/copy writer
You may have all or none of these resources available. If you do, mention it during an initial call with an agency or consultant as communication across departments will be key for integrated, cross channel marketing campaigns. Keeping all departments communicating will help to ensure that nothing gets bottlenecked, stuck in queue, or isn't on someone's radar.
Who is my target audience?
As simple as it sounds, it's not uncommon for businesses large or small to not have a firm understanding of their target audience and respective buyer personas. Having a defined market for both prospective and existing customers can assist your new agency with targeting the right audience, with the right message, at the right time.
What does my customer's typical path to purchase look like?
In his book, Winning the Zero Moment of Truth Jim Lecinksi, Vice President of US Sales & Service at Google, Inc. references a 2011 Shopper Sciences study that reveals the average shopper used 10.4 sources of information to make a purchasing decision in 2011. Depending on your product or solution, your customer's journey from research to purchase could span multiple touch points across multiple devices.
Understanding which channels and mediums are influencing your customer's online purchasing decisions can help you make the most of your marketing budget.
Tool Tip: Google's Customer Journey to Online Purchase is a free interactive tool that segments data from millions of websites to provide you with insight into not only the channels used, but whether each plays more of an assist or last interaction role in the path to purchase.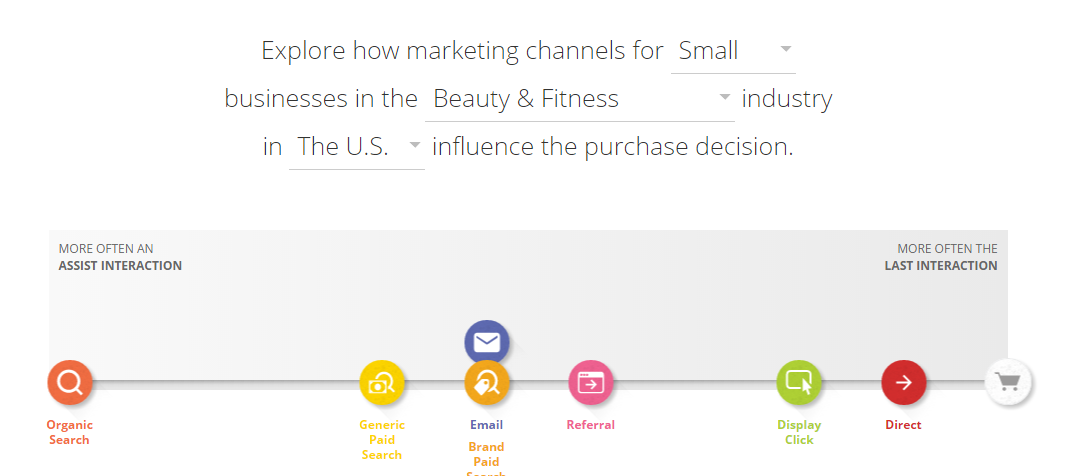 What are my goals and what are my KPIs?
While both terms are frequently used interchangeably, strategic goals represent the final outcome, while a KPI is a way to measure how you are performing in relation to your goals.
To provide you with an example, a goal would be a 45% increase in website conversions from organic search, and one KPI for this goal could be organic search traffic growth.
What channels are currently performing or underperforming?
Have you invested in a content strategy that just hasn't yielded the results you were looking for? Did you try a pay-per-click campaign and found it hard to see a return? Is email currently bringing in qualified leads? Knowing what's working and what's not up to this point will provide your new agency with insight into either a channel strategy that may need refinement, or a pivot plan.
In addition to budget for consulting, how much budget do I have for assets or tools?
An asset can be defined as any piece of content or tool that can help to answer visitor questions regarding your products or services, or provide something of value to your visitors. Working to become a destination often requires investing in features, tools or assets that provide significant value to your visitors. These types of investments can often require additional budget outside of consulting fees. While this isn't always the case, setting something aside for videos, graphics, content, paid promotions, and tools can ensure that you're prepared for any big ideas presented by your agency.
What assets do I currently have that could be repurposed or promoted?
Using the criteria for assets defined in the previous paragraph, what have you already created that can be repurposed into different content formats and shared across various channels? Taking an asset inventory, and having that list ready for your new consultant, will save time and provide marketing material that can potentially be repurposed across other channels to reach new audiences.
What are the most frequently asked questions by new or existing customers?
Having a comprehensive list of prospective and current customer FAQs will provide your agency with a good head start on auditing your page copy and/or developing a content marketing strategy or asset.
If you don't have this list already, here are a few ideas to help you get started:
Work with your sales team to document all FAQ from prospective clients
Use the internal site search feature in Google Analytics to see which keywords or questions pop up the most
Use Google advanced search operators to search autocomplete, and Q&A sites and forums for questions related to your brand and vertical
Here's an example of a few queries:
site:answers.yahoo.com "google analytics"
site:quora.com "your product or solution here"
To search autocomplete results from within Google, try using who, what why and how on your brand or products using the asterisk (wildcard).
Many of these questions may be asked during an initial discovery or kickoff call, and having answers prepared can help save a lot of time and ensure everyone is on the same page. Stay tuned for part II in this series where we cover questions to ask a prospective digital marketing agency or consultant.
What did I miss? Please leave any questions or comments in the thread below.
Brian Jensen is the Owner & CEO of Congruent Digital, a boutique online marketing agency that provides clients with a customized, audience-first approach to digital marketing. Brian is very passionate about helping businesses increase their online presence. If you have questions about SEO or any other area of digital marketing, you can reach him at brian@congruentdigital.com. Connect with him on Twitter, Google+, or LinkedIn.