What is an embedded post?
A new feature on Google+ has been released enabling you to take any public post (except communities at present) and embed it on a website just by adding in a simple code. It really is simple.
Why embed a Google+ post?
Well, displaying the versatility, this post below from PYBer Stephan covers just about all the reasons (make sure you click 'read more' and you can also leave a comment on the post from this website too):
How to Embed a Google+ Post
First find a post you want to embed.
1. Click the down arrow in the upper right corner of the post.
2. Click 'Embed Post'
.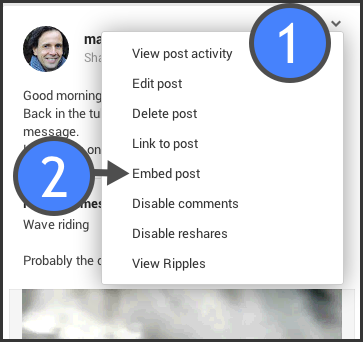 Next, you will see a box appear - copy that code completely.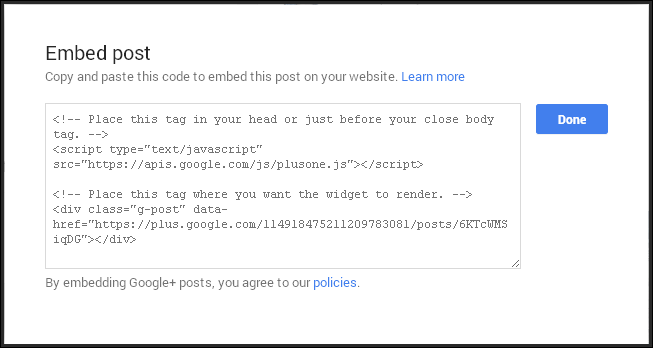 Next you will want to paste it into your website.
Once you have logged in (using Wordpress as the example) choose a page or blog posts in which you want it to appear. Then in 'text view' (not visual) you add the complete text to the place within the blog post. 1. Click 'text view' in the upper right.

It is a little confusing re: 'place this tag...', so know that you can simply drop in the complete text and add images or content above or below it. It is just as simple as adding the embed code of a YouTube video.
What type of posts are supported?
According to Google, in addition to posts that contain text and links, the following additional types of posts are supported as embedded posts:
Posts with images - The post will render with the image. Clicking the image directs the visitor to the image view on Google+.
Posts with videos - The post will render with the video. Clicking the video will play the video within the embedded post.
Posts with links to a community - Your visitors can click through to view the community as they would in the stream.
Another example:
This works for Gifs too!

Not working?
Well, you will need to use the canonical URL for the Profile or Page i.e. the numbers not
e.g.
https://plus.google.com/114918475211209783081/posts/YFW3zig6hgn not
https://plus.google.com/+MARTINSHERVINGTON/posts/YFW3zig6hgn
Also, from Google we know the following post types are not supported:
Posts from within a community

Posts that are restricted to a Google Apps domain

Private posts

Events posts

Hangout on Air posts
Want to know more?
For more information check out: https://developers.google.com/+/web/embedded-post/