So often we can get caught up in the detail that we miss the big picture.
As such, here are five very useful headlines you can look at creating for your own business or with your clients.
This is about:
Where
Who
What (browser, device)
How often?
What are they into?
If you click on the 'audience' tab you will be given a load of options: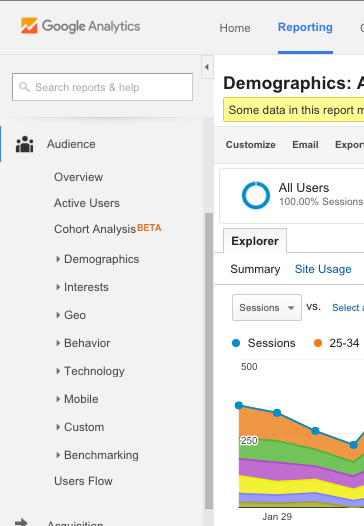 You'll need some website data to work with, but if that is not there yet it may well be within the month.
1. Location - where are your main visitors coming from?
Go to 'Geo' and choose 'Locations':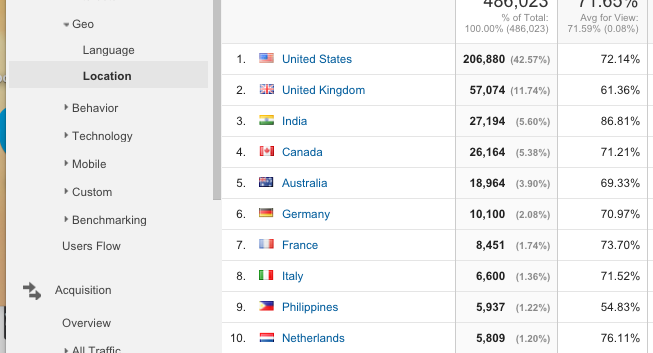 For me, over 50% of visitors come from the USA and United Kingdom. 5% from India, and with around 9% coming from Canada and Australia.
But actually, let's say I want to drill a little deeper to know which States are driving most traffic.
Click on the country: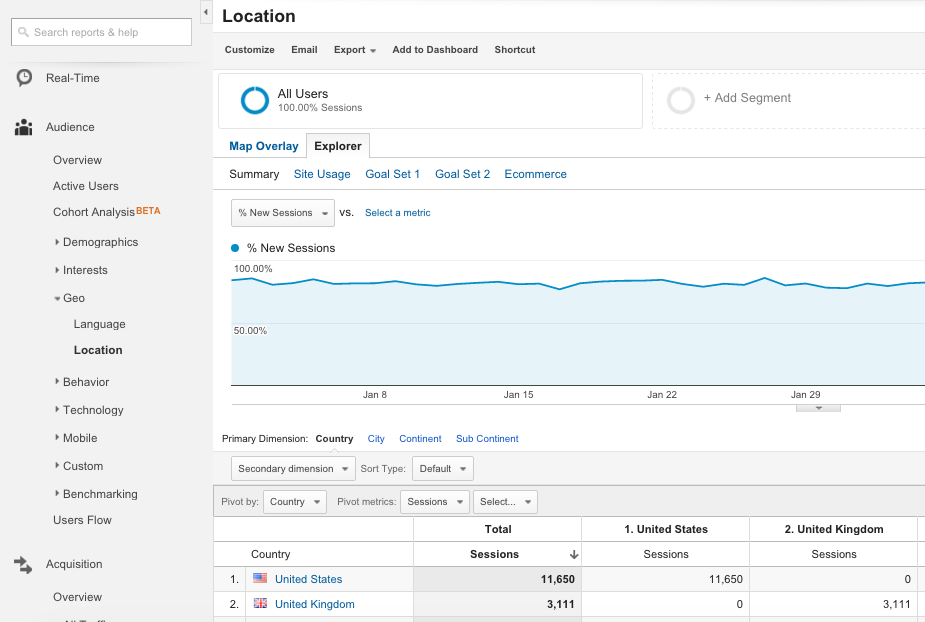 And I can see that California, Florida and Texas are the top three for me:

2. Age - how old are most of your visitors?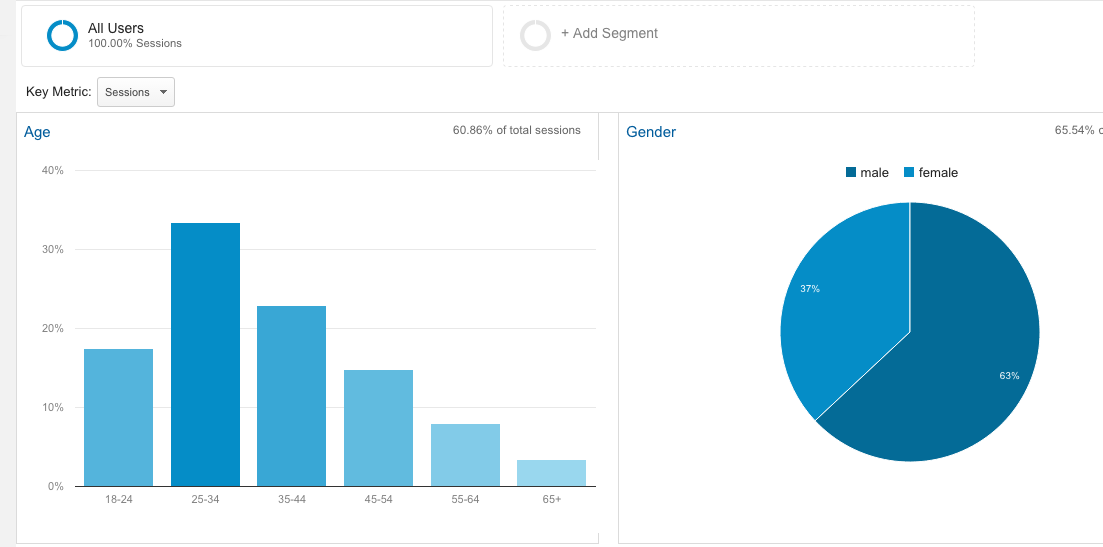 As you can see, over 30% of mine are in the 25-34 range, and 50% are 25-44.

3. Gender - are they male or female?
Go to demographics and choose 'Gender':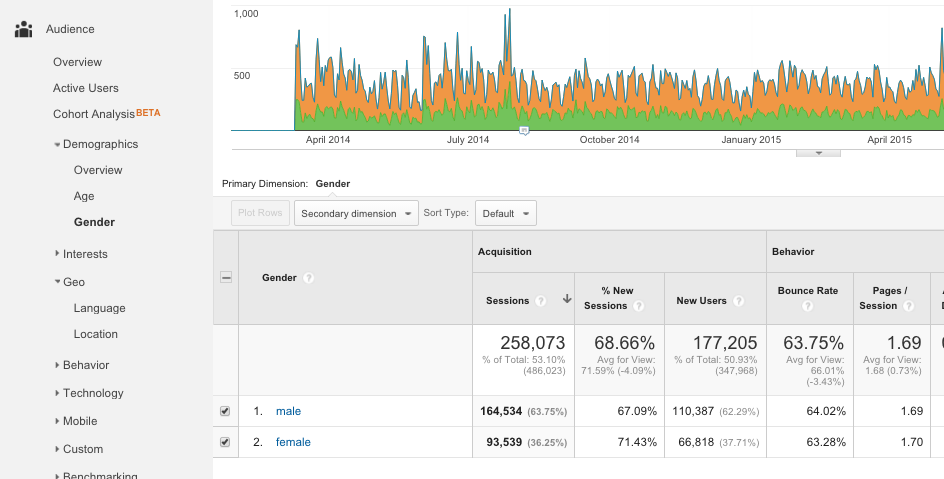 As you can see 63% of my visitors are male.
4. Device - how many people are using desktop or a mobile device?
This is so important to know if your mobile site is 'friendly' but still not quite doing its job.

For me 72% are using a desktop.
5. Browser - which one are they using?
Under the technology tab you will see 'Browser and OS':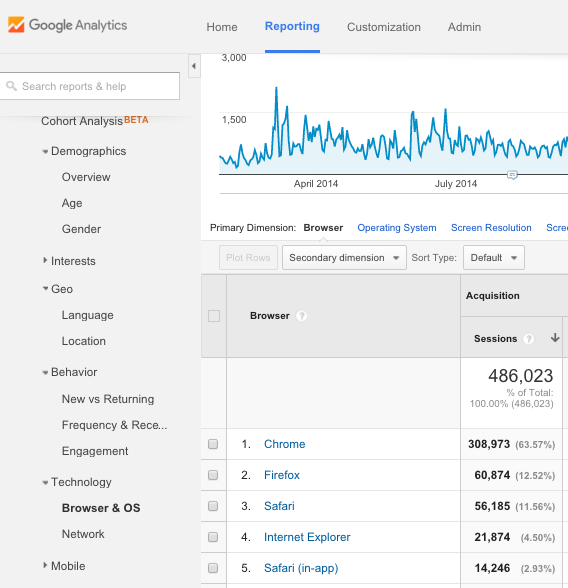 For me 63% are using Chrome, and 23% are using Firefox or Safari.
6. New/returning - how many people are coming back?
Under behaviour you will see this tab: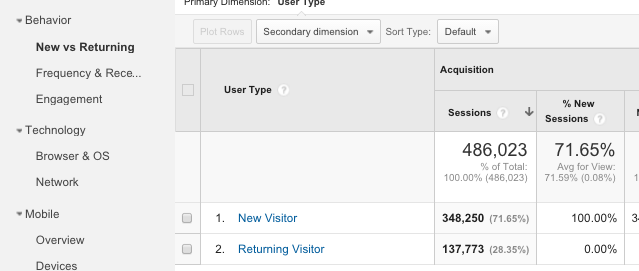 With 28% returning visitors it means I need to be aware I am serving people who are already paying attention.
7. Interests - what are they into?
Go to the 'Interest' tab and choose 'Overview':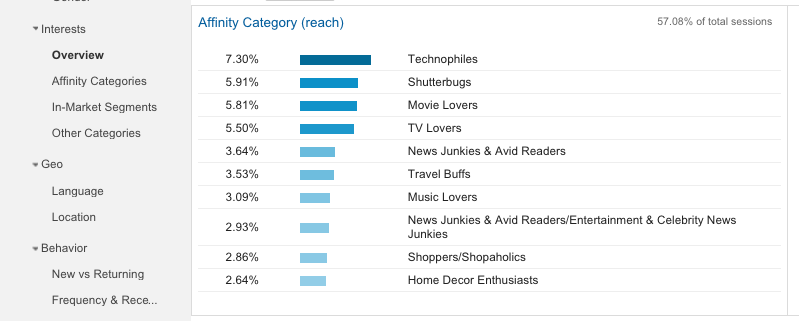 As you can see 7.3% are into Tech, 5.9% Photography (Shutterbugs), and over 11% are into movies and TV.
Finally:
These are just the 7 items I've used to illustrate how to create what follows:
50% of visitors are from the USA (top 3 states: California, Florida and Texas), and United Kingdom
63% are male, and 37% are female
50% are aged between 25-44 years old.
28% are return visitors to the website; 62% are new
63% use Google Chrome, and 37% don't
72% are on a desktop
Many have an interest in technology, films, movies and photography
Once you have this for your own site, write it out somewhere so you can revisit it later. Then think, are these the people I thought I was serving with content? And how best could I serve those paying attention better?
With Analytics you want to be setting up goals and tracking your conversions. What this exercise does, is give you a high level view of the nature of person visiting your site. It is also a very quick and handy way to create a meaningful top level view of a website for a client or a board meeting with your Directors or team, without drowning in data.