INDEX of CONTENT
Want this blog post in a format you can download?
Guide to Google Analytics Index (PDF)
Guide to Google Analytics (Drive)
Here we go!
I've been learning loads from the Lynda.com site, and the time has come to write up some of my notes, perfect before the launch of my Adwords course on their site later this year.
This is what I think...
You really need to know the outcomes you are seeking for your website, and actually being more precise, for each of the pages or page categories on your site.
Your home page, for instance, will have a different outcome to an opt in or sales page.
And you really need to work out a map of what your website is trying to do for your business, before you set up goals in order to track how effectively it is achieving those aims.
Have a think: what outcome am I seeking? Then look at what you will measure to know if you are meeting that/those outcome or outcomes?
Remember, a man who chases two rabbits catches neither. So aim to have your outcomes set clearly in your mind before you start out.
What is a conversion?
A conversion is a completed action, which could be signing up to your newsletter, or a sale on your website.
What is attribution?
This is where Analytics works out the touch point that created the sale, or conversions.
What are attribution models?
These are models that work out the importance of the touch points.
e.g. last click attribution gives 100% of the credit for the sale to the last click
e.g. first click attribution gives 100% of the credit for the sale to the first click
What are 'Dimensions' in Google Analytics?
These are attributes of the user such as Geographical Location, Device or Browser Type.
What are 'Metrics'?
This is term used to describe user behaviour on your site e.g. the length of a session, bounce rate, number of pages visited etc.
What are 'Events' in Google Analytics?
These are specific events you may want to track e.g. when someone downloads a PDF on your site. This relates to 'goals'
What are 'Goals' in Google Analytics?
Goals are one of the main measures for success of your website.
Google says: "Examples of goals include making a purchase (for an ecommerce site), completing a game level (for a mobile gaming app), or submitting a contact information form (for a marketing or lead generation site)." https://support.google.com/analytics/answer/1012040?hl=en
What does 'Pageviews' mean?
Pageviews is the total number of pages viewed, and users are likely to view multiple pageviews.
What is a 'Session'?
This is how long a user spends on your site.
(Note: from Mark Traphagen, "spending more than 30 minutes on a site does not generate a new session. 30 minutes of inactivity does.")
What does 'Source' mean in Google Analytics?
Sources refers to where the traffic came from e.g. Google, or a specific website, direct, or Social.
What does 'Medium' mean in Google Analytics?
Medium refers to the general category of the source, e.g. organic, PPC, social.
What are 'properties' and 'assets' and 'views'?
For each business it is likely you will set up Account, which then has its own 'properties' relating to its assets - such as the different websites or mobile applications.
What does 'bounce rate' mean?
This is the percentage of people who leave after they visit just one page of the site.
You may well find that people coming to your site 'direct' will result in a lower bounce rate than people coming via e.g. social or a search result.
'Views' then refer to how you will see the data relating to that property.
When you create a 'property' you only have the default view, so this gives you the chance to differentiate.
Note: when you create a new view, the data doesn't get 'carried over' so only starts collecting from the date you create it.
Firstly visit here: https://www.google.com/analytics and you should be given the option to sign into your account.
If you don't already have a Google Account then you'll be given the option to create one.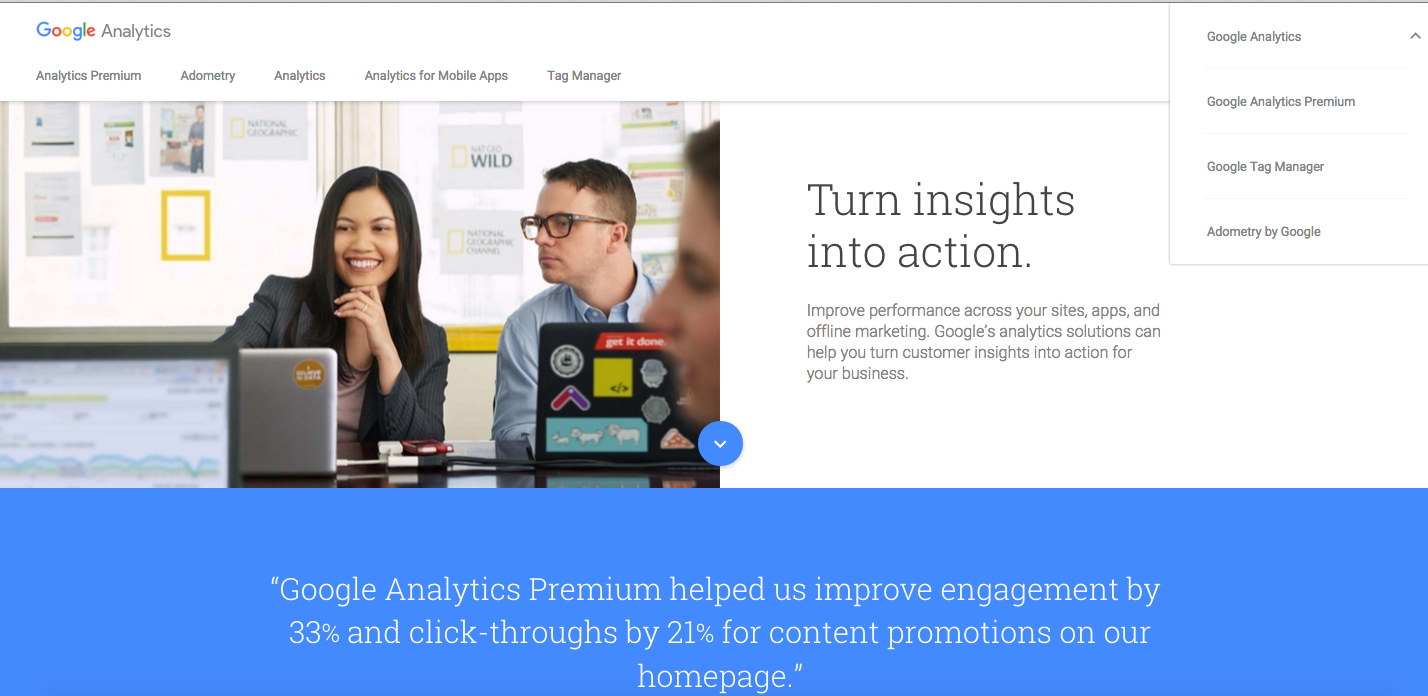 If this is the first account you are setting up, then you will probably land on a page one step on, but if not:
Go to 'Admin' at the top, and click on 'Create New Account' at the bottom of the list: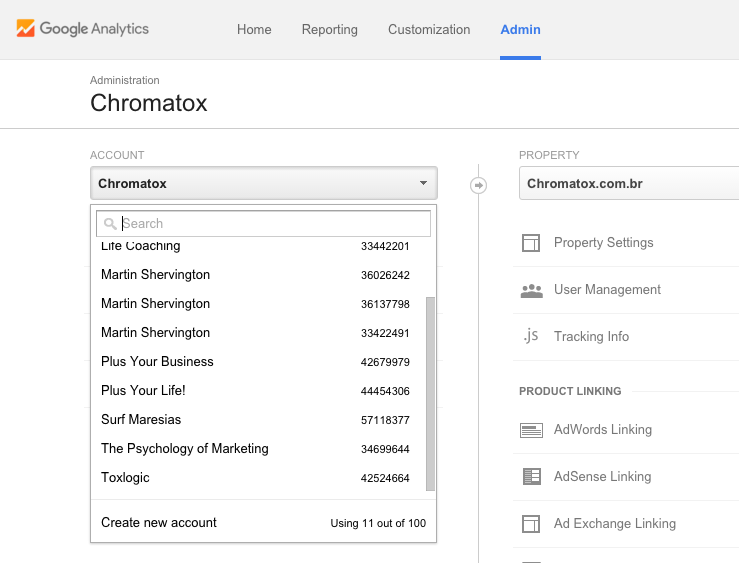 From there you will choose 'Website' (the default) or 'Mobile App':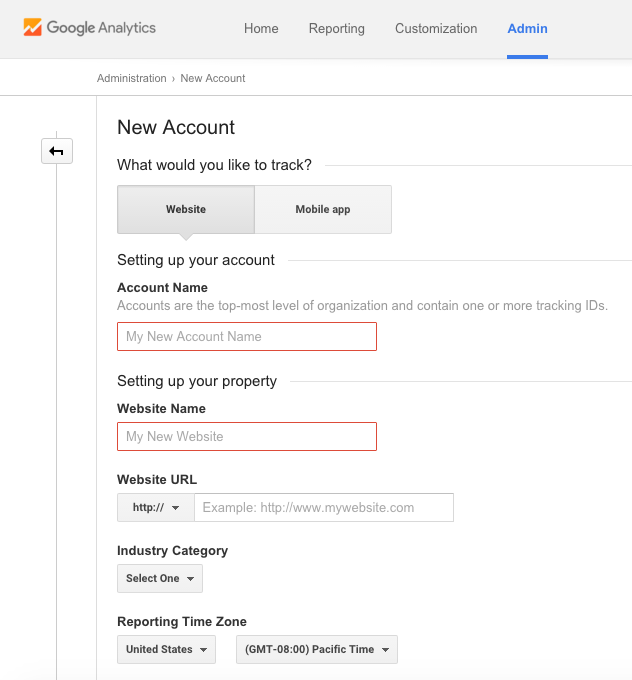 Fill in the details before choosing 'Get Tracking ID' at the bottom:

You will then be able to access the tracking code to be added to your website:

If you are using Wordpress, there will be a section you can just drop in your 'Tracking ID Code'.
If you are using Google Tag manager: https://tagmanager.google.com/ log in and choose the Container name:

Once you have the correct Container selected, then choose 'Add a new Tag':

Then name the tag and choose, in this case, Google Analytics: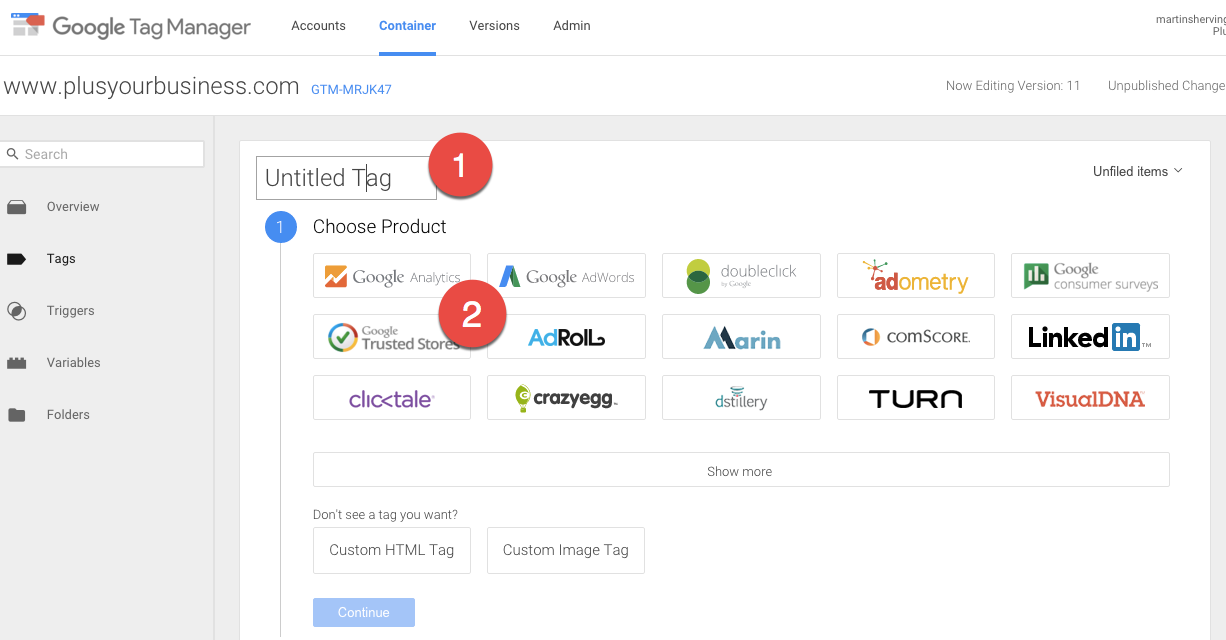 Next choose 'Universal Analytics' (the new standard):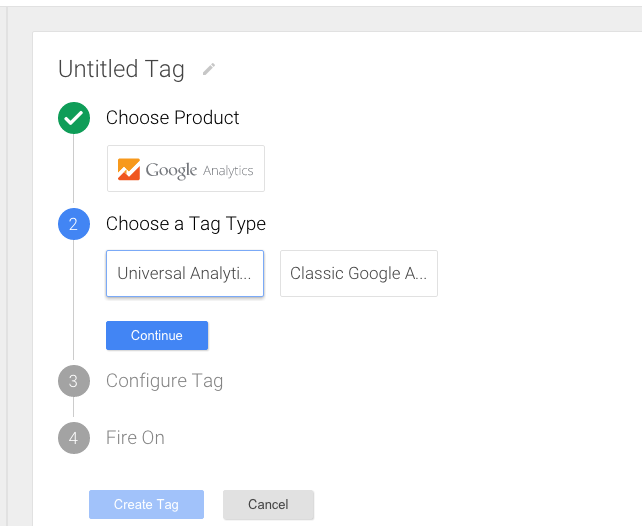 From here you'll be asked to 'Configure the tag' by dropping in your 'Tracking ID':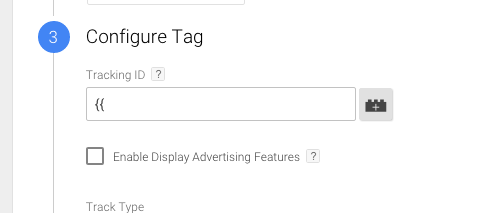 You'll find the ID in your Analytics account and will look like this:

You'll also choose the nature of the tag: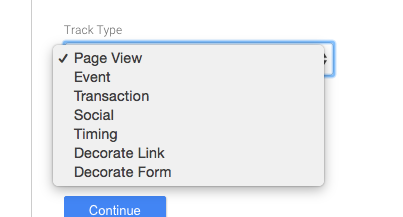 And where you want the tag to fire:

If you choose 'All Pages' then you will see this:

But know that if you choose 'Click' you will be be taken to a screen where you'll need to configure it in more detail: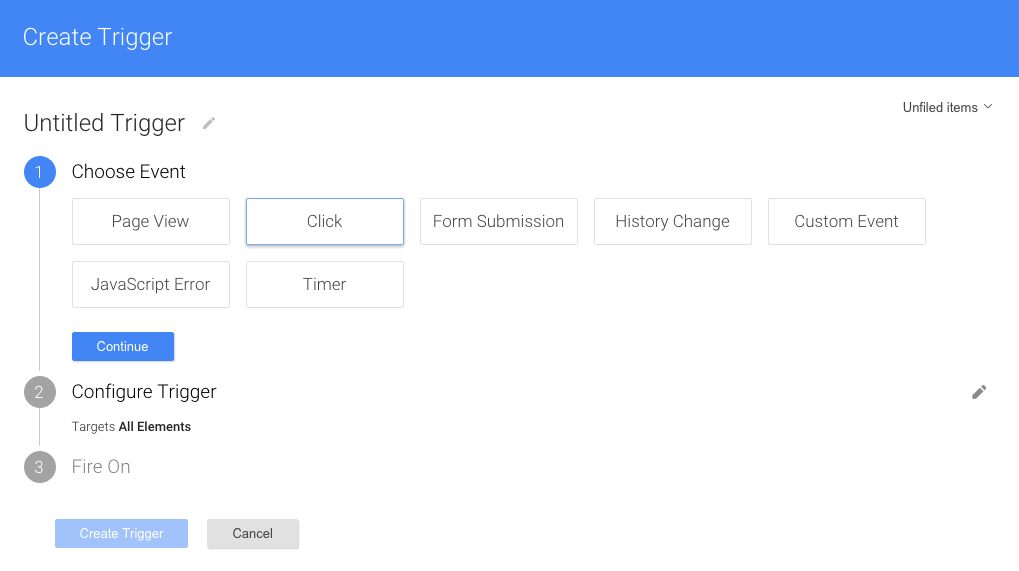 Once you've finished, click 'Create Tag' and then 'Publish' it to the container.
Note: make sure you check the code is installed by going back to the code's page in Analytics.
How to change the default view in Google Analytics
If you want to see a particular view you've set up when you log in, then click Admin at the top before selecting a view from the drop down: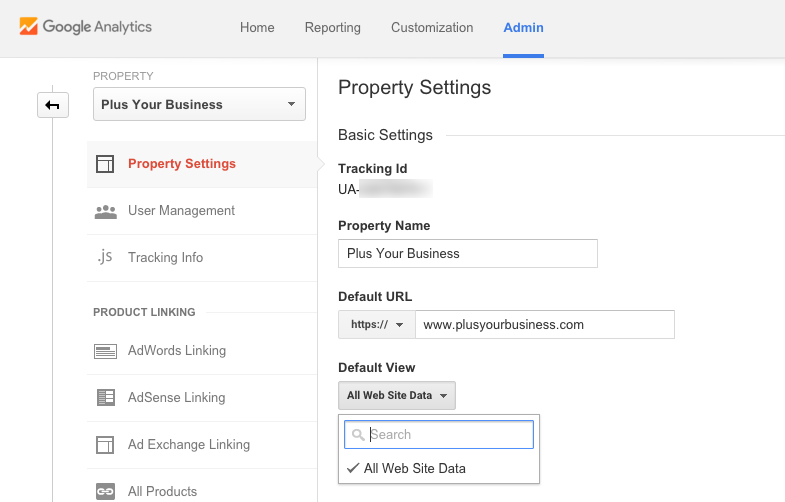 How to filter out your own IP address from Google Analytics Data
In order to make sure your Analytics results are accurately representing your website's true visitors, you will probably want to exclude people who are visiting it regularly from within your organization.
To do this, you need to exclude all the IP address which they are using.
Either you can be given a list, or you can:
Step 1 - search Google.com for 'What is my IP' e.g. 94.1.262.17
Step 2 - choose 'filters' from the 'View' column

Step 3 - Choose 'Add Filter':

Step 4 - Next choose to exclude: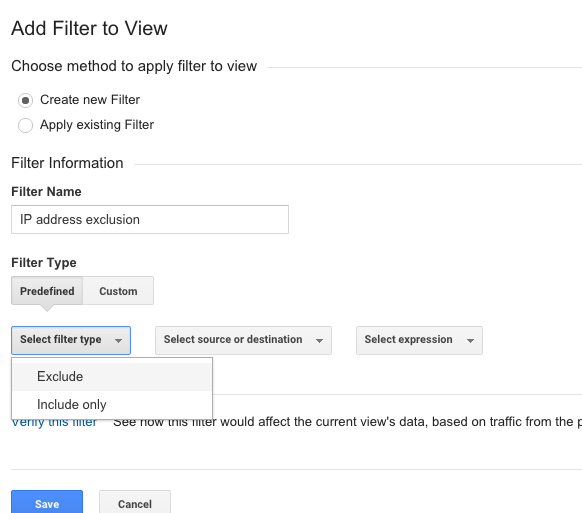 From an IP address: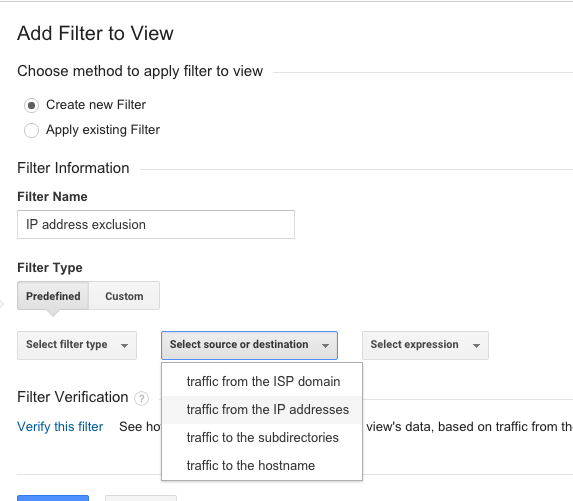 Or if you have multiple address you can 'Select expression':

Step 5:
Drop in the IP address, and then click 'Save':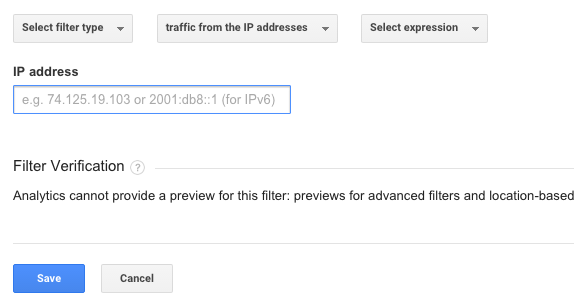 In your Analytics account, you may want to go deeper with filters. In which case, go to 'Custom'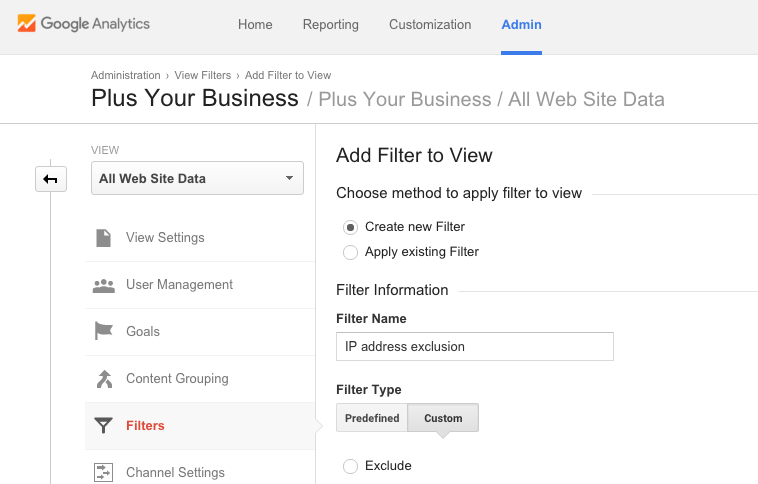 And then choose from the drop down based on whether you want to e.g. include or exclude activity: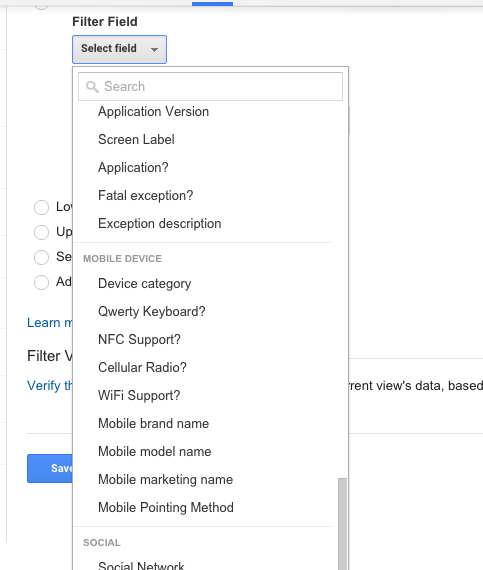 Note: when you apply multiple filters to an account, they get applied in that order. So if you decide to filter at a Country level first then this filter will be activated prior to the second filter e.g. device type.
You can change the order of filter by choosing 'assign filter order' (above the list).
If you like to view your data in a visually friendly and active way, and Google Analytics has that capability.
Click on the upper right three round icons to choose the motion chart display.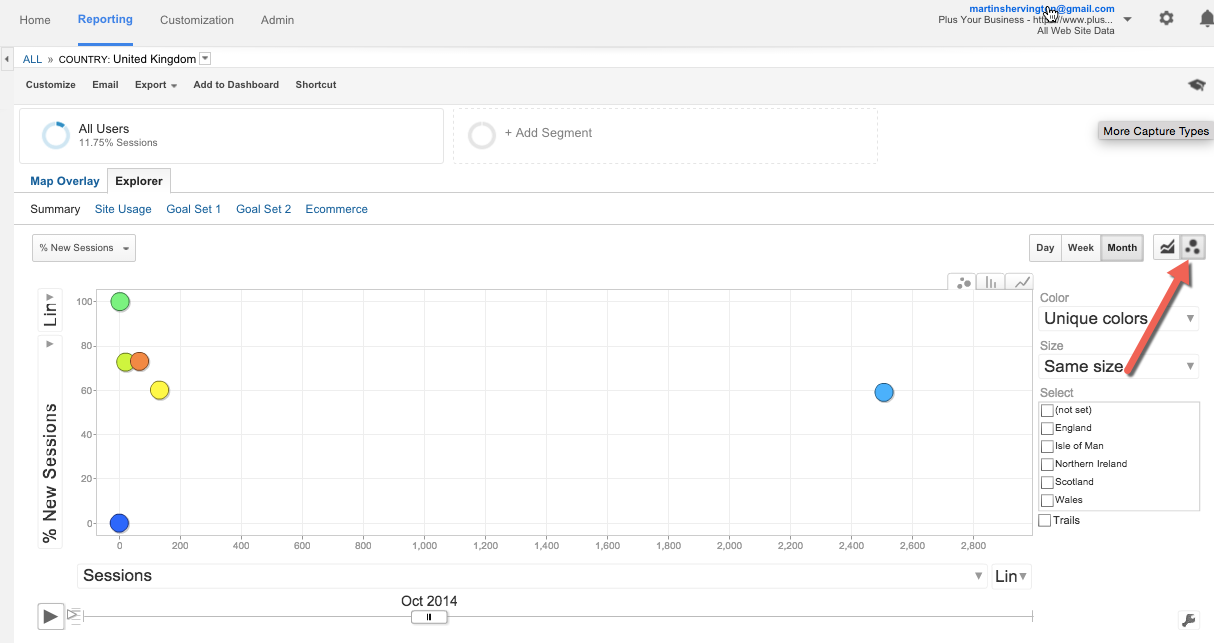 Then you can click 'play' at the bottom of the chart to see e.g. changes to countries as relates to the number of sessions: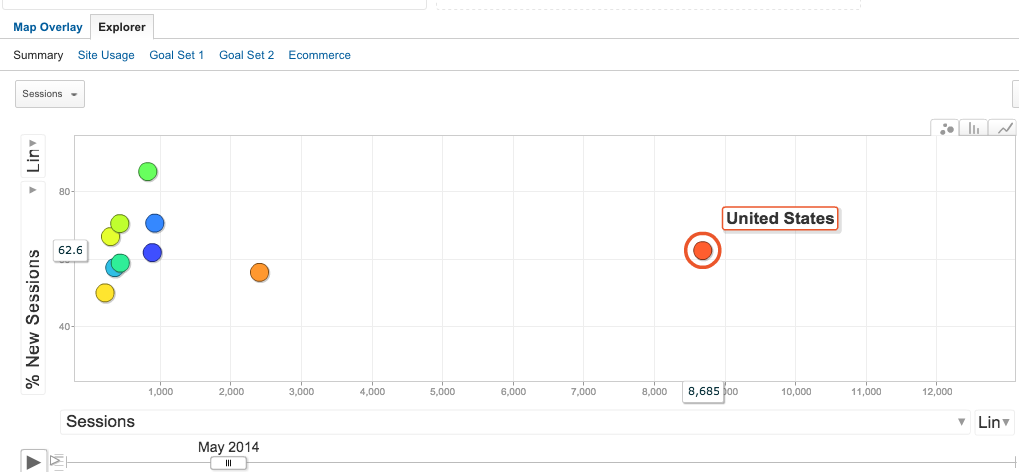 And you can change the chart by clicking on the drop down in the upper left: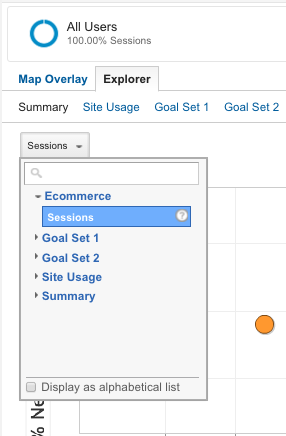 You may well find greatest insight comes from having the goals set up.
You can also change the display by clicking the graph option: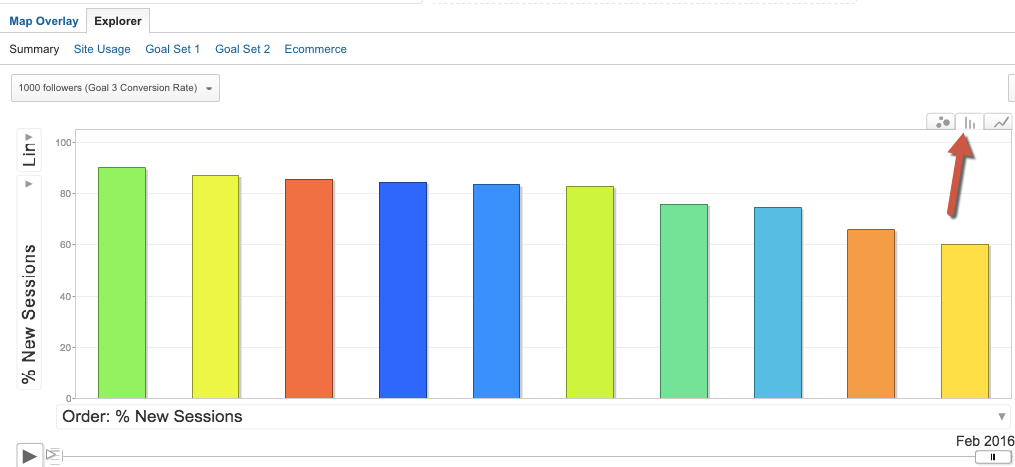 Or the line chart: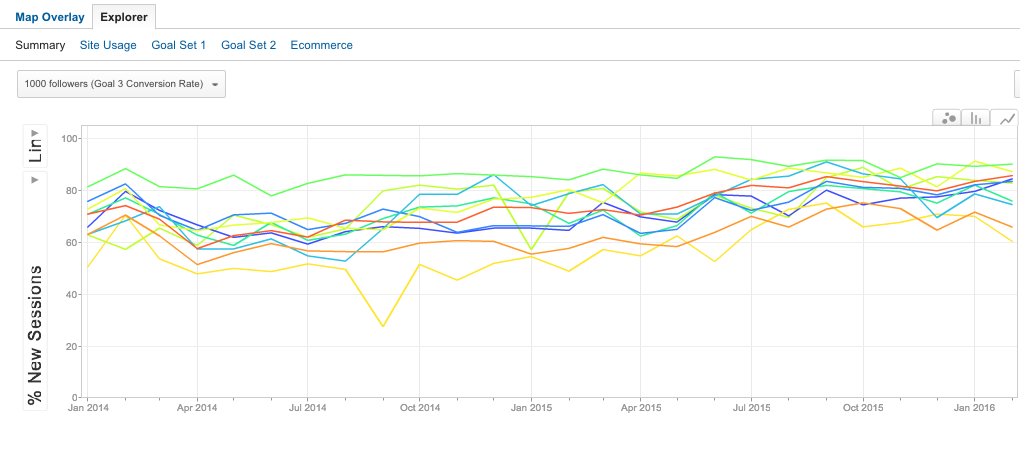 You can also customize the display further by including or excluding countries, as well as by adding colors to specific displays of data:

If you want to see, for instance, how many people are using a certain browser in a specific country then you can add in a second dimension.
In fact, you can add in second dimensions for many aspects of your data including 'user data' such as age, gender.
Or other dimensions such as behaviour.
Let's run with finding out the following.
What browser is most popular in the USA (the source of most of my visits):
Click on the secondary dimension drop down and choose from the list: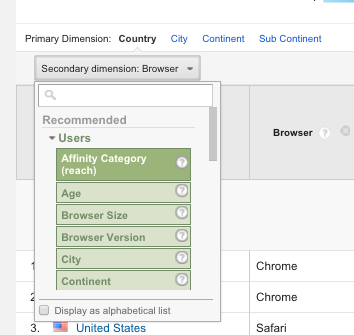 Then you will see the 'browser' listed next to the country, and the number of sessions to the right.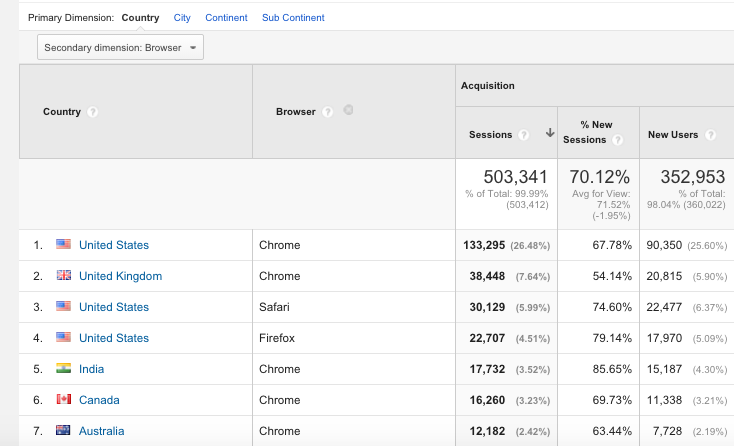 Note: you may need to click on the top bar e.g. country, browser or 'sessions' (below acquisition) to re-order the data.
As you can see for me, even though I may have discounted the browser and focused on the country data it would be foolish.
Most of my sessions are coming from the USA and I should make sure I am catering to that audience, no matter the browser.
Also, if I selected 'Operating System' from the second dimension drop down I can gain insight as follows: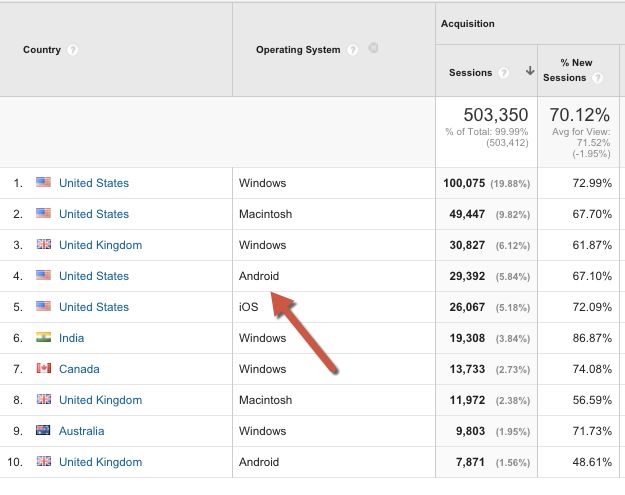 As you can see, I really need to make sure the site is displaying well on Android and iOS devices.
And also, it may be surprising to see that most people are using Windows, or not.
You can also change the display of this data by clicking one of the options in the upper right, as follows:
Which will change to e.g.

Or like this:

Secondary dimensions will allow you to dig deeper into Analytics, but remember to know your outcomes. This way you will be able to usually take the information and then make a useful difference in your business.
Having an overview of your data is useful but it is likely you'll want to drill down and display data that is, for instance, relating to more specific geographical and user related data.
The main consideration is this: What outcomes are you trying to achieve? How will segments help you to understand this better?
Let's say you have a new product you would like to get sales on via Google Remarketing. It may well be useful to segment your data to gain insight into a more specific visitor, which in turn you can remarket to based on their history with your website.
If you want to segment your data, you can do so as follows.
Click on 'add segment' in a report: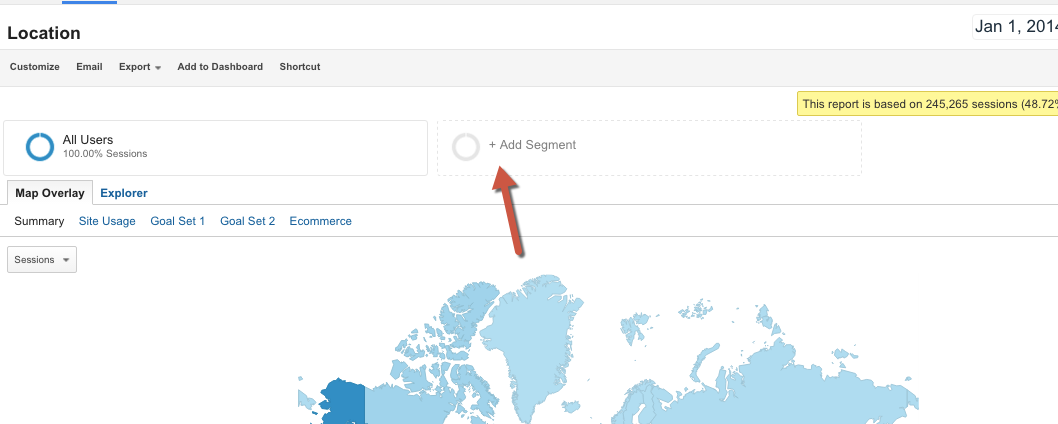 Then click to +new segment: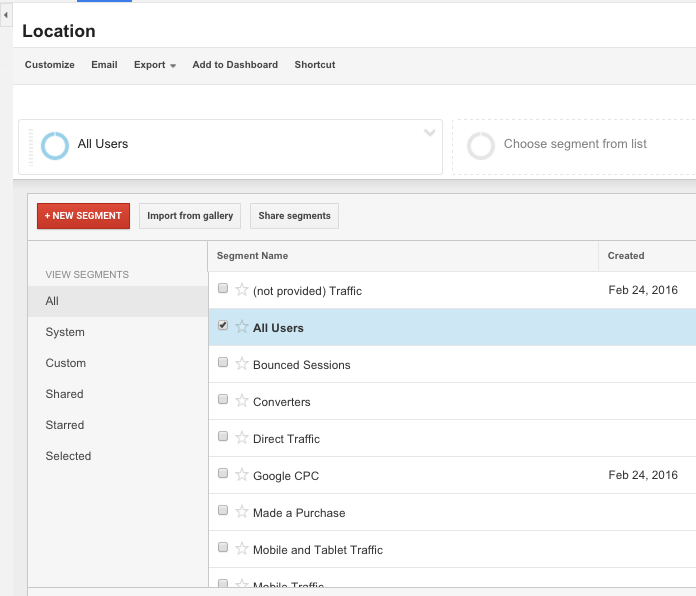 Then you can name and choose the nature of data you want to include in this segment.
In this example I am looking at:
USA
25-44 years old

As you can see, this is 27.35% of my users - 98,000 people.
But if I filter at a State, or even City level, you will see the numbers (including the percentage) on the right drop to show 813 users:

And there are loads of other filters you can add e.g. choosing how long since their last session: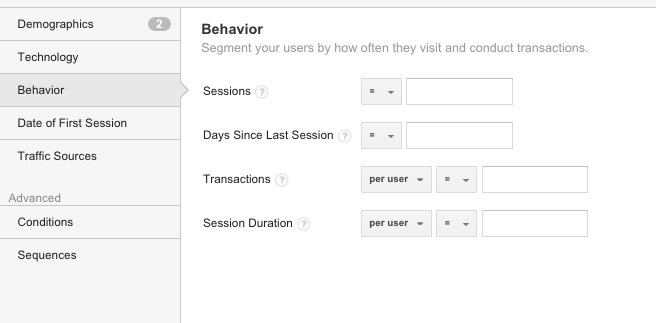 And the type of technology they are using: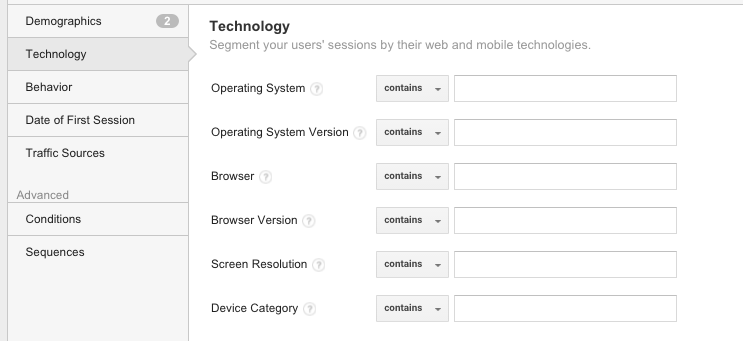 Once you've saved your filters, the data you can see displayed in the table will be based on this segmentation.
If you want to remove it, it is still saved, click the upper right dropdown and choose 'remove' at the bottom of the list.

Note you can edit the segment here, but to delete it you will have to return to the overview list:

At the top of your results you will see a Search box and 'advanced' next to it:

From here you can include/exclude a dimension or a metric:

Let's say I want to look at the data of everyone in the USA but not anyone using a Windows machine.
This could be relevant if I wanted to market to existing MAC or Android users, for instance.

This generates this filtered view:
Finally, if you want you can add in more Dimensions or Metrics so you refine the report. To do this, return to the Advanced Search via the 'edit' button:

Note: the filters are 'AND' filters, which means that you won't see OR results.
To display results that are X 'or' Y you can choose 'Matching RegExp' and then put in the factors with a pipe symbol (vertical line) between them.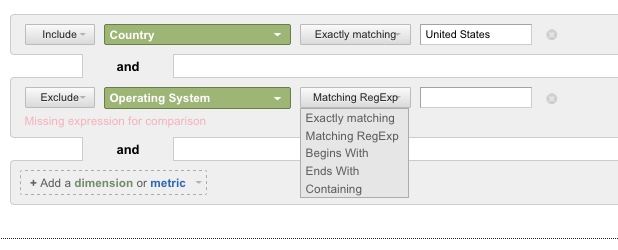 This will deliver any results with either 'or' factor such as Windows or Mac.
Here are just a few facts you can gleen from your Google Analytics in relation to your audience:
1. Comparisons
You can compare one period to the last (or any date range).
To do this, select the two ranges in the upper right: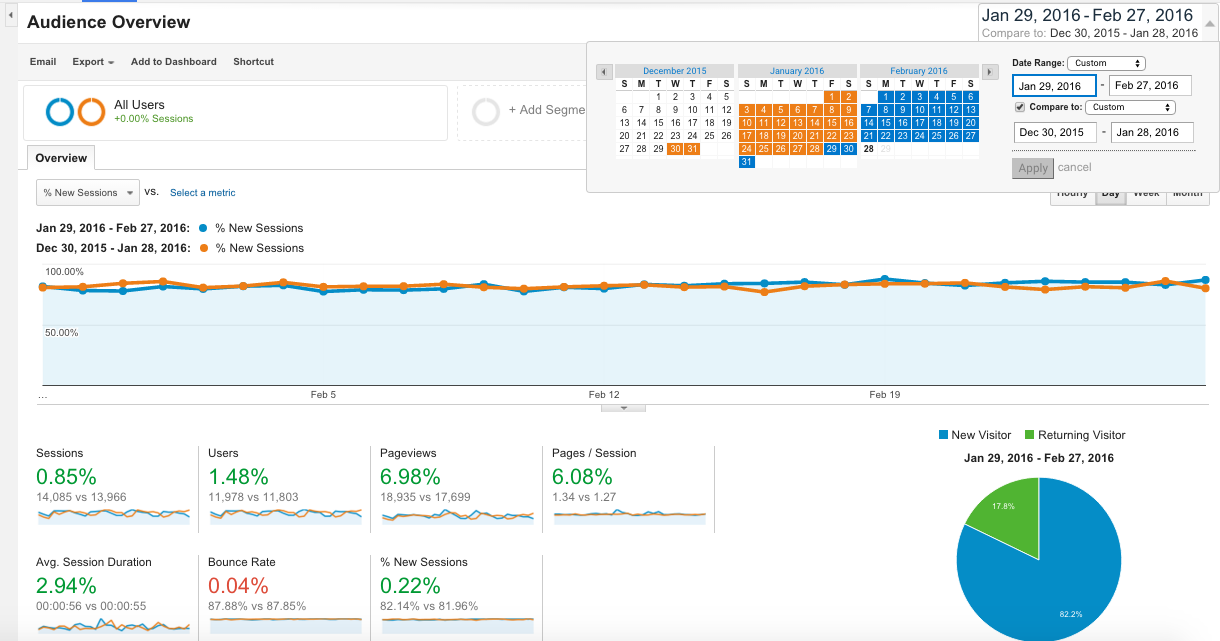 The figures shown in green mean that the change is positive, and red means there was a drop.
2. New vs. returning visitors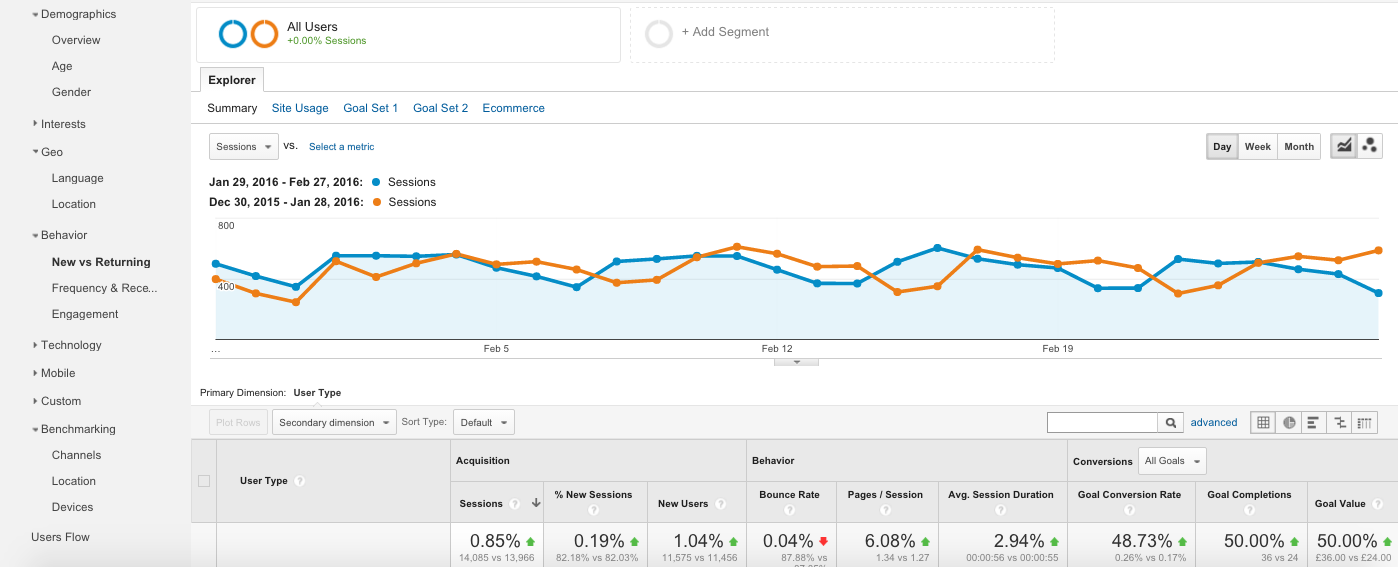 As you can see, here I am comparing two periods too.
3. Demographics
This will give you a good overview of the age and gender of people visiting: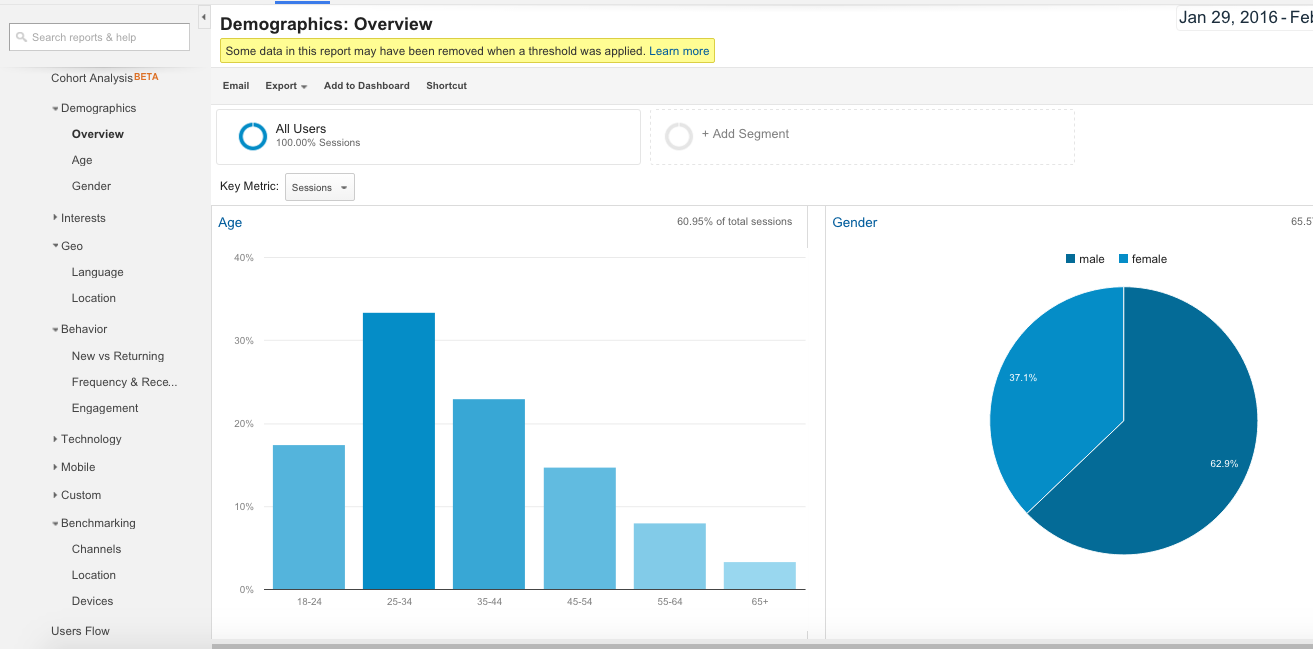 4. Location
Knowing where you visitors come from is vital:

You can click on any of the hyperlinks and drill down further too, in this case to the State level: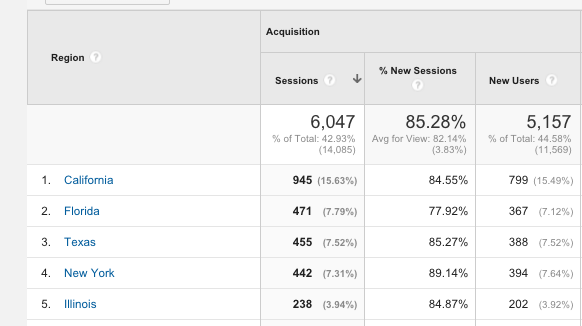 You can also click on the map to drill down like this, by clicking on the State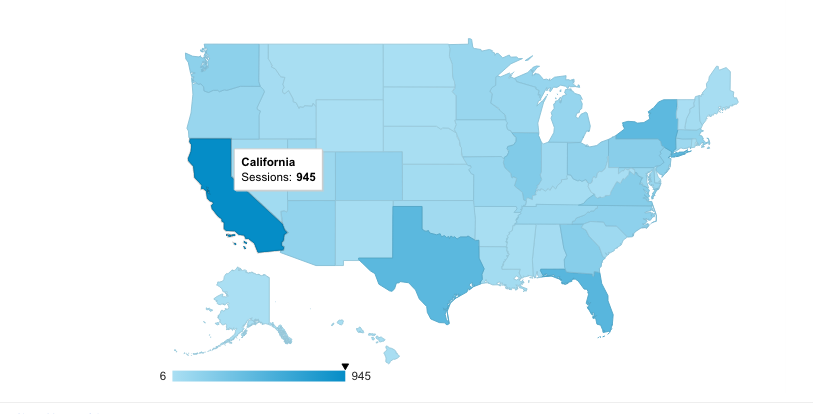 You will see where people are located: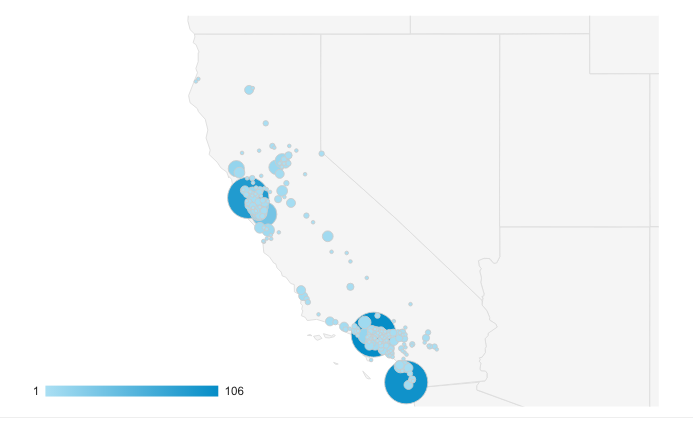 Here we can see pockets of people in San Francisco, Los Angeles and San Diego.
5. Frequency and recency
This gives you a great view of how many people just visit once, or visit a couple of times, or are much more dedicated to your website: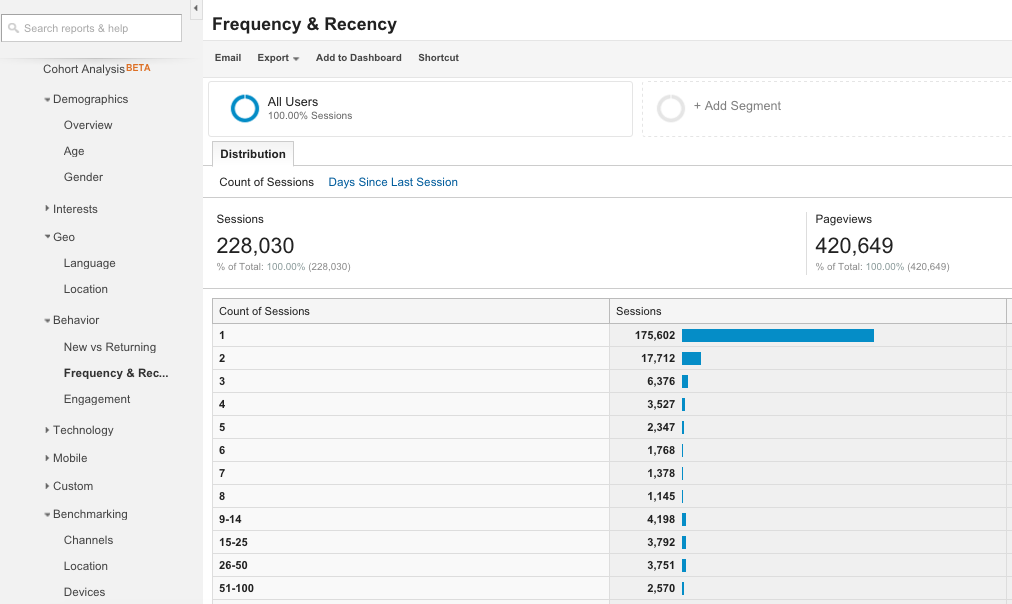 You can see here that 2570 people have visited the site between 51 and 100 times during the past year, And 10,000 additional people have visited over 9 times.
6. Technology
In the Audience section, you see which browsers were the most commonly used: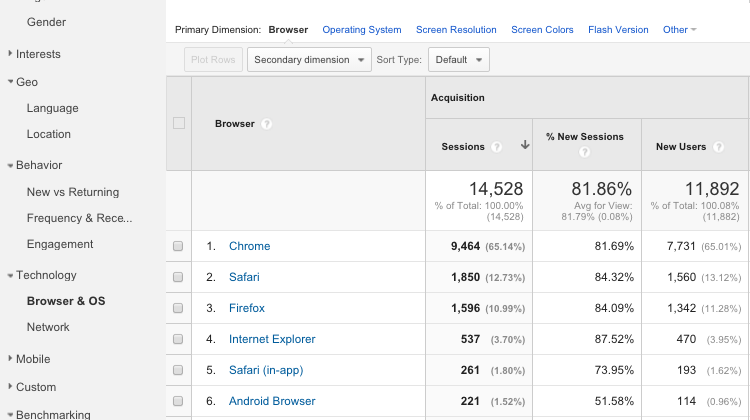 And by clicking on the menu next to 'Primary Dimension' you can see what operating systems are most commonly used: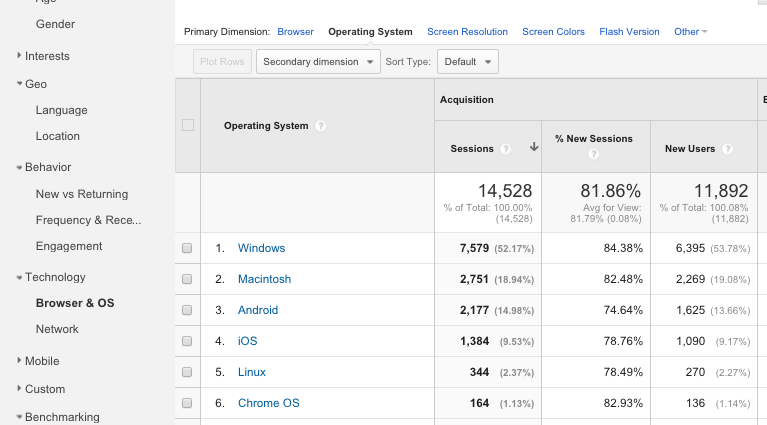 You can also drill down to see what screen resolution people are using too: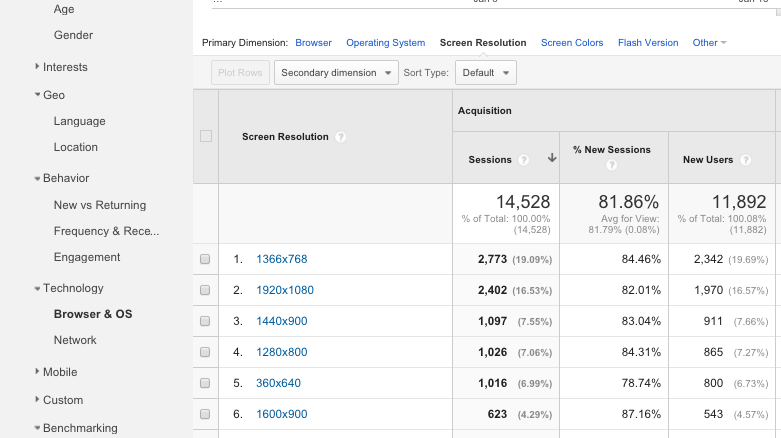 All of these give you insight into the people visiting, and potentially what changes you need to make.
These are a great way to understand where traffic is coming from.
As you can see in this example, there is a mix across Organic Search, Email, Social and Direct:
And you can select Top Sources/Mediums to break it down further: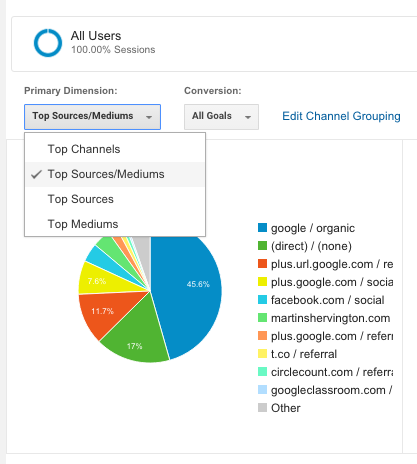 If you scroll down you will be able to which sources are delivering the most conversions:

In this case, Social and Direct traffic and Referral are delivering more than Organic Search.
This is the display for 'All Goals', but you can make it more granular by selecting a specific goal as follows: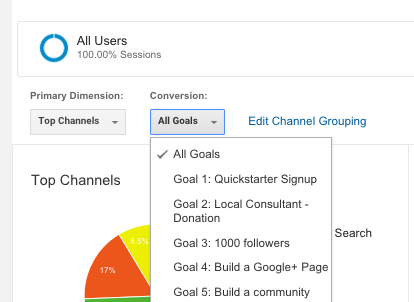 Looking next at 'Channels' you can begin to look at e.g. what people do who come from various sources: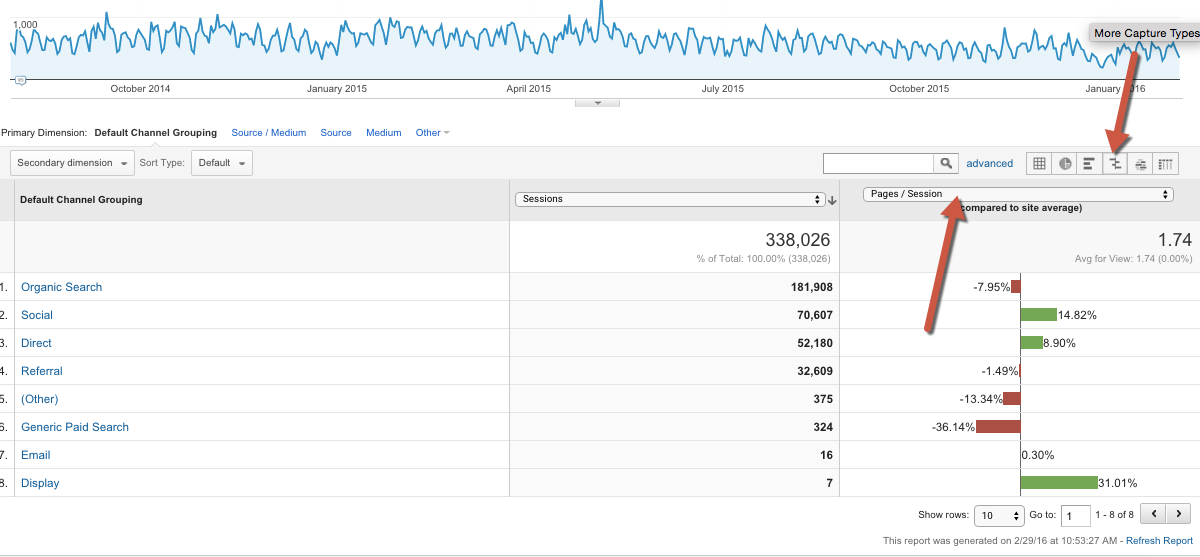 Here we can see the average view per page for people from Social is greater than that from Organic Search.
You can also look which sources are delivering most of your goals.
Next, looking at 'Source/Medium' we can see the volumes of the sessions on the left and which had the longest 'average session duration' (for me it is via Social, and in particular, Google+):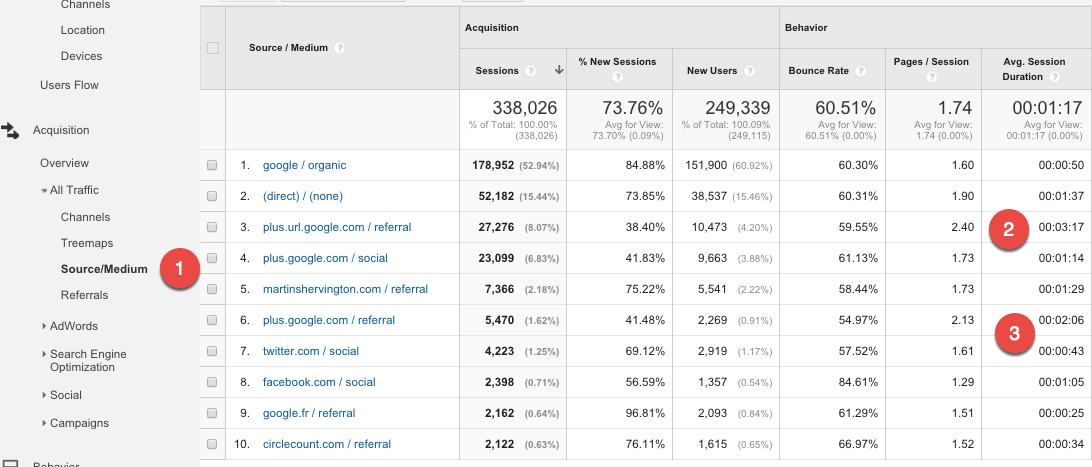 Finally, if I look at 'Referrals' on the left hand menu, it will bring up referring sites that are driving traffic: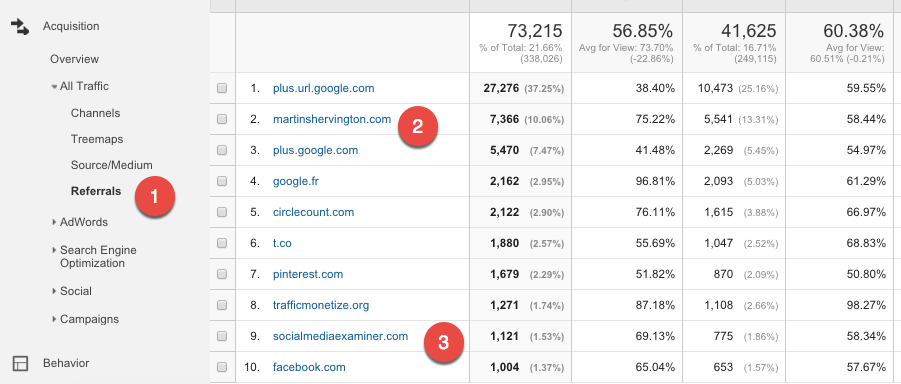 In this case my own blog is sending a lot, but I may want to consider whether I can send more. Also, guest blogging on SocialMediaExaminer.com has brought in over 1000 visitors as well.
If I then add in a secondary dimension of 'landing page' (start typing and you will be able to shortcut the selection), I can see which articles people are linking to from those sites: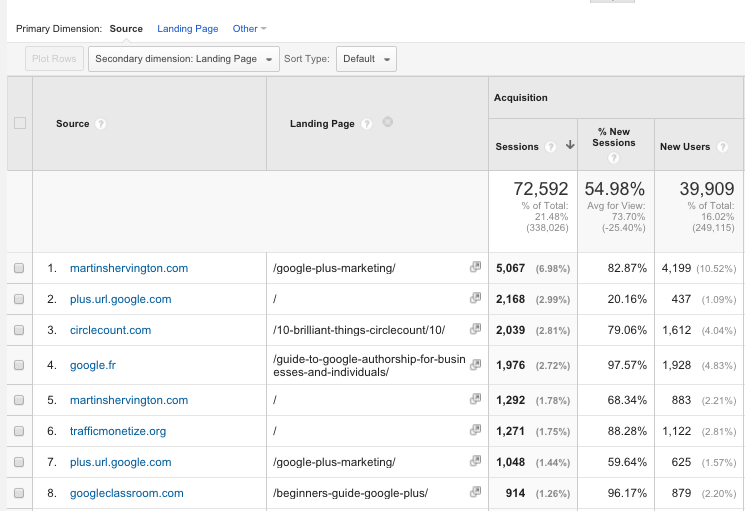 I will also find other referrers that I may not have realised are sending me traffic, and whether they are new users or ones that have already been there before - as in the case of GoogleClassroom.com
If this traffic converts then I could connect with that site and see how we could work together some more, knowing their referrals have converted well.
(I can see the 'goals data' to the right of the chart).
Knowing the value of social traffic is a must, and as you can see from this example, I am tracking sign ups and giving a $1 value to each one.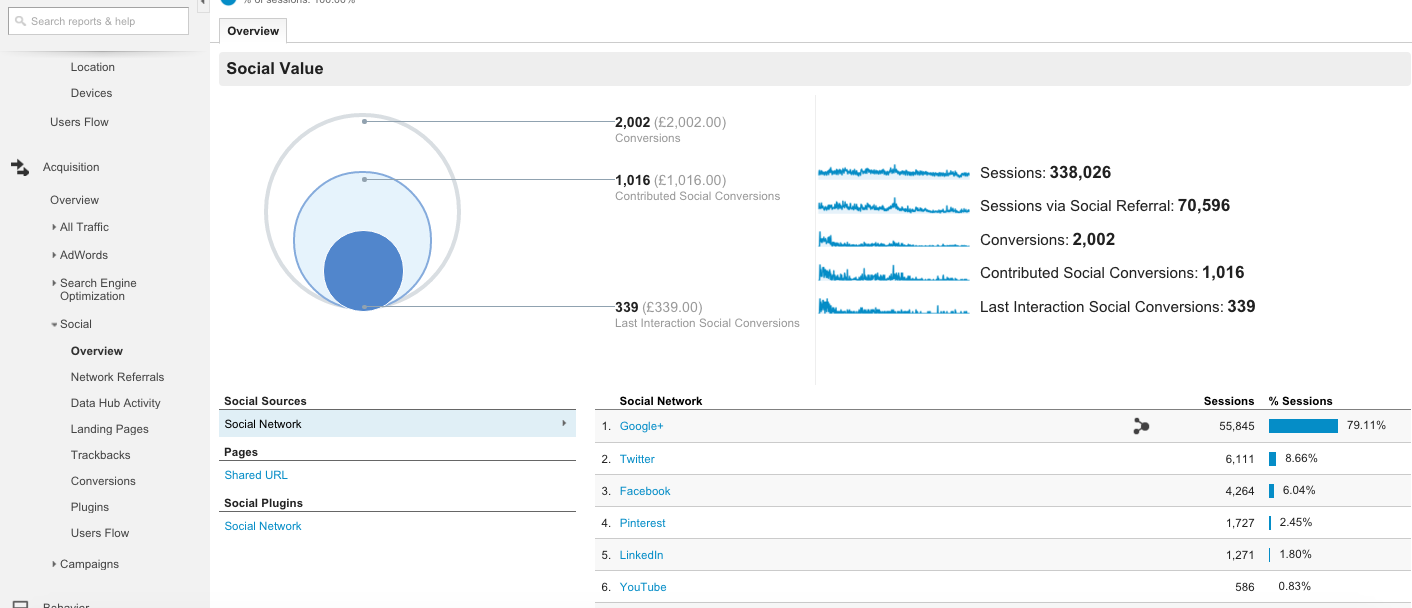 From 2002 conversions, we have 1016 contributed social conversions, and 339 last interaction social conversions. The latter meaning that a social post/tweet/pin was the factor that 'pushed people' over to convert.
I get a lot of traffic from Google+ so I may want to click into that to analyse further: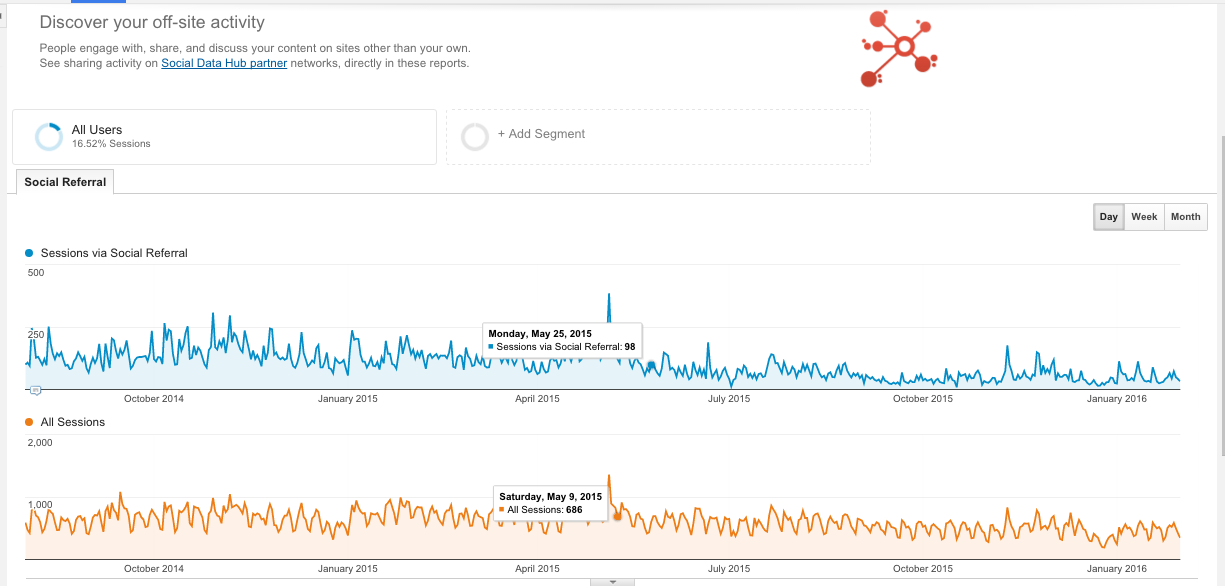 I can see the pages that got the most traffic, and if I click on 'Social Network and Action' (at the top of the table), Google is sharing the data from the network:

Your data hub activity will bring up a report of 'who' and 'where' people are talking/referring people to your site.
This could be used to build relationships with people in the networks you use, as well as giving you an idea which networks you may want to invest your time on: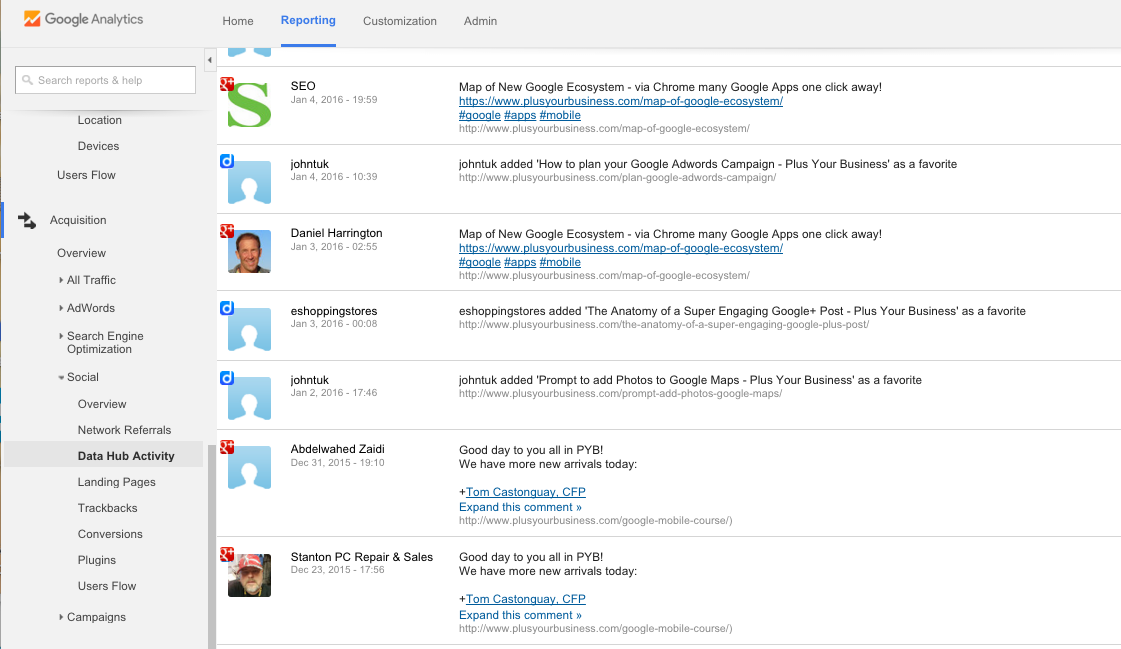 From the 'landing page' tab on the left, you can see the pages to which people referred:

I've reordered the 'data hub activities' to show the most, which are to my Home Page - good to know, especially as there have been over 11,000 sessions of an average of 3 minutes 37 seconds.
Next on the list is 'Trackbacks' which tells you which sites have linked to you:

Then we have 'Conversions' in relation to Social: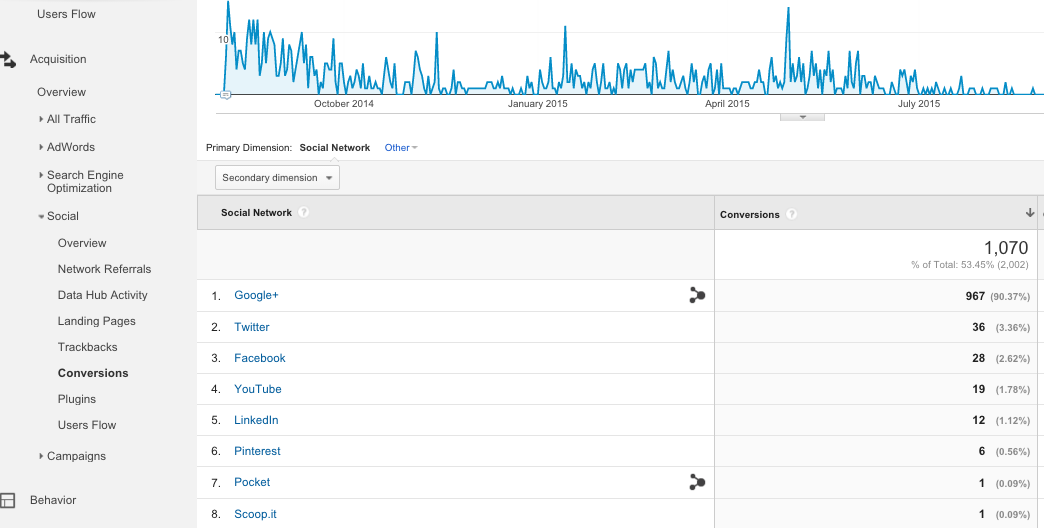 And as you can see for me, Google+ has generated the most from relating to this report's data. This can give you a monetary value to your Social activity.
The last two on the Social list are 'plugins' (which gives you some data on the social plugs ins added to a page), and 'User Flow' which gives you the flow of people from different networks.
If you then click on the 'red' you will see e.g. number of people who dropped off at a certain point in the user journey.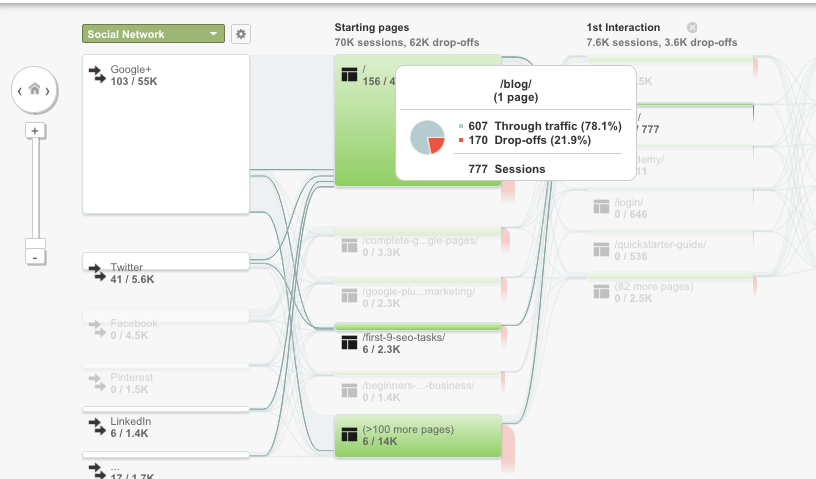 To use this effectively you will need to have a clear map of the desired user journey, e.g. leading to landing pages that convert.
This is a handy way to see when you content has surfaced in Google Search, and e.g. the position it was at, whether or not someone clicked to visit your site.
You'll need to have your analytics account linked to your Search Console (was Webmaster tools)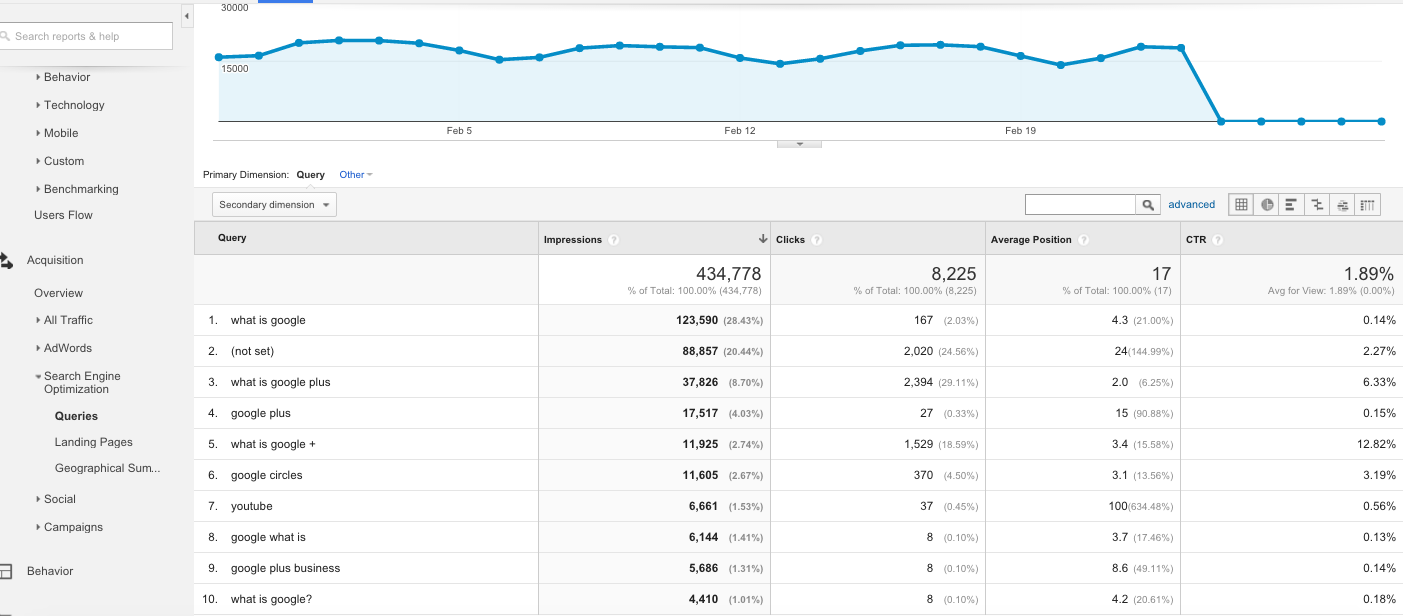 You can also add a second 'metric' such as average position and how it changes over time.

Then you can look at 'landing pages' that appeared:

And the countries where the impressions were made:

What I think is most useful in this report is to look at a selection of posts that have ranked well. This gives you a chance to review your SEO activities that have worked.
Then consider 'important posts' that you would like to have a better overall position. What changes could you make to them e.g. adding in a couple of videos, or a presentation and then reamplifying them in Social, which could give them a lift in Search? Or what other changes may make a difference? This is a chance to review and act.
This report gives insight into what visitors are doing on your site such as number of pageviews, time on page, bounce rate etc.

Under 'Site Content' on the left you can choose between the 'Page':

'Page Title':

And the Search terms people have been using within the site itself for any particular period:

Next on the left hand menu is the 'Content Drill Down' report. Now, depending on how your site has been organised, you may well gain better understanding of how each section is working for you:

In this case, our new 'Library' section has very different user behaviour to the rest of the website.
Remember, you can change the view at anytime to gain a different perspective.
Just click in the upper right to choose: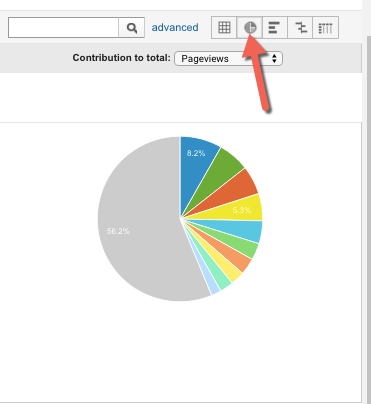 Click on the left into 'landing pages' and you can find e.g. poorly performing pages that are not satisfying people's requirements, like this one:

It has a over 1000 sessions, but the average session duration is very low. As such I may want to dig deeper and look to make some changes.
Finally for this section we have the 'exit pages' report:

People do have to exit your site at some point, so don't worry. The question is whether people do what you want whilst they are there - which is about Goals and Conversions. This report will give you a list of pages that you may want to look at having a clear 'next action step' to move them towards your goals.
There could be opportunities here waiting to happen.
This area will give you an idea of how fast the pages on your site are loading:

When you scroll down you will see the information based on browser too:

This could raise a red flag as to something needing attention.
Taking it a step further, you can see from 'Page Timings' (the next option down), which pages are more or less than the site average for speed:

The 'Zazzle' one here is taking a while to load, so may need to be investigated.
If you click on 'Map Overlay' you will also see if certain countries are getting a particularly slow loading times, as in Canada here: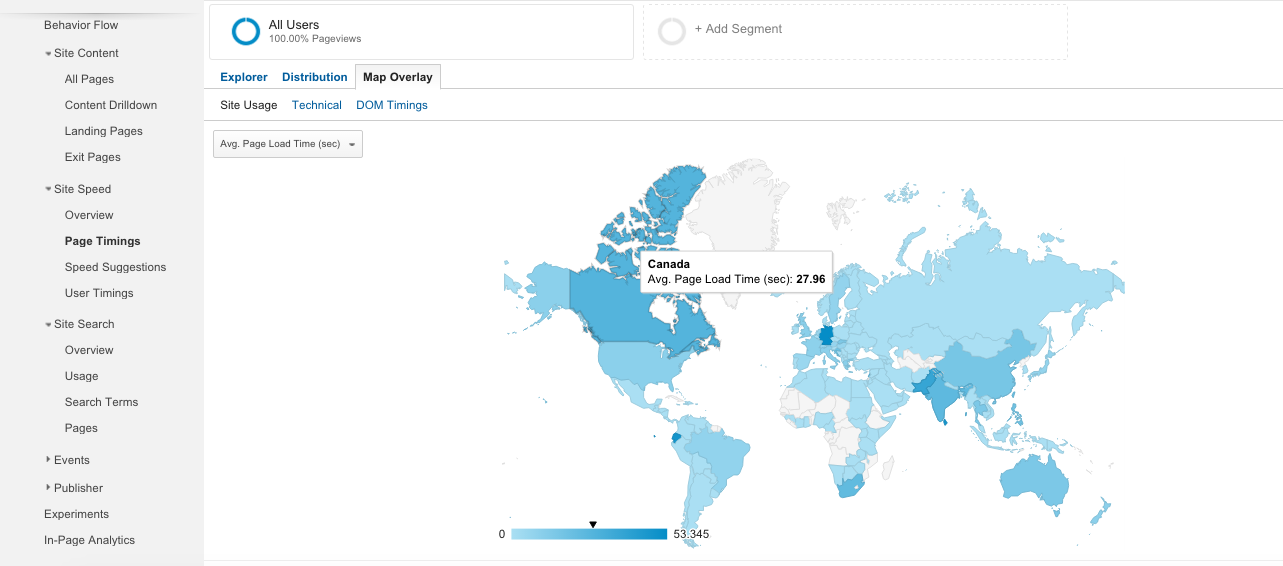 If you then make changes to your site, you may well want to compare to an earlier period.

Here I've selected to compare the last two months.
This will bring up two maps:

Next on the list is 'Speed Suggestions':

When you click on any of the 'Page Speed Suggestions' as hyperlinks, you will see a page like this where Google will suggest changes for you to make to each page, as well as a Score: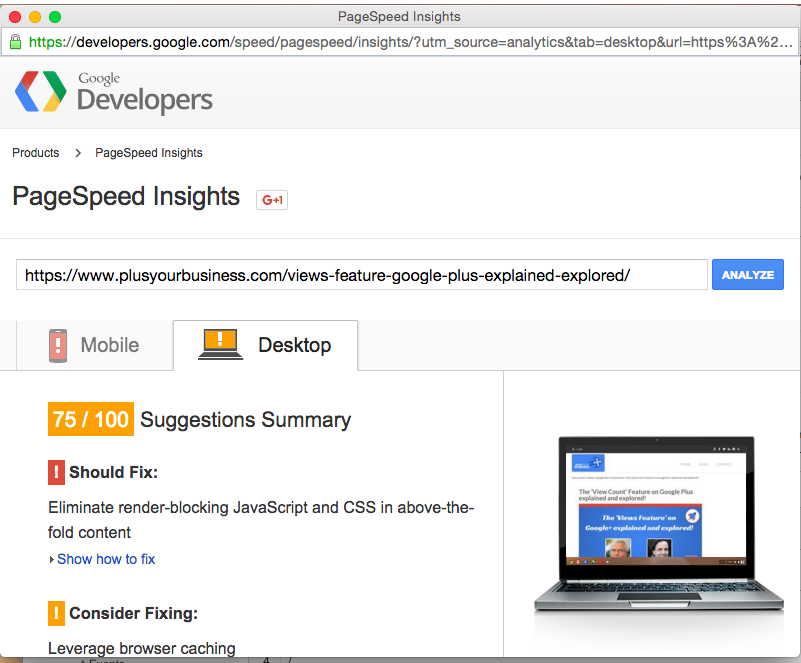 Click on mobile and you will get a different score and other suggestions: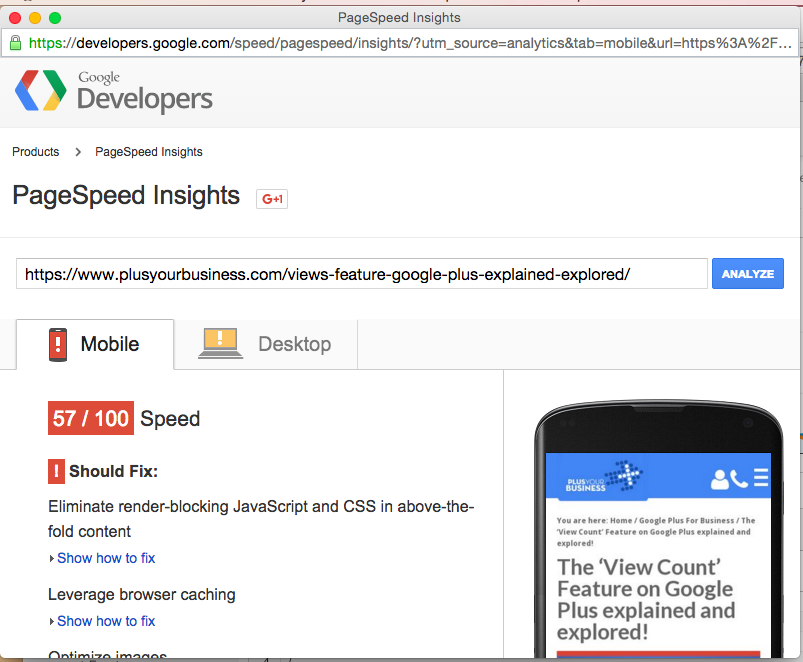 Knowing that we already have a high bounce rate on this page, and very low session duration, we now can see a potential reason for people leaving quickly.
On the left hand side you will see 'Events' which mean they are such things as a PDF download, a button that is clicked on the site etc.
You'll need to set them up, and the Google guide to do so is here:
https://developers.google.com/analytics/devguides/collection/analyticsjs/events
This is really getting into granular detail to actions happening on your site.
If you want to track e.g. a specific post and whether it is generate visitors from Twitter, Google+ or beyond, you can do this by adding Custom Tracking codes.
To do this, start with your website address and add a ? to the end like:
www.plusyourbusiness.com?
(you may need to add a / if your website has that as the default plusyourbusiness.com/?)
Then add the code such as: utm_campaign, utm_source, and utm_medium.
Now, the source could be Google+, so we would add this:
utm_source=googleplus
And the medium could be either Social or a Campaign, or both.
You then add the following:
&utm_medium=social
When you add this to a URL, such as a blog post you end up with:
https://www.plusyourbusiness.com/10‐tips‐for‐virtual‐reality‐marketing?utm_source=googleplus&utm_medium=social
This would then direct to the Page on the blog but also have that other data register in Google Analytics that will gives you the stats by visiting 'campaigns' as follows: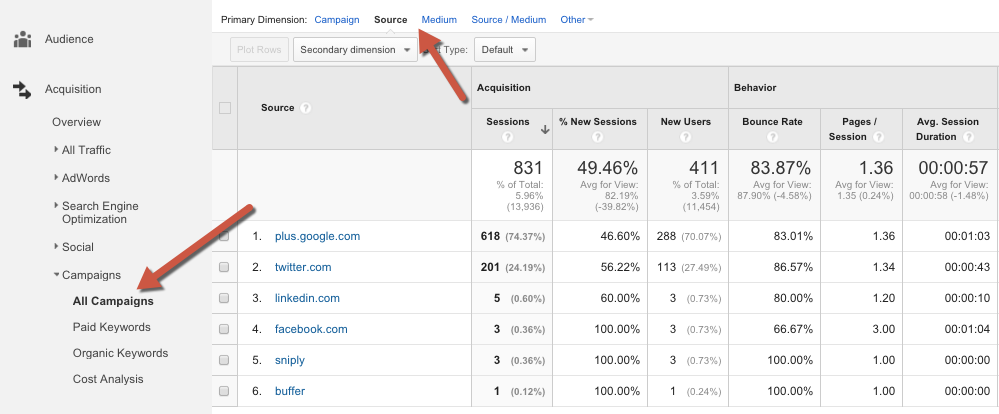 This is all needs to be considered from a tactical point of view to know what you want to track, but thinking about running campaigns is a good start.
Before you consider creating a dashboard, or modifying an existing one, you want to think about what information is most important for you to know have access to on a daily basis.
Once decided, then click on 'Create Dashboard' shown in the drop down on the left bar: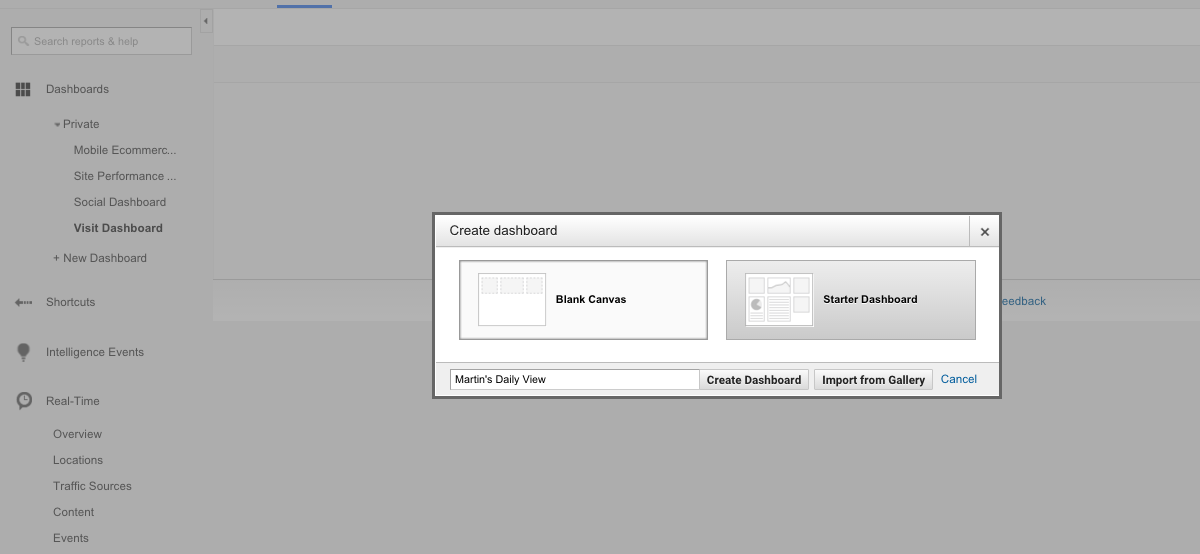 I will choose 'starter dashboard' and then look to customize it later, but you could choose to import one for the Gallery: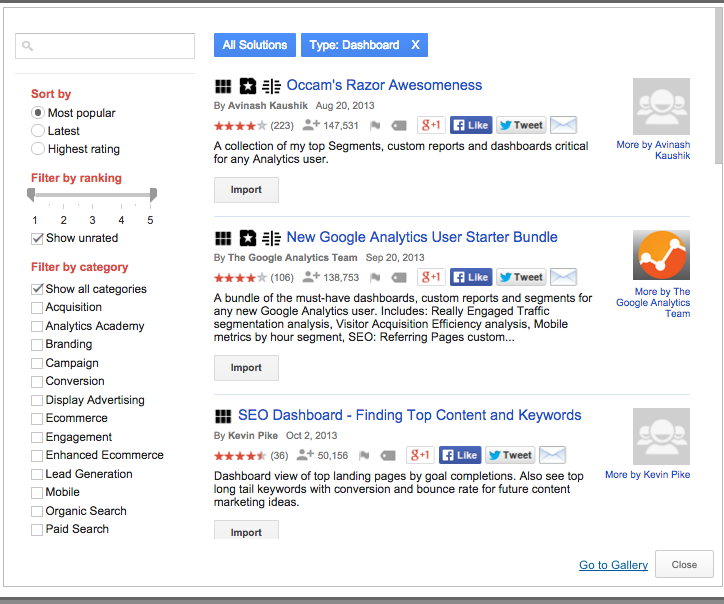 These are preset dashboards ready for your to use.
I've chosen to create a new dashboard and named it my 'Daily View':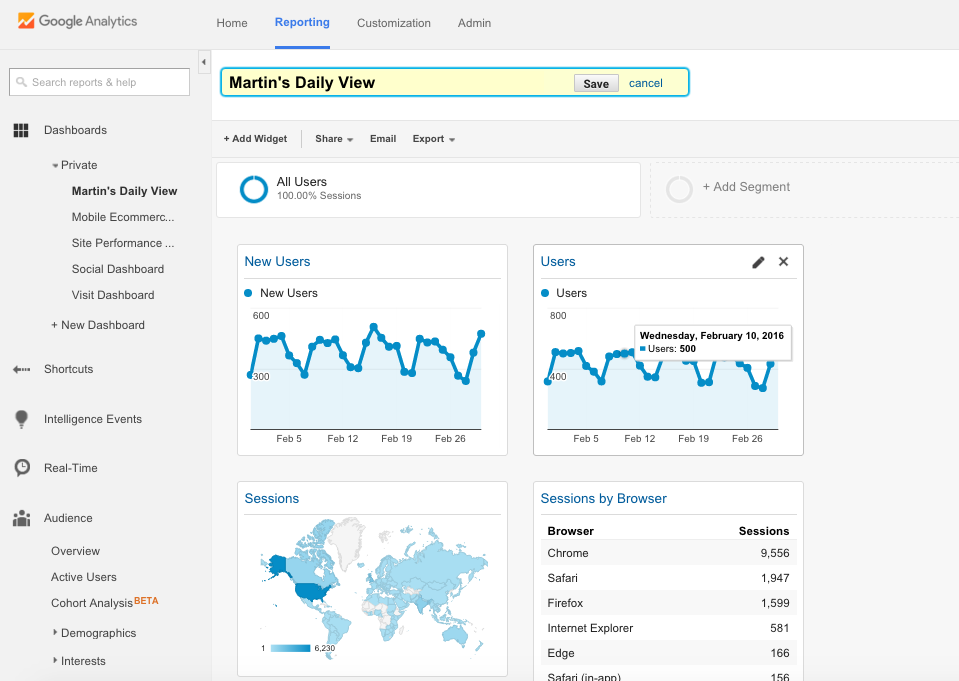 You can 'x' to remove any of the default panels, and you can drag and drop them to rearrange.
And in the upper right you can customize how the information is displayed:
Click on the upper left to add a widget: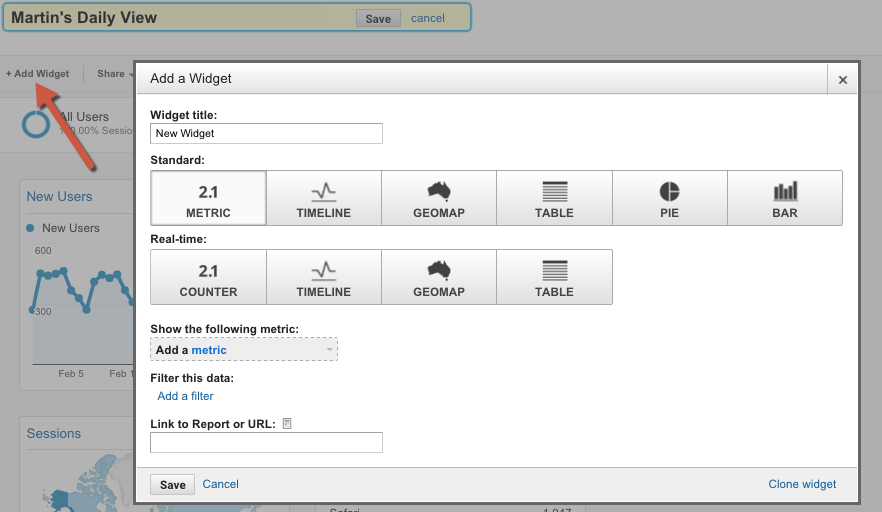 Consider your outcomes and then look to match your dashboard to give you the best information to reach them.
One of the most important aspects of your Google Analytics account is in relation to be able to track an activity becomes outcomes. The way to do this in Google Analytics is through conversion tracking. You can track events such as when people download PDF, when you sign up to newsletter, when they purchase a product. There are many other goals that can be tracked as well. Conversion tracking will relates to the final that you put in place, and in example below to show you how to setup tracking for a newsletter sign-up.
To get started, click on the Admin tab at the top, and then come across to 'View' where you will see 'Goals':

From here you will see a table of pre-set up goals, and which ones are active or not: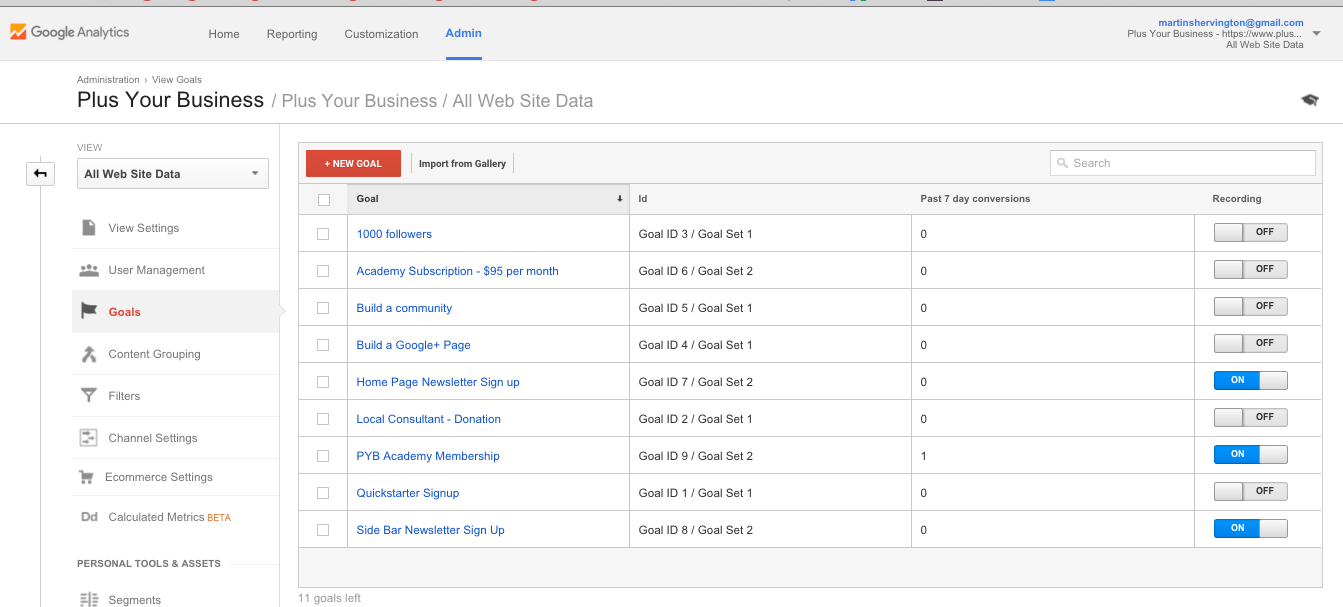 To create a new goal simply click on +New Goal:

And you may well see 'templates' as follows (if you don't you can work through the instructions Google gives):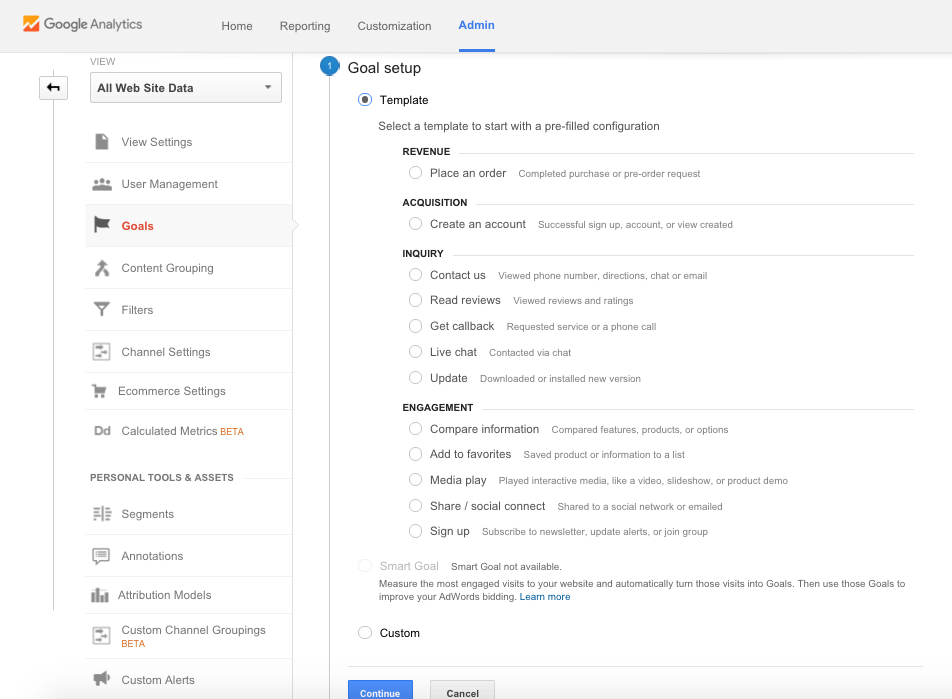 From this list I am going to choose 'Sign up' at the bottom of the Engagement section.

Once selected, click 'Continue' and we move to the next step where we give the Goal a name: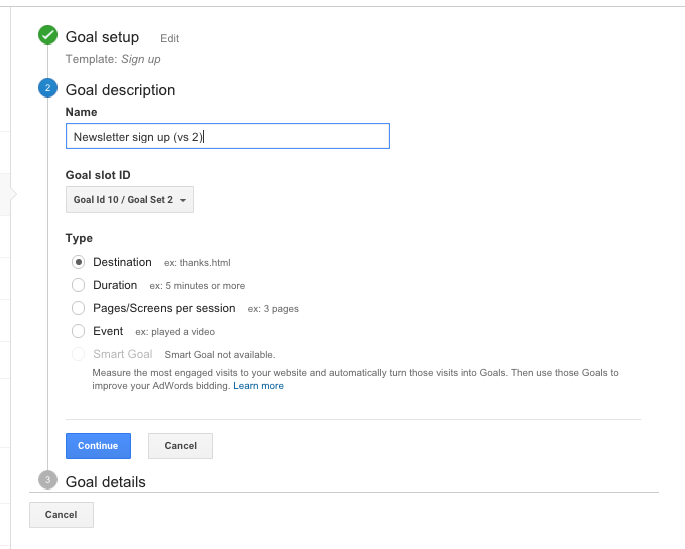 In the case of the newsletter sign up, there is a 'thank you page' which will trigger the code. This means that we want to select that option.
Once you select you can drop in the URL:
Note: it is just the /URL not the entire website address.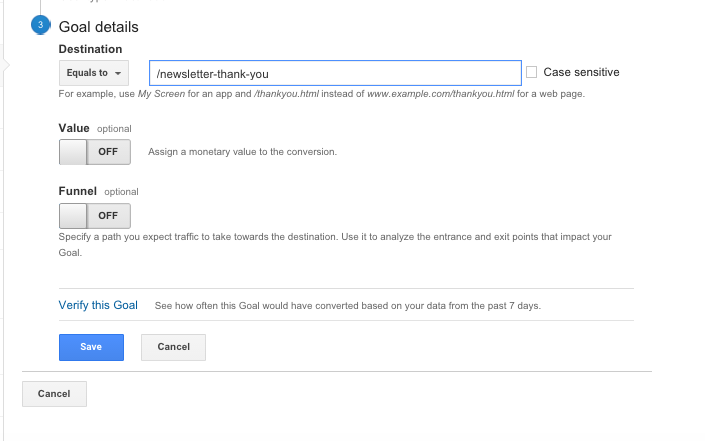 And sometimes you would have only 'Equals to' and other times e.g. 'Begins with' when there are many pages from which you want to trigger the goals as being completed (e.g. shopping cart pages):

You can then assign a value to the goal and connect it to a funnel you've created, or not:

Finally, click 'save' and you will have created your goal:
You will then see your new goal in the table: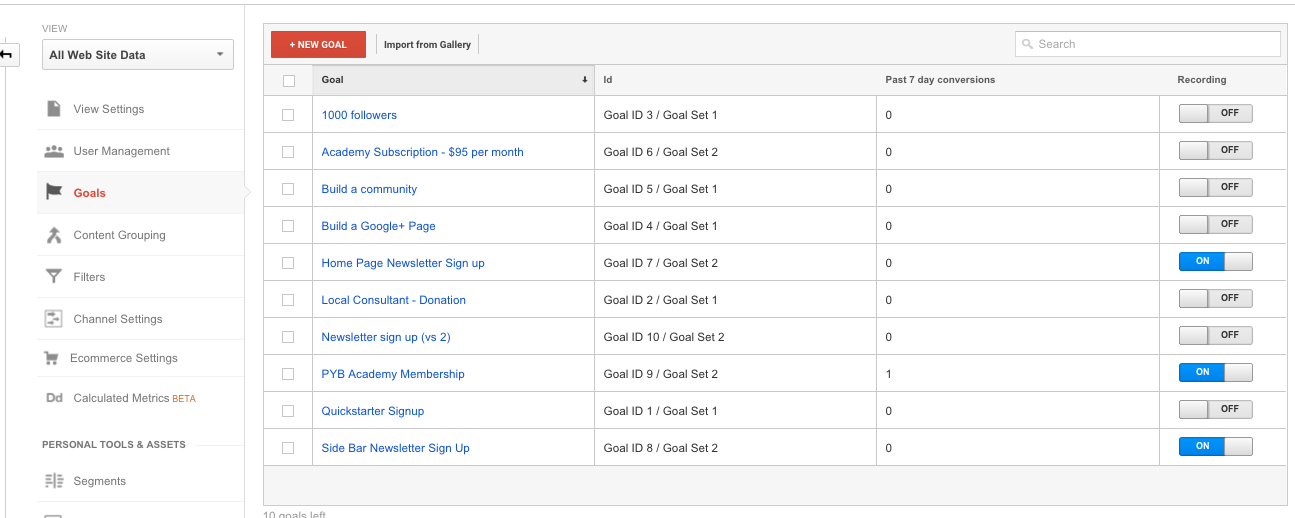 You cannot delete goals, but you switch them off.
The example I've given is probably the most straightforward, so if you have any questions it may well be best to ask your community for more support.
Next steps:
Here at Plus Your Business we have a very special approach to co-ordinating your marketing efforts.
If you feel there is another level, and you are not quite 'there' then we can show the future - your very own Virtual Command Center. Contact us here. Ask for Martin.