Welcome to Google+
2014 is going to be an incredible year to build up your Google Plus presence.
It really is going to be excellent for Google+ Marketing.
And as such, this complete video and blog guide you will be taking you on a tour of many of the main features of Google+, the social destination, that you need to really get to grips with it all.
Not a business? Don't worry! It is a perfect place to start for both businesses and individuals alike.
The videos are step-by-step guides through just about every feature of the platform, and beyond.
Why should businesses consider using Google+?
Well, Google+ is Google!
Google's Vic Gundotra (update: now ex-Google, but this holds strong!) says that Google have put a social layer over Google's products and services, and this seems to be the best way to describe to people what Google+ is about. It is not just a social destination, although that is a part of it, but it reaches into everything Google is doing. Check out this video from earlier this year to get a 'view' of how it all fits together.
Consider this an entrée before the main course! You may also like this podcast from Social Media Examiner as it will help you to see the bigger picture.
So, if Google+ is Google then ignoring Google+ would be like ignoring Google!
The benefits for an individual include:
Smart social experience in the Stream
A vibrant community for global networking
Google+ communities for finding likeminded people with similar passions
And for businesses they include:
Quality Social Engagement
Super-powered surfacing of content in Google Search (Social SEO)
Authority building
Awesome collaborative tools and cloud storage
Free video conferencing
Integration with YouTube - ideal for content creation and extending reach
Integration with Google Adwords - perfect for producing measurable results (BETA)
And much more...(click to see a quick video)
As Google+ extends across Google's products and services, there can be rather a lot to grasp to be able to apply it well.
But don't worry, we are here to quick start you, and even get you on the fast track as well.
"Yes, but I am so used to other platforms!"
Well, here is a free 2500 Word PDF guide that will help you get used to this incredible new experience if you are already using Facebook and want to understand the different language used. Please contact Mary Stovall if you need any more guidance.
[gview file="http://plusyourbusiness.com/wp-content/uploads/2014/01/QuickstarterguideforFacebookerswhowanttogetgoingonGooglePlus1.pdf"]
Feel free to download and send it to your friends to help them over to the Plus side of life!
Note: the links in the download are also clickable.
Google+ Course - learn just about everything you'll need, for free
If you are an individual looking to find their way around a little better, then the first set of videos are perfect.
As a business, you may well like to read on and learn about Google+ in relation to SEO and advertising through adwords too.
So, why are we doing this for free?
Well, here at Plus Your Business we are committed to supporting the community in learning and utilizing Google+ in the most effective way possible. And if you want to know more, we are here to help so just get in touch.
Index to VIDEOS in this post:
Introduction to Google+
How to set up a Google+ Page (more for businesses)
Google+ Posts and Photos
Google Circles and Communities
Exploring Google+
Google Hangouts and Hangouts-On-Air
And then...
How to start a private Hangout-On-Air
+Post Ads explored!
Adding social extensions to Google Adwords
Google Drive
Using Google Drive and Hangouts together (awesomeness)
The first steps...
This overview video covers everything you'll need to get started on Google+, and is ideal for even the most seasoned Plussers to brush up on their skills as the platform does change over time.
More on Google Authorship
(note this has now changed: only G+ posts show people/pages alongside)
Google Authorship connects your Google+ profile to content you create.
To find out more about Google Authorship then check out this blog post.
When Authorship is set up it correctly it enables your image to appear alongside your content in Google Search.
Your name and the number of people who have you in circles may also appear, but note that there are no guarantees.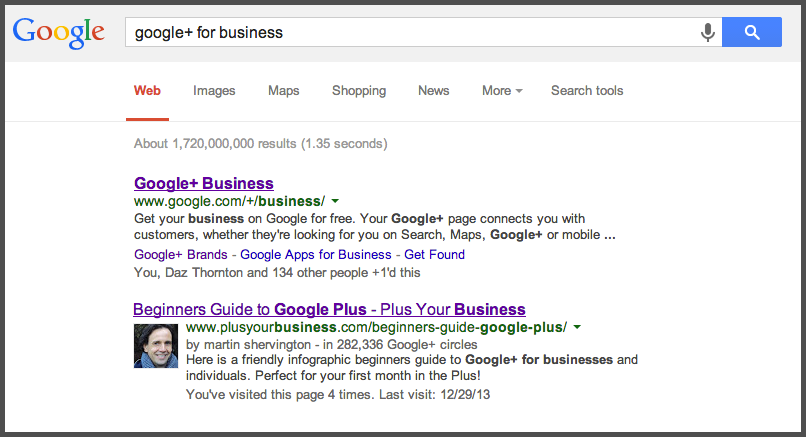 Google+ Pages
If you are acting as a business then you will probably want to set up a 'Google+ Page'.
There are 5 options, as you can see below: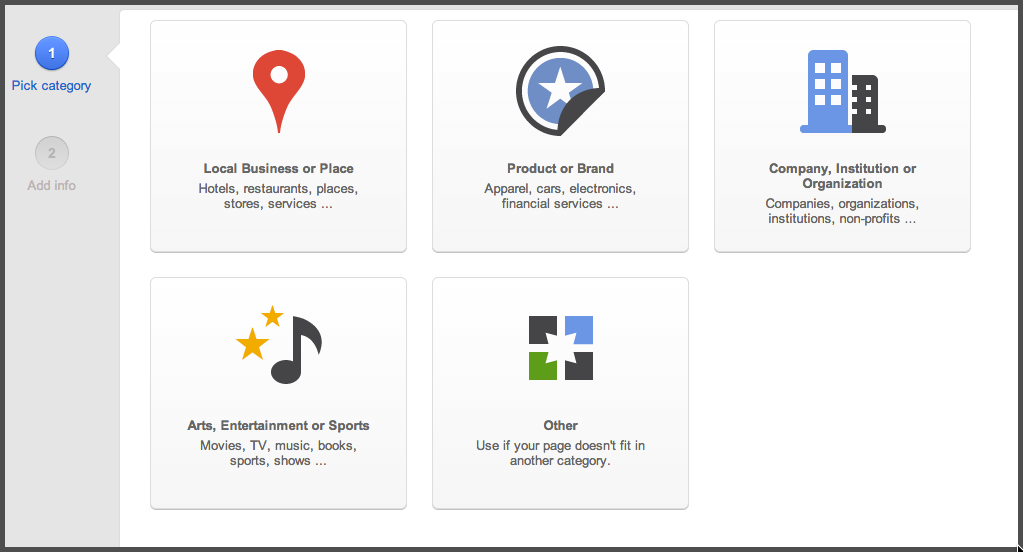 The video below will take you through the set up process.
One key point to stress though: if you have a 'Local business' you will want to choose that option - you will not be able to change it later.
A Local Page is for business when people come to visit you (i.e. you have hours when you are open), and/or when you visit people in a local area (e.g. as a plumber).
If you are considering setting up a Local Page then check out this article.
Then, when you are ready, check out how to create your Page:
Google Pages don't have 'Google Authorship' but there is something known as rel=publisher mark up.
This connects a Google+ Page to your website. Again, this article will cover just about everything you need.
You can even add some handy, attractive buttons like the ones below.
Click the links below to access:
Then simply add the ones you choose to your website.
Google+ Insights
The analytics on Google+ are starting to really come together now (which is great!) - here is an example of the analytics on a Google Local Page:

This will help you keep track on how much 'traction' your content is getting when you post...
Google Plus Posts and Photos
On Google+ you can send an array of messages, including:
1. Comments/text, including formatting:
*Bold*
_Italtics_
-Strikethrough-
2. Adding an image, multiple images, web links, Google Drive documents, YouTube videos, and events.
3. You can then easily select your audience, including being able to notify a select group by email (go easy on this!)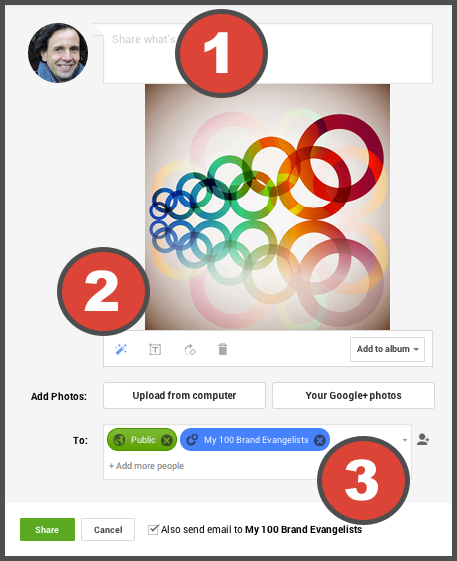 That last point re: notifying by email is very powerful, especially when you build niche lists and ask their permission to notify them in this way. Full instructions on that here.
There is a lot to Google+ posts and photos, but this video will take you into the detail.
More on Google Ripples
Google Ripples are a great way to find influencers. You will find them on any public post that has at least one share.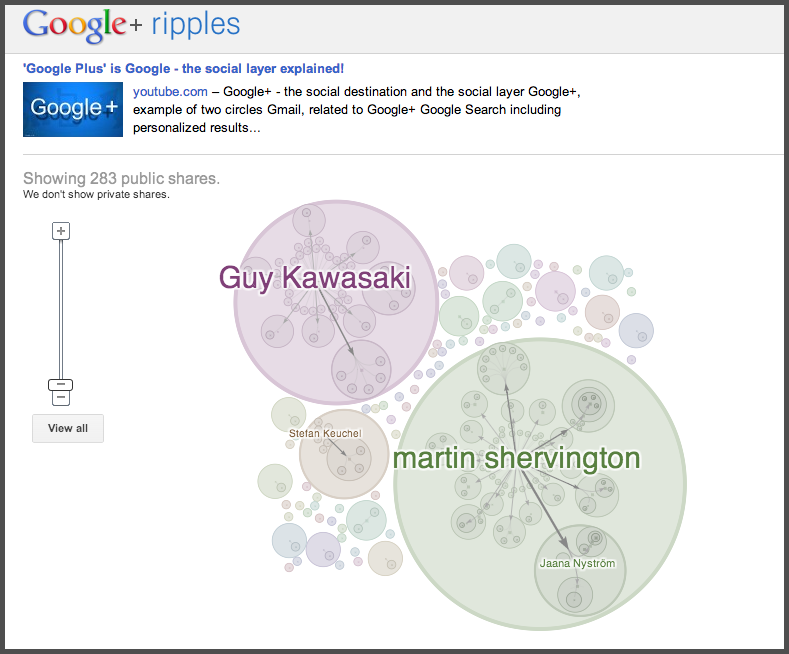 As a business, you will want to have a strategy relating to building relationships with the influencers in your niche.
You can use tools such as CircleCount and CircloScope to really help you discover, and then manage this process.
Note: make sure you return back to this section. I will publish a full process on using Google+ to find your 'One Hundred Brand Evangelists' within the month!
Google Circles and Communities
Here is a complete overview of managing your circles, as well as managing the flow of content in your stream from all sources including Google+ communities.
Here is a quick tip:
1. Click on a circle name at the top or the screen, and then...
2. Click to either receive notifications, choose whether to see that content in your Home Stream, and how much you want to see.

Then there is Google+ communities which are a brilliant way to meet like minded people. With tens of thousands of vibrant communities on Google+, you will find something that works for you; and if you don't you can always create one.
Check out this video so you can master the flow in your stream from circles and communities, as well as connecting with influencers.
Once you've got to grips with the basics, you may like to 'get your circles in order'.
This is the system I've used for the incoming stream.
https://www.youtube.com/watch?v=CX7b9xwvnIU
And check out the course here for the way to really use circles to get engagement!
Exploring Google+
Google+ is a powerful search engine in its own right.
Simply:
1. Search in the top bar for content, e.g. using a hashtag, and then...
2. Filter using the tabs on the top or under the 'more' option.

This video will show you where you can 'click' to explore and filter your Google+ experience even more...
Google Hangouts and an introduction to Hangouts-on-air
Google Hangouts are a phenomenal tool! It allows group chat (up to 100 people) and video call (up to 10 devices; 15 with an Apps account). Here is a pic of hangout interview I did with Chris Brogan: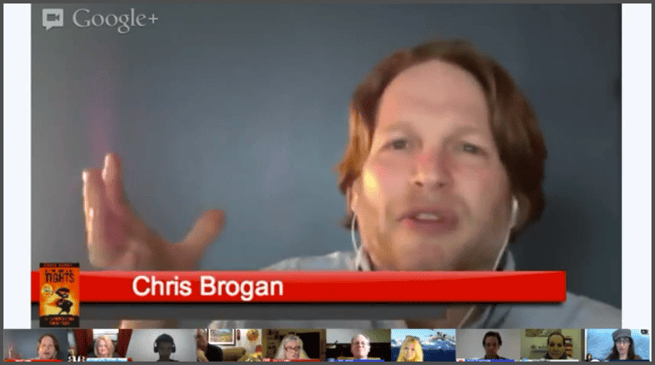 When you consider that with 'Hangouts-on-air' (HOA) everyone has their own broadcast station you will see this as a content marketing dream.
Check out this video for a step-by-step guide to it all...
The main course is complete!
Well, ladies and gentlemen, that should give you a basic idea of how to use Google+.
There is a lot more to really leveraging it as a business, large or small, and as such we thought it would be useful to include some more free content that you may find of use. Consider this to be moving on to the dessert. Sticky toffee pudding, or chocky cake anyone?
More on Google Hangouts-on-air
As you can see from the last video, Hangouts-on-air (HOAs) are seriously cool.
One little know feature is that you can use them for private meetings, recorded on YouTube.
You cannot start this from with Google+, however, but the video below will show you how you can from within YouTube.
(It is very easy to do, but this feature may still be rolling out...)
Google+ and Social SEO
The world of Search Engine Optimization has been turned on its head by Google+.
Now the world is social. It is also highly personalized and increasingly mobile.
Google+ has all this covered.
The key point is to build your network, connect to the people who you/others consider to be influencers in your field, and produce quality content for the community which you serve.
Here is a really fun example of what can be achieved using Google+...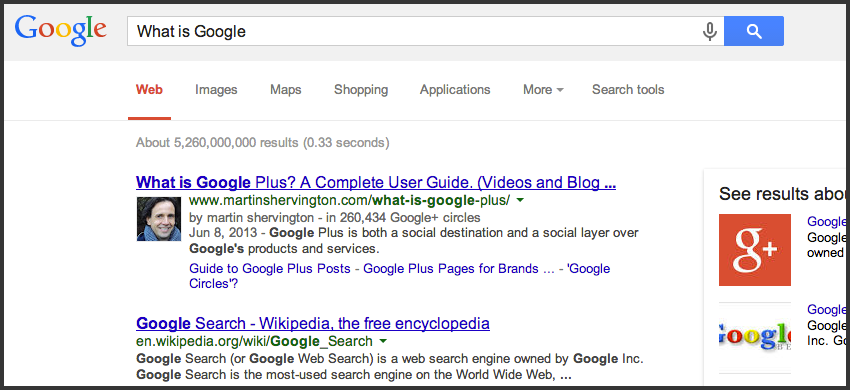 If you would like to know more on how this result was achieved then check out this article.
The key is this: the role of community combined with serving them the best content you possible can.
They will give you Search as they give you authority on a subject and that content then emerges in the future as people's Search results on Google. First people build up trust through every interaction, then you begin to develop a reputation as they amplify your messages. Then you have a 'reputation' form over time. This then allows that content to emerge in Google Search, increasing your reach far beyond the original community.
As you will read in this article on 'Trust': "Think of it this way: you are the best baker of apple pies in your community. People pop by and you gift them a tasty pastry dessert, and they had back to the edge of the village. The people who have eaten the pie just have to tell others about it. They love it that much. In turn, the pie gets the attention of people outside of your village and people ask the recipient what they think of it (think 'network', 'sharing' and 'Google Search'). They give it a rave review and say that you are the best pie maker in the area (which you are). And where should they go if they want to buy a pie for themselves? To you of course! As such, there is never a need to knock on doors and sell to the villagers, to your community, when you have them as your best evangelists."
This is when you really start to enter the world of Google Semantic Search, so check out this article with the man who who wrote the book, David Amerland.
Advertising: Google+ and Google Adwords
Recently Google has been rolling out this feature. It is AWESOME. As you will see in this blog post and from the video below.
In brief, it enables an advertiser to increase exposure to their content (i.e. a Google+ post) as it enters Google's Display Network.
This interview with PYBer Mark Traphagen will tell you why we are so excited about this...
You can also connect you Google Adwords account to your Google+ Page using social extensions.
This enables social information to appear in connection with your adverts.
This video will take you through the process.
And, you may like to look at using a simple version of Adwords called Adwords Express.
Plus Your Business clients are finding this especially useful on Google Local pages.
Google Drive - a Complete User Guide.
Google+ and Google Drive work hand-in-hand. This video will take you through just about everything you need to know to make it work for you and your team. Trust me, it will transform how you communicate. When you combine this with setting up a private community for project working, you will be flying in no time. Click here for instructions on how you can set one up.
Then you will want to bring in using Google Hangouts...
How to use Google Hangouts to collaborate even more effectively!
In this final video in the series for 'Google Plus for Business' we bring it all together - using Google Drive and Google Hangouts with teams. It is a quick video but once you see how easy it is, we hope you will get started and embrace this new way of working.
It is incredible how efficiently we can community when we have the right tools.
And finally...
As you can see, there is a lot to learning Google+, but we are here to help. This site has free resources that are updated regularly to keep you smart! We also have an awesome team here to help if you want to go on the fast track, as well as a thriving community which we hope you will join. See you soon!