This article covers the subject area of Google Local, and it is not straightforward! PYBer Travis Taylor has done a brilliant job of putting together this comprehensive overview of the territory in this video and blog post. You will probably still have a few questions so please do visit us in the community and we will do our best to help.
1. What is Google Local?
Google Local consists of online listings of local places and businesses you can find in Google Search and other Google Products. Folks have the ability to search by city or local area, and can also search by categories of places or businesses (such as a dentist or coffee shop, parks, etc...). information about business and place is available like contact info, directions, parking, products available, pricing, offers, and more. Google recently added street views(only where available) and 360 degree tours(only for companies who meet criteria). People can read and give reviews, and even share these locations and businesses with your friends on Google+.
More information about Google Local- http://www.google.com/intl/en-US/+/learnmore/local/
1a. Where can Google Local listings and information show up?
Google local information can show up in the following Google Platforms:
Example of a local business listing in San Diego set up properly and showing up inside Google Maps. Notice how they are able to take advantage of Exterior and Interior virtual tours along with lots of photos.

Google Maps local search result
Below are examples of the type of Listings found inside Google Search results that get indexed and listed from information created inside Google Places and G+.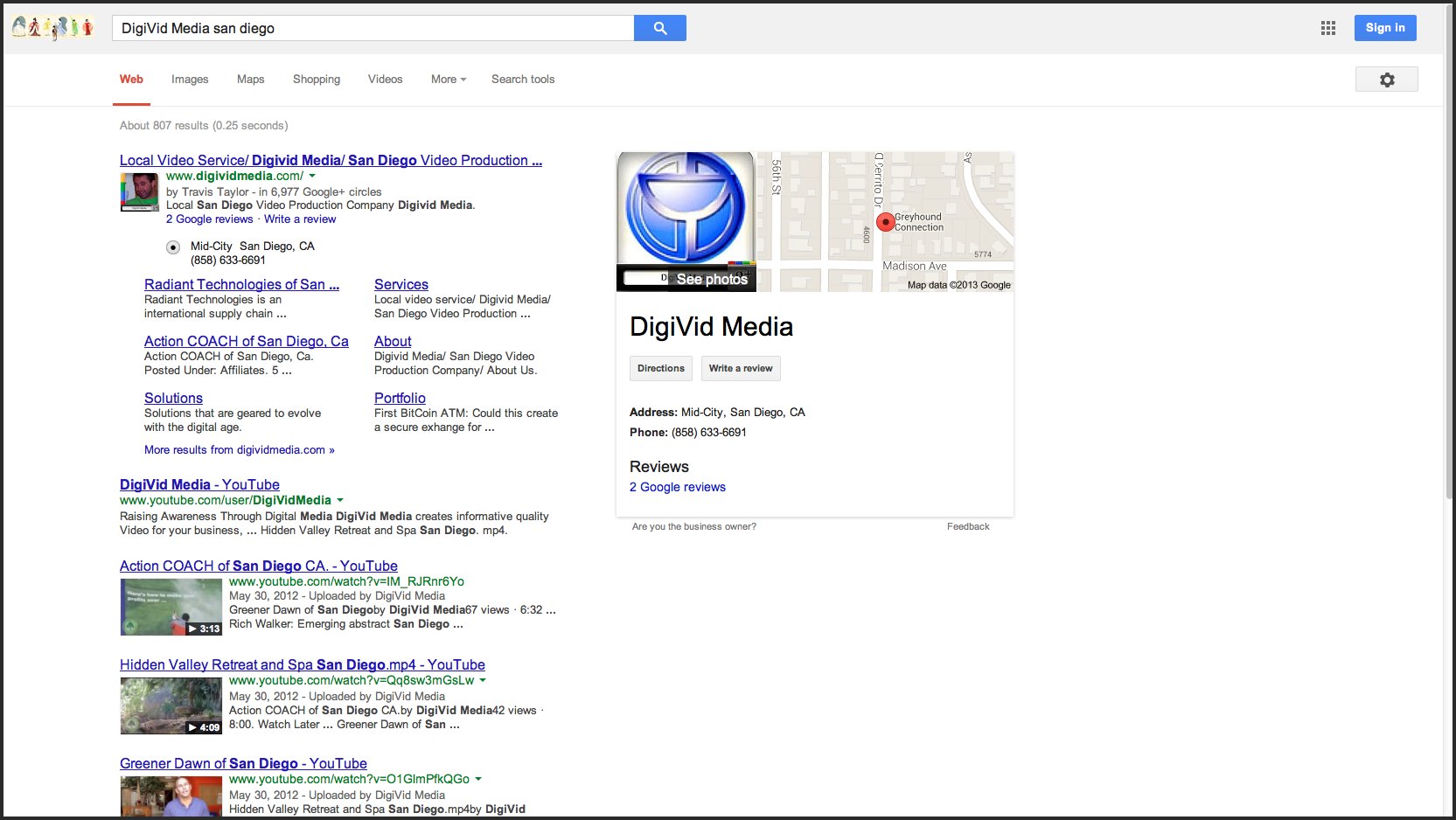 Local Business Listing in Google Search result.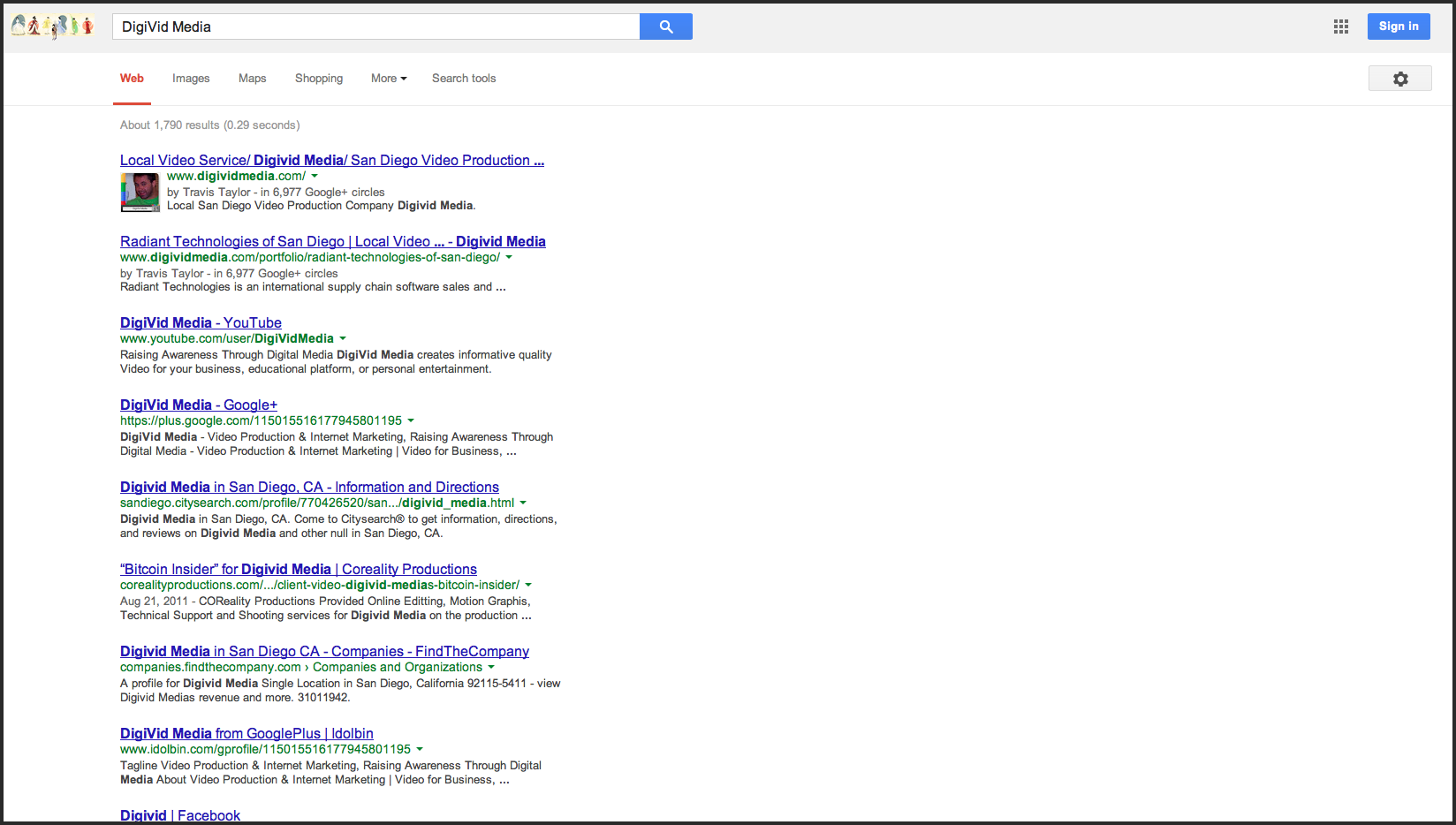 Non-local listing in Google Search result.
Local Google Plus Business and Places Listings- This is Information about YOUR local area and Reviews that you and others can write and share about. When you access this from your business, you will see more about your reviews than the reviews your business has. This section is for consumers, not so much for the business owner. Unless you have the new Places Dashboard, most people will find that it is easier to go into Google Places to edit the way your Business Shows up in Local G+.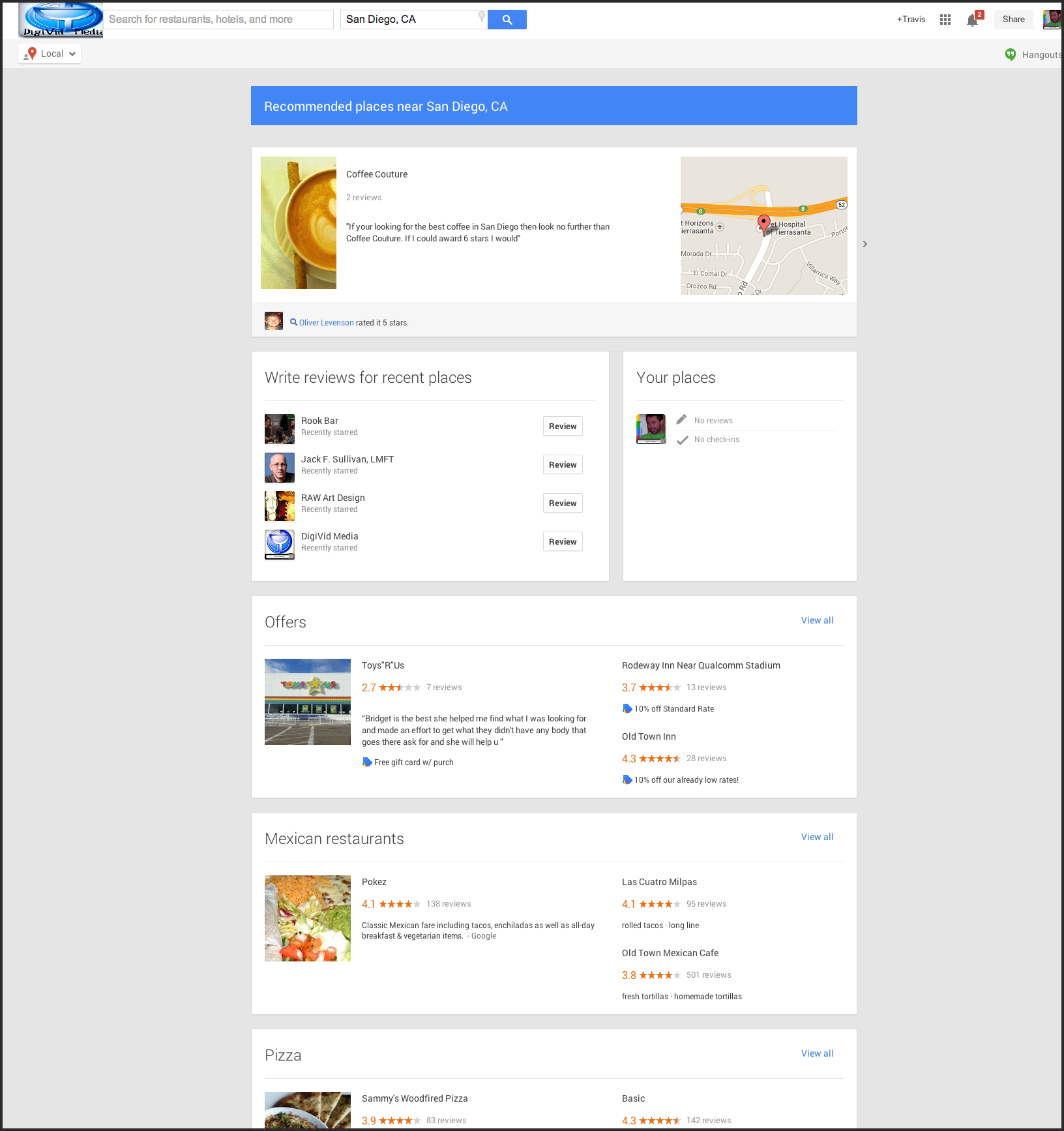 Local Google Plus Business and Places Listings- Or Local G+.
Unverified Local Google+ pages
The information given for local listings can be accessed and edited by a business through the Places for Business Dashboard
Note: If you have not claimed your business with Google yet, a listing will be created by Google using other online sources inside and out of Google that get indexed by Google. This could be from an online directory like Yelp or the Yellow Pages.
2. What is Google Places?
Google Places is the control panel for your Local listing, like the back end of a website, but for your Local Google Business or Places information. The content that you put into the Google Places for business Dashboard shows up in Google search, Google Maps, and G+ under Local G+. All your content should match each listing, which should all be connected back your website or blog if you have one. The Places Dashboard is where you can go in and edit information, and control how your information shows up in different Google platforms and most importantly how your company or place shows up in search. You want to treat this platform just like you would your website and make sure it has the proper SEO and SMO managed within its content.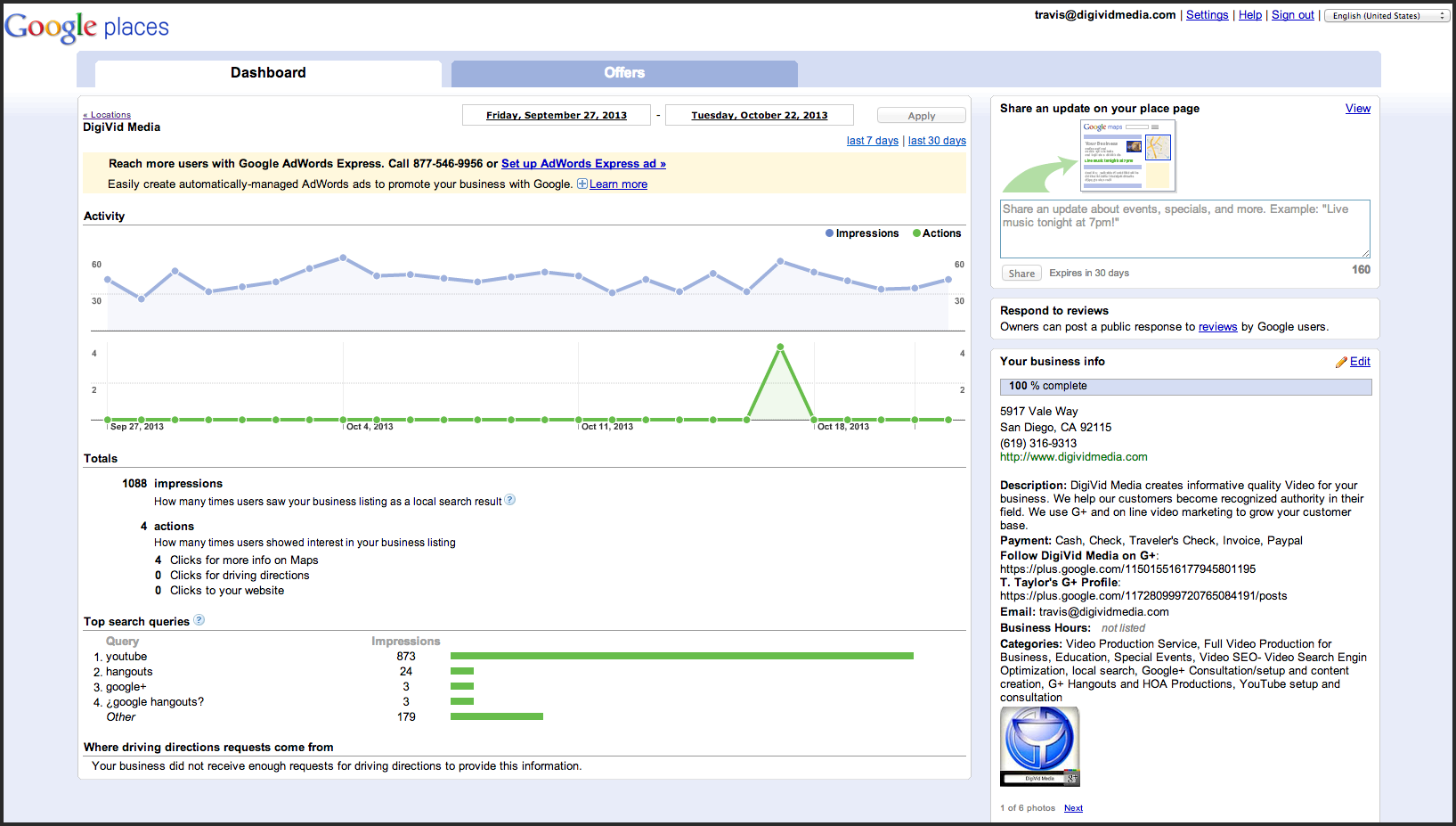 This is what the Google Places platform looks like if you have not been invited to upgrade.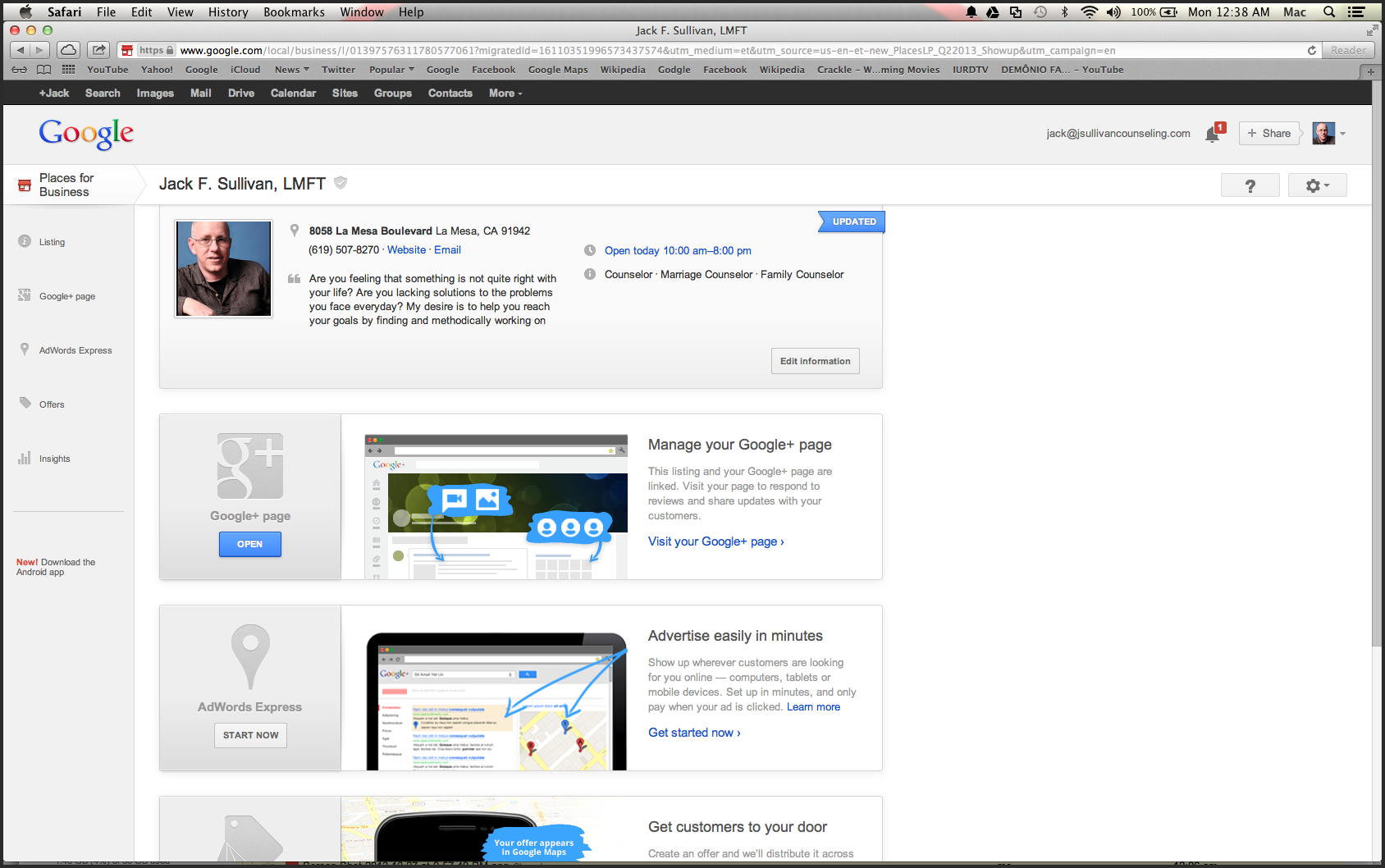 This is what the new Google Places for Business Dashboard looks like when you have been able to upgrade.
2a. What can you do inside Google Places Dashboard?
From the Google Places Dashboard you can do the following-
Listings - Create local listing to be found in search and other platforms like Google Maps and Local Google+ About.

Control you local listings in search through the New Places for business Dashboard.
Offers - These are offers that a business can display through Places and they will show up on Local G+ About, on Google Maps and Google Search listings, and this will also show up on mobile apps like Google Maps for ISO and other Android Apps, that can inform potential customers when in your area of town. Very powerful!

Adwords Express - Create an adwords campaign (when Places and G+ are connected properly, reviews and number of followers on G+ will start to show up in your adword listings)

Insights - This allows you to track your local analytics data and other useful measurement tools based on matrices from traffic to this page, Google Plus and your website to name a few.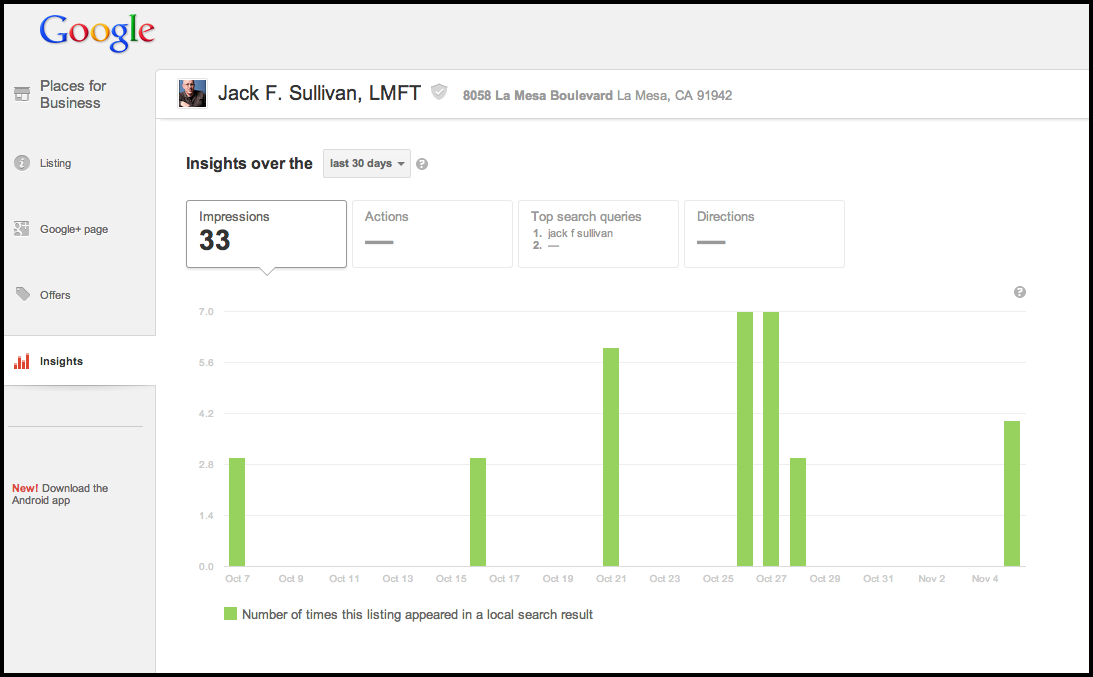 *Street View and 360 degrees digital photo tour- Only where available and for companies and places that meet the criteria.

G+ Page - Connect to a Google Plus Local Business or Places Page directly and access edits to create how your Local Google+ About Page looks across Google. When a business connects the dashboard to a Google Plus local business or places page, that page then becomes a Local Google Plus Business or Places Page. (No longer the same as a Google Plus Business Page) This page you will only find in the local section of Google Plus (not the profile section). In fact, when you go to a business page (That is properly connected to the Places dashboard), that is a Local G+ Business or Places type page, you end up in Local and not at all in G+ Profiles.

Access Google Plus through the new Places dashboard.
Below is an example of a Local G+ page CONNECTED to a G+ Local Business or Places Page with everything verified. This pages has been merged to give the business one page for interacting and communicating with present and potential customers. This is accessed by people straight from local search, maps and Local G+.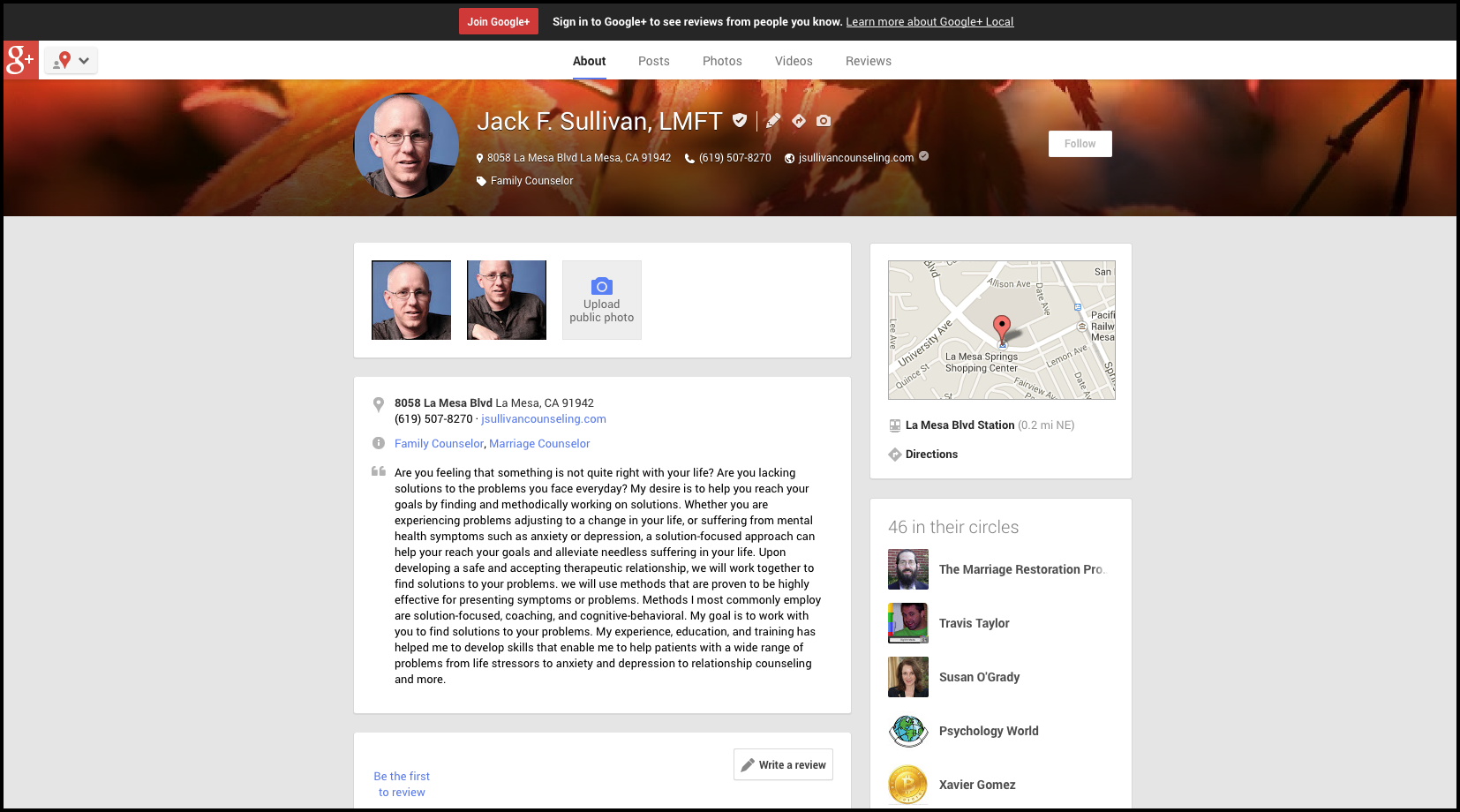 Verified Local Google Plus Business Page found in G+.
Note: If you have a different type of page other than a Google Local Business or Place Page, then at the moment for now, you cannot connect the two properly. You have to set up or claim the Places listing separately and work from the two platforms separately. In this case when your Google+ page is found by others, it will be found under their profile section on the left and not under Local. Go to the link below to access your Places listing using your normal Gmail sign-in.
https://www.google.com/business/placesforbusiness/
3. What is the relationship between Google Local, Google Places and Google Maps?
Google Places is a platform where people can claim and populate their local business and places information that shows up in Google Maps, Local Google Plus, and Google Local search listings for businesses and Google Search. Google Places is where a company sets up their business information including descriptions and listings, offers, G+ page link (if you have the new dashboard), website link, videos, pictures and address or areas with maps, and contact info. Local Google Plus, (which is found inside G+ and Google search) and Google Maps, is where people find these listings. Your adwords campaign also gets set up in Google Places which affects search results if connected to G+ properly, which is done through your Places entry(Until the new platform comes out for eligible places?).
4. If it has a tour is is known as a Google+ local page? If it does not have a tour it is a Google+ Business page?
No- I believe it is only available through a Places entry that has the new Places Dashboard and has a place customers can physically walk in and do business.
5. Does adding a tour make a business page a Google Local page?
No- But when you get the new Places Dashboard and merge the Places listing and the Google Plus Local business page, the G+ Local Business Page that you would normally see in the profile area on the Left side bar, it will now be seen in the Local area of Google Plus on the left sidebar.
Note- this is a page for customers and clients to interact and keep up with what others of their friends or circles like. This page is more for the consumer to interact with and find information. Its not the same as when you're in the Profile area and you can post and see others posts. A Local Google Plus page is more for client interact and does the following:
(Unless they have a Local G+ page that has been merged fully with a Google Places Intry)
Search for local places and businesses within a town or city
Find recommended places in that city
Ability to write reviews for recent places visited
A list of your reviews that YOU made for other places only (You can see or find reviews others have written for you only if you have had a review placed for you, otherwise it is hard to locate your business in Local Google Plus reviews)
A list of Top Reviews
Offers
Then a list of categories like coffee shops and such.
Most listings on Local Google Plus can have reviews, descriptions, location with map,offers, Tags, menus,
6. When I set up a brand or company page on Google+, how does this relate?
When you set up a brand or company page on G+, you will not be able to connect a Places listing to that G+ Page directly. For now this means that you will have to manage each page separately and make sure the information for the business is the same on both platforms. In this case, when someone goes onto your Local G+ page (Which is inside the local area on the left sidebar), they will see your Places content. When they go to your G+ About page, (which puts you in the Profile area on the left side bar) they will see the content you put into your G+ Business About Page. You would think they will start to roll out the ability to do this with more G+ pages. But for now, this is the way Google has it set up.
7. As a business with a physical location that people visit, what page should I create? Where can I do that?
You should create a Local business or place page through your Google Plus Personal Profile, or through the profile that owns the company. Go on the "Pages" tab on the popup menu on the left inside G+. In there you will choose to create a page and it will give you a list of 5 page types to pick from. Choose the local business or place page, at the beginning part of set up, it will give you the option to set up a business you can walk into or no location. Pick the one that is a walk in business option, the functionality is different for both and determines if you can have a virtual 360 degree tour or not, and this also determines how you verify your page.
You should then go into your Google Places Account and claim your public listing or create one if it is not there and put the info asked for making sure it matches your Google Plus About info.
-OR-
If you have NOT created a Google Plus Page for your business and have not created a Google Places entry, then start with Google Places for business. New businesses creating a brand new Google Places entry, will automatically get the new Places dashboard. Not only that, but for the first time, a business can create a Local Google Plus Business Page from the Places dashboard without having to create the page from a profile. So you no longer need a profile to create a Local G+ Page!
8. Can a Google+ Business page be made into a Google Local Page?
A Google Local Page (which should be referred to as a Local Google Plus Business Page) is already inside G+ under Local on left sidebar tab of the G+ platform. When a company has a listing in Google Places, Google will automatically populate the Local Google Plus Business page info and is found under G+ Local. This page will usually have a static Map at the top instead of a large picture and just below that a tab for about and photos only. Then info from your places entry, offers and reviews if you have any. Now when a company that has a Google + Business Page that is a Local Business or Place type page WITH a location that customers can go to, then YES, that page type can be made into a Local G+ Page. (Not sure if the same is true for companies that provide a service that goes out) As I explained in question 5, when you use the new Places dashboard to merge with your Google Plus Local Business Page, that page then becomes a Local Google Plus Page. This page is now found under Local on the left sidebar, and not in the Profile area.
NOTE: The same is true for the other direction:
If a company has a G+ page and it meets the qualifications of a Local Places listing, Google will populate that info from your G+ account and other directories Google has indexed until you come and claim it or delete it. This is how double entries happen and mess companies up.
9. What about getting the page verified? I am guessing you are referring to just Local?
If you have a Page type that is a Local Business or Place, you can get the page verified through G+ and Places. You may have to verify your business from both the G+ and Places platform. Once you verify both pages and did
10. When people click on my 'maps' page in Google Search where will they 'land'?
If I understand the question correctly, they will land on a Google Maps page with the place or service area of the business on the map, business info such as website link, a phone number and address if available and the ability to write and see reviews about that business or share locations with your circles. The reviews link will take you to a Local Google Plus About Page. Also on Google maps you may see Google offers on this page as well. Street view, and 360 degree Tours can be available as well if a company is eligible and sets it up. For restaurants you can list your menu.
11. So, is Google Local only for reviews?
No, Google Local info shows up inside Google Maps, Local G+ and Google Search. This is for people to get information and locate a type of business. You can get directions, contact info, reviews, the ability to share with G+ friends, offers that are also linked to mobile apps and Google maps. If you're a restaurant you can place a link to your menu. Where its available or your business qualifies, street view and interior 360 degree photo tours can all be found in Google Local.
A Local Google Plus page is more for consumers and potential clients to interact and does the following:
Search for local places and businesses within a town or city
Find recommended places in that city or area
Ability to write reviews for recent places visited
A list of your reviews that YOU made for other places only (You can see or find reviews others have written for you only if you have had a review placed for you, otherwise it is hard to locate your business in Local Google Plus reviews)
A list of Top Reviews
Offers
Then a list of categories like coffee shops and such.
Most listings on Local Google Plus can have reviews, descriptions, location with map,offers, Tags, menus,