Introduction
In October, Google introduced 'polls' to Google+ and the community said "YAY!"
Over the coming months I am sure we will start to see some very creative options emerge in their usage - great for community polling, as well as fun in the stream.
Here is the official Google Help article here: http://goo.gl/CEg3VE
So, let's get started:
Where will you find them?
You'll see the icon to the right of the 'post' box on Google+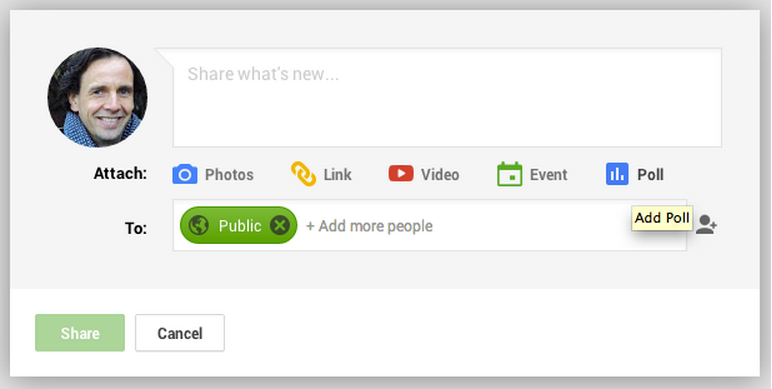 Then, once you click you get the options: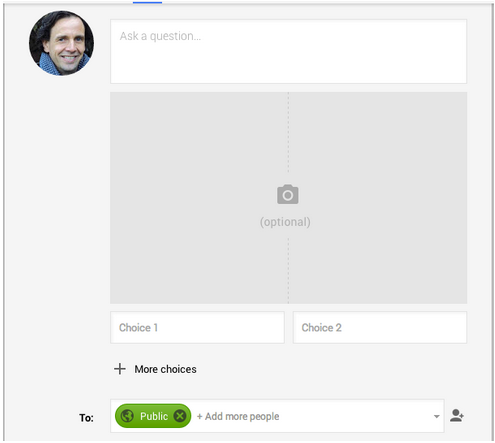 Images - you can add up to 5 images
Choices - you can choose up to 5 choices
Audience - as with any Google+ post, you can choose the audience. e.g. close off comments and/or prevent further sharing before you click 'share' (just click on the small, inconspicuous looking arrow to the right - Stan Bush showed me that a long time back!).
Note: from the Help article here - "We want to make sure the results of private polls aren't shared publicly, which is why you can only reshare public polls. Also, if you reshare a public poll, you'll need to share it publicly -- you can't share it with particular circles or people."

You can make a poll without images: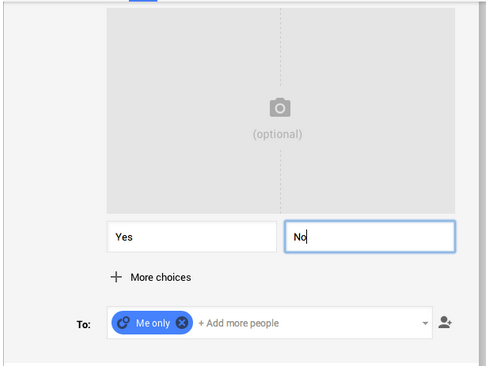 Which will look like this when shared: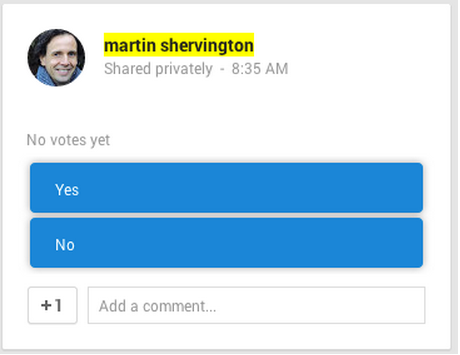 Adding images:
You will need to 'click to add images' (unlike other posts, where you can drag and drop without clicking):
(you'll need to do this one image at a time)
And you can also select images from e.g. Drive or from Google's Image search too.
Optimal Image size:
Dustin has you covered on this one!
You can adjust the size by clicking on the 'crop' icon: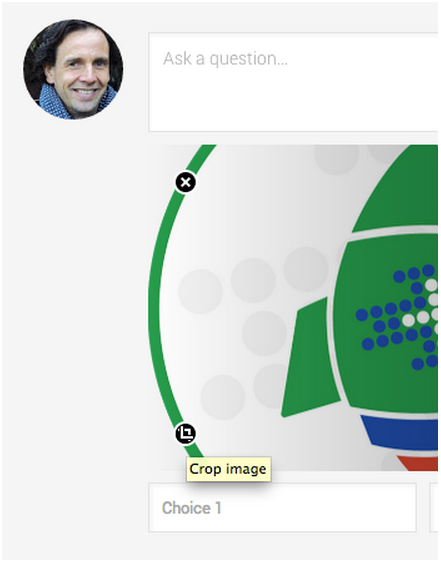 Once you have two images/options:
The first image you upload will be 'Choice 1', the next 'Choice 2' etc.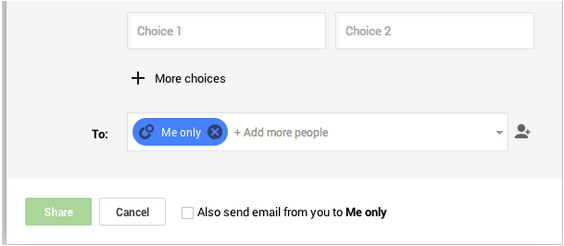 Then you can click 'more choices' and you will be able to add in more...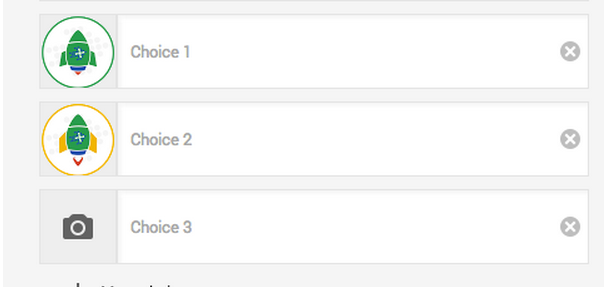 Simply click on the camera and add them in (and click the 'x' to remove any image/choice). You can also change an image by hovering over and clicking, and selecting a different one.
Sharing: When you have decided your audience/participants, click 'share':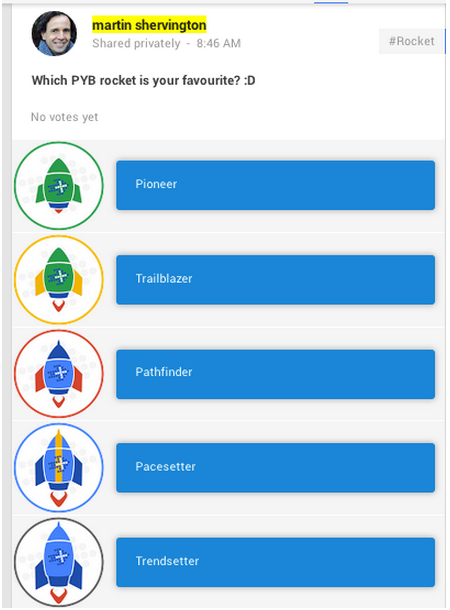 Editing after you post:
You will not be able to edit the images or the options available. You can, however, delete an image if it was from an album and that will delete it on the poll. You can, however, edit the text at the top of the post still: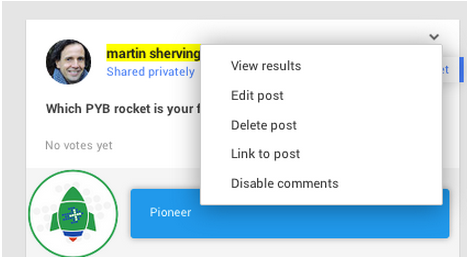 You can use Gifs too!
As you can see from John Dietrich's post below, you can make them giftastic as well. Note: you cannot embed a poll on a website right now; this is an embedded post of a gif of that gif poll. With it? Good!
Voting:
People simply click on the option and that register their vote.
People can change their votes.
All votes are publicly viewable, for public polls.
And will be viewable by anyone who has been included in the poll if now, e.g. a circle of people.
Viewing the results:
As soon as you vote you will see the results: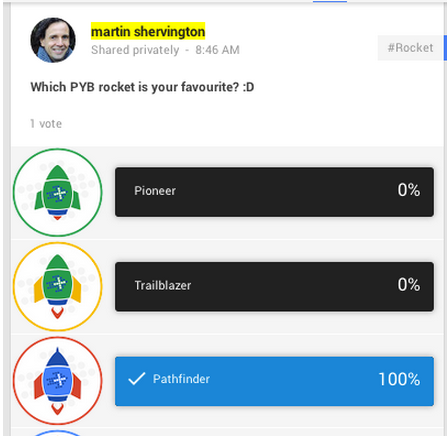 And if you click on 'votes', the 'card' will flip and you will see the votes for each of the options: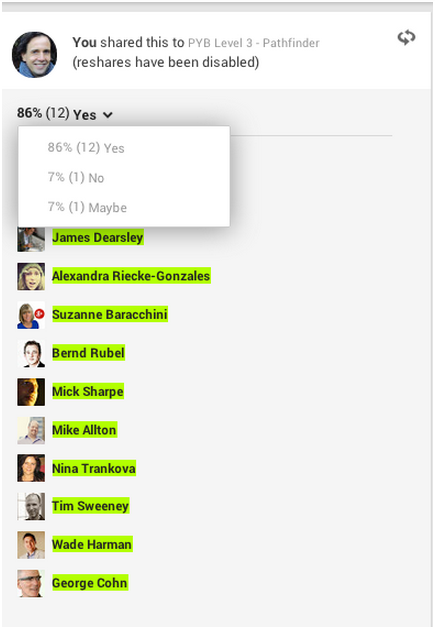 [Please note, the highlights shown are not to do with 'polls' - it is from the commoogle community/client management extension developed for the Plus Your Business team]
If you click on each of the options, you will be able to e.g. hover over and add people into circles.
Tips:
Using a question to engage people in comments (she has 185 when I took this shot).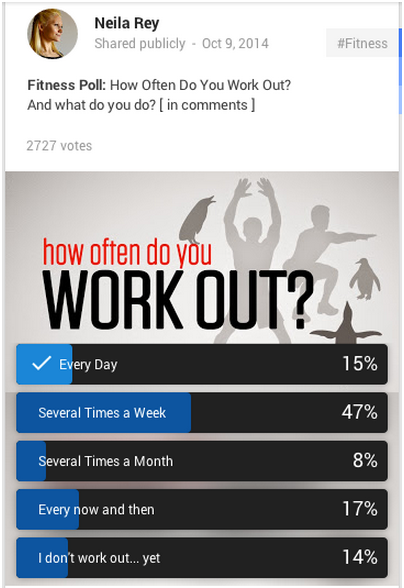 Tip: pin posts at the top of a community to hold people's attention when they visit e.g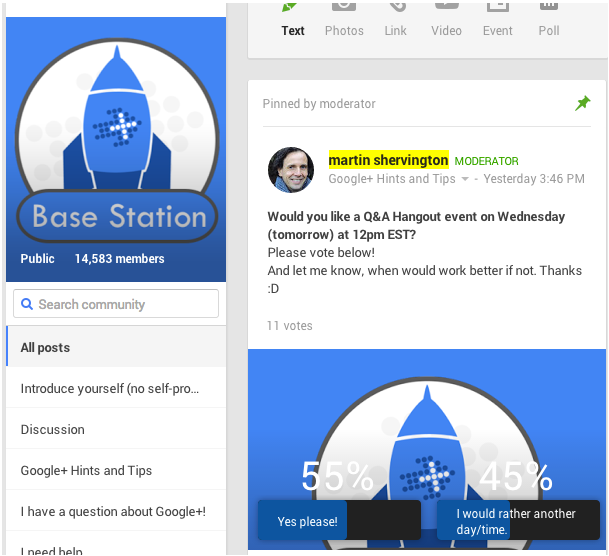 Conclusion:
Well, this is just the beginning to the exploration into polls, so pop back to this post and I will update it as we learn more!