Plus Your Business member Alan Egan is a seasoned vacation rental entrepreneur. His business teaches holiday property owners to successfully promote their business using social media and content marketing. Alan was an early adopter of Google+ and encourages his customers to focus their activity on Google+ as their main social platform.
From his experience as a listings site owner and rental manager Alan had gained a detailed understanding of the vacation rental market. He explained to me how changing technologies have impacted the sector. In the early days properties were marketed through small ads in up market magazines, when the internet emerged web marketing became the norm, today video and social media have become the marketing tools of choice for savvy owners to attract a mobile generation.
But technology is just the medium, Alan's business is also based on one very simple insight – people visit destinations not properties. By creating content about the location of their properties not the property itself Alan's customers are able to tell a much more attractive and compelling story than if they focused on the layout of their kitchen, the colour of the Jacuzzi or the size of the beds. An interesting by product of this approach is that many owners have rediscovered the attractions of and their enthusiasm for the location.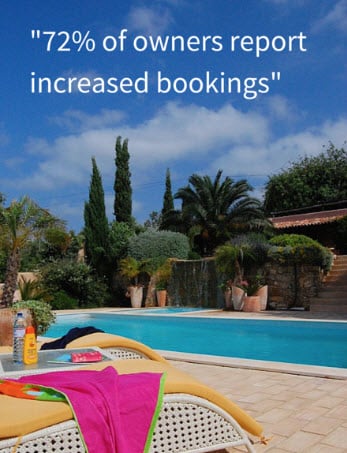 The Social Media Marketing Journey
With his knowledge of how vacation rental marketing worked Alan was quick to see the potential of social media marketing; he experimented with Twitter and Facebook with mixed success and also began using a content marketing approach on his website. He was an early and enthusiastic convert to Google Plus which he found was "by far the easiest platform for mini-blogging". Another thing which really helped was discovering Martin Shervington's Google Plus articles and videos.
"In the early days Martin's videos were a Godsend – very clear. They are broken down into bite sized chunks. You can learn a bit at a time at your own pace. It was the main place where I learnt the ins and outs of Google Plus".
He adds, "Plus Your Business is the only community for which I have notifications turned on".
Teaching Property Owners to Do It Themselves
Alan realised that Google Plus with suitable guidance could transform the way property owners could market their businesses and this was something that could be taught. In February 2014 he launched a new online training package for property owners showing people the basics of Google Plus, giving access to a private community where they could ask their property marketing questions and share ideas with other owners. Customers are also shown how to create a social media schedule, where to find content, and for those who are more advanced how to syndicate content.
The results speak for themselves.
Alan produced a case study based on a cross section of 10 of his initial customers. After seven months they had 19,000+ followers and had received 2.5m+ views on their Google Pages alone but more importantly 9 out of 10 had seen big improvements in the search rankings.
After a full twelve months the 10 customers had added 10,000 more followers, averaging 2,875 followers each. In the previous 18 weeks alone the group had received 8.8 million views on Google Plus.
Now 9 out of 10 were appearing on the first page of Google, 8 of these in the top 5.
45% reported that bookings were up on last year and 27% reported bookings were up a lot.
Here is the full table of results: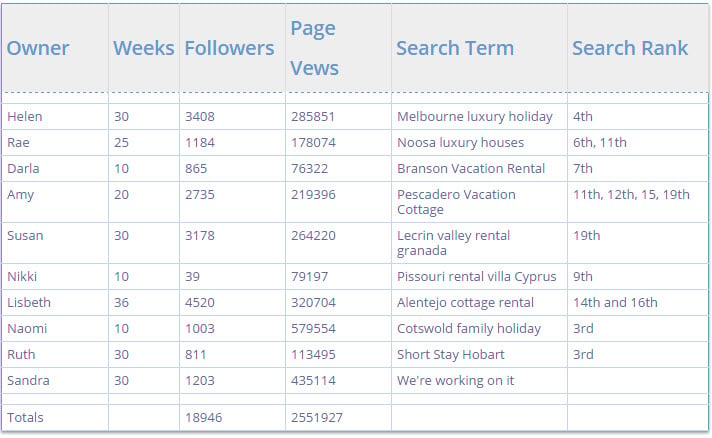 Page views and search rankings after 12 months
Destination More Bookings
None of the property owners in this case study were experienced marketers which makes their results even more impressive and all continue to actively use social media and Google Plus as their main marketing activity. In addition owners are reducing their dependence on paid marketing. As they become more sophisticated about social media owners are using adding Twitter, Facebook and Pinterest to complement their Google Plus activities.
Alan's businesses have thrived by showing owners the secrets of being social and giving them the tools and framework to showcase their properties; in the process he has created a community where customers can learn and grow together.
Alan can be reached on alan@bookingsplus4g.com or via his businesses Rentmoreweeks, an online vacation rental magazine, and Bookingsplus4g.com an online training solution for holiday property owners. You can also find details of Alan's holiday property here.