Introduction
Over the past few months I've been connecting the dots whilst on a 360/VR storytelling assignment with Weavr.Space - along the way, something additionally cool happened, Google verified me as a Trusted Photographer.
It is a perfect way to take people on a journey, linking images to one and other - just like a virtual tour.
Seeing as the process was both FREE and was straightforward, I thought I would share it with you.

Before we do though, let's look at a few of the reasons why you should consider this.
What is a 'Google Street View Trusted Photographer'?
https://www.google.com/streetview/
As Google say, "Choosing the right restaurant, cafe or hotel is often tough. Build trust with a high-quality virtual tour that lets people experience your location before they arrive. These immersive, virtual experiences inspire greater confidence among prospective guests and patrons. A trusted professional for hire can help you more easily create and publish your virtual tour."
This is exactly what a Trusted Photographer can offer a business, or venue.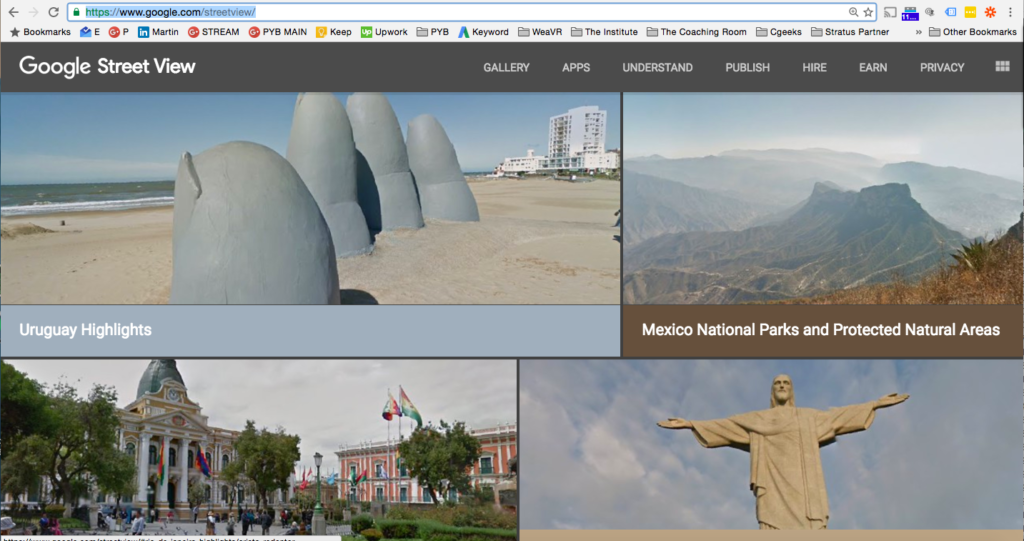 The entry point into this program used to be considerably higher financially, so this is now a real opportunity to add a skills and service to your business offering.
Just in case you need it, here is a quick look at Google Maps too...
Google Maps
'Maps' has become far more than simply 'pics of a place' on a map - with the Google Local Guides program, it provides invaluable information for anyone looking to discover more about a location.
With the Google Local Guides program included, people can easily enhance their local community by adding pictures, rating venues and adjusting information such as opening hours. Here is a quick overview on a mobile:

Now, here is the thing…
It is also a very powerful business tool, as you can see from one hotel listing I helped when I was on a 3 month project in Brazil two years ago: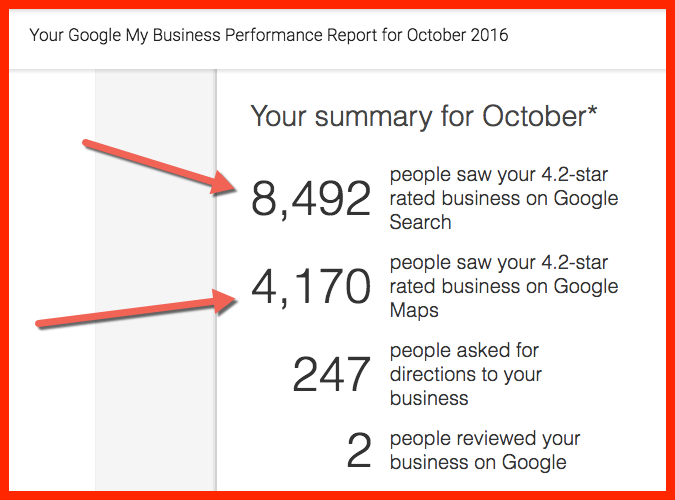 The stats speak for themselves, this is awesome 'digital footfall' that no business owner would want to miss out on.
Images Stats
Be a little cautious if anyone is ever trying to 'sell views', but…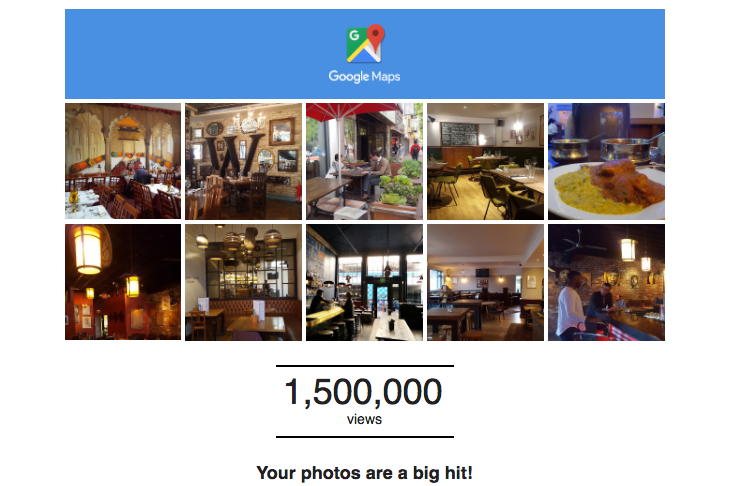 As Google say…'listings with photos and a virtual tour are twice as likely to generate interest.' (source: slides here)
And there are several places they can appear:

So, are you now sold that photos really matter?
Yes? Excellent.
Let's then look at what you will need to get started.
The process to becoming a Street View Photographer in 30 days
Starting with...
Step 1 - Buy a Ricoh S
There are other options, but for photos this 360 camera is a winner.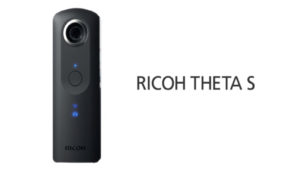 I am not being reimbursed by Ricoh, so just know I am saying this as it has been a very positive purchase.

It is the one you see in the Google Video here:

Next...
Step 2 - Take loads of pics
Put simply, you will want to get out there and start playing with the camera.
I have a collection of 360 video tips in this playlist I did for the Weavr.Space project I've been working on for 3 months.
In that mini-course you will find:
Extra Tip: don't rush to add your initial photos to people's listings, get 'good' at taking pics first. Comments about 'editing pics' are in those videos too - i.e. they are best edited, with the business logo added on too.
Step 3 - Add over 50 images to your favourite locations/businesses via Streetview
And think about this strategically, a 'bridge and scenic scene' will not become your customer, but a local business may well do.
As such you should create a load of 360s, practicing, where there won't be a commercial opportunity.
(you don't have to, but it may well help you longer term if you want to build this offering into your business portfolio.)
To add them to Streetview, you will need to import them e.g. via the camera.
The process is simple, as shown in this quick video:
Note:
When you have taken a picture, connect your camera and transfer the pics
They will auto back-up to Google Photos if you have that function
Then you can visit the Google Street View app and import the picture from the camera
You can then safely delete pics from the camera as you now have them on your mobile device
You'll probably need nearer a hundred 360s (I uploaded eighty seven) before you will be eligible to become trusted.
So, if you think about it…
30 days, times 3 pictures a day and you have got your target!
From there...
Step 4 - Google will inform you when you've been verified.
They will send you information by email, and also tell you more about the program: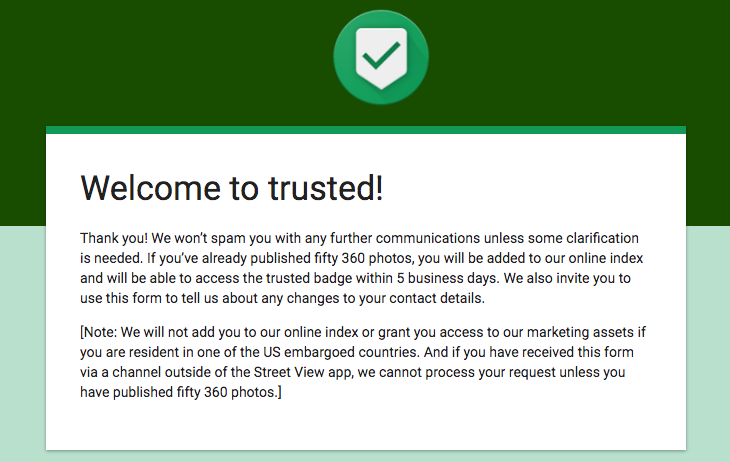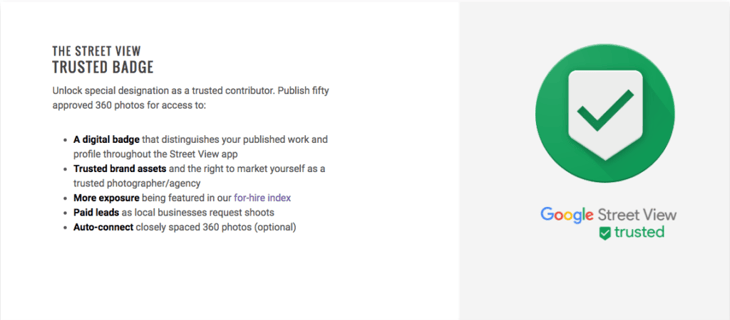 Google are giving you the opportunity to have a business product/service and will even aid you with Sales Resources here: https://www.google.com/streetview/sales/
There is even the opportunity to be added as a Trusted Photographer when people search for one on the Google site.
(I've had people tell me they saw me there)
Step 5: Get to work!
For the cost of a camera, and a little practice, you are a Google Trusted Photographer and can go out and sell your services.
Members of team and community have been doing this with great success - usually charging around $200 (£150ish) for the service.
They have been including extra services as part of the package, including:
Five 360 photos, all linked together into a tour via the Streetview app
Ten 'good quality' general pics
Training on optimizing the business listing on Google Maps
Reviews and reputational management, and community building tips when people review
Introduction to Google Adwords as a service
Embed code and instructions to add to your website, like this:
I've also been using the Ricoh Theta S in conferences, which is another major commercial avenue for you to explore.
Get yourself a Google Daydream, and people will love to see the work you are doing on site too.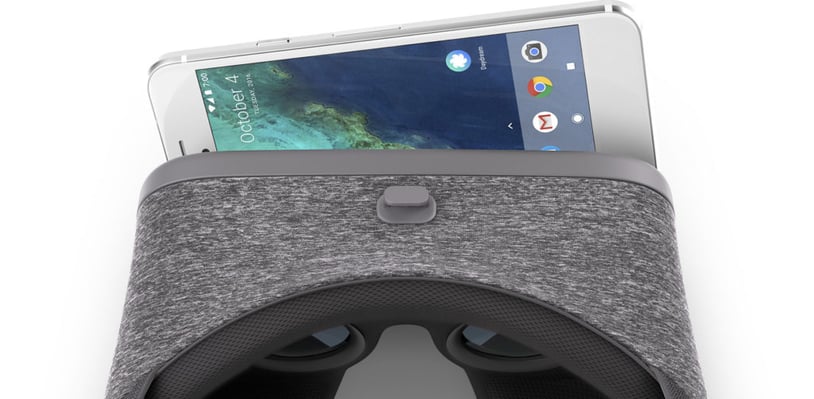 At sub $100 it is a bargain!
Conclusion:
The opening up of the Google Trusted Photographer program gives everyone an opportunity to get out there and connect with local community members.
Whether you decide to make it a commercial deal or not, I must say that using the camera is definitely a talking point - it looks super futuristic, makes a lovely noise when you take a pic, and all in all has been a delight.
Just think...maybe this is going to be a perfect gift for Christmas - even if it is one you make to yourself!