A digital marketing audit is essential if you want to know what is and what isn't working when it comes to your marketing approach. You are almost certainly losing money on your digital spend if you haven't conducted one for a while. The process gives you the fundamental aspects you will want to explore, starting with your website.
PART 1.1 WEBSITE: TAGS
What tags are showing on the website?
(add 'Tag Assistant by Google' to Chrome to see what tags are active on your site)
This tool also gives you some idea whether there are obvious issues you need to address: https://webbkoll.dataskydd.net/
PART 1.2 WEBSITE: GDPR
If you are doing business with people in the UK/EU, you will need to make sure you have a notice on your site re: adding cookies to people's devices.
CookieBot.com is my favourite quick tool to test whether you are compliant e.g. you won't be if the marketing cookie tracking codes are added to people's computers prior to them accepting the policy (if you run with that 'accept' option, instead of a 'soft opt in', where using the site is assumed to act as permission).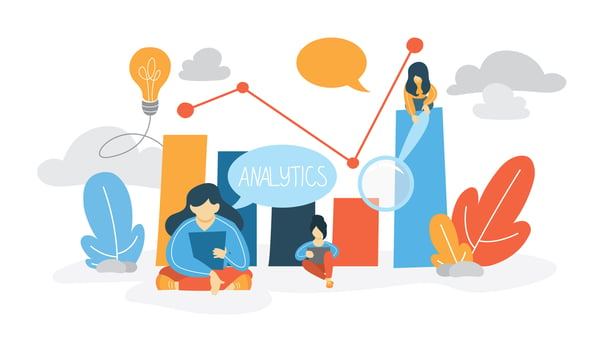 PART 1.3 WEBSITE: GOOGLE ANALYTICS
The first consideration is whether the TRAFFIC you are currently getting is worth having.
If you have GOALS set up in Google Analytics, you are better positioned than most small to medium sized businesses. Goals allow you to see whether the website activity you currently have is getting you what you want e.g. people downloading an ebook/whitepaper, or filling in a contact form - and which pages are generating the most results.
If you have an approach of using 'Landing Pages' then what 'works' to generate leads will be most obvious within Google Analytics, providing you have the goals set up correctly.
Next, let's look at a core advertising platform...
PART 1.4 GOOGLE ADWORDS
Depending upon how you have your campaigns structured, the most obvious first check is on the number of conversions per campaign, and then looking at the cost of acquisition for one of those conversions.*
Note: you may have Top of the Funnel campaigns (e.g. an ebook) as well as Middle of the Funnel Campaigns (e.g. a brochure download, or an enquiry) - all of these could have different conversion values and should be approach differently.
*Be aware that a conversions can sometimes be triggered multiple times
Next, at the Ad Group level (with a campaign) take a look at
A) the Search terms tab, and
B) the Negative Keyword Tab

'A' (Search Terms) are the actual words someone put into Google that triggered your ads - if, for instance you are using 'Broad Match' then these could be significantly different from what you were expecting.
'B' (Negative Keyword Tab) are the keywords that can be added to prevent your ads being triggered. As such, this list should be built up to ensure your ads are only being triggered by 'quality' keywords (however you may define that for yourself).
If 'A' is showing your ads are getting fired on 'poor keywords' and 'B' is showing few negative keywords, then your account may well need some attention.
Note: Google Analytic and Adwords are vast platforms that can work hand in hand re: segmentation, as such, if in doubt you want to ask a professional for their help on getting it all set up correctly.
PART 1.5 FACEBOOK/LINKEDIN/TWITTER
In a similar manner as above, look into your ad accounts across all platforms to ascertain the cost of acquisition of your TOTF and MOTF leads.
You may well have other ad accounts, or sources of spend online (e.g. Yell) that you want to attribute leads to. Reach out to those companies for assistance, telling them you want to find ways of attributing your ad spend back to the source, and generating a known 'Cost per acquisition' for all leads.
Exercise:
How much does it cost you for a TOTF lead? How much does it cost you for a MOTF lead?
PART 1.6 LEADS GENERATED
Once you've ascertained the general health and wellbeing of the website, the analytics and ad accounts you will want to then connect the people who purchase from you back to the source they came from.
This step is very much going to depend on the information you have available in your database, and on how 'connected up' your business is already.
Once you have it though, you can see more clearly which channels are creating customers for your business.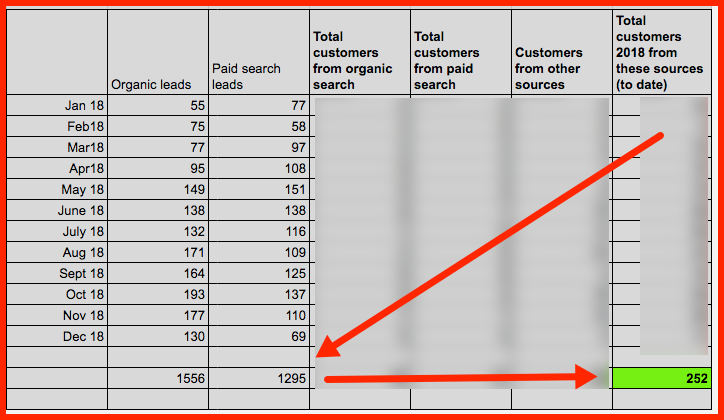 Task: create a spreadsheet where you connect the leads generated per month back to your customers. This shows you the value of each marketing channel.
I've created a spreadsheet for you to copy here. The formulas will automatically calculate the totals.
Important: if you know the number of leads overall that are generated, and your number of new customers, you can work out your Lead/Customer conversion rate.
PART 1.7 LIFETIME VALUE
What is your Lifetime Value of a Customer? This is an essential calculation, and one that should be based on the facts of existing customers not on the intention of your customer journey i.e. purchasing all of your products.
Once you have this figure, you can return to your acquisition costs with fresh eyes.
You may find that a customer generated by
A. Adwords/Facebook has a cost of acquisition of £1000, and
B. Organic has 'no cost' as those leads 'just come in'
The reality is that both have a cost of acquisition that needs to be honoured, and both are not as clear cut as it seems.
Looking at 'A' first:
If you generate 100 leads for £10,000, and 10 have converted to customer to date, you have you cost of £1000 a customer. BUT you also have another 90 leads that could be working their way through to purchase, and in time these will bring down your overall cost of acquisition e.g. if 20 leads out of 100 eventually convert, your costs of acquisition is now £500.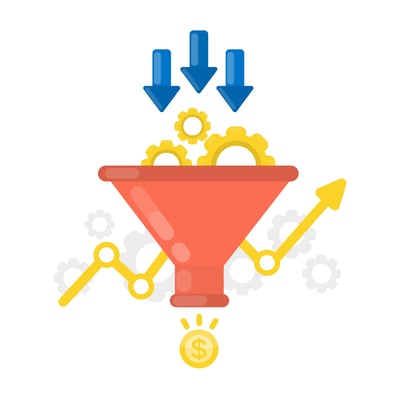 Note: you need to take into account 'total marketing costs' to get to 'Real Customer Acquisition Costs' e.g. your internal marketing staff, or outsourced agency costs.
Also, the overall ROI of a campaign will go up as the customers repeat purchase - as such, you need to know the length of your product sales cycle post initial purchase e.g. it may take people 3 years to buy a series of courses from you.
Looking at 'B' next:
The focus on increasing Direct Traffic and Organic results are essential for maintaining the overall reasonableness of acquisition costs for most people. Organic Search investment - website optimisation, content, link building etc - will
bring long term gains, but there is a cost. As such, having some idea of real cost of these leads is important.
If for instance you are posting 2 high quality articles a week in order to ascertain authority on your subject matter, and the cost of each article is £350, then this alone is £2800 every 4 weeks. When you look at how many leads are generated over time from each article, you may have a figure to work with.
RECAP OF QUESTIONS TO ASK:
Does the traffic convert to leads?
Do the leads convert into customers?
Do those customers have the life-time value you expect?
PART 1.8 SEO AUDIT
When it comes to SEO, your main aim is to rank for the main keywords that deliver you customers.
As such, to do your SEO audit I would recommend you start with setting up a Moz.com account.
In terms of Local SEO specifically, I would recommend BrightLocal.com
Note: you'll need to connect the business's Google My Business and Facebook page to run a full report.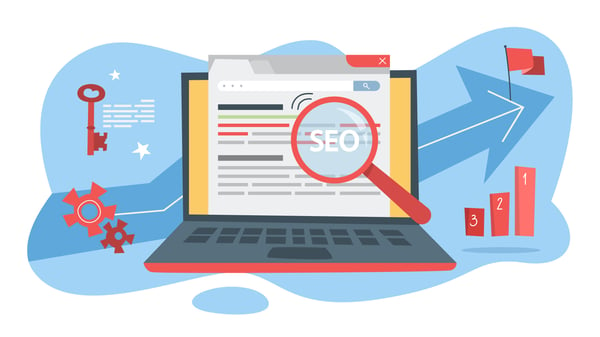 Without knowing which keywords you want to rank for, which you are ranking for, and what happens once someone clicks one of those pages (e.g. where it goes through to a suitable page that can convert that traffic, or whether you are remarketing/retargeting to website visitors after they leave) it is hard to offer advice.
The main thing to consider moving forward is:
Do you have an Organic Search (SEO) approach based on the content you are producing, that in turn builds your authority and serves a community around you?
PART 1.9 EMAIL MARKETING
It will really depend on which platform you use for your email marketing as to what functionality you can expect. In terms of an audit though, no matter what the platform, here are some of the key factors to consider:
1. Number of active people in database i.e. not just total size of the list - you can do this mainly by considering a) open rates, and/or b) click through rates on intentional links (as opposed to e.g. changing subscription status)
2. List segmentation - some platforms will allow much more in the way of segmentation than others, but even at the most simplest level, you want to consider whether your database (which in effect is what your email list provider holds) is serving you at each stage of the funnel
3. Overall results - this is ultimately what you need to measure. Has what you've been doing been working to date? E.g. how many GOALS have been achieved through any particular email campaign.
Note: GOALS will vary based on the intention behind the campaign. Sometimes it may be to move life cycle stage e.g. TOTF to MOTF, and other times it will be to drive an Online Sale via a Bottom of the Funnel (BOTF) offer.
PART 1.10 LANDING PAGES/BLOG/SOCIAL OUTREACH
There are some great landing page software platforms available, and a solid design with clear CTAs will deliver good results from the right traffic.
When you add in A/B testing (split testing) you can optimise the process of which pages work well.
Exercise: make a list of all the active Landing Pages you have at present. What are their conversion rates? What needs to happen to improve them?
Next, look at your website as a whole, does it serve a customer with the information they need? Are you capitalising (as mentioned) on the traffic you have?
Do you use pop ups? (you may not like them, but they may well get you 3-5% conversion rates)
Then go to your Social Media accounts and consider the engagement metrics you are seeing, then know that aside from general brand building you should consider 2 main metrics:
1. Click throughs to your website, and
2. The ability to move those people who are engaging into a more private community setting (e.g. a 'Group') that will allow you to best guide the conversation.
PART 1.11 LIST YOUR SALES/MARKETING ISSUES:
The final stage in the audit is to write a list - and I'd encourage you to be honest with yourself - as to the main issues you currently face in sales/marketing.
Here are some examples:
Lack of brand consistency - esp. around images/themes
Absence of relationship building with TOTF leads
Hand-to-mouth feeling re: content scheduling
Lack of creativity when taking new products to market
Lacking of ongoing, quality backlinks (authority citations) to support website rankings
'Reviews' acquisition is not automated
Sales management and tracking not implemented
Social Media management is not as community centred as it could be
Overall sales and marketing are not working together as 'one'. Etc.
FINALLY:

Once you have completed this process you will have a more accurate understanding of your Digital Marketing.
Of course, if you would rather we did the hard work for you then request an audit here.