This is my story about how earning my first 29 cents royalty on Zazzle gave me the faith, desire and courage to follow my dreams - leading to $700,000 in earnings-to-date - and blessing me (and my family) with extraordinary life-changing events and opportunities.
https://youtu.be/EpVcBy0mL3g
That 29 cents sent my life in an incredible new direction, one that I previously could not have imagined.
I followed my dreams and my hope is that this story inspires you to follow yours.
We will get to the part about the 29 cents shortly, but first, I want to provide you with a bit of my personal history.
I used to work in the pharmaceutical industry – I worked long hours, I had to travel constantly, go to endless meetings and read a thousand emails a day. I wanted out!
I wanted to be able to go my daughter's dance recitals and see my sons' doing their karate practice. I wanted to be there with my children while they were growing up – I wanted to be a huge part of their lives and for them to be a huge part of mine.
How could I achieve that without giving up my income?
I knew in my heart that I both desired and needed a change. I wanted a lifestyle where I could set my own hours, not be part of a stifling corporate bureaucracy and work wherever there was Internet access. This would allow me to be a full-time mom for my kids, while still running a successful business. Once my husband and I were empty nesters we could also realize our dream of running our own business on a tropical beach with high-speed WiFi.
I Quit My Job!
I have had always had an artistic side to me – I had taken thousands of pictures of beautiful sunsets and, at the time, had recently started painting again, which I loved doing as a hobby.
So, one day, I quit the corporate grind with the intention of selling my creativity to the world. I was going to become an artist-preneur!
Lots of different ventures were launched – web sites where I tried to sell photographs and other websites where I tried to sell my paintings. I had some success selling through online art gallery sites such as Yessy.com, Absoluteart.com and the SaatchiGallery.com.
Unfortunately, the recession hit and people were buying less art online and not as willing to pay the expensive shipping costs. I wanted to continue selling my art and designs online but shipping the physical products (i.e. paintings) didn't seem to be optimal way to go.
I needed a digital solution.
How I Discovered Zazzle
There were a number of companies that were focused on print-on-demand for art and photography, such as Café Press, RedBubble and Zazzle. Their business model was very attractive to me – I could upload my photos and paintings onto their websites and make virtual products for sale with my designs on them. If a customer purchased an item online, these companies would handle the production, shipping, billing and customer service, while all I did was collect royalties from my sales.
It was a perfect solution!
I set up my virtual stores on these websites and started adding digital products.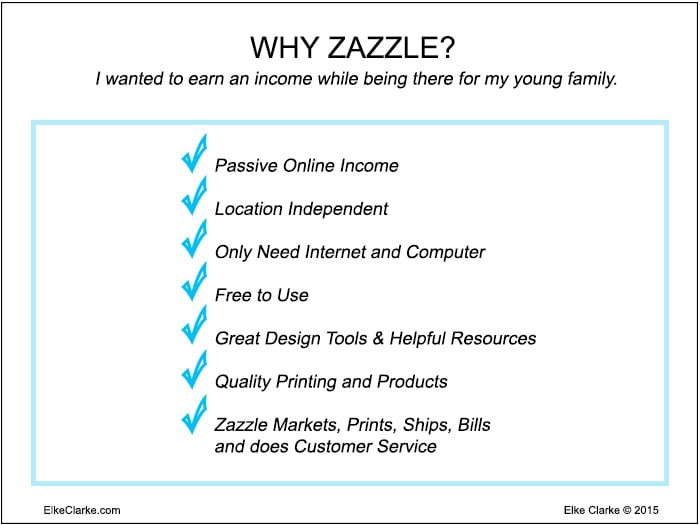 I have never been so excited to earn 29 cents!
I sold my first product 3 days after posting it for sale in my store on Zazzle. It was a button with my photo of two polar bears that I had taken at the local zoo.
I earned 29 cents as my first Zazzle royalty and I was hooked!
It meant that there was an opportunity for me to make more money online.
I just had to take full advantage of it….and I did!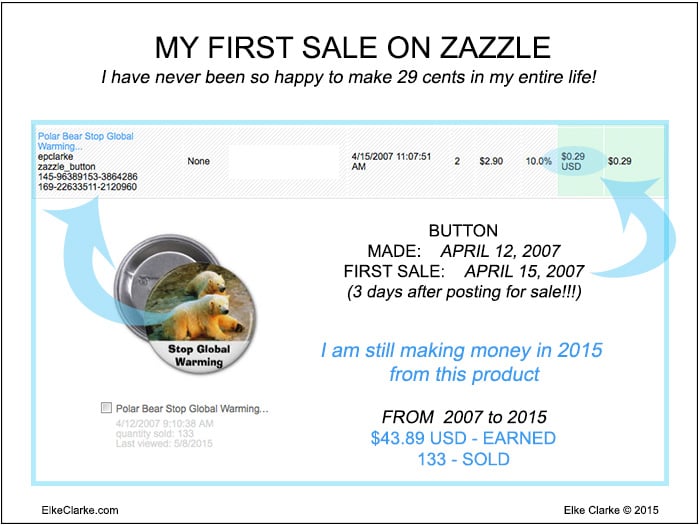 My First Zazzle Products:
My first products were rather simple because I was testing the websites for several parameters. At the time I also had no graphic design programs on my computer, so I just used Zazzle's easy to use customization tools to upload my photos and add text.
I made a variety of products including T-shirts, buttons and bumper stickers. I choose to target two market niches (humor and global warming) with my designs to see what might sell.
Although my designs have improved greatly over time, these original products have continued to this day to provide residual income.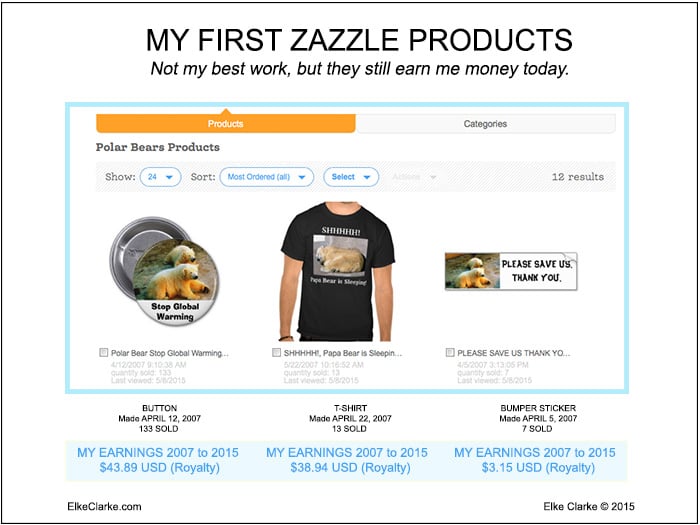 What Products Make Money on Zazzle?
That is the ultimate question that I get asked all the time. My answer is: "Many different products can make you money on Zazzle." As with any business you have to test the market, pick a popular niche and provide something people want to buy.
The first products I made in 2007, have netted me about $100 USD. They were fun and popular in a small niche market, but they were not going to pay my bills. Now let me show you what can happen when you design for a larger niche market like Christmas holiday cards.
I have earned $8,941.73 USD from 3 Christmas holiday card designs. The one card, posted for sale in 2013 has earned me $5,092.76 USD over two Christmas seasons. The other two cards were created in 2014 and netted a total of $3848.97 USD in royalties. I am confident that these 3 designs will continue to provide me with passive residual income in the future.
Design once and sell forever!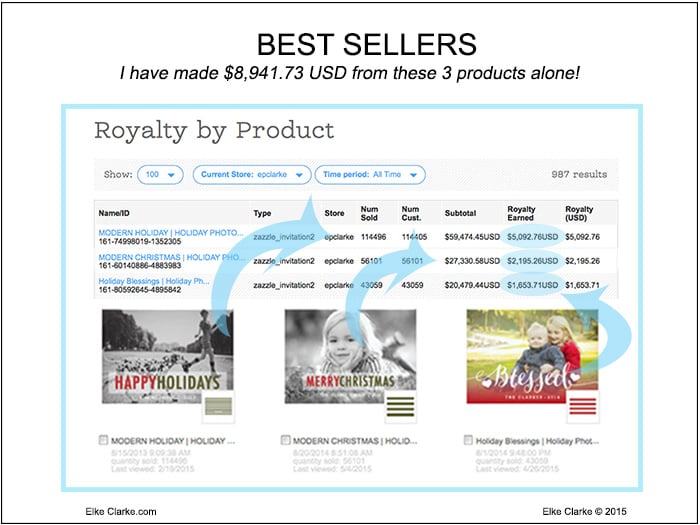 From 29 cents to a 6 Figure Income on Zazzle:
The first dollar (or in this case, 29 cents) is the hardest to make. If you can make one dollar, then there is more to come. I knew my opportunity to earn money through Zazzle was the beginning of something big, but I didn't realize it would be life changing.
It took a couple of years to get there, but so far, I have sold over $6 million US dollars worth of my products through Zazzle.
I have made a 6 figure annual income for the past 3 years and I have earned over $700,000 USD in total net income – all from Zazzle!
I am one of the top 15 designers on Zazzle in terms of total earned royalties, achieving the Diamond ProDesigner status - the top level in their recognition program.
All because I had faith in that initial 29 cent royalty!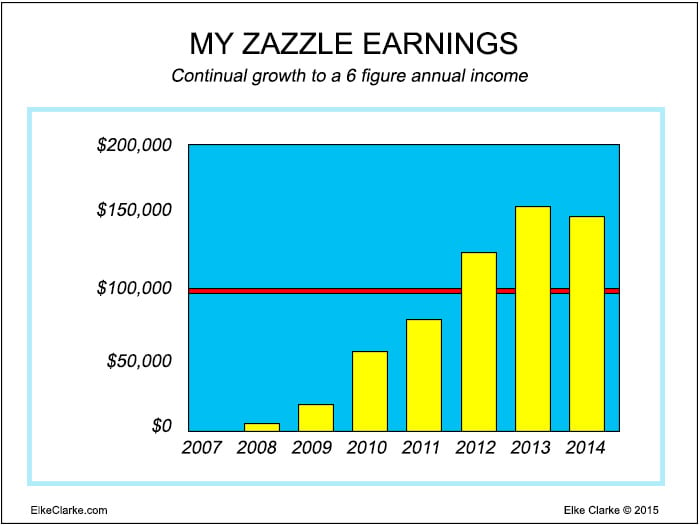 10 Valuable Tips on How to Make Money on Zazzle:
Here are 10 valuable lessons that I have learned over the years, which helped me to make money on Zazzle.
It is a business, not a hobby. While it is fun and enjoyable to create new products, ultimately, if you want to make money, run it as a business.
Consistency is more important than creativity. Work on it and post products everyday.
Find out what the customer wants and give it to them. Your amazing painting may not sell on a canvas, but maybe as a design on a cell phone case.
Identify a niche where you can succeed – I make money primarily from my wedding invitation designs. Other people make their money from business cards or T-shirts. Try to develop products that are "evergreen" – those that will sell year after year.
Identify trends and develop products for those trends. This works well if you are able to make products quickly, but may not give you long-term residual income, if the trend becomes a fad.
Create as large a virtual inventory as possible – each sale will give you a relatively low amount of money (remember the 29 cents?). You have to sell in volume to make a substantial income.
Remember, you will generate passive, recurring income – occasionally, someone will still buy that picture of the polar bears, seven years after I put it online. Don't delete old products, even if they are not your best.
Invest in your business and upgrade your skills. While there are free programs out there to get you started (which I used in the beginning), you should learn how to use Adobe Photoshop, Adobe Illustrator or similar products.
Stay informed by participating in the Zazzle forum. Zazzle employees and designers post on the forum with valuable advice and insights.
Do what you love and you will be successful.
Do You Want to Learn More About Making Money on Zazzle?
I have been helping people start their own stores on Zazzle for many years now. I love being able to inspire and empower those who want to gain the freedom that I have found by selling art and designs online.
If you want more information, please download my free e-book, "10 Insider Tips on How to Make Money on Zazzle" available at ElkeClarke.com
I am now working on formalizing my knowledge into a course and would love to receive input on what people would want to learn, so they can be successful on Zazzle.
Please send me the top 3 questions that you would want to have answered about Zazzle, as this will help me design my course.
I would love to hear from you – send me an email elke@elkeclarke.com