4 Techniques for Better Integrating Google+ into Your Editorial Calendar
Even though Google+ has a massive user base and proven SEO advantages, businesses do not seem to take their Google+ efforts as seriously as their other social channel. Not only does Google+ have advantages of its own, but when used the right way it can help to maximize and improve your overall visibility online.
Here are four techniques to better integrate Google+ into your existing editorial calendar.
1. Boost Your Long Form Content
For many businesses and individuals, their blog lies at the heart of their content marketing. In this case, one of the key functions of their social channels is to promote their blog in some way or another. While there's no doubting the effectiveness of Twitter and Facebook for promoting long form content, Google+ is perhaps one of the best channels suited to this task as well.
Unlike Twitter, Google+ has no word limit; and unlike Facebook, Google+ allows for text formatting and is geared towards professionals, especially focused on business and marketing. In addition, Google+'s SEO benefits mean that fleshing out your content with descriptive posts pointing back to that content gives it maximum visibility in search results.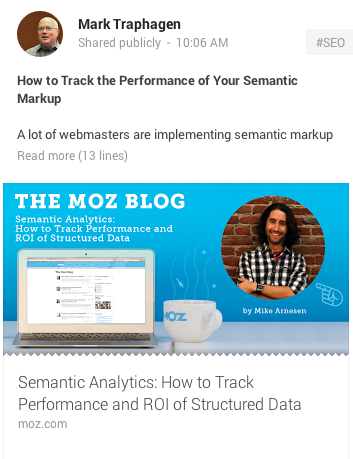 One simple way to leverage all of these advantages for your blog is to create Google+ "mini blog posts" in conjunction with your schedule for releasing regular long form blog content. Since these posts will borrow heavily from your other content scheduled on your editorial content, they won't be incredibly time consuming to create and will logically fit into your regular content schedule.
These mini blog posts, like this one, this one or this one, can also serve as a great way for people to consume your content when they otherwise might not have had the time or interest to read a full article. This can be beneficial for both keeping your existing audience engaged and/or drawing in new readers.
2. Add Much Needed Variety to Your Content Schedule
Even the busiest and most fleshed out editorial calendars are likely to have gaps in content or posts; and assuming your other posts are scheduled on a consistent basis, these gaps in content are likely to follow a consistent pattern.
For example, if your business posts on your blog every Monday and Thursday, and tweets every weekday morning and evening and post on Facebook Sunday and Wednesday, then every Tuesday, Friday and Saturday afternoon your editorial calendar is potentially empty.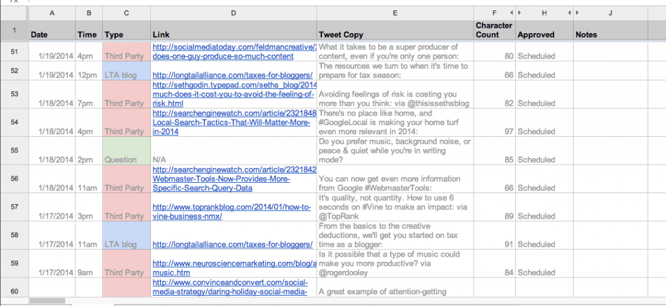 Your business could post more often on your existing social channels, but you don't want to post any repeat content without repurposing it slightly or flood any one channel with just your own content. Using Google+ to avoids all of these issues while providing all of the benefits that come with regular contribution to the platform. Adding Google+ to your editorial calendar allows your organization to repurpose your content into another form to help continue to drive visibility to your marketing efforts.
3. Tie In Posts From Other Platforms
The first section discussed using Google+ as a way to call attention to your longform content but it can also be used in the opposite way. Since Google+ supports linking to all different types of content you can also tie it back to your other social content.
One example of how to do this would be to provide a weekly round-up of the week's most discussed tweets and ask what your Google+ audience thinks about a conversation that they might not necessarily been a part of. This kind of cross pollination not only serves as a valuable way to further connect your audience, it also acts as a low overhead piece of stand-alone content that you can repeat weekly as part of your overall editorial calendar.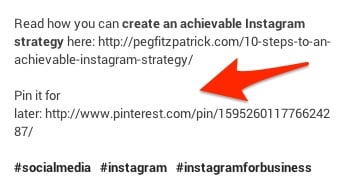 Also consider including a link to a Pinterest pin within your post that points to the article you're sharing on Google+ to allow readers to bookmark the content to view later from their boards.
Another possibility would be to host a weekly hangout. Hangouts are one of Google+'s most popular features and they can serve as a valuable way to connect your disparate audiences from around the web into one coherent shared dialogue. Sharing the YouTube videos from the Hangouts after the fact is also another way to get more traction from your content efforts.
4. Use Google+ to Anchor Your Editorial Content
This last piece of advice somewhat extends the scope of this article's recommendation, but it seems like a natural leap to make. Because Google+ is baked into the largest search engine on the web and has the flexibility to support long form, short form and multi-media content it seems like a reasonable place to anchor all of your online content.
Even if Google+ might not be the place where most people will be exposed to this content, it doesn't detract from the benefits of having it live there. Every time you repurpose an existing piece of content for posting to Google+ you not only fill an empty slot on your editorial calendar and reach a wider potential audience, you also increase your SEO visibility, the visibility of your recent Google+ posts appearing across Google properties like Gmail and potentially the number of links back to that content.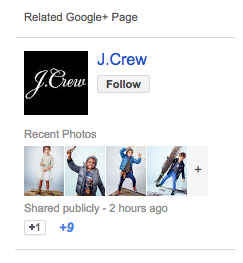 Driving traffic to your blog or website should still be the end goal of all of your social media/promotional effort, but having Google+ as an extra hub for aggregating all of this content (as well as a forum for original content) can be a relatively simple and low maintenance way of bolstering your online presence for the future.
Although using Google+ in this way might seem like a big shift in strategy if you're not doing this already, most of the effort will be slight tweaking, content you'd be creating for your business anyways.
Far from simply integrating Google+ into your editorial calendar, Google+ should be integral to your editorial calendar.
What's your strategy for properly integrating Google+ into your editorial calendar coordinating all of your marketing efforts? Share your thoughts.