One of the coolest things about Google+ is Hangouts.
I'll confess, I've always wanted to be on TV. I never wanted to be an actress, but I was fascinated with real people on TV and wished I could be like them. I was in awe of Miss Jean, and Romper Room, when I was young. I always wondered how she knew I was home in bed with a cold.
Since I help people fall in love with technology, it seemed that producing a show of some sort would be a great way to fulfill that childhood goal. And though I've been teaching and training online for over 15 years, the ability to broadcast to an unlimited audience for free is fairly recent.
It is Google Hangouts that has made this possible.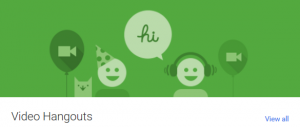 Google Hangouts gives all of us the ability to broadcast to anyone, anywhere, anytime - for free.
The service is within the reach of anyone with a G+ account. We all now have a massive public soapbox and can reach the world at any time. Whether it's President Obama delivering his State of the Union address or the Dalai Lama chatting with Desmond Tutu, the combinations of people and topics available to broadcast are mind boggling. Hangouts provides the tools, you provide the message.
So, whether you are planning your own, or were invited to be a guest, take advantage of tools like Hangout Toolbox and make the most of your time in front of the camera.
Looking like a Pro
If you've watched any Hangouts during your time on Google, you may have noticed that some people have their name and some pictures on the lower part of the screen while they are on the air. That's known as a "lower third". File that as a cool fact for the next time you play trivia. The logos used by networks actually have a special name; DOG (digital onscreen graphic). But, for our purposes, they mean the same thing.
Use this to show your custom information on a Hangouts video, while it's being broadcast live via Hangouts-on-air, or replayed via YouTube.
The three benefits of taking time to set up your own custom lower third are:
Easily shows people who you are, so they can connect with you later
Easily allows latecomers to stay up to speed with who is speaking
Hosts can easily invite you onto their Hangouts, since a great lower third shows that you know what you're doing and gives them a safety net for on screen brain freeze.
BONUS Benefit: The branding for your site and/or business lives on - and will be seen by EVERYONE who watches the video in the future.
So, now that we know why we want a super lower third, let's see how easy they are to create.
Method One:
Benefits: Easiest. Great for beginners and last minute needs.
Tools Needed: Hangout Toolbox
Time Required: Less than 10 minutes
Skill Level: Click-by-Click, Scrolling Along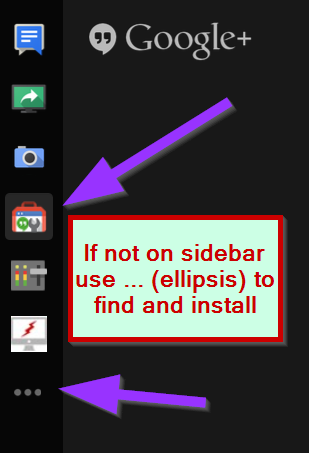 Step 1: Create a video Hangout, just for you
Step 2: Install the Hangout Toolbox app
Step 3: Follow the easy steps in their video
Nifty Nugget: Use Colorzilla,which works with both Chrome and Firefox to easily match your lower third
to your website or company colors
Gotchas: Don't freak if it's backward. That's they way it will appear to you, your viewers will see it the right way around- use the two headed arrow to swap


Method Two:
Benefits: Share more than name & tagline. 100% customizable. Overcome 'filmstrip clip'.
Tools Needed: PicMonkey.com (free), graphic or logos, text
Time Required: 20 minutes
Skill Level: Scrolling Along, Mega+heartz
Step 1: Open PicMonkey ; select Custom ; Enter 1280X720 pixels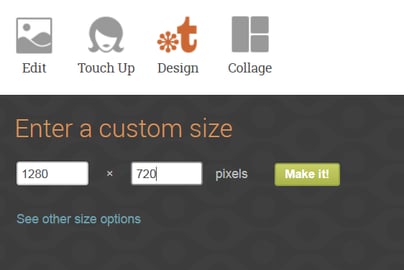 Step 2: Make transparent background (canvas), add elements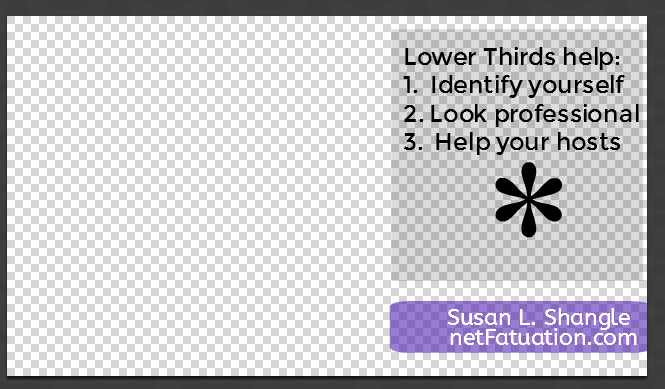 Step 3: Upload as: Custom ; Type in a name ; Save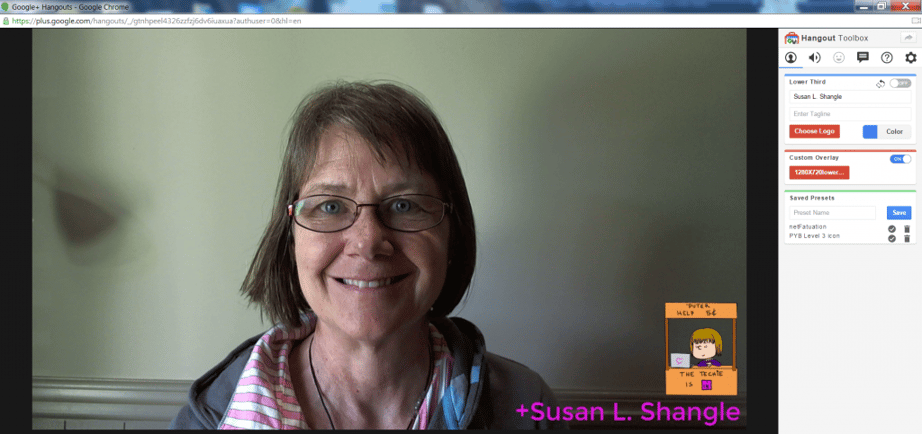 Nifty Nugget: Move your text to the far right, so it is easily seen in the filmstrip view.
Nifty Nugget: You can include points, or a quote, and switch them during the Hangout.
Gotchas: YouTube channel logo could interfere; this gets turned off in YouTube - not Hangouts.
If you have any questions - or would like one-on-one help making your own - simply contact me and I will do my best to help!
It is time to let your inner TV star shine.