So why would you want to set up a page?
For you to understand this, you've got to look at the difference between a profile and the potential of all different sorts of Google+ pages.
As such, make sure you read this PYB blog post first if you are in any doubt.
Here is the main distinction: A page is not a person.
That's the essence, but the page can be a brand. It could be a person's name, but it would be the brand of that person, it's not their own account. Very often, you'll find the pages on Google+ are businesses or are interest groups. It could be entertainment, it could be sports and so many applications, but the brief version is that they are not a person.
What can a Page do?
The good news is this: a Page can do almost everything that a Profile can do.
Tip for those who know a little more: there may well be one advantage, when someone +mentions a name they very often get put into circles automatically, dependent upon a person's settings. This can help to increase your follower numbers considerably.
Choosing the type of Page you should set up.
So let's now have a look at setting up a page and we'll go a little further.
The first thing to do is to find the Pages icon. Then 'click'.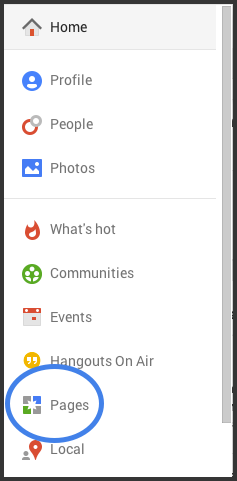 From this Page you have a couple of options:
1. If you already have Google Pages to manage the they will appear in that screen.
2. If not, you can create one. Next click on Create a page.

Next you have several options.
Step 1 Pick a Category
This is a very important step and you must choose the correct category first. Note: you will not be able to change the option later on.
1.. Is it a local business or place?
2. Is it a product or brand?
3. Is it a company, institution, or organization, arts, entertainment or sports, or other?
4.Is this page about 'Arts and Entertainment or Sports'?
5. Or is it 'Other'?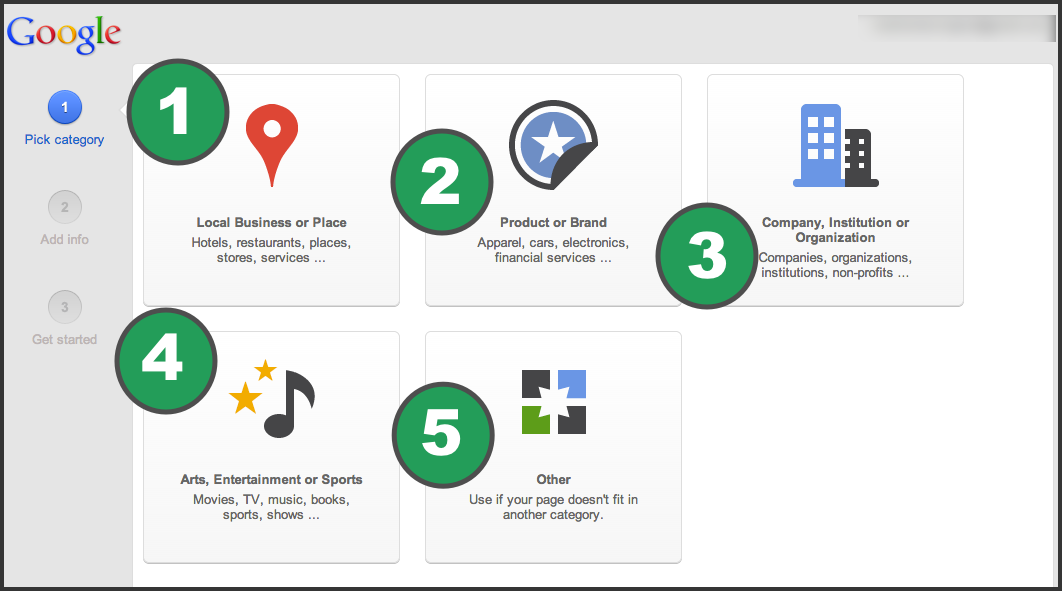 What happens next depends upon which icon i.e. category you click.
If you click on Business, you'll see that it asks me for the country that you are located within, and also the telephone number, and it would then go to locate it
.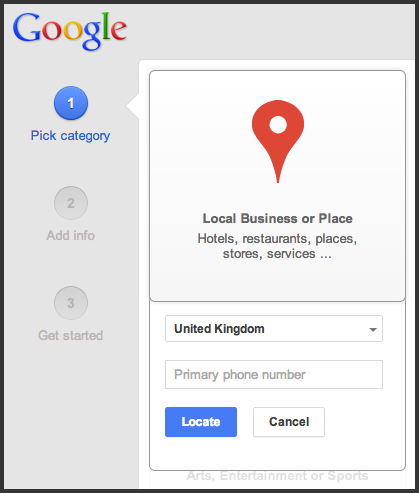 Note: if you are a local business then you really should look at choosing this first option.
If you are a company then you may well want to choose the third option that is less concerned with your physical location, as would be a restaurant.
For the other Page options, once you click, you will be able to select from a dropdown and choose a category.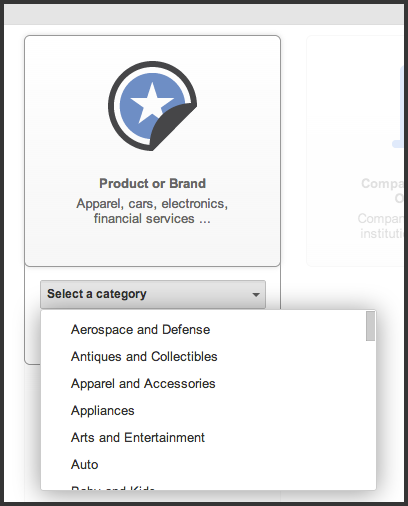 If you choose 'Other' then you just get taken to the next page in the process anyway.
Step 2 - Add info
Using the example of a Brand Page:
1. Choose the name of the Google Page
2. Link your website to the Page (this can be done later if you are not ready/don't have a site yet)
3. Click the dropdown to state the nature of the Page
4. Agree to the Terms and Conditions, and click 'Continue'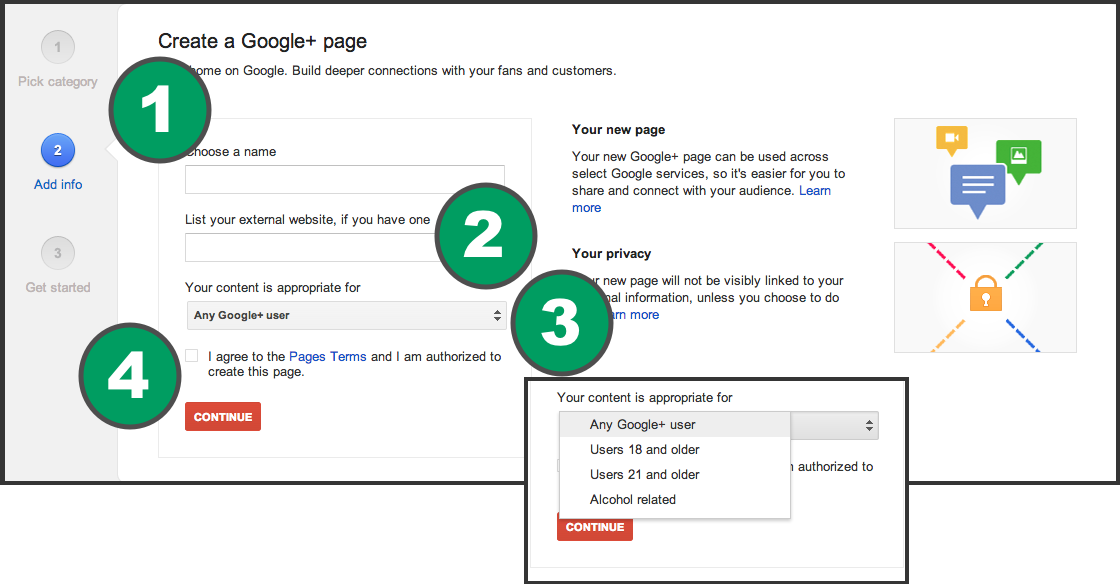 Step 3 - make it more personal
Now you can begin to make the Page your own.
1. Click the page image to add in your own photo - this will bring up a box where you can add in a picture from your computer or from Google Drive
2. Click to change your cover image to one that says a little bit more about you
3. Sum up your Page in 10 words
4. Add in an email address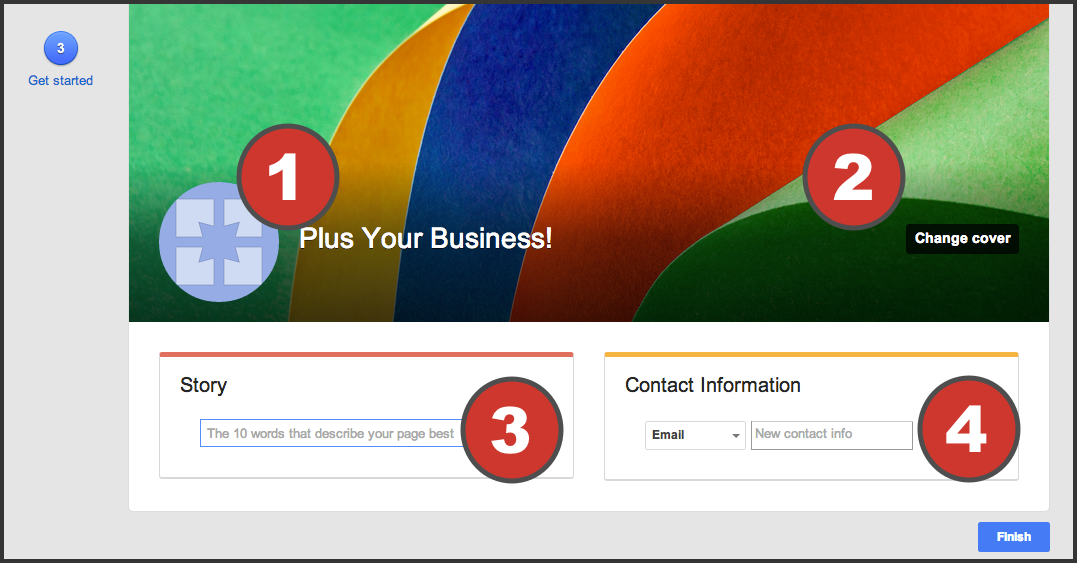 Note: these steps are essential. If you keep the Page with the generic images and no contact information people will tend not to want to engage.
Your Google Plus Page has been created.
More on adding in a profile
For those not familiar with Google+, once you've clicked (1) in the last slide, it will bring up the box below.
As you can see:
1. you can just drag and drop the image into this area, or
2. you can upload an image or use one from within a Google+ album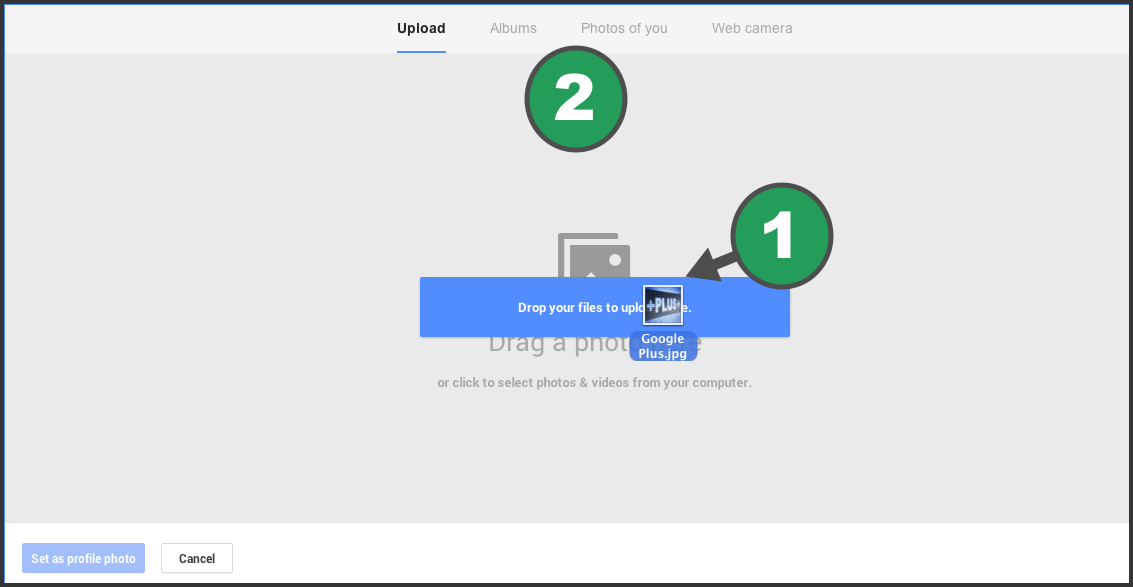 Next you will have the image almost ready. From here:
1. You will be able to adjust the area of the image that will be seen - the rest of the image will be cropped. You do this by either dragging a corner of the clear window, or the entire window box, into position.
2. You can also use the creative kit to the right of the image to adjust colors, add text etc.
3. When you are ready click 'set as profile photo'.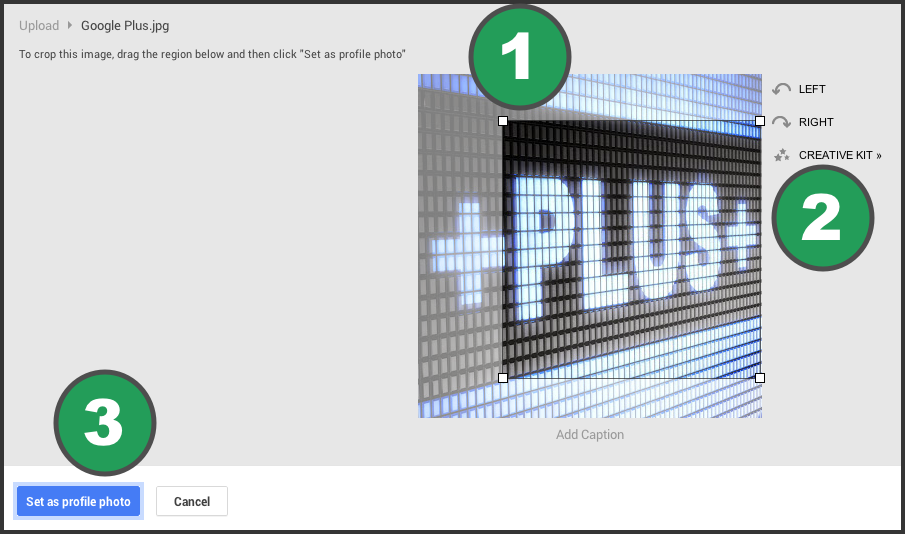 Note: The same will apply for uploading a 'cover photo'.
Changing your cover photo
Following the same process as above, simply click 'change cover' and you will be given options to choose one from the gallery, or to upload etc.
Note: the optimal size of a cover photos is currently 2120x1192 pixels.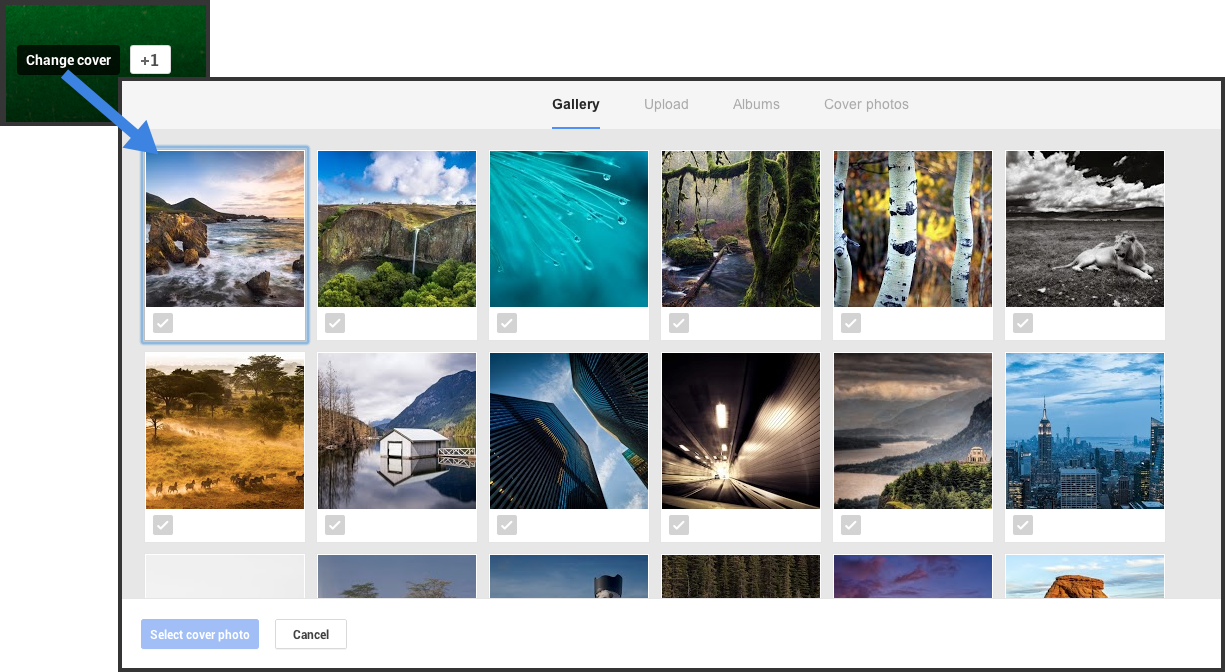 Filling in the details
Next you will want to become familiar with the sections in the 'About Section' on your Page.
1. This show people you have, or have you, in circles
2. You can tell your story
3. Edit your contact information
4. Add you website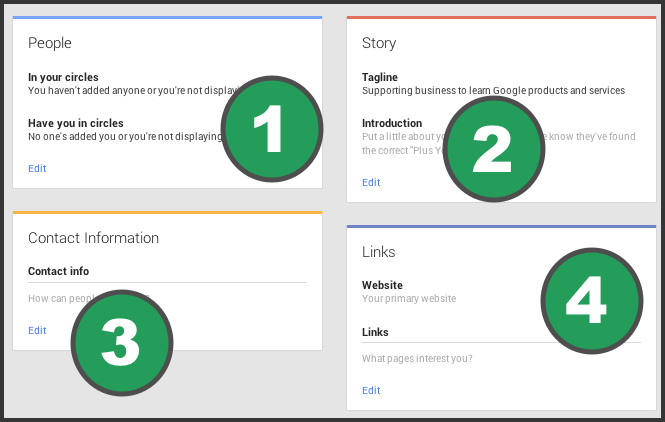 Once you've clicked on 'edit' in the bottom corner of any of the sections, it will bring up a box dedicated to that content.
People section
Here you can decide on:
1. Who see who you have in circles (e.g. public or only selected circles), and
2. Whether you display who has you in circles
If you uncheck the boxes you don't display this information on your profile.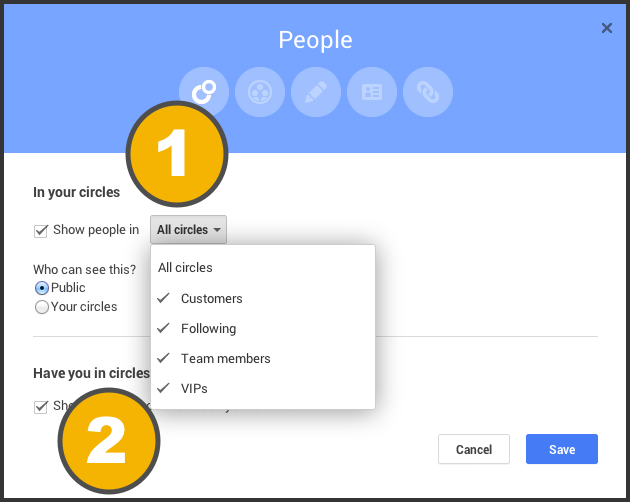 Adding your Story
Once you have clicked edit you can:
1. Edit your tagline (note: this appears on your Hovercard)
2. Change the settings of 'who' can see the content in that section e.g. public, or specific circles
3. Write a fuller description of the Page, using appropriate formatting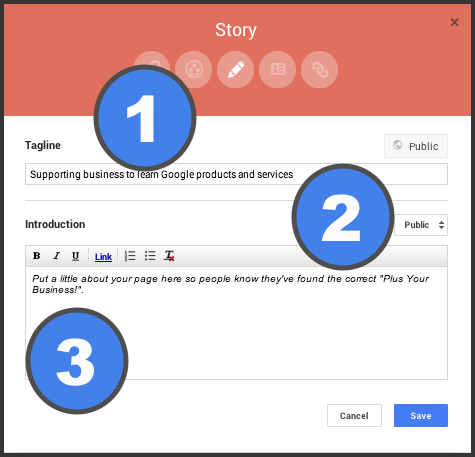 Note: repeat this process for each of the sections and click 'save' when you are finished.
Connecting your Google+ Page to your website
When it comes to adding in your website, once you have added a website you will see the option to 'link website'.
You will then see the box appear where either your can link it yourself, if you are registered to use Google Webmaster tools (as is the case below).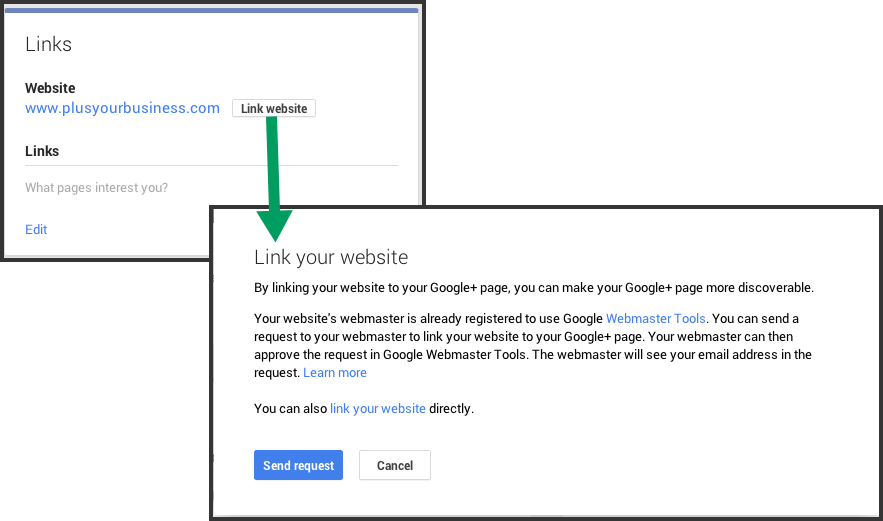 Alternatively you can 'link your website' directly by clicking that link. The box below will appear; from there add that code to your homepage.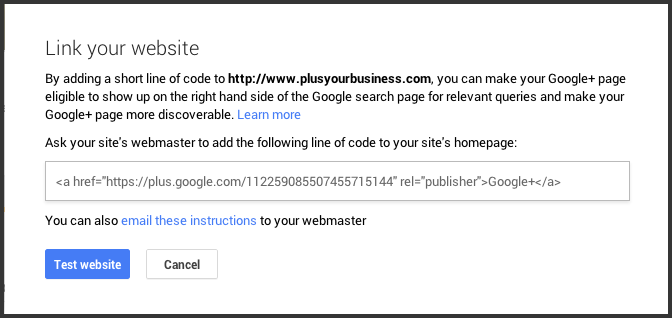 Once you have added the code to the website click 'test website'.
Adding contact details and verifying an email address
In the contact information you can add as much or as little contact information as you desire.
You can also verify an email address straight from a Page by going to your contact information:
1. Click edit
2. Once you've added an email, and saved,
3. Click verify and it will send you an email which you can them confirm.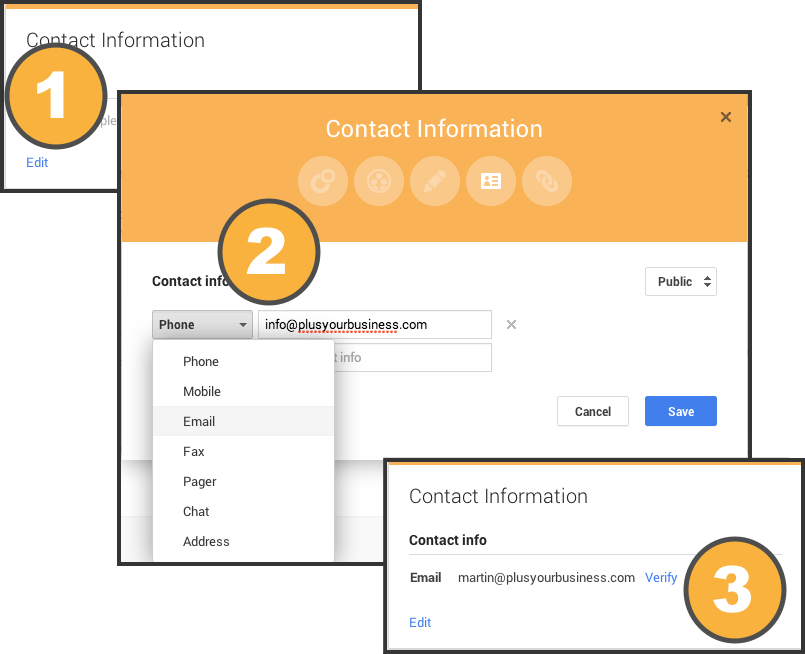 Changing the name of a Page
It is possible to change the name of a page by clicking on the name which will in turn bring up a box.
NOTE: there are no 100% certain rules as to how many times you can change the name of a Page - be very careful as you may not get a chance to change it again!
Your custom URL
These are being rolled out for profiles and pages on Google+ since late October 2013. When it is available, you will find it offered to you when you log into your account. If you have questions on this then please drop them to the bottom of this post on Google+.
Other things to consider
Recap: be careful to choose the right category!
The category that we chose at the start, which was Product or Brand on this occasion. Well, a Brand isn't a Business. So you don't have the same options as you would if you have done if you'd chosen Business as the starting category, which is very important to do. If you are a local business, then you can link your Google+ page to Google Local, which will connect up to the maps, which could give you more exposure in the Google search results.
Switching between a Page and your Google Plus Profile
But let's now go a little further.
1. It says here, you are using Google+ as a page. That means that you are not using Google+ as your personal profile anymore. It is, however, called the profile of a page!
2. You can switch to your personal Profile by clicking on your image.

What does this mean? Well, if you go to somebody else's profile, and you start making comments, i.e. commenting on their posts, then you are doing so from your page, so my page name will come up. In other words, if you have a brand, then you're going to be replying and commenting as that brand.
Page settings and adding managers
Once your Page is set up you can tailor the experience by clicking 'Page settings' (once you click in the upper right corner).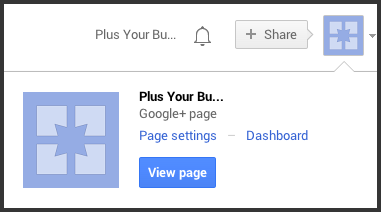 In the page settings, you'll see a tremendous amount of options -
Who can send you notification? Who can comment on your post? Who can hangout with you?
1. Adjust the settings by clicking the dropdown and choosing from the options,
2. You can access Page Managers from this section as well - click to visit that Page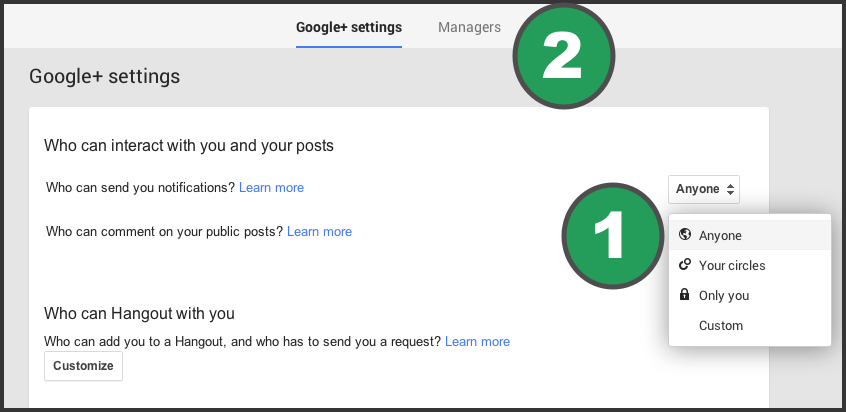 To add a manager click 'add managers' in an email address, that sends them an email and they then decide whether or not to accept it.
When you have added managers they will appear in this section for the Page.

Note: very importantly, you have the ability to transfer ownership of the Page. So if for instance, if you set up a page which is for a company, you can then transfer over. It may be a criteria for you to have a manager on the page already for a period of time (currently 2 weeks). One quick area of application for this is if you work for a company and you decide that you are going to leave, then you can transfer ownership back to somebody else within the organization. In this way, the Page doesn't have to 'leave with you', even though you set it up and connected it from your own profile account.
Google Dashboard
Finally, in the same area as your 'Page settings' you will see your dashboard.
This gives you an overview of your Google Page and its current status.

So that is how you set up a Google page.
Very simple, indeed.
There is more to the management and ways of approaching the opportunities for brands, but in essence, you are now fully capable of getting started.