Introduction
Very often when I run campaigns on Google+ they are framed and then run as 'experiments'. They are either paid for by clients (always disclosed), with clients (coaching support during the process), or totally for the sake of building up a case study and having fun in the process. In this article I will show you the inside workings of this campaign. There is so much more that happens through a 15 hour campaign but this gives you some idea.
Zuck campaign timing
I often talk about Google+ being like surfing. You get a sense for timing after a while, and the more you are 'in the stream' then the more your feel the texture of the waves. On Monday, and by marvelous coincidence, Mark Zuckerberg was delivering the opening keynote at the Mobile World Congress which is being held in Barcelona, Spain. I would like to say it was consciously planned this way, it wasn't. It just happened.
The intention
To gather data and extrapolate meaning on a community based game, using the hashtag #PlusTheZuck
There were several offer options, included #PlusTheZucker, but we guessed that could, well, er, let's just say lead us straight into trouble!
Why do this now?
At Plus Your Business we want to engage the community and generate case studies that enable the community as a whole to thrive. We are also available to provide such services to business. I've been using these approaches for almost 2 years now, and the only way you can learn is by getting your feet wet. We need case studies and experience to know what is achievable and how messages spread. Also, I am observing what could well be an exponential growth rate in the numbers needed to achieve trending spot #1. Equivalent campaigns 18 months ago had taken on average 25-50 people to reach top spots; this required more (but this is anecdotal).
The role of social games, and 'play'
People on Google+ enjoy being a part of a movement. These campaigns give people exactly that, and it is a lot of fun.
The stages of the campaign
The week before - preparation
Developing the concept (this took days to refine, and has support from Linda Dee, George Sepich and Vanessa Garcia Muela
Writing of all posts/content
Creation of all images
Day 1
Build a circle - I asked people whether they wanted to engage in a fun experiment (the inner circle for the campaign)
This was an opt in list of 200 people.
Publish the circle publicly
Private message - I then let the inner circle 'in' on what was going on
The private message
I sent out a private message saying:
Ladies and Gents! (Private message)
So, tomorrow morning my time (USA) I will make a post with:
a) a link to an image on Google+, and short message
b) an instruction to Plus One the image you will find in the post
c) a hashtag to be used (I've given you a clue in this post - please don't say if you work it out, and don't take any action yet either!)
That will be all that I post publicly.
Now, seeing as you opted into the experiment and are the 'inner circle' on this one, I want to give you a little more.
Firstly, I am looking to track the 'take up rate' outside of people who have opted in i.e. you. This will be determined by whether we reach over 200 plus ones on the image.
Secondly, we will also see if the hashtag starts to trend (depending on my post activity), the speed, the sustainability etc.
+NOD3x will kindly be tracking it all.
Thirdly, we will see whether the idea gets picked up by other people, and in particular Pages and Brands, and whether it morphs.
And a few other things too...
Want a clue as to the content? This person that has never posted, and probably never will.
Intrigued? Excited? Ready for the fun?
Good! See you tomorrow.
With this image: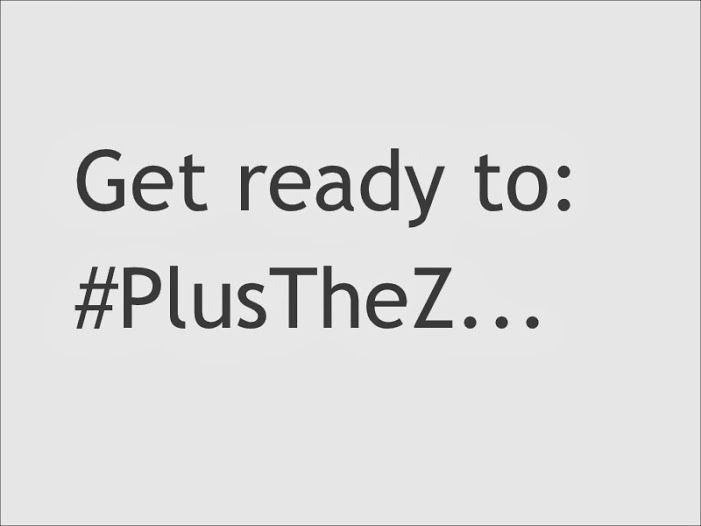 This set up was crucial. On the comment thread people guessed it was Mark Zuckerberg but no-one leaked it publicly (as far as I know).*
Also note how dull this picture was compared to the ones that followed.
They are all 'on brand' but intending to have a different emotional response.
Day 2 - the campaign
5.30am start - post was made publicly; notification sent to the inner circle
5.36am - realised that we could not 'Plus' the post, or comment on it, without the plusses 'bouncing off'
(insert/imagine=ine a few profanities here…)
5.45am (ish) - worked out the only way was to change course - to up the number of people who had him in circle, and measure that instead.
5.46am - Squadron Leader Sepich came up with what turned out to be a great idea - just putting out a circle as well. Even though one person in a circle is more like a dot, I added this to the plan.
Then...
5.50am - communicate in all available place, editing the main post to say: "We are now going to 'follow' and measure the uplift.
5.51am - wriggle as people such '#CircleTheZuck' (this would have been a weaker tag, imho, and also trashed the graphics created and posted!)
6.01am - Release The Circle!
Makes me think of this…
i.e. the circle...

These two initial posts set the course and direction of the event that followed. All of which came from the initial seeding of to the private circle of 200 people, flowing outward and gaining pace.
6.30am onwards - the creativity kicks in with the community member fully and self generated posts i.e. not just reshares of mine, start to kick in. (This is common as a meme morphs.)
The hashtag was still used and the community leaders for the meme spreading emerge further.
7.15am - announce trending at number one
1.52pm - the follow up post!
This post was then launched.
This was always the intention, but I needed to get a sense of the 'waves' and whether we could all surf this next one...
And it worked. There were around 200 shares, great for a second wave.
Involvement (the headlines):
There were:
- 362 posts
- 2,936 people involved
--- 49% +1
--- 12% posted
--- 18% re-shared
--- 21% commented
Starting point (Zuck's followers): 557,455
At 10pm first day: 658,550
At 8.20am second day: 658,987
People who took action: 1,532
Trending: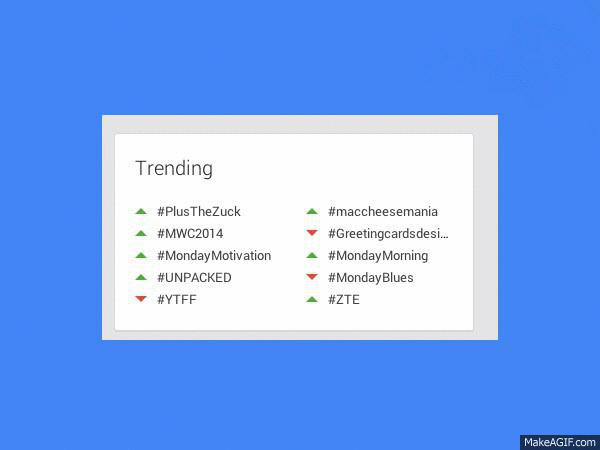 As you can see, the trend was at #1 (for a couple of hours) and then moved to #2 where it stayed for most of the day.
The results on the uplift in follower count:
Starting point (Zuck's followers): 657,455
At 10pm first day: 658,550
At 8.20am second day: 658,987
People who took action within one day: 1,532
Three days later: 659.225 (as of 9.30am Thursday)
People who took action in total: 1768
(which is every interesting...)

And it was FUN
I cannot overstate it, people want fun.
The counter trends:
A lot of care and attention was put on the chosen hashtag: #PlusTheZuck
The decision to 'roll with it', not to delete comments, not to try to control it all (which is tempting).
When, after several hours, the hashtag #F***TheZuck emerged (as we predicted it would be). We decided it best not to engage. There were around 12 original posts and a few shares.
And you can see the stream for yourself here.
Spoof email:
This was both interesting and never predictable. When Jason Robertson created a post suggesting Mark Zuckerberg had plus one'd his ones on PlusTheZuck, we got another little wave.
People believed it.
I shared it, but said 'LOL', everything is an experiment on the post I shared so that there was enough doubt to keep open the potential response. This is like a kicker to a gate. It enables people to simply respond naturally without the context being adjusted by the transmitter.
The post was then deleted by Jason as people started to believe it was real a little too much - Mr. Jingles (the name for the hilarious wiggling, bell shaped chap i.e. Google+ notifications mascot.)*
All fun and games.
Hashtag band wagon
Very often people will use the tag, and double/triple tag, in order to promote their products and services.
There was not much of this, but check out the steam to see more here.
Brand Pages
Both Sauber F1 Team (there from the start) and the Huffington Post (used the tag appropriately with other related content) jumped in which was awesome to see. Thank you.
Auto generation of hashtags
As you may well know, Google often generates tag based on your content and posting history.
You will find NUMEROUS examples of the #PlusTheZuck tags being added to posts that do not mention it at all.
This is an area for further investigation for sure.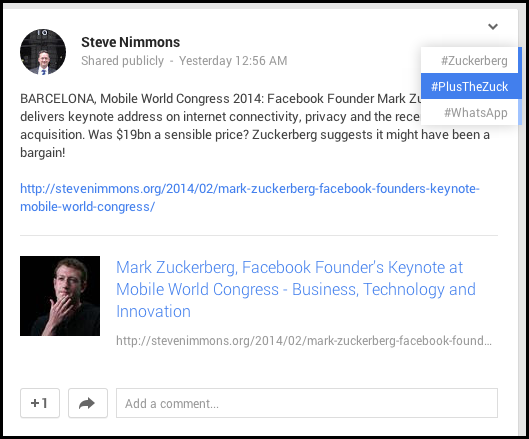 When to end a campaign?
On this one we let it run overnight.
As you can see from the ripple movies, shares still happened the next day:
First post timing and ripples: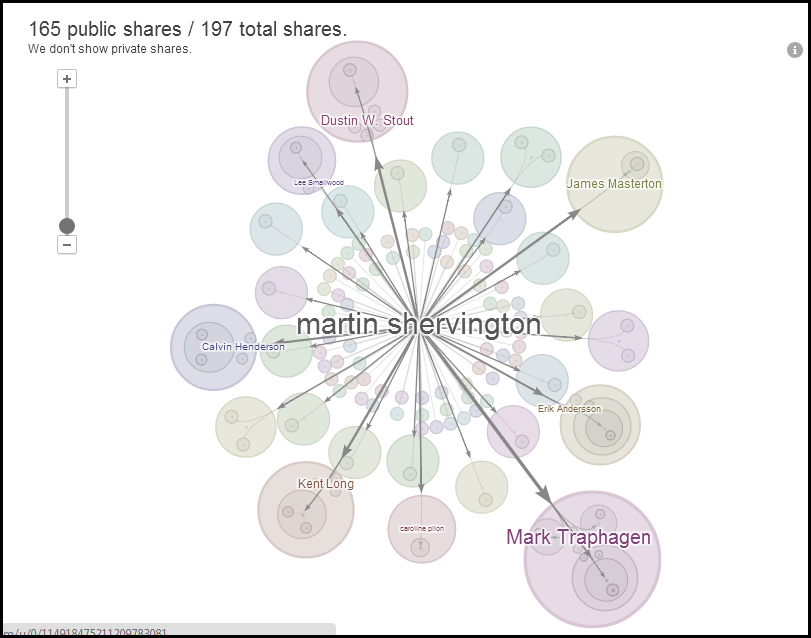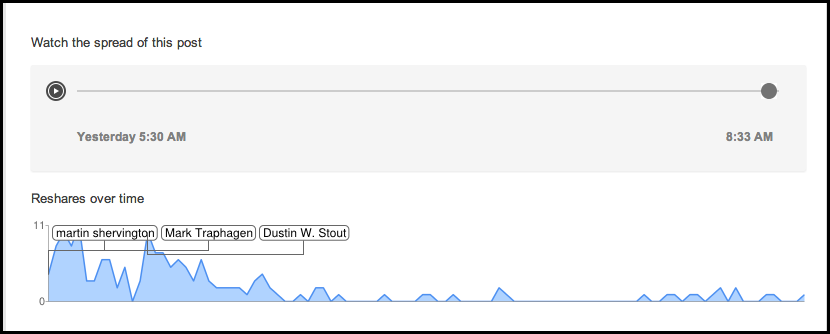 Second post: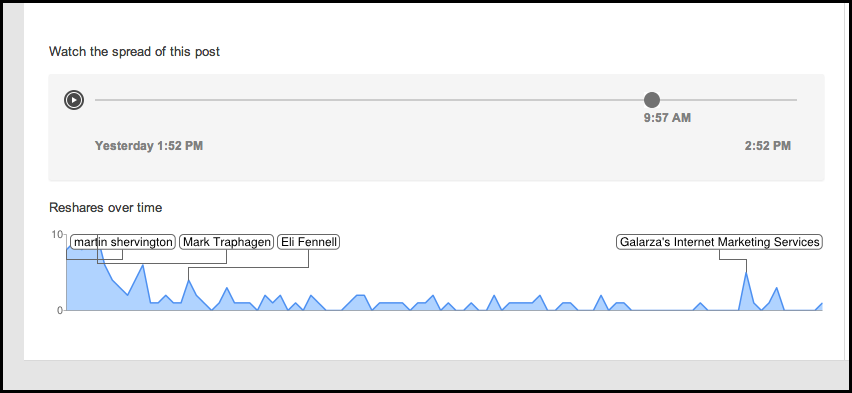 The next day I decided to 'close comments' on the threads, and symbolically that drew the campaign to a comfortable close. The energy fades and people paddle about once again, back in the Stream.
I've learned a lot on the use of comments as methods of notification through running campaigns; one use being to add a message to the end of a comment thread to direct people, finalize arrangement etc. I have found around a 10-15% plus one rate (on the comment itself) using this technique. On this campaign there were 22 plusses on the final comment, showing reasonable closure for many.
Post event
People still engaged and were super creative, such as this post from Simon Richomme which came two days later.

Ethics
There were a couple of comments that maybe this was 'too much' for one person to handle.
I left those comments on the thread, and let people know that everything was an experiment.
The wording of the posts I created were edited around about 10 times to ensure the best chance that this was all in good humour. I think that we succeeded in that was, and the with Facebook always being perceived as a rival to Google+ it was playing to a fair and reasonable crowd.
I would not suggest using this approach liberally, however, and all such campaigns require a lot of experience with a great team to make them work.
Charity and Business
A couple of people said "why don't we use this for something, well, useful" - exactly.
We do that all the time too, but we wanted to get some solid data on a 'free range' campaign.
The role of Google Hangouts
Throughout every campaign we run we are sitting in a Google Hangout, with team members popping in and out all day. They are awesome for communication whilst these projects flow in the Google+ stream.
Why should you care about all this?
This is about understanding the network on Google+ and what we can all do when we work together. It is about understanding human behaviour.
Having a number one spot is not easy; and in another couple of years we will need even more amplification than now to reach it. Then there are firms that will try to buy their way to the top (in whatever way) and now the relational exchange network is forming that wants to be treated differently. They so often want to engage with the experience itself, not passively consume. Well, this is certainly true on Google+. People love to feel and be a part of something, even if that thing, that movement is only a day.
If you want to know more on the ingredients for content to go viral, then read this post from David Amerland.
Final thoughts:
Be creative, really creative. And if you can, make it fun.
And note: there was no huge budget on this, just myself and the team working together with the community.
Don't think big budgets. Think differently about building your community around you. What to know more? Then contact us!
*yes I know, I am a total geek for saying such things.