Lucie Nolette is a Google+ enthusiast who has spent 25 years in the Cruise Industry as a District Sales Manager. In 2011 she left a 65-hours working week behind and started business on her own. Currently she not only runs two own businesses - a vacation rental company (Phoenix Vacation Condos ) and an event planning company (DNL Events & Logistics) but also manages to follow her passion - G +. When Lucie is not involved with her companies, she helps business owners with their businesses across Google's social platform.
Meet Lucie!
What brought you on G+ and what was your first post on Google?
Well about 18 months ago, I was searching for an architectural photographer for our Vacation Rentals in Phoenix Arizona, +PhoenixVacationCondos, so I asked our Real Estate Agent Christie Ellis if she had somebody to refer to us. Christie referred me to Mark Spomer a Google Certified Business View photographer. Then during the photo shoot, I questioned him about Google Certified, Google Plus etc…He told me about his friend Shannon Hernandez who was a Google+ Specialist. So, I signed up for Google Plus and started following Shannon and also went to one of his seminars. The rest is history! My Google Plus learning adventure started!
My first post was with my page +Phoenix Vacation Condos on 26 May 2013 and then I realized the importance of the human touch, so I created my personal profile and posted as Lucie Nolette on 29 Oct 2013.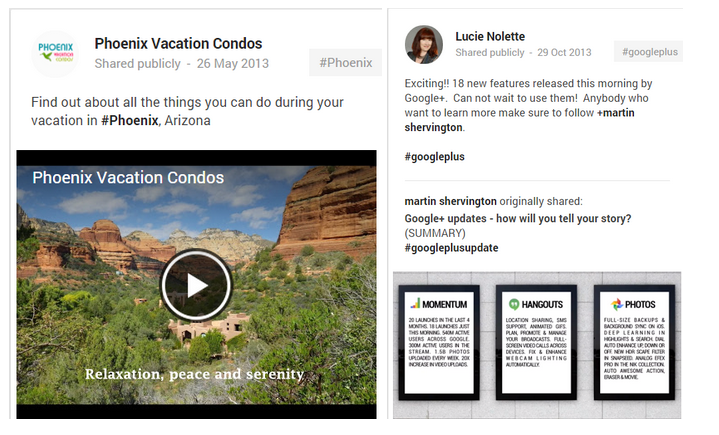 What on- or offline world experience has most influenced your time on G+?
I love to learn and there is much you can learn on Google Plus. What I find amazing is all the people who are sharing their knowledge with E-books or video tutorials. I have this file of things I want to read and learn, and I find I will never catch up!
What's the thing that made your life on G+ easier?
Martin Shervington shared with us a great trick:
"To Create your own private community in which you share you own content". So I created: Lucie's Private community where I am saving posts, articles, ideas, photography, videos to watch, future posts for pages I manage, things to read later etc..
Prior to that, I tried different tools i.e. Feedly, Pinterest etc… and I was still unable to get organized and do some time management in regards to finding future content or simply finding things I had saved.
What would your advice be to newbies here?
To join the PYB Academy for sure and start learning.
It took me a while to learn about all the great people on G+ who are sharing their knowledge and helping you learn Google +. I would recommend to look at my list of 6 TOP Resources to help you learn Google + and start with that. It is a list that I still refer to on a regular basis.
6 Top Resources to Help You Learn Google Plus
How many people do you have in the circles for which you've turned notifications on?
About 150, I have used Martin's trick of creating the following circles: Notify, Flow1, Flow 2 and Flow 3. One thing that I am doing to expand on this great system is: after I have checked their profile and their posts, if I find them very interesting and worth looking at everything they are doing, I then put them right away into my Notify circle and for 2 weeks I see what they do and then decide if I leave them into my Notify circle move them to another one. I only do that if they have really catch my attention.
What's your favourite G+ feature?
Anything to do with visuals. As they say Google Plus love Photographers.
I love the big images and also love what you can do with the banners, from GIFs, GIF slide shows, Auto-Preview of videos, Auto Awesome etc. I love how images can be used and how powerful they can be. I thought it was very cool that I could created the following G+ banner.
What has being part of the PYB Academy done for you?
Getting to know and work with people from all around the world. Also helping me as a person, when I first started on Google Plus, one thing that stuck me the most was how friendly and helpful people were. Many people were willing to help perfect strangers. So I have started doing the same. I am now helping more than I did before and I believe in: What goes around comes around.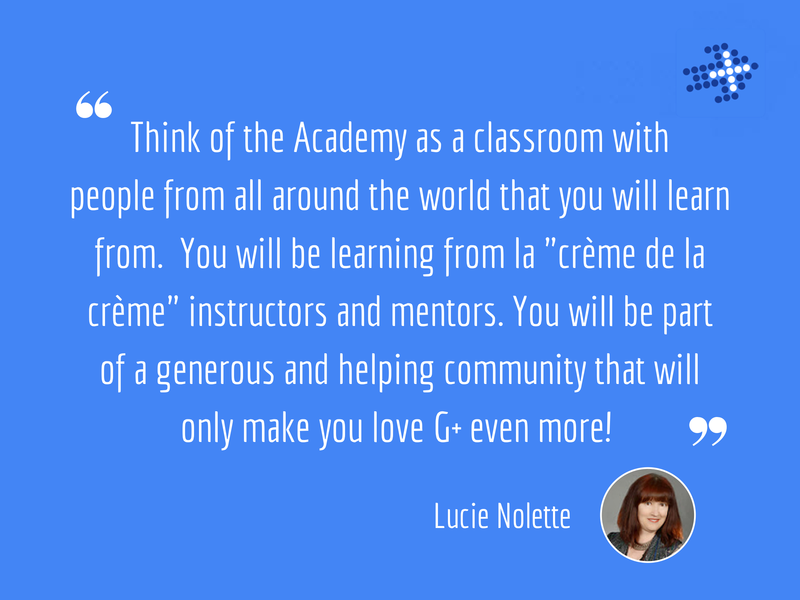 It also made me discover a skill that I did not have the time to explore in my previous career. Graphic Designing which I love and enjoy doing. Now Solutions VA offers Social Media Graphic Services.
How did G+ shaped your professional life?
It has helped me clarify the direction of my business. It has also brought me to refocus and decide which direction I wanted my company Solutions VA to go.
I still offer Social Media Services, but decided to specialize and focus on 2 things:
1) Helping Small Businesses get started on Google+ and sharing my knowledge
2) Social Media Graphics Services.
What was the thing you always wanted to know about G+ but were afraid to ask?
What is the best way to handle Google Plus in 2 languages? In Montreal we do business in both French & English, so it is a challenge to do this on G+
When you are not involved the World of Google Plus, you enjoy running two businesses. Would you share an example of how Google Plus has helped you with them (i.e. raised brand awareness, attracted loyal clients, more leads etc.)
Yes, for google.com/+Phoenixvacationcondos, Google Plus and being part of the PYB Academy has increased our brand awareness for sure.
From an occupancy point of view, we are having our best year ever. At this time, we have 145 followers, so for me there is still a lot of work to do and we are far from where I would like to be.
But as they say, not just the number that counts!
Being in the Travel Industry/Hospitality, the use of images for marketing is very important and I have enjoyed using different ways to feature our rentals. From Slide Shows to GIFs to beautiful photos of Arizona. In the past 90 days, we have increased the actions on our posts (up to 10) and we have reached up to 1014 views in one day, which I was pleased with.
In his interview Bern Rubel asked:
At a rough estimate, how many members of your family, RL friends, neighbours, colleagues or schoolmates are *active* on G+?
Probably 10-15%, so you do feel a bit lonely at the beginning when you first join Google Plus, but at the same time it is a great opportunity to get to know new people. I have enjoyed the journey very much !
And now, it's your turn to ask the next PYB Academy member a question:

Which new interest or passion did you discover or explore with Google Plus?
Lucie Nolette on the Web:
website: www.solutionsva.ca
LinkedIn: Lucie Nolette
Thank you Lucie!
See you all in the PYB Community!