Nick Rink's mission is to get every eligible business in the UK on to Google+ as well as to make sure that Google Maps is accurate, so that when you look for a place you can actually find it in real life.
Why?
The shortest answer to that question is: Because he can!
Nick's business is
Smart Local Marketing
, a digital marketing company based in Wimbledon, south west London. On a daily basis his work is related to helping businesses with their local search marketing and increasing their online visibility in their local community. There are golden nuggets on every corner, says Nick Rink about Google +. And if you ask him, it all starts with
Google My Business.
Meet Nick Rink!
What brought you on G+ and what was your first post on Google?
Back in 2009 I was using Google Wave and was amazed at what you could do there. From that point on I've been keen on trying anything that Google throw at us, so when Google+ came around I couldn't resist. I can't remember who I managed to snag my invite from but I got in on 1st July 2011 and here's my first post. At the time I was mostly using Facebook and Twitter, so the cleaner design and more collaborative attitude here was a definite plus!
What on- or offline world experience has most influenced your time on G+?
After my first few months here I'd become quite frustrated as I didn't really understand how to use Google+ effectively, either personally or for my business. When Google Places got rolled into Google+ back in May 2012, that was when I knew I had to figure this place out. I started to invest a bit of time looking for engaging Communities and trying to figure out where everyone was. Luckily I found a couple of great ones with some incredibly helpful people and I haven't looked back since.
What's the thing that made your life on G+ easier?
Couple of things: my Circles became a complete mess pretty quickly, which all got sorted once I discovered the magic of Circloscope! The second thing would be Communities. No matter what you're interested in and no matter what questions you may have you can always find someone in a Community somewhere with the answer.
What would your advice be to newbies here?
Take your time. Google+ is a massive platform with many things to try and figure out. Look for Communities where you can learn and don't be afraid of asking lots of questions.
How many people do you have in the circles for which you've turned notifications on?
I currently have around 40 people in my Notify Circle, but also have notifications turned on for a handful of Communities where I don't want to miss anything.
What's your favourite G+ feature?
Hangouts. They're super duper awesome! They cover everything from simple text chat all the way up to live broadcasting and the crazy thing is that it's all free! The potential for collaboration, content creation and more is just amazing.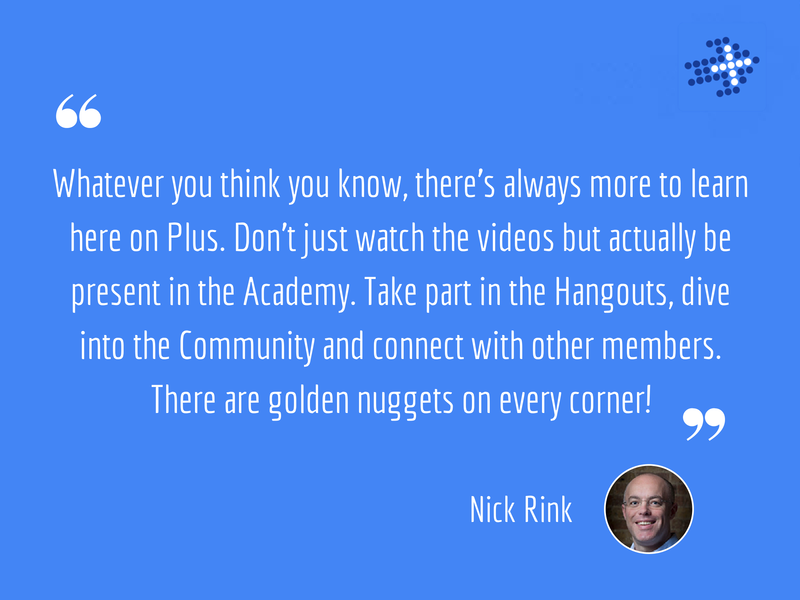 What has being part of the PYB Academy done for you?
Beyond ensuring that I'm doing the basic stuff right, it's made me think a little more strategically about what I'm doing here on Plus. It's also enabled me to connect with some simply wonderful people here in the UK and around the world and for that I'll be forever grateful.
How did G+ shaped/changed your professional life?
Luckily my work is all about helping businesses with their local marketing and Google+ is a very important part of that with Google My Business. Most of my clients were pretty close to my base here in London, but Google+ has helped to open the whole world, which is awesome! It's also opened up all kinds of potential for collaborating on projects, something which we do quite a bit of in the PYB Academy.
What was the thing you always wanted to know about G+ but were afraid to ask?
Question for Mr Jingles: does he ever take a holiday?
Google + Local becomes increasingly important, how do you think this will affect the content creation and even the customer service businesses are providing?
For any business wanting to attract customers from their immediate community, local has always been important. When Google Places rolled into Google+ the added social element provided local business owners with a way to communicate directly through Google. It's a very powerful tool and I think any business that is using it effectively right now is ahead of the curve.
Local content is an important factor, so the ability to feed it direct into Google's search index through posts on Google+ is highly valuable. The fact that customers can leave reviews on a local G+ Page makes them a vital customers service tool also. Responding to positive reviews and dealing with negative ones can have a big impact on how the public views that business.
In her interview Peper Oldizey asked
Do you feel that cosmic force pulling you into this whirlwind of relationships here that is driving you with so much excitement you can no longer stay away? Does your hand keep reaching for your phone to find out what is new every moment of the day? Do you feel the family here like I do?
Not sure whether it's a cosmic force or the lure of Mr Jingles but yes! The people that I've encountered here on Google+ and the relationships that I've been able to build are very special. That word "family" that Pepper uses in her question is pretty accurate and it's not something I've been able to replicate on any other social platform. The amazing content that folks share here, the kindness you find in Communities, the insights that you see in Hangouts On Air all make Google+ a very easy place to spend your days.
And now, it's your turn to ask the next PYB Academy member a question:
On average, how much time each day do you spend here on Google+?
If you'd like to connect with Nick you can find him here on Google+, on Twitter, on LinkedIn and at work.
Thank you Nick!
See you all in the PYB Community!