Introduction
Your notifications are the weapons of marketers in the new battleground for your attention.
(That is my most Ryan Hanley style quote, ever!)
Why? Well, your notifications so often get your attention first, then your Stream.

Knowing how to get into someone's new 'in-box' is essential.
e.g. when you ask someone to 'like your page':

This is where people should be shifting attention once they've learned to get engagement - notifications, not the aforementioned page.
(just playing with you Mark!)
How do they sustain the relationship? And stay top of mind? (again, notifications, not the aforementioned page)
That is where notifications come in.
Linkedin example:
I've just put together this guide to show how to stay top of mind using Linkedin.
As you can see, there are loads (12 in this example) simple ways to send people notifications through various actions.
When people 'feel the love' in an appropriate way (i.e. not spammy, and about 'them', not you all the time), they will have a positive emotional response when you come to deepen the relationship.
Differences across platforms:
What I found super interesting whilst exploring is area the this:
Facebook - you have to opt in for notifications from people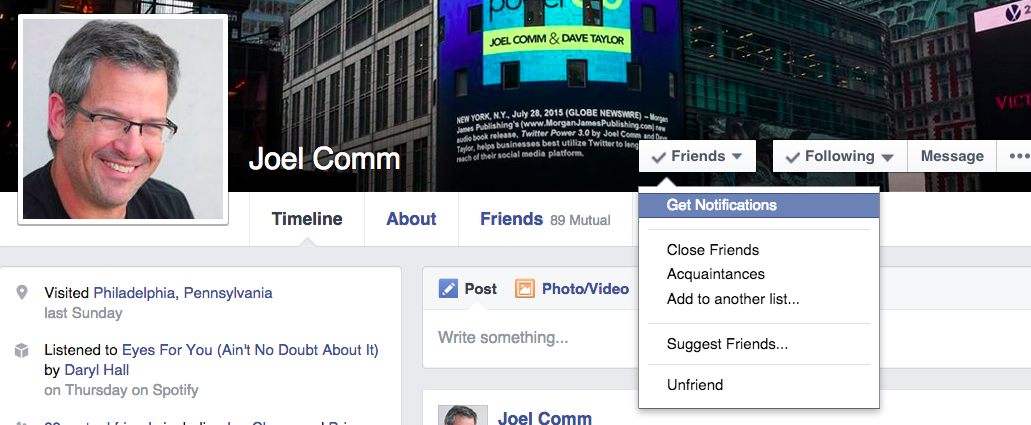 Google+ - you have to subscribe to receive notifications from e.g. a collection.


(and culturally if you don't ask people if they want to receive notifications, you may well find you get 'feedback')
Guide on G+ notifications here.
Or my best advice, based on Seth Godin/Permission Marketing is to ask people to opt into receive notifications i.e. you build up a mini-list. Basic instructions here.
Linkedin - you will notify your network when you publish a new post on Pulse, and people have to opt out not to receive them anymore.


But...there are 3 different types of notifications on this platform, and technically the updates don't 'hit your inbox'
Whether or not 'it works' i.e. that the notifications a) get someone's attention, and b) move them to action e.g. reading the content, is a different step in the process and also needs measuring.
Mobile:
Your notification layer (on a mobile) is the like the in-box used to be in the late 90's. Back then it was all email. No apps. Nothing but email. (I don't crazy, huh, kids?)
Mobile is a whole world and if you are serious about business you will need to look at 'apps' as this way you can push notifications to the user directly. If you are really serious, speak with dialectinc.com
Even if you are not looking at paying for your own app, you will find notifications on a mobile get your attention as a user.
And there is a distinct difference between different social platforms e.g. with Periscope you will receive notice when anyone you are following 'goes live' - and that may well be a lot of people, filling up your screen; compare this to e.g. Google+ which is a lot more mellow 'on the push'.
An overview on the topic:
Conclusion:
I've been testing out the new way of requested an opt in to collections on Google+, and then asking people to tell me if they have - hence making it easier to track engagement vs. using e.g. opt in circles. (see below)
The results are not 100% certain as yet, but I would suggest that right now you should keep building up the opt in lists using circles, but know that Collections are centre stage so may well need more attention moving forward.
There we have it. Loads to explore when it comes to this subject, so please pop by the community here to ask questions.
And if you are serious about staying on just about top of everything digital, then request to join our private (paid) community here!