Friends+Me will help you to save a lot of time dealing with social media. Keep reading!
Every small and mid-sized business owner know that social media presence is a necessity these days. Time does not grow on trees and helpful tool can come in handy. That's where Friends+Me as a cross-promotion service comes to play.
You can spend all day long on Twitter, Facebook, Linkedin and so on but it will not matter next day because people tend to forget really fast so the only strategy viable in a long term is consistency and focus. You have to publish new content on a regular basis to multiple social networks and that can be extremely time consuming.
I've prepared 8 tips that will help you to start with Friends+Me and to focus on Google+ and on creation and reshare of a great content.
Don't forget to follow Friends+Me on Google+ to get the latest updates, tips and tricks!
1. Publish once and let Friends+Me assist you with the rest
Google+ is a great source of a high quality content, you should take advantage of that and reshare to your Google+ profile or your client's Google+ page. Friends+Me promotes all new posts to other social networks for you.
Just GET STARTED with our free plan.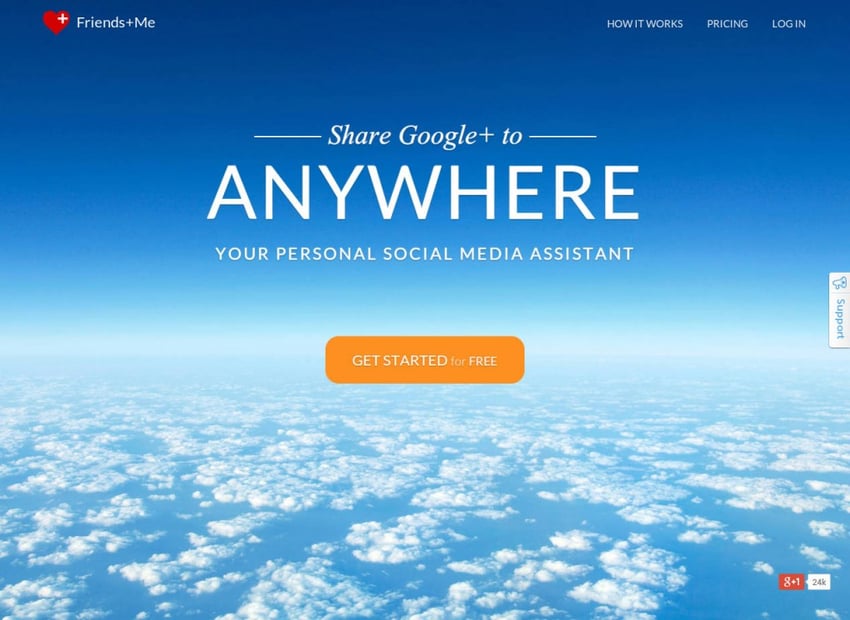 2. Improve your SEO while having fun with people on Google+
You may think that SEO is dead and social media is all that matters these days. You would be right because publishing on Google+ is the best SEO technique there is.
Social media matters these days more than ever. So the best strategy is to customize message for every single social network to get the most out of it BUT what if you don't have the resources needed for such a massive task?
With Friends+Me and Google+ you'll get the power of social media marketing, FOCUS and SEO almost for free.
Oh, and I cannot forget to mention Google+ Authorship, which will help Google search engine to help your potential customers to find you. Amazing feature!
3. How to control reposts destination
There are basically two ways Friends+Me handle reposts of new Google+ posts.
Friends+Me reposts all your new publicly published Google+ posts to accounts assigned to the default destination accounts group unless your post contains one or more control hashtags. In that case, reposts are published only to accounts assigned to control hashtags used within your post message.
Short version is that Friends+Me reposts to accounts assigned to control hashtags found in Google+ post otherwise to default destination accounts.
Repost to a default destination accounts
See the left column Default destination accounts on the screenshot.
Friends+Me skip all posts that contain #ns, #noshare or #plusonly hashtag. It is possible to create your own "noshare" hashtags.
Hashtags controlled reposts
See the right column Control hashtag groups on the screenshot.
There is a predefined group of control hashtags and you can create your own custom control hashtag with destination accounts of your choosing.
4. Schedule reposts to other social networks
Repost scheduling feature allows you to predefine times at which you'd like Friends+Me to publish new reposts to your destination social accounts (Twitter, Facebook, …).
That's a great feature because by specifying times at which the biggest number of your followers is online on other networks you'll be able to increase overall engagement and the count of actions such as favorite, like, retweet and so on.
All you have to do is to go to detail of your destination accounts and enable repost scheduling feature. The best post times, which you can of course customize to your needs, are used for every type of social network.
HOT TIP !
Do you need some time to be able to fix mistypes that may appear in your newly published Google+ posts before they are reposted to your other social accounts?
Enable delayed repost scheduling for your destination accounts (Twitter, Facebook, …). Once you enable this feature Friends+Me will delay publishing of new reposts to other social accounts for a specified amount of time which you may use to fix any mistypes or just to update your Google+ post message.
5. Schedule posts for your Google+ pages
There are times when you're kissed by a muse and create more than just one great post. What you should do once you have one or more posts prepared is to schedule those posts to be published automatically at times you pick so you don't have to worry about it anymore.
Post scheduling is also great for times you decide to finally go on vacation because you deserve a really long one :)
Friends+Me allows you to schedule posts for Google+ pages. Every post published this way is reposted to other social accounts in case the routing is configured properly.
All you have to take care of is to pick the right time and Friends+Me will do the rest for you.
6. Invite team members to help you manage your social accounts
Everybody needs a helping hand from time to time. You can invite your co-workers and friends to help you manage your accounts and publish great content.
To invite a team member you'll have to visit your Friends+Me profile.
There select the Team menu.
You can pick one of two roles for your new team member.
A team member with role Profile Manager can manage your entire Friends+Me profile as the owner does. For example, to connect/disconnect social accounts, change configurations, subscribe to a premium plan, invite other team members and so on.
Team member with role Account Manager is able to manage only selected subset of accounts. For example, they will be able to schedule or publish new posts, update account's link shortener, update repost schedules and so on.
All you'll have to do to invite a team member is to input your team member's email address, pick a role and Friends+Me will send your new team member an email invitation.
7. Master your Google+ post title not just for Twitter reposts
You should use a proper format for your Google+ posts, the most important thing is to use title, because Friends+Me will use only the title for Twitter reposts in case your post contains more than one line.
What Makes a Good Headline? https://plus.google.com/+dustntv/posts/BRRifvc7wXX
Here's an example of Google+ post with title and how the Twitter repost looks like.
8. Track your Google+ accounts insights
Friends+Me partnered with CircleCount recently and thanks to this partnership Friends+Me is able to provide you with an important insights for your connected Google+ accounts.
Google+ account insights offers these metrics:
How many times your Google+ profile/page and its content were viewed.
How many new people follow your page/profile.
Comments, shares and +1s on your last 50 public posts within the last 4 weeks.
CircleRank index tells you how your account stands against all other Google+ accounts indexed by +CircleCount service, for more info check http://www.circlecount.com/faq