Since Google+ came on the scene back in July 2011, there has increasingly been the term 'Social SEO' floating about. Well, as Google+ has now settled into itself it really is starting to be the name of the game. What really is it? And how can you use Google+ to do 'more' of it? Well, this article has you covered. Let's begin...
What is Social SEO?
Very often Social SEO is seen as the use of 'social platforms' in order to obtain Search results. But actually, this it is the wrong way to think about it all. Here at PYB we like to think about it differently:
Social SEO is what happens naturally when you have the right content for the right people to see for them at a particular point in time.
In order for this to happen, however, you may well need to 'do something' to optimize the chances that your content will be seen as opposed to someone else's.
What makes something social?
Well, 'social' in this context means using sites such as Twitter, Facebook and Google+. As we focus on Google+ for Search results, we can see that that platform is really the one that can make your content rise - when, of course, you use it well.
What are the aims and outcome of Social SEO?
Let's look first at what social activity does:
You get more people visiting your website via social sites/posts/tweets
You get more engagement on your content e.g. more people +1, comment and share it
You get more results appear in Google Search that are relevant for people to whom your are connected
You get more results appear in Google Search for people who are not in your network
You get brand awareness that enables people to simply 'go direct' as they bipass Search.
As such, the aim of Social SEO is to a) increase the volume visitors to your website from social activity, and b) have this volume sustained over time by people re-discovering your content in the future. One of the ways this will happen is through 'Search' itself, but as Google+ is a powerful Search Engine in its own right, when you use it wisely you will find a very long life to your posts.
So, all in all, this means that you get more people to your website.
Does this approach work?
Put simply, 'Plus Your Business' is built on this approach. There is no paid advertising to generate traffic to the site and here you are right now reading this article. I say 'traffic' but that really doesn't do justice to the process - this is about people and in fact it is about community.
The role of community
When people really connect with your content they will start to form a community around you and it is this community activity that makes the difference in Search. It depends on the nature of the members of the community, the authority they carry on subject matters and the engagement you get, but if you put people first you will find more people will start to connect with you and your brand's content.This means you will need to start building your network and when you need to consider the role of Google+ in your overall approach to SEO, and to do that we need to think about how Google+ has changed Google Search, including the advent of increasingly personalized results, including 'Search Plus Your World' for Google.com - to whom you are connected influences the results which you receive.
So, why is 'community' so important? Well, with community comes engagement and it is engagement with content by the 'right' people that makes the biggest difference in social SEO.
Is this going to work for everything?
Well, firstly, Social SEO is best for 'content' more than it is for Pages in my view. So if you are looking to sell a pair of trainers, unless you want to right the story of those trainers and how they will change the world when you wear them, then you will still need to be looking at traditional nuts and bolts SEO. In fact, with many PYB clients we tend to use both approaches for different aspects of their website.
Does this mean that traditional SEO is dead?
Yes, and no. The general consensus is that we will need to think differently about 'Search' to be successful. David Amerland leads the way on this with his book on Google Semantic Search.
Here is an article and interview that will take help your grasp this from a more strategic perspective.
And no discussion on SEO would be complete without a quick look at PageRank...
Here is a broader discussion on Social SEO that was hosted by Ben Hanlin and included PYBers such as myself and Mark Traphagen for the "myCMGR Worldwide Edition":
So, how can you increase your Search results?
Here is what you need to do:
Build a strategy as to how it fits into your overall SEO plans
Set outcomes as to what you are seeking to achieve from a Social SEO perspective. And I mean, put numbers on it all!
Get started on Google+
Create a network of people who are authoritative in your subject areas
Build a community of people around you who are engaging on your content
Create engaging content and post on a regular basis
Track the results you are getting from social direct and from Google Search
Scale and continue.
Simple.
The reality is there is a lot of planning to make this work well for you. If you just 'throw content out there' you won't find that it makes much difference at all. Be patient and plan well.
Here is a quick video that gives you some tips on point 4...
As here at PYB we want to give you as much as we can to help your improve your results using Google+ we thought we would lay out some key methods we recommend using to achieve excellent results.
How to build up your Google+ page
Next let's look at how to promote your Google+ page in a way that gets attention from the right audience for your brand or your business. And let's face it, that is what many of you want from activity on Google+!
I'm going to use the example 'Plus Your Business!' page and the associated PYB community, as a way of showing you some of the different aspects that you have to build up your own company page, or your brand page, or it could be a special course, or what have you.
Why do you want to build up a Google Plus Page?
One of the key metrics that people tend to use when looking at success of a brand page is how many people have circled that page.
Now the reason this is important is that the more people who have circled, the more likely that that's going to increase your audience, all other things being equal. So you want to have enough people that are going to receive the information that allow a certain number, then to be interacting on it.
Now, really important to point out that quality is going to be better than quantity, though. So keep that in mind that the nature of people you interact with is going to be very important because when they add you into circles, you want them to relate to what you are doing.
The other metric that a lot of people would use is the number of +1's on a page. Now the +1's are constituted from the number of people in communities, the number of people in circles, and the number of people who have +1'ed the page and +1'ed your site when the page is linked to your site etc. It is called the social number and gives some indication as to social value, but there is no an exact formula to it (well, not known outside of Google.)
There are other ways to approach measuring success, and one of which is going to be engagement. And in particular, engagement in a way which moves people through a sales funnel to a point of buying whatever it is that you're selling, even when what you're selling is ideas.
Just focusing now on the +1's and the number of people to have in your circles, it's really important that you have the following button on your website that allows people to automatically opt in when they have a Google+ account. Once they've opted in, you receive a notification to say that a person has added you to circles. So this is a phenomenal way of finding out who has interest in what you have on your website. The same will be when people add you to circles for that particular page as well.
Add in circles to your Google Plus Page
It's worth noting that the page can add in circles. It doesn't, however, appear that people receive notifications that you've added them in. So even though you can add an entire circle, you can go to www.circlecount.com, or find them within Google+ or elsewhere, people don't know that you've added them in unless they are already following you.
Adding in circles, however, might well help you to target certain individuals by being able to go to their content. And having a stream of content which you +1, comment on, share, on a regular basis in order to get their attention so that they do follow you. So it could be useful for you to add in circles.
Then you will want to start thinking about your content.Using your own circles to track who is engaging the most with you.
If you want to use this system of increasing levels of engagement resulting in increase in interactions from you as well, then you might want to set one up which tracks e.g. people who engage through +1s, comment and shares. There is a lot to circle management but think about appropriately sharing niche circles publicly as people tend to like that (see below for more on that).
Giving people shout outs
Also, another good tip, even when a person isn't following the page, you can still + their name. And this will bring up the list. You choose the person, and they will receive a notification that you have +'ed them into a post. So this is a very useful way of gaining someone's attention even when they haven't followed the page yet.
This method, you want to use a little carefully because if you use it inappropriately, people are likely to mute or even block the page. And then you can't get in touch with them in the future.
Sharing circles publicly
On Google+, people generally like to be put into circles. And a circle is a way of bringing people together around a particular theme, location, business type, or whatever you want it to be. Now, with the Plus Your Life and Plus Your Business communities, I tend to ask people if they would like to join circles. If you also ask people if they would like to receive a notification by email for key content them this is a great way to build up opt in lists. More on that here.
And yes, adding the Page into such a circle is fine on this occasion (as I know you will ask that at some point!)
So by engaging people around a theme, bringing them together into a circle, adding your page into that circle, sharing that circle publicly, it is likely you'll have more followers.
Using hashtags to find the right people
The next step is to use hashtags when you search, or you can use keywords in order to find people that are talking about the subjects that your page is all about, or your business is all about. When you do this, you'll find a potential audience for what you are posting. You can then engage with them and start building a relationship.
How to think about your content scheduling.
This has to be one of the best kept secrets to using Google+ well: plan, and plan, and plan your delivery of content.
You can have the best content in the world but if people don't get excited about it, well then it will fall flat. I've seen this time and time again on Google+. In fact, I have taken on corporate clients and shown them how to adjust a few things, whilst keeping the same content, and move it from no engagement to, well, through the roof. Simply Business are one example of this.
So, think about running campaigns on Google+ more than just sending out content.
Then, when you are ready to go you will want to create posts that have the best chance of engagement from the right people.
How to create engaging Google Plus posts
So, if engagement appears to be one of the key factors in Social SEO, then you will want to make sure your content is as engaging as possible. As such, there is no better way to show this than by PYBer Dustin Stout's image below. The original article is here and thank you for his permission to use it.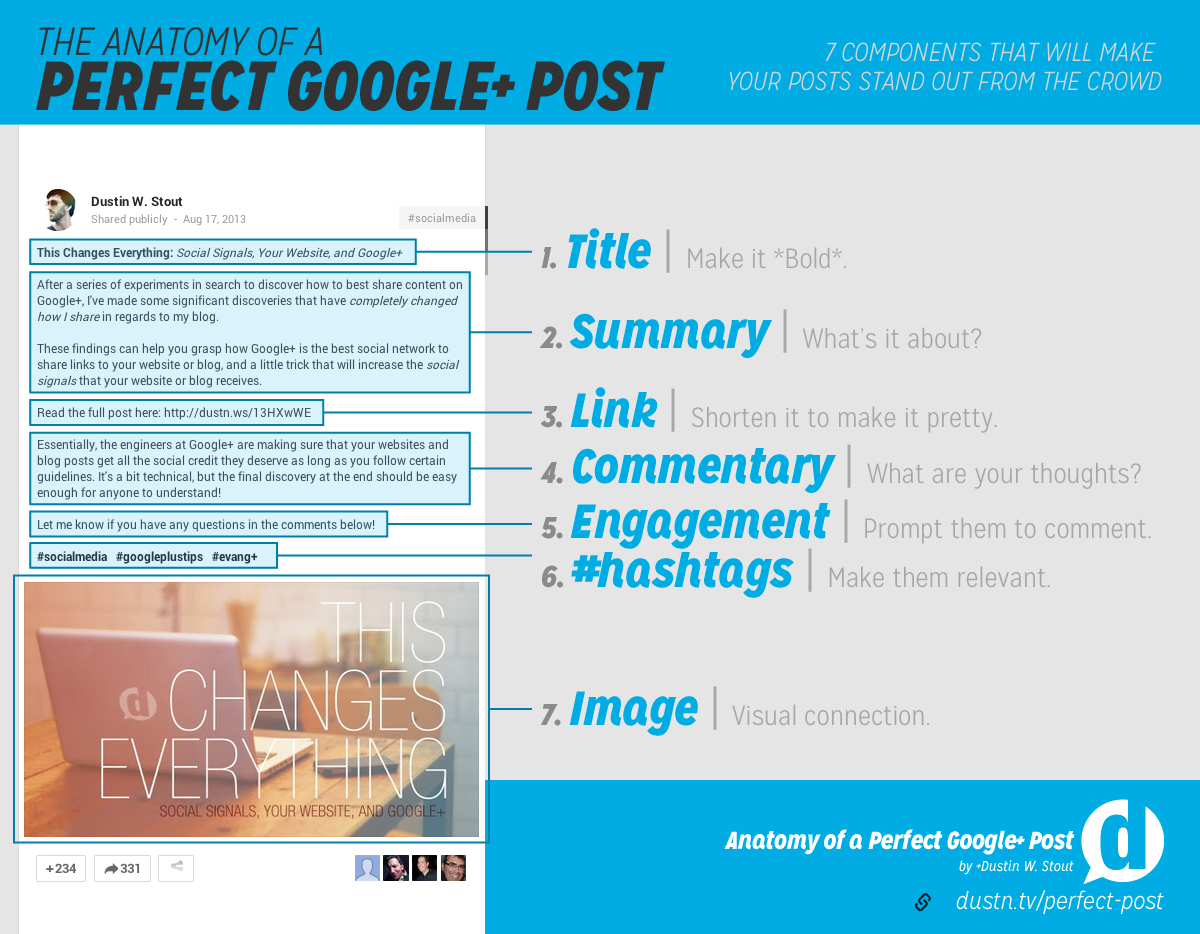 Note, here at PYB we tend to look at a mix of 'picture posts' and using 'embedded links' as part of the overall Social SEO approach. If you want to know more on that then please do get in touch.
Here is a quick video for you in the meantime:
Sharing content via a Google+ profile
Next, going from your profile, you can visit the page, and instead of saying that you'd like to use Google+ as that page, you simply share the content from that page to the people with whom you're interacting from your profile. Now if you do this, it's likely you're going to have more people that will start following the page. Particularly if you say, this is where you'll be putting certain content and you won't necessarily be sharing it to your profile. So if they relate to that content, they're likely then to follow that page.
Note: the more you and people within your organisation have built their personal networks, then the more this method works.
Using communities to gain engagement
The next tip, if you're working again as your page, and you share to a specific community, you can do that just in the same way as you share to 'Publi'c but you choose a community to which you are a member, then that content will appear from that page. And this way, people will see the content that that page is promoting, that page is sharing. And if they relate to it, again, they may well add you in.
And another quick word of caution, if people find that that content is not relatable for the specific community in which you're sharing it, then it's likely you're going to get removed or even banned because people may feel it's a little bit too much like spam. But if the content is relatable, then you'll probably be fine.
Making your content go viral
Another tip is to get your content onto the What's Hot and Recommended list. Now this will happen when posts regularly get a certain number of +1's, a certain number of shares, a certain number of comments. And it becomes important from a followers' ie. a circler's point of view - by being on that list, you will have more people potentially follow the page just because your post has been seen by more people. Now, how you do that is another story. But in essence, look to get as many +1's, comments, and shares as you can on your post, and it's likely at some point, it will then go over to that list.
Note: from a true Social SEO point of view it is more important that people with authority on a subject know and support your content than simply trying to get 'a load of shares'.
Using Google Hangouts
Google+ is a community of people who have been doing 'this' for a while. There is a general culture of mutual collaboration and support, and countless sub-cultures as the world displays itself in a digital space. As such, you can connect to people using the tools you have available, and one of the best are Google Hangouts. Think about interviewing people to whom you want to connect and build a relationship. The more you make it about 'them' the better you will do. And guess what? You will find that the more you do this, the more people will start to engage with you too.
Paying for attention (in a good way)
If your Google+ page relates to a business, and that business has a physical location, then you'll also have the opportunity to use Google Express. Google Express is a paid promotion of your page or your website within a certain radius from your business. Now this can be incredibly useful to get the right people looking for what you have to your doorstep at the right time.
People know your name
This also relates to the Google concept of ZMOT. ZMOT means Zero Moment Of Truth. If you'd like to know more, go to www.zeromomenofftruth.com and you can download a handbook there. In essence, it's about having touch points with people who are going to make a decision at a point in time to purchase online. And the more touch points you have in a positive fashion, the more likely they will choose you over and above someone else. Why would they go to anyone else when they have had 5, 10 or 20 positive experiences with you and your brand already? This is the real power of social.
Conclusion
Now putting it into my words and making it a little more simple than it is - but in essence, everything you're doing on Google+ will really help you to build the relationships, build up those multiple touch points, and enable that decision to be you as opposed to another competitor, brand, or idea. And guess what, this is really what Social SEO is all about. Being there at the right time for that person.
The world of SEO really has changed. The world is now Social.