Email is old-fashioned.
Do you ever find yourself bouncing emails back and forth all the time with people?
This is so 1990s!
In a few simple steps you can set up your own Google+ community and have your project conversations occur all in one place.
It really will transform how you communicate with a team of people.
I won't explain the process of 'how to set up a community' in this blog post as you will have a full guide available in a few weeks when the site launches. In the meantime here is a video if you do need some help: how to create a community
For those who know the basics, here is a great way to 'make them work'...
To begin...
1. Set up a Google+ community
Choose the private option and don't have it available to be found in 'Search'
2. Only have two categories:
Discussion (this is a default category)
Archived
This was a great tip given to me by Ehsan Ahmadi Gharacheh
3. Then, invite the members to join the community
You can always 'remove from the community' when someone's role has been performed.
4. Once people arrive you can use the 'discussion' category to post things, well, to be discussed.
This is a very useful way to know if something is still 'live' as a topic.
5. Use the category tabs on the left to choose e.g. current discussions.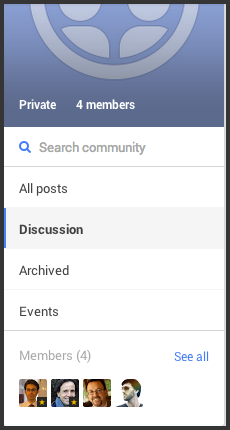 6. Once you are finished with that conversation you can 'archive'.
This way you can return to any of the old items easily but you have a tidy community where only 'to be discussed' items appear when you click no the discussion tab.
This is a very quick tip but it could transform how you approach working in small teams.
Add using Google Hangouts and Google Drive in too, and you have a one of the most effective ways to communicate available.
Email will feel like it is from the Stone Age...