Virtual Reality in Business
I started getting into how Virtual Reality applications for business back in 2013 when Oculus first appeared on the scene.
And now, we are seeing just seeing the start to true adoption but interest is going nuts.
Look at this curve on Google Trends...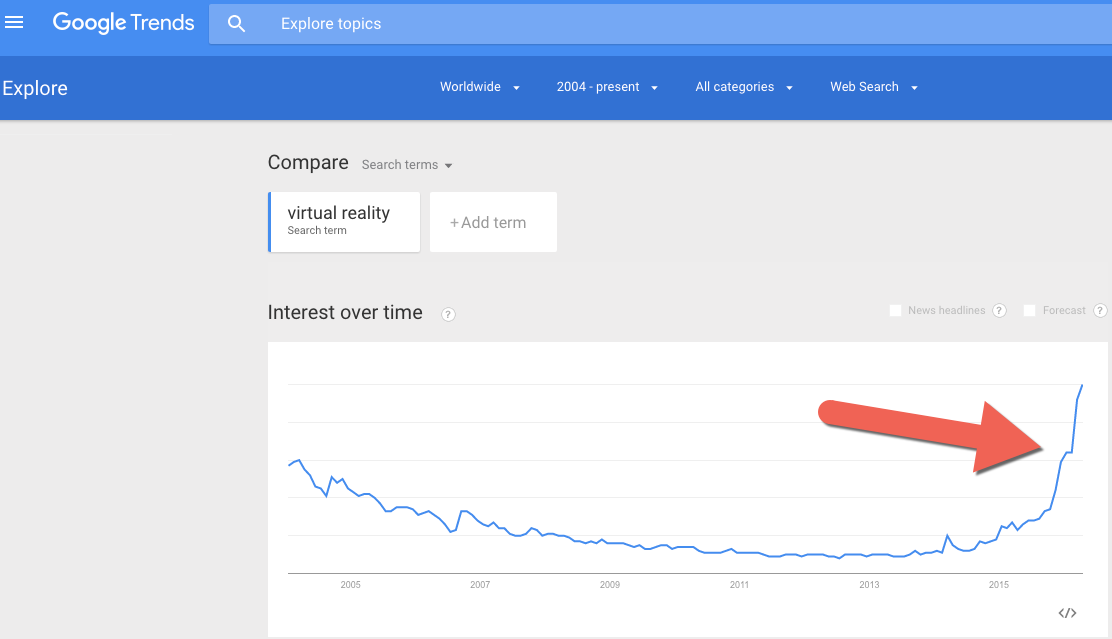 This is happening. And you want to be a part of it.
Looking at a few stats from this report, we know that millions of people will buy headset this year, including Oculus, and Oculus Gear VR (bundled with a Samsung S7 purchase).
But it will be Google Cardboard type units that will be the entry point, the gateway, as professional broadcaster and VR storytelling Sarah Hill from Story-Up.com puts it.
This year won't see mainstream adoption - it may well be still two or three years away, but everyone will have a first time experiencing VR, and a $10 unit that works with your phone is going to be the way for most. And the numbers will be tens of millions, if not nudging 100 million experiencers by the end of the year.

If you are convinced you need to be looking into this space, then let me give you some hints and tips as to what you need to consider to get yourself moving.
Using Virtual Reality in your business today
You need to film 'something', and VR is a way to tell stories.
There are so many options with cameras, ranging from $400 up to $60,000+
As you would expect, quality is rather different on the top end.
If you want to go 'DIY' then buy a low/mid range one and have a play about. You'll get some idea how things work.
Travis Taylor from Krytsal Visions has been exploring the tech side, so reach out to him for consultancy around that and much more.

Yesterday we filmed in my favorite Curry House in Pacfic Beach, San Diego -Spice Lounge.
I really think there are loads of applications for some novel content at a Local level.
We are only just at the beginning of understanding even just a few applications virtual reality will have your business, it really is going to come down to the creativity of the users.
Having done exactly that myself, here are the main points you need to know when filming in Virtual Reality, especially for conferences/groupings.

3 types of approaches.
There are three ways I think about this now:
1. Scripted - this is like proper storytelling, just like this (but in VR):

Myself and Amy are a good team. Hire us here!
2. Fly on the wall

This is perfect for concerts and watching 'a stage' at conference
3. Inclusive

This is when you make the camera 'your friend', bringing them into the storyline.
Each one will 'feel different', and it depends what you are seeking to achieve as to which to run with.

When filming:
These are by best tips, having learned the hard way (of course!)

Before you start though, know your purpose of having the camera there.
i.e. you need to be prepared, the team need to be ready, you need to know where, who, how long. You may need to get permissions etc. But a lot of this you will have dealt with before with more conventional filming situations.

VR is different, and you need to experience it to 'get it'.
It is all about which senses you activate, and how you convince people 'they are there' - i.e. you have to work on how to help 'suspend their disbelief' to bring them into the scene.
As such, here come the tips:
1. Put yourselves in their shoes.

There are two ways to approach it:
a) They are a person. Not a camera. And you'll want to talk with them in that way.
You'll need to explore VR enough using various units to know 'what it is like on the other side', then whatever you produce will work better.

b) There is an alternative, which is to treat them as a fly on the wall, but it is hard for people to feel engaged when it is like this. BUT this is perfect for when you are filming people e.g. presenting on a stage.

As you can see from this recent live streamed event, having people 'perform' around the camera is one option, and having them 'in front' is another.

https://www.youtube.com/watch?v=55zzK_w_xjY&feature=youtu.be
Trust me, knowing this is going to change everything you do with VR filming.

2. Call them 'your friend'.

If you are going to 'treat them like a person', this has to be the most powerful tip I could ever give you.
When you then introduce people to 'your friend', you are connecting with them and making them feel 'there'.
It is all about presence, and immersion, and inclusion. This helps the latter.

Yes, I worked this one out. It is about 'inclusion'. So obvious when you know.
3. Look them in the eye, virtually.
They are a person. They, as we all do, connect with people when they look us in the eye. Don't be weird and freak them out, but know that they will 'feel it' when you do so.
(h/t Ted Rubin, for his phrase 'look then in the eye, digitally'!)
4. Always try to be 'on' when recording.

This does take a heck of a skill though - at a more advanced level you are going to need to be 'on' all the time', treating them as your friend, including them in the conversation (as much as you can without them speaking - for now, that will come too, with live streams emerging soon enough).
5. Don't talk too close. They are a person.
Remember this?
https://www.youtube.com/watch?v=Ipeh0WFAnhc
Exactly!
6. Sound is far more critical than you may have realised.
I went to a lecture in San Francisco, guest of Gregory Gordon (introduced to me by John Gower from Dialectinc.com), at Pyramind Studios last year for a MindShare session.

The event was moderated by Clint Bajakian, with Mike Morasky - he was talking Virtual Reality and sound. And I've tracked down the clip:



It was absolutely brilliant.

7. Use sound to engage and direct attention.

Use your voice to immerse them into your world - shift from side to side, move closer, whisper into their ears, you get the picture.

My mate Matt Hussey from The Next Week gave me the idea (I told him I'd blame him for this) and since then I have done exhaustive research in this, and spent endless hours immersed in content of a more adult nature to save you from having to. I did it for you. (You can thank me here.)

Myself and Nivan Maraj (from Plantronics) had a great breakfast chat this week about the role of sound. The headset suppliers know this is true - sound increases immersion, and from what I've heard Platronics are a brand to watch in this space.

8. Know where most people will view the videos.

360 video and VR are not the same thing…
But they kind of are.
This makes it difficult as, if someone is watching on YouTube or Facebook e.g. on their mobile device (moving it around to see the whole environment), it is different to someone having a headset on. With the headset on, they are 'in the story'.

9. Consider having sponsors, with banners in 'the real world'.

And you can price as follows:
Front stage e.g. $10000 for a banner
Back stage e.g. $3000
It depends on the volumes of views etc. (that the videos will have) but people are 'in it' and their attention is being hit by that information. That has great value.

10. Use multiple locations in which to film.
Take people on a journey, inside spaces, hallways, on the terrace...
Also, you can set it up beforehand as to where you will be taking them, this will let them feel you are guiding their experience.
Right now (as of end April 2016) forget about Live Streaming VR. You are not ready, especially as neither Facebook or YouTube have announced it yet.

Although (news) there is a way to LiveStream into YouTube using a Insta360, the open source software OBS, and YouTube.
Here are (very poor) instructions. This is 'hot off the press' and still very early days.
Think 'footage'. That means you can record, edit out the nonsense (which in itself is perfect for an extra 'Vloopers' real), and then package it up better.
Note: there are still loads of issues on cheaper cameras (sub $1000). We've played around and 'stitching' between the lenses is far from perfect. But we all know it will keep getting better.
Finally...
This is the very start to this whole industry emerging.
And as Joe Pulizzi from Content Marketing World said when I was interviewing him for our own VR show, 'this is perfect for conferences'. It really is. But you need a plan of how you will add more value than 'simply filming'.

Guess what? We are available for hire to come to conferences, interview your sponsors and your attendees, create some great footage that will show the world you are leading the way.

Interested? Please contact us here to discuss how we can help.