Introduction
You know when people say something is going to be 'the next big thing' you should run a mile, right?
Get a glimpse of it here:
And considering how many miles you've been running chasing Squirtle about on Pokémon GO I feel a little safer saying that The Physical Web is what is coming next.
What is The Physical Web?
According to this on Github:
"The Physical Web is an effort to extend the superpower of the web - the URL - to everyday physical objects. Our premise is that you should be able to walk up to any "smart" physical object (e.g. a vending machine, a poster, a toy, a bus stop, a rental car) and interact with it without first downloading an app."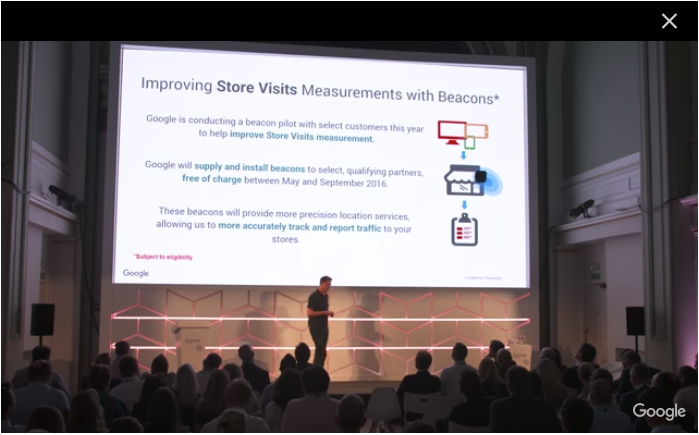 (source: Google presentation)
The key to this is the ability for the physical object to be able to transmit the URL, which is where beacons come in.
How do beacons work?
The ones I've been testing, thanks to the team at Beeem.co, are have been so easy to use.
The one below simply clicks on - and displays a green light - and off - displaying a red one.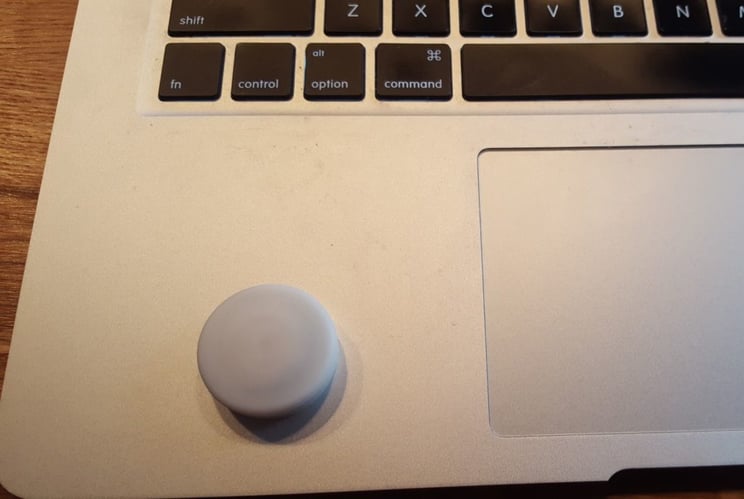 The battery that will last over 12 months when 'on', and transmits a URL every second.
This URL pushes a gentle (no sound or vibration as yet) to your mobile device (see below for my first finds on this).
When you click on that notification it opens up the webpage to which it points/forwards (that will depend on the configuration).
The key point is this: there is no app to download, and it 'appears' on your phone when you are close to a transmitting beacon.
Here is the process:

I can really see Beacons will be a new form of social notification, and the physical web springs life into a mobile device.
Check out this video to see more on how it works: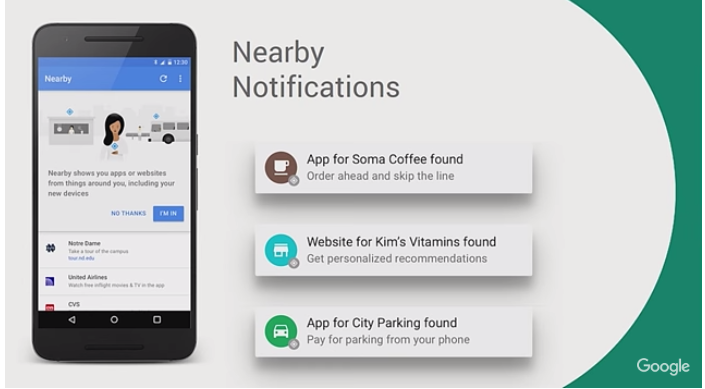 https://www.thinkwithgoogle.com/articles/retail-marketing-beacon-technology.html
What is the experience like on a mobile device?
The first thing to know is that I have been testing on an Android device - Samsung S6, and my first test on an iPhone didn't yield a notification in 'the tray'.
On Android though - and know this is a massive play by Google - the notification appears as follows: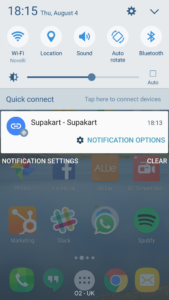 Supakart is a karting centre in South Wales (where I grew up) and who have agreed to running a pilot program for promotions.
There are two things here:
The notification itself, and the notification options.
When you click on the 'Notification Options' you see the following: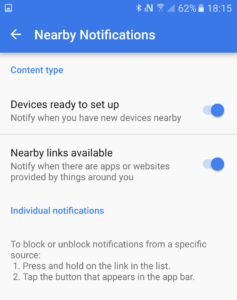 In other words, you have complete control over you want to see them.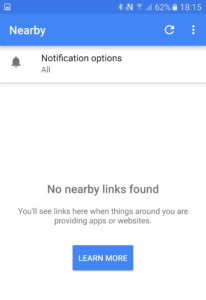 As a marketer, for now I would run with Notifications on for everything as I want to see how many people are adopting this technology.
The next piece is what happens once you click on the notification itself.
In this case we have it configured to direct at the Beeem.co landing page for the centre: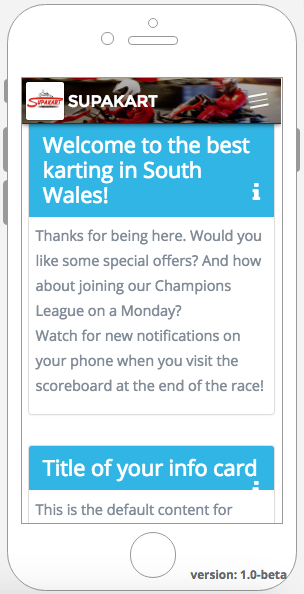 Now, this is where things get 'smart'...
As you can see below, you can set up different message to appear at different times of the day, and days of the week: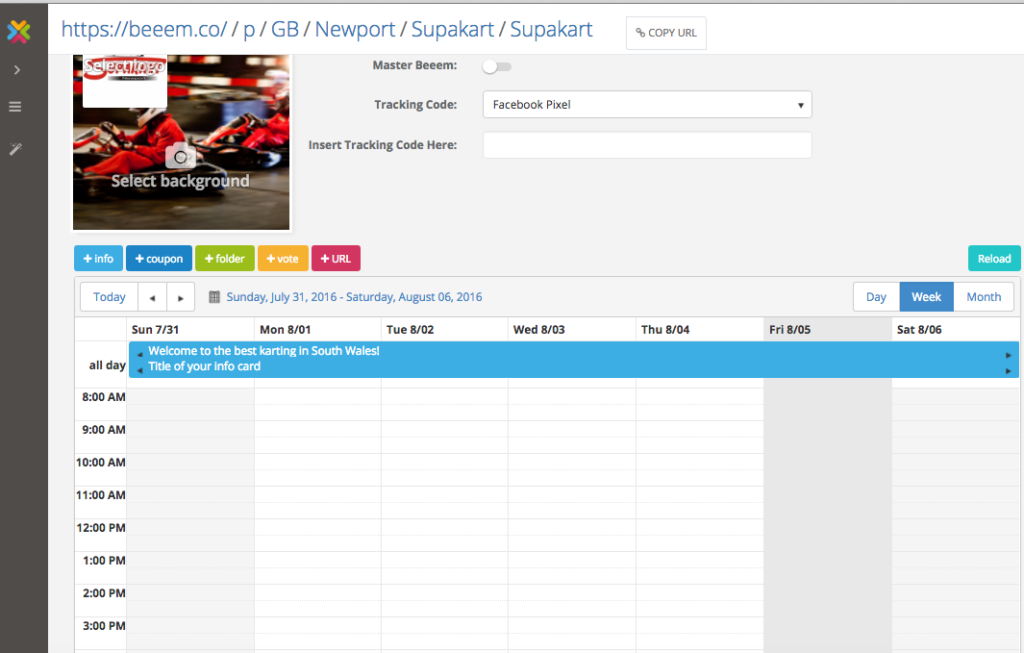 You can create Coupons, ask people to Vote, direct them to a URL (e.g. a Social Channel) and so much more.
Beeem.co is the company I've been forming a close business relationship with as I think they have someone you'll want to see for yourself.
Costs:
One of the most exciting aspects of this technology is that it is low cost.
The beacons range from about $8 through to $60 depending in part on battery life.
The ones shown above are the lower end of the price range and perfect for right now.
Any provider of a service like Beeem.co will have a monthly fee, so you need to enquire with them as to what it is.
Applications of Beacons for Marketers:
This is one of the most creative opportunities for marketers I've seen for a long while.
This about how you can engage and deepen the relationship with people already 'in your store' - what information could they receive?
Myself and Android master Martin Holmes have been testing these in Watford (north of London) this month too - Bathroom companies, and IT sellers.
We've found that a tech savvy small business owner is likely to come up with a load of ideas about what could work, once they see the tech.

And here...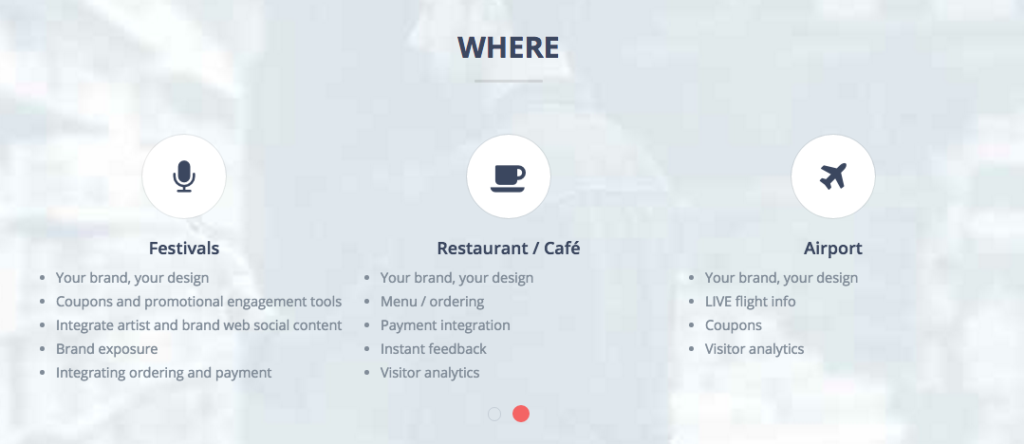 Here are just a few to get you thinking about how you could use Beacons in your business, or with your clients:
Offering a 30% off coupon for a product that you would consider an 'up sell'
Generating walk-by customers at your quiet times
Loyalty Schemes
Retargeting - using Facebook pixel tracking to reconnect with people who visit the beacon's URL
Remarketing - using Google Adwords to connect with people who visit the beacon's URL
(note: these are either current features of Beeem.co or will be soon)
Directing people to you join your online community
Directing people to opt in to your newsletter
Creating timely messages at the end of e.g. a cinema viewing that encourage a purchase when leaving
Donations to charities - massive applications here for e.g. pubs
Information that encourages the feel of going on a treasure hunt, as with the BFG installation in London this summer:

The future:
There is still so much exploration to be done on this, but it may well beckon a fresh wave of local marketing. Add in hotels, museums, and just about anything you would like to imagine and we will have much to play with.
And did I mention you can remarket/retarget to people? Think about that for a minute - yep, this is major marketing opportunity...
Note: know this is a process of evolution, and as such Google themselves are still working on how you will access the features below. Here outlines a 'pause' on the roll out of 'nearby notifications'.
More info:
Here is myself and Nazim Beltran talking about Beacons here:
And if you are a developer, or just want to see more info from Google, check this out too:
https://developers.google.com/beacons/
Want to talk how we can help get you results in your business, using the latest tech?
Good news as we've teamed up with Physical Web pro Clive Agate to provide brands solutions.
Want to know more? Contact us here.