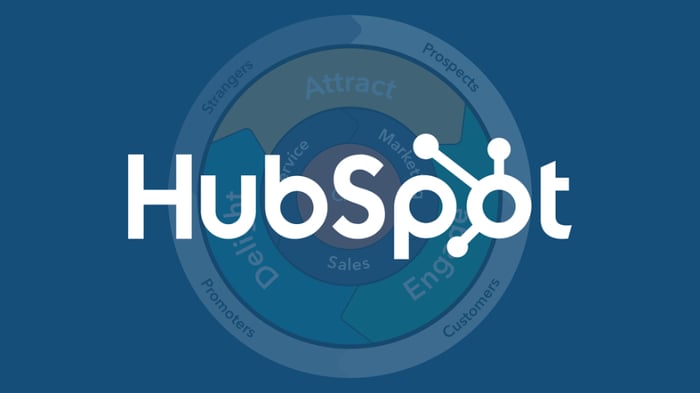 HubSpot is a centralised platform that puts customers at the centre of your business.
With over 200 integrations, it allows for data to be brought 'into one place' – so you can make better decisions on how to support their customer journey. Once you've made the decisions, let the system do all the hard work – everything from automating 'goal based workflows' through to lead notifications when they revisit key website pages e.g. looking at pricing, or checking out what they may purchase next.
Putting it simply, HubSpot is business intelligence for sales and marketing teams looking to grow. It's like a 'flywheel', when you remove the things that slow it down ('friction') and increase the visibility of what's working and what's not ('transparency') it will move faster.
CRM
HubSpot's CRM is free, forever.
It holds your contacts' information in one place, from the very start of the journey as a 'lead', all the way through to customer/evangelist.
If you are looking for a CRM to grow with your business, then this is a great place to start.
Sales
Right now you may have a great sales team, but they're probably using outdated technology. HubSpot Sales Hub will make them better by removing the friction in the flywheel with:
Email tracking (knowing when people open/click a link in emails)

Lead notifications (revisits to the website)

Document viewing time

Personalised email templates and sequences


Task queuing (speeds it all up)
With HubSpot's Sales Hub you will transform your team's approach to selling, and drive more sales as a result.
Marketing
HubSpot's Marketing Hub enables you to communication to the right people, in the right way, at the right time – using the core features of:

Personalisation and automation

List segmentation

Lead scoring

Smart content and CTAs on your website (that changes based on e.g. Persona or User Journey)

Attribution of marketing spend (e.g. proving ROI on Adwords)

Goal based workflows (e.g. driving Leads to become 'Marketing Qualified Leads')

Team workflows (e.g. sending sales team members 'tasks' when prospects take action)

With A/B testing on many features you can continuously test and improve your results, and get more return for your marketing spend.
By connecting 'all the dots' (i.e. the data from other platforms) you will be able to dramatically reduce that dreaded 'friction' even further, letting the flywheel spin even faster.
Service
HubSpot's Service Hub centralises communication with 'tickets' attached to a person's records, and associated company. Your team will be able to serve much more effectively – no more searching or 'passing to other people' to get their issues resolved. With quicker response times, and a knowledge base of consistent answers to common questions, your flywheel will start to spin even faster.