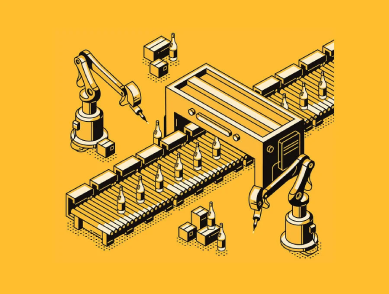 Automation boosts productivity. It saves time. Instead of doing the same tedious, repetitive tasks every day, you would be able to focus on activities that grow your business.
Automation will remove human error from repetitive tasks. Once it's set up correctly, automation takes care of tasks without the need to review them again.
As a business owner or manager marketing online, your attention is always being pulled in multiple directions. You're wearing multiple hats doing administrative tasks, talking to clients, marketing, etc. It's easy to feel overwhelmed.
With automation, you can set yourself up for success.
In this article, you'll learn 20 tasks your business should automate right now to save time and effort.
1.
Social Media Posts
Social media platforms reward active and helpful users with higher visibility. The more time you put into them, the better the results you get.
It's hard to sit down and use social media throughout the day. You have other things to do that are vital to your business.
With tools like Buffer, Hootsuite, and HubSpot, you can automate your social media posts.
For instance, you could schedule your posts for the following week during the weekend.
Most of your followers won't see your posts when you publish a few times a day at certain periods.
But publishing multiple times across the day would give you a better chance to reach most of your active followers.
I'm a big fan of HubSpot's social tool for scheduling my social media posts. The tool has a nice dashboard, and it's easy to schedule to any date and time you want.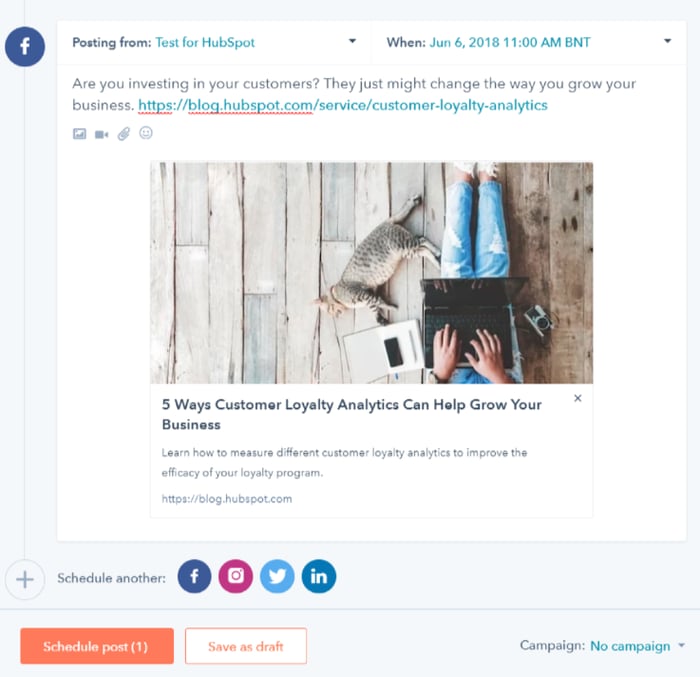 When you're less busy during the day, you may want to engage with followers who took the time to respond to your posts.
2.
File Storage
If you still manually save your files to an external hard drive, it's time you use a better solution that takes advantage of automation.
Cloud storage services like Dropbox, Google Drive, OneDrive, and Apple iCloud automatically back up your files.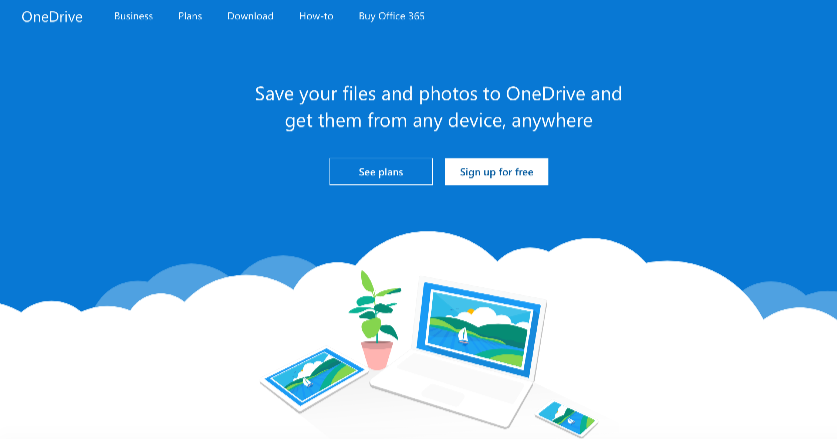 Your data is secured in a remote location. You can access your files anywhere on any device with internet access.
Many businesses use images, audios, and videos for marketing. These files take up a lot of space.
It means you would have to move all those files to a new external hard drive when you're running out of space.
Save yourself time and stress by moving to a cloud storage service. You don't need to do anything manually. They take care of everything for you.
3.
Google Analytics Report
Google Analytics is the most popular software for tracking website visitors. If you haven't yet installed it on your website, I recommend you do that.
Google Analytics collects traffic data on your site. It tells you how many people visited during a particular period, how much time they spent, the pages they visited, where they came from, and more.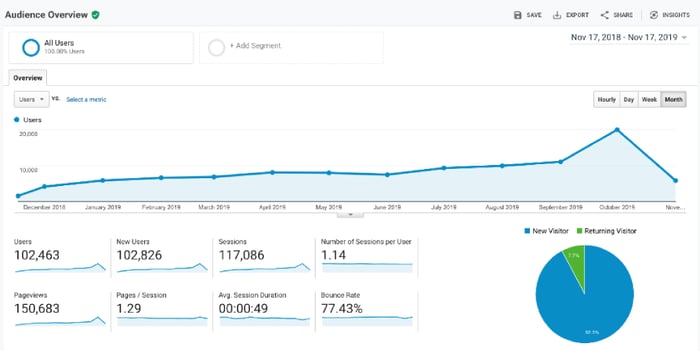 Instead of constantly checking Google Analytics to see how many people are on your site, you can automate the process. Set up Google Analytics to send you a weekly or monthly report.
How do you do that?
Go to the report you want to share in Google Analytics.
You may want to get your Audience Overview or Acquisition Overview report. I'll like to use the Audience report in this example.
Inside your Google Analytics dashboard, click "Audience," and then "Overview."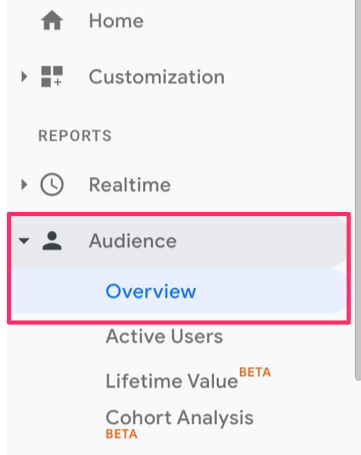 Go to the top right side of the screen. You'll see "Share." Click it.
Input your email into the box that says "To" and select the "Frequency" you want. Click the drop-down box where you select between "once," "daily," "weekly," "monthly," or "quarterly." I suggest you choose "weekly" or "monthly."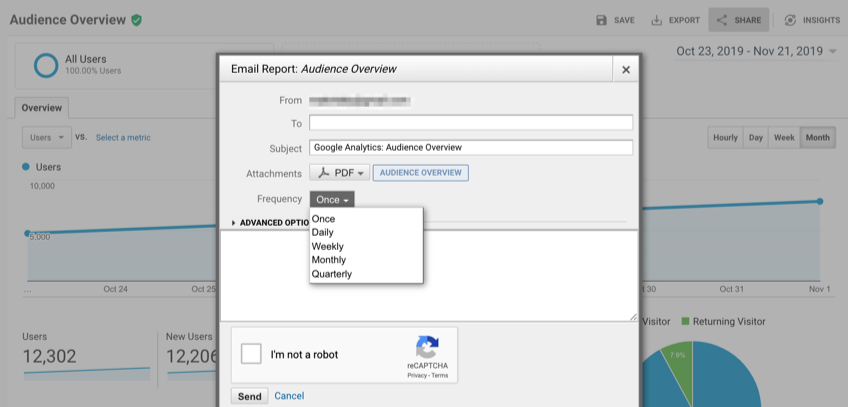 By getting weekly or monthly email reports from Google Analytics, there would be no need to check Google Analytics frequently.
4.
Invoice Reminders
You don't only have to get paid. You also have to get paid on time if you want to stay in business.
Sending invoice reminders could help you get paid on time.
For businesses that have lots of clients, it's difficult to send invoice reminders to all customers manually.
You can save yourself some time and stress by automating this process. With tools like Xero and FreshBooks, you can automatically send invoice reminders before and after the invoice is due.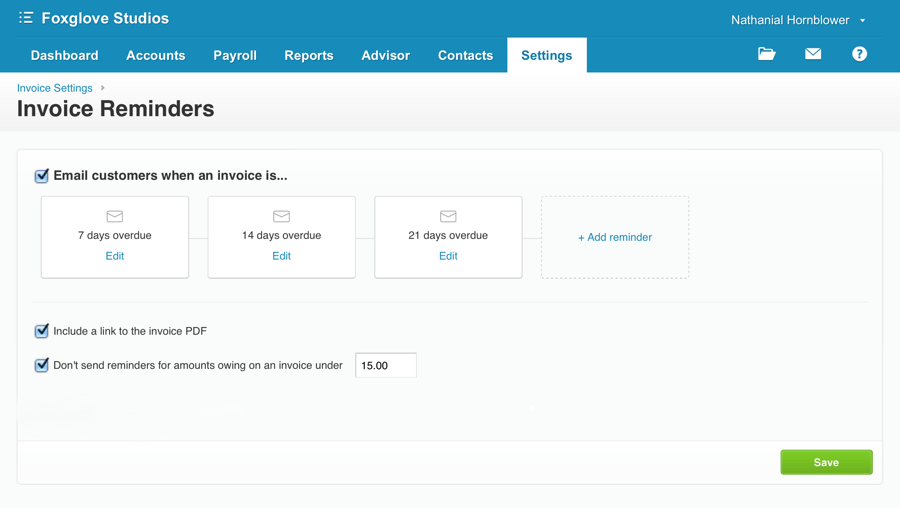 These tools give you the freedom to customize the message in the invoice.
5.
Email Responses
If you receive the same inquiries or questions, why not automate your response?
That would save you some time, and your customers would get a fast response.
For example, Gmail allows you to auto-reply an email message if it contains specific words or phrases. Digital marketers call it a canned response.
How do you set up a canned response on Gmail?
Inside your Gmail account, click the "Settings" icon, then click "Settings."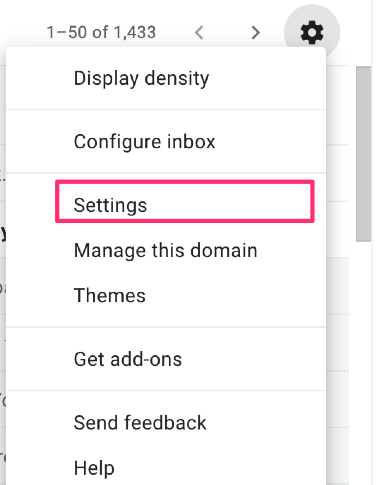 Go to the "Advanced" tab. Scroll down and enable "Templates."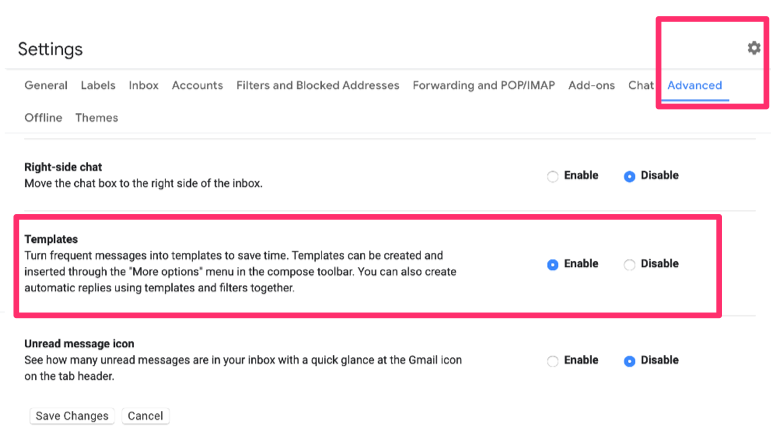 Click "Save Changes." Your Gmail should reload after doing that.
Compose a new message to create a template.
After creating your message, click the "options" icon, which is on the bottom right side, beside the "trash" icon.
Click "Templates," "Save draft as template," and "Save as new template."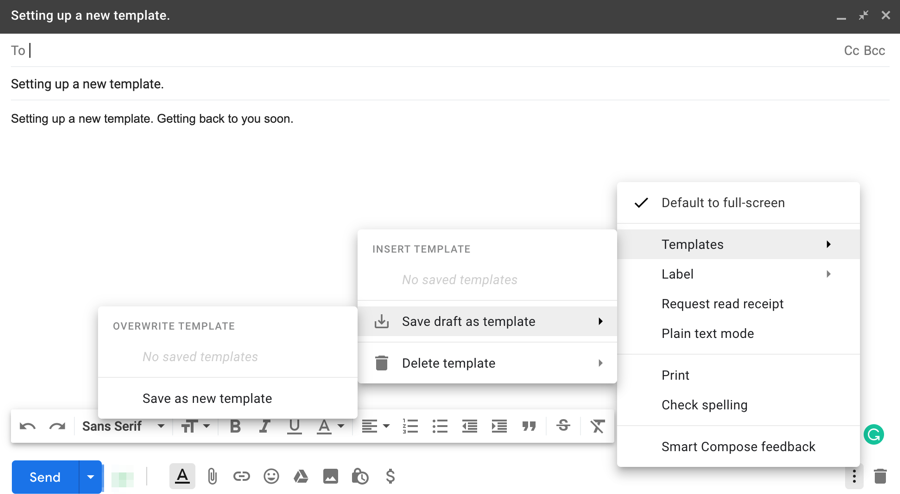 Then you'll be prompted to enter the template name and save it.

Then, click the "Settings" icon and click "Settings."
Go to the "Filters and Blocked Addresses" tab and click "Create a new filter."

After you've clicked that, you'll see something that looks like the screenshot below. Go to "Has the words" and input the words incoming emails must have to respond with the new template you created. Include as many words as you want. If you want, go to "Doesn't have" and input words the emails shouldn't have.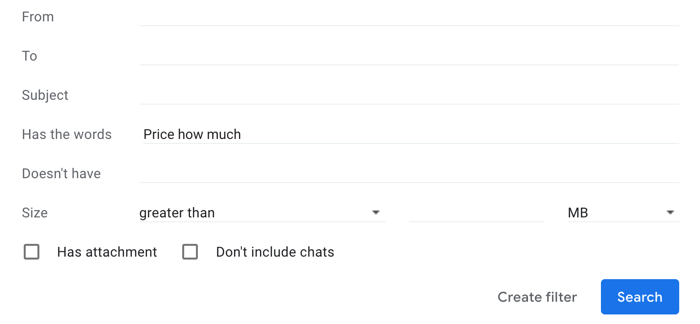 Click on "Create filter" when you're done.
Now, you'll be presented with a list of options. The critical options you should check are:
Never send it to Spam

. It helps avoid responding to emails in the spam folder that have words that match the filters.

Send template

. Select and choose the template you want to send.
And that's it! Now, click "Create filter" to complete this process.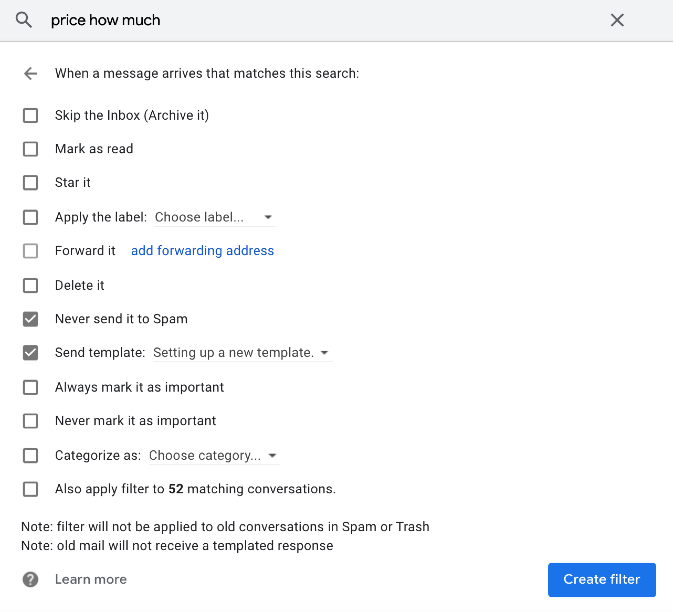 This process may take some minutes to complete, but it's worth it.
Allowing Gmail to respond to repetitive messages automatically would save you time and effort of having to write the same message repeatedly.
6.
Customer Service
Automate your customer service by eliminating the need for human involvement in some areas while providing first-class assistance to customer requests.
Here are some ways you can achieve that:
Create a knowledge base where customers can get answers to their questions faster.
For example, HubSpot has a knowledge base where their customers can search for answers to questions they might have.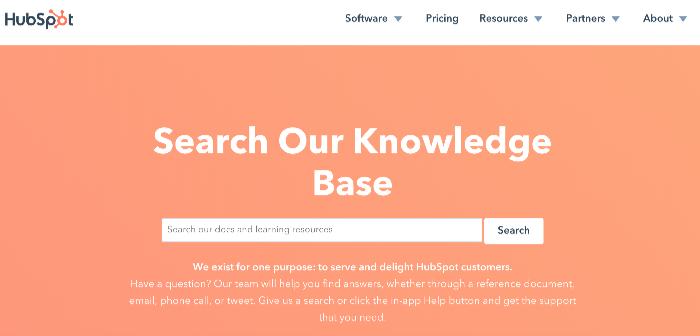 Having a knowledge base like that on your website would help your customer service reps focus on urgent and important issues your clients have.
Your customers want to be able to solve issues on their own.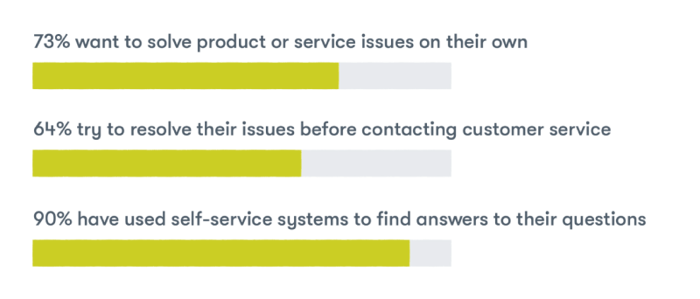 Once you start getting a question regularly, create an article or video that provides the solution, and add it to your knowledge base.
Another way to automate your customer support is to use smart tools like the help desk and ticketing software from HubSpot. The tool automatically prioritizes and sort tickets based on their due dates, status, and need for attention.
7.
Schedule Blog Posts
Every business should have a blog. According to HubSpot, marketers that prioritize blogging are 13 times more likely to see a positive return on investment.
When you write high-quality content that answers your audience's questions, they'll visit your blog from search engines and social media platforms.
If you're a busy person like I am, you could write all the posts for the next month in a week. A content management system like WordPress lets bloggers schedule their blog posts in advance.
Scheduling your blog posts in WordPress is easy.
Go to the article inside your WordPress blog. On the top right side of the screen, you'll see "Publish." Instead of choosing "Publish immediately," click "edit" to schedule your post for another date and time.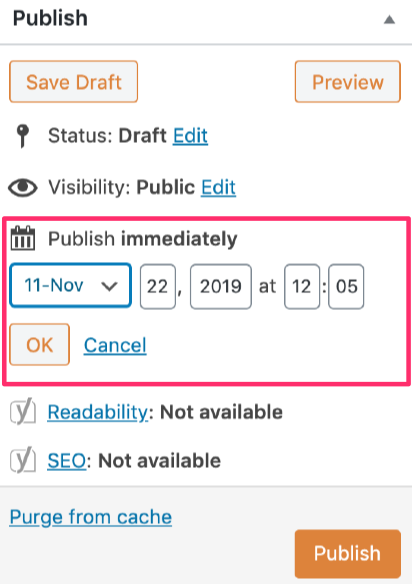 For example, Circle Surrogacy, one of the oldest and largest surrogacy agencies in the world, schedule their blog posts in WordPress to only publish on certain days of the week.
8.
Marketing email
Email provides better ROI than other marketing channels.
But doing email marketing manually could be time-consuming and difficult.
For instance, if you know your customers' birthdays, you should send each of them Happy Birthday emails. You can't do that manually for each customer on your email list.
Email automation takes care of that for you. The email automation software you use knows your clients' birthdays, and it would send them wishes on that exact day. You set it up once, and it takes care of birthday messages forever. I recommend you go back and change the message every year so that customers don't receive the same message each year.
9.
Calendar sharing
If you have frequent meetings with the team members at your company or organization, automatically sharing your calendar with them would help you save some time.
The people who report to you would see when you could be available for meetings, and plan accordingly.
Calendar apps like Google Calendar and Outlook Calendar let you share your schedule with others.
For example, at Rank Rain, I share my calendar with team members. They can see what I'm doing and when.
So, if I would be available for a meeting, they would know. There's no need for back and forth discussions for a meeting.
I use Google Calendar. Outlook Calendar is another great alternative.
Sharing my Google Calendar is easy.
If that's what you use, go to the bottom left side of the screen where you see calendars and click on the options icon for the calendar you want to share. Then click "Settings and sharing."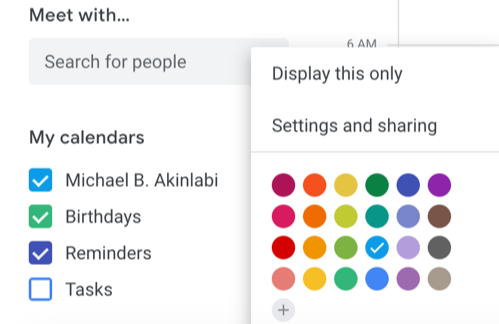 Scroll to "Access permissions." While there, you'll see the different sharing options available.

I like to make my calendar open to people within the company.
Google lets you choose between these four when giving access permission:
See only free/busy (hide details)

: Viewers can only see when you're free. When you're busy, they won't be able to know what you're doing.

See all the event details

. Viewers would see everything, but they won't make changes.

Make changes to events

. Viewers would be able to view and make changes to your calendar.

Make changes and manage sharing

. This option lets viewers do everything you can do, which includes sharing your calendar with others.
You can also allow people outside your company to view your calendar.
On the same settings and sharing page, scroll a little down, and you'll see "Share with specific people."

Click "Add People." You'll be asked to enter the name and email of the person you want to add, and the type of permission you want to give them. Click "Send" when you're done.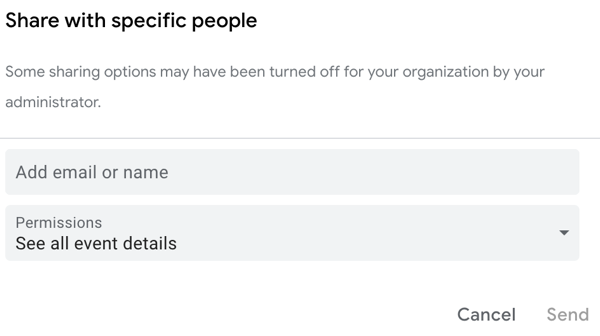 By sharing your calendar, you won't have to discuss your availability for meetings with team members or business associates.
10.
Abandoned Cart Reminders
According to studies, around 70% of your customers would abandon carts at checkout. This percentage has been slowly increasing in recent years as more people shop online.
To win back those lost sales, ecommerce stores send abandoned cart reminders to customers via email. Some ecommerce stores were able to recover 36% of those lost sales. That's a lot of revenue that could have vanished.
Don't send manual reminders to shoppers who abandoned their carts. It would be time-consuming and difficult. Instead of doing it manually, you can automate the process.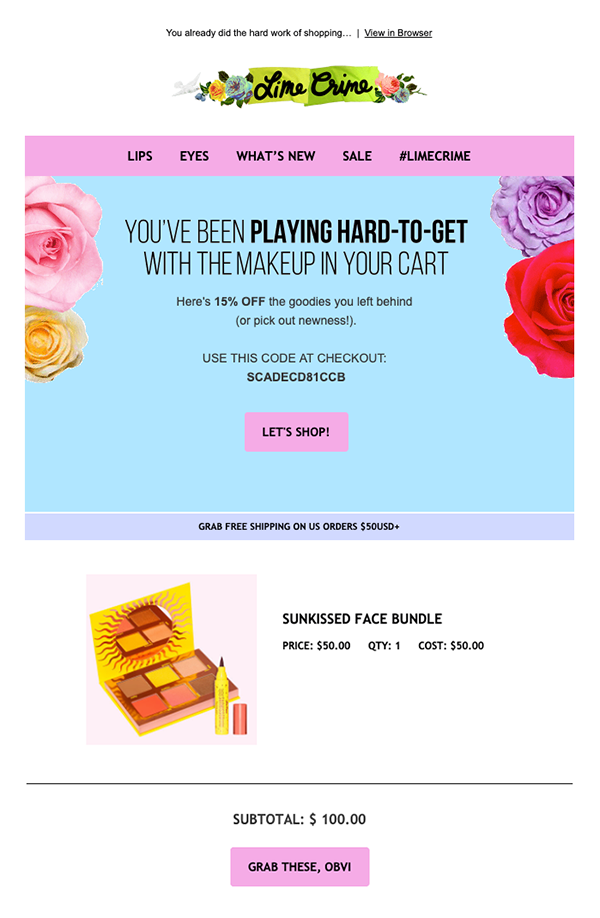 Smart marketers use email marketing automation tools like Mailchimp, ConvertKit, Keap (formerly Infusionsoft), and Constant Contact.
11.
Event Registration
Organizing events is a great way to combine both online and offline to promote your company.
You use the internet to raise awareness about the event, which is then organized offline.
If you're thinking about organizing an event, you should eliminate stress by creating a pre-written email that contains directions, instructions for what to bring to the venue, and other details attendees might need.
Send this email to everyone who registers for the event. That will save you some time.
Separately communicating with each attendee would be too stressful.
It's possible to organize an event, get all the benefits from that event, and still have enough time for other important and urgent tasks.
12.
Email Management
One of the most challenging tasks with using email is eliminating annoying or unwanted messages from your inbox. Tools like Unroll.me and Sanebox are the perfect solutions for removing unwanted emails.
For example, I ran Unroll.me on one of my emails, and it found 120 subscriptions.
I read very few emails from these subscriptions. Now I can check the list and find the ones I don't like. Unroll.me will unsubscribe me from these subscriptions automatically.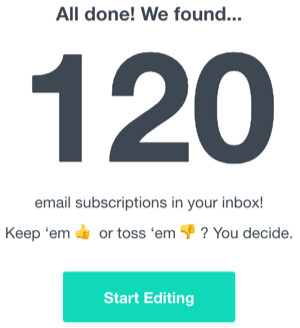 I won't need to unsubscribe from each one manually. That's a lot of time saved.
13.
Job Recruitment
It's tough to find the perfect employees these days. That's because most of the best employees are taken.
Instead of manually putting it out there on social media or talking to people in your network, why not automate the process?
With a service like ZipRecruiter, all you need to do is post your job, and their powerful technology will send it to 100+ job sites across the web.
ZipRecruiter allows employers to add pre-screen interview questions. You can use this feature to ensure that only qualified candidates apply for the job.
14.
Your To-Do List
Creating your to-do list shouldn't be its own item on your to-do list. Automate the process.
Wunderlist (now Microsoft To-Do) is my favorite to-do app. It's available on Mac and Windows, and you can also use its web app.
Once you create an item on your to-do list, you can make it repeat daily, weekly, monthly, or customize it to repeat on certain days of the week.
Here's a quick example I made: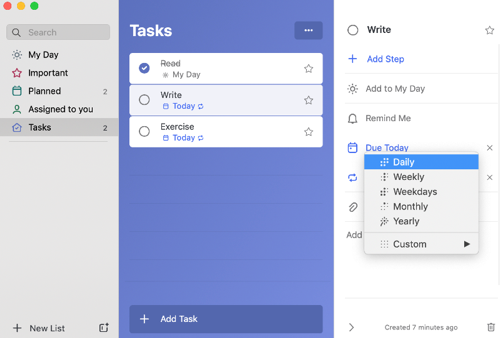 If you have a favorite project management app you use, see if they have automated reminders you may want to use.
15.
Online Forms
There're various reasons why you may need to create a quick online form. It could be that you want to collect some unique details from a potential client, or you want to run an online survey to test a product idea.
There're lots of good form makers for creating nice online forms.
Wufoo, Typeform, Google Forms, and HubSpot's free online form builder are some of the popular names.
16.
Email Signatures
Email signatures make you appear like a real professional who's serious about business. They make it easier for people to contact you through other options like phone and fax (and maybe Skype).
Recently, I gained some new followers because I included my LinkedIn profile link in my email signature. Lorenzo Gomez, the founder of Geekdom Media, uses his email signature to promote his podcast.
Instead of manually typing your email signature each time you send an email message, automate the process.
I use Gmail, so I'll use it as an example again.
Go to "Settings." In the "General" tab, you'll find "Signature." Check the box to use a signature under "no signature. You'll see the input field where you can create and format your signature however you want it.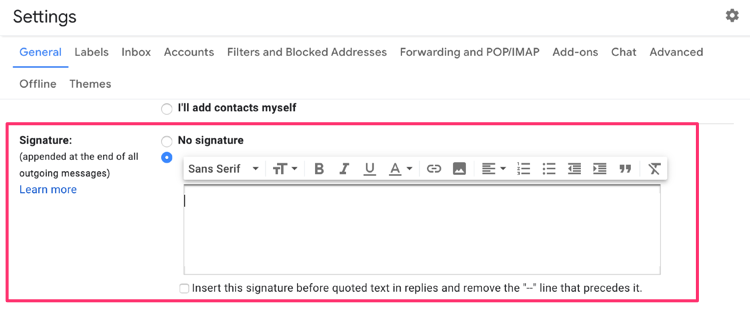 17.
Payroll
According to a survey, 30% of small companies in the United States still spend over 6 hours each month to accomplish their payroll tasks despite having an external company to handle payroll administration.
You can save some time by automating the whole process.
Some of the most popular payroll services are Gusto, Square Payroll, and QuickBooks Payroll.
18.
Paying bills
When you automate your bills, you'll never miss a payment or pay late fees again. Although automation sounds good, you will still have to monitor for errors.
A friend of mine was once charged $1,200 for electricity. It's normally between $50 and $110, depending on the time of the year. Such issues are rare, so you shouldn't worry too much about that.
But before you automate, you should determine if you can afford those bills.
You should know the average total of your bills each month. If your business is still burning through cash, you may want to check your balance regularly to avoid suddenly going broke.
I use my credit card to pay bills, and it's made my life so much easier.
You can also arrange with your bank. Monitor at the end of each month to ensure that there's no error. Checking for error shouldn't take much time.
19.
Receipts
Does your company receive lots of receipts?
Organizing receipts take a lot of time. You'll also have to store those receipts.
I use Shoeboxed to digitize all my receipts. Shoeboxed receives my receipts and gets the information exported to me online.
20.
Online Mentions
People are mentioning your company and products online. You should know what they're saying. If it's positive or negative, and if you should respond to it.
Don't track online mentions manually as it's time-consuming. With a tool like Google Alerts, you'll get emails when someone mentions your business or name online.
Google Alerts also allows you to receive emails daily or weekly.
Here's how to set up Google Alerts.
Visit https://www.google.com/alerts.
Type your business name into the box and click "Show options."

After clicking "Show options," you'll see a couple of options to select.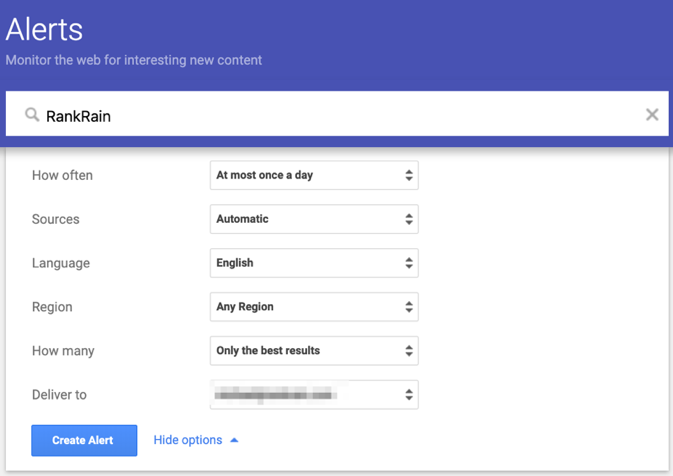 Here're the options:
How often

: Choose how often you want to receive mention alerts. Select one between "As-it-happens," "At most once a day," and "At most once a week."

Sources

: There're various places your business could be mentioned online. Select "automatic" to receive alerts when you're mentioned anywhere. For example, a brand like CIRCA, where people can sell jewelry online get mentions from various places like social media, review sites, and even Quora.

Language

: Choose the language. For me, that's "English."

Region

: Choose the region you want. Leave it at "Any Region" if you're unsure. That would be the case for me.

How many

: Choose between "Only the best results" and "All results." I usually choose the former.

Deliver to

: Put your email address here where you want to receive the alerts.
After setting up Google Alerts for your business name, you won't have to worry about online mentions.
Conclusion
Working smart is crucial if you want to grow your business. And one of the things that could hinder growth is repetitive tasks.
You can't be efficient and productive by prioritizing tasks alone. Some tasks should be automated to free up more time for important tasks.
Whether you're managing a big or small team, time is vital. Once lost, you can't get it back.
By automating the twenty tasks in this article, you'll have more time to do activities that drive growth.
Michael Akinlabi is the founder of Rank Rain, a digital marketing agency that helps small businesses grow through SEO, content marketing, social media marketing, and PPC.