Computers are often heralded as being one of the most crucial tools in the world of modern business. They make it far easier to access information, bring all of your tasks to one platform, and provide countless businesses with the means to handle work which would be impossible to carry out without machines like this. Oftentimes, though, it can feel as though your computer is holding you back.
Once simple tasks can become an arduous affair, taking far longer than if you were using pens and paper for the job. Thankfully, today's automation tools promise to solve this problem for you. Giving you the power to seamlessly move between software, platforms, and the other tools you use without ever having to copy and paste, it makes sense for many professionals to start using them.
With almost 60,000 users across 100 countries, HubSpot is well-known around the online world. This automation tool is designed to take all of the trouble out of marketing, managing leads, and getting those all important sales made for your business, and they even have tools which can help with your customer service.
One of the key benefits of HubSpot is the ability to connect it to your existing website, sales funnels, and other online services. For example, if you were a financial service provider with a WordPress website, you could collect all of your leads and enquiries through forms on your site, using a convenient plugin to send the data to your HubSpot dashboard. Your emails can be connected up, giving you an easy way to follow up on these leads, and you will even have room to record phone calls.

Source: https://www.rakacreative.com/blog/inbound-marketing/hubspot-tools-you-may-not-know-about/
Like HubSpot, Zapier is designed to connect your online services to automate the process of moving data into the right places. Instead of providing a dashboard to form the core of your management work, though, Zapier connects services with one another, taking out the step of copying and pasting information in a near-endless cycle.
At the time of writing, 2,688 different apps can be connected with Zapier using triggers and actions to control it all. This could enable you to connect your Clickfunnels account with MailChimp and Shopify, signing people up to mailing lists while also preparing emails containing products when they click the right buttons on your landing page. Information about your emails and the people receiving them could then be sent to your marketing or CRM platform, enabling you to automate the next steps in your sales funnel.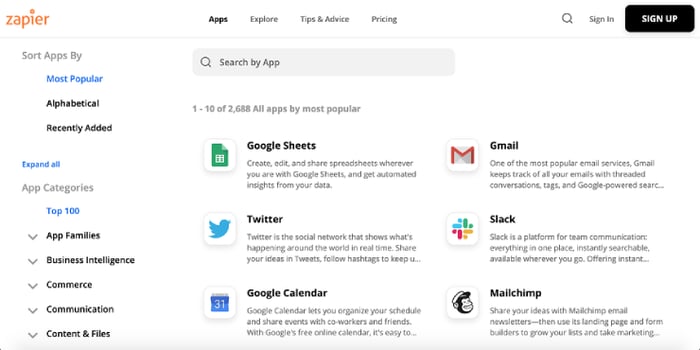 Source: https://zapier.com/apps
Like Zapier and HubSpot, Integromat is designed to automate jobs which can waste a lot of time with clicking and moving data between services. They give users far more control over the "scenarios" they create, though this somewhat raises the bar when it comes to learning how to use it. If you're a developer or your business has its own web development team, you could consider using their platform to make custom apps.
This can make simple things possible, like saving attachments from emails to Google Drive, while saving the text in a Docs file. Likewise, though, Integromat can also perform far more impressive feats. For example, you could set up a webhook to send data to a router when you post a blog on your Wordpress site. The blog information could then be passed to Drive to save the images and text, while also posting a snippet of text and the images to social media, and sending subscribers an email about it through MailChimp.
Building good looking forms with complex conditional logic or accepting payments is impossible with the free tools like Google Forms. That's why you need a professional form creator tool like Paperform.
Forms from Paperform can be added to your website using JS or an iFrame, making it possible for just about any website to handle them. You can create simple contact forms, product purchase forms, subscription forms, surveys and quizzes, and a host of other useful forms. These can be connected to tools like Asana to set tasks, MailChimp to sign people up, and even payment gateways like Stripe and Braintree to take payments, along with countless other integrations.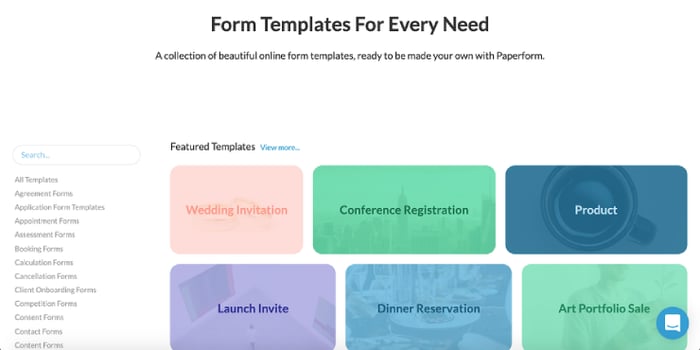 Source: https://paperform.co/templates/
Pipedrive is very similar to HubSpot in its features and tools, though it is designed to be far simpler and easier to use. Features like smart chatbots, sales recommendations, and task automation tools make Pipedrive a convincing option for sales CRM and pipeline management.
The idea of Pipedrive is to keep it all super simple. The chatbot or webforms on your site can collect leads for you and pass them to Pipedrive. You can then manage your communications, get sales reports, and automate tasks like sending emails and saving data to your cloud services. There are a lot of integrations available on this platform, just like the others, but it's worth taking a look to see if there is anything particularly useful to you.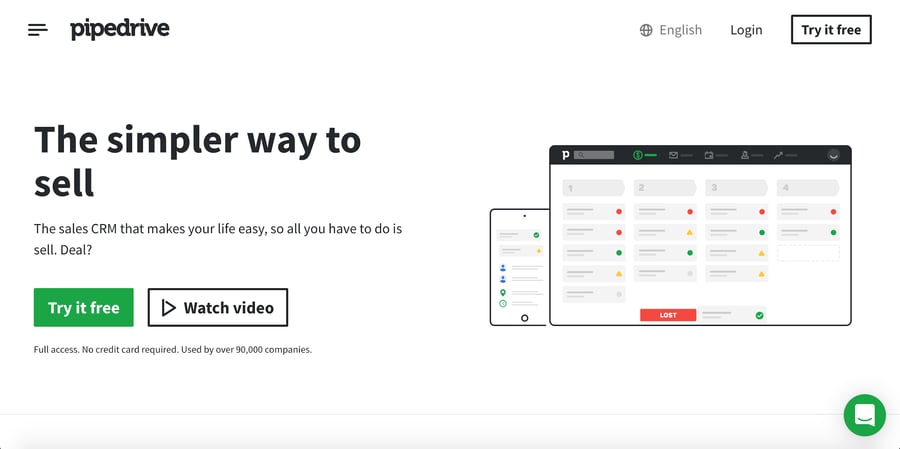 Source: https://www.pipedrive.com/
Outfunnel is another CRM and automation tool which has become popular in recent years. Designed to help you to collect, manage, and cultivate leads, this tool is great for anyone interested in website and email marketing. It also offers powerful integration with other platforms and apps.
You can track your website to get leads from visitors, while also sending out emails using an integration like MailChimp. Your leads will be given scores based on how many times a user visits your website or opens an email, giving you a good idea of which leads are likely to perform the best. The main integrations on offer are Pipedrive, Copper, and Mailchimp, giving you a host of tools and services to sink your teeth into, while also keeping the whole thing nice and simple for those who don't have much time on their hands.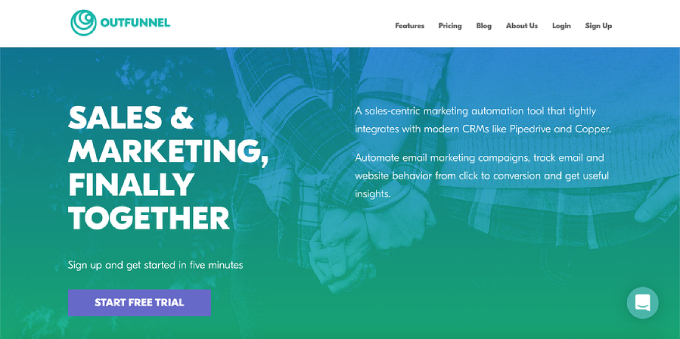 DottedSign is a platform designed to make the process of signing documents as easy as possible. The growing prevalence of connected devices with touchscreens in the modern world has made it possible for this common task to be made digital, taking away the pain of waiting for signatures in businesses which work at a fast pace.
You can create documents on this platform, sending them by email or through their app to those who have to sign them. You can then track the signing process, sending reminders and notifications to make sure that the signing gets done. Users can use their phone or computer to sign their files, saving the trouble of printing them out or using mail services to send documents slowly. This gives you a detailed paper trail which will be kept secure and save you from having to look for paper documents in the future.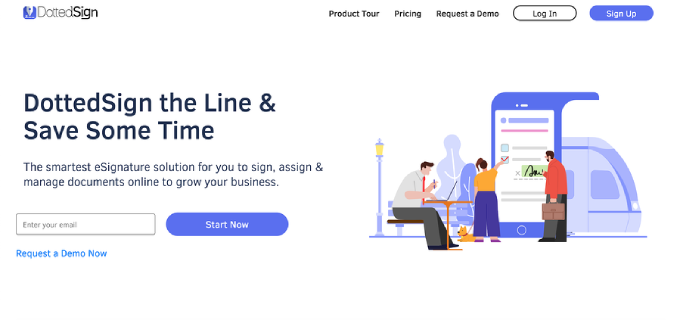 Source: https://www.dottedsign.com/
Unlike the other CRM tools on this list, Mailshake is aimed almost entirely at making calls and sending emails to cultivate leads. With an integrated dialing system, easy email templates, and all of the essentials to need to manage your leads, this could be a good option for businesses which like to keep in touch with their clients and customers.
You could send out a cold email to a range of recipients, encouraging them to request a free callback about their needs. Mailshake will send this email, collect the responses, and give you the opportunity to call them with their unique but powerful calling service. You can then use automated emails to follow up on the calls you've made and keep the communication chain nice and strong.
Moosend is similar to Mailshake, only it doesn't offer telephone marketing tools, along with a vast range of automation tools which revolve around sending emails based on the way that people interact with your business.
A great example of this tools in action comes in the form of an online store, with the Moosend Ecommerce AI being one of their major features. Your website can track users, and will know when someone puts something in their cart and abandons it. You can then set a wait time, at the end of which the user will be emailed to remind them about the product if they haven't already bought it. Along with this, email marketing tools like bulk mailing, analytics, and email templates are also included.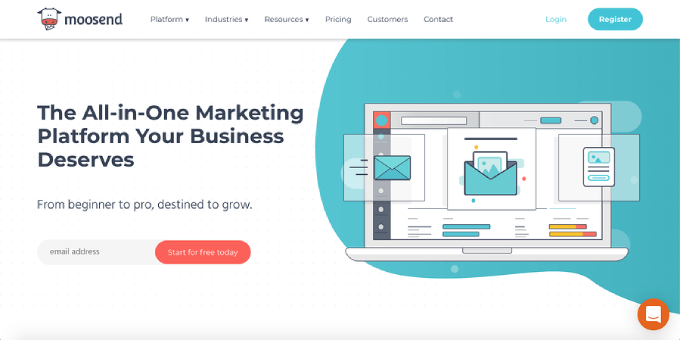 Source: https://moosend.com/
Calendly is another unique option for your digital automation processes. Arranging meetings and appointments can be a time-consuming process. Emails can go back and forth for a long time, and people often find themselves frustrated with the results.
Using Calendly, all you need do is send out your availability and meeting preferences, and your recipient can choose from your calendar. The meetings you make will be synced with a calendar across your devices, with integrations available Google Calendars, HubSpot, and a range of other tools. You can also display your availability on your website, social media pages, and a range of other platforms.
Automating the tasks which take the most time will always be a good idea when you're running a busy business. These tools reflect a small sample of your options around the web, and just about any time-consuming task can be automated to a certain degree, making it well worth shopping around to find the tools you'd like to use.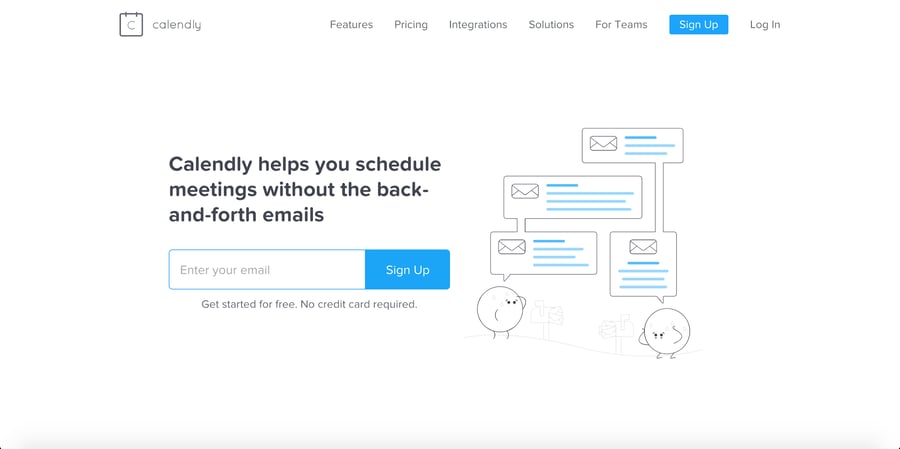 Source: https://calendly.com/