Bet, there are times when you dream of having one tool that gathers all the functionalities to carry out your routine business operations? And you are not alone in this natural desire together with thousands of professionals around the world who choose HubSpot, not for a simple fashion craze. Nearly a million websites use its software for their marketing, customer management, and sales purposes.
However, HubSpot may not be the only tool you need. It happens that you have a set of services, and frequently, you need to combine them into one system. Here, integrations become helpful.
In this post, we'll describe the most helpful integrations of HubSpot and other tools that will help you skyrocket your business efforts.
Why HubSpot integrations are helpful
HubSpot provides businesses with solutions for the entire sales cycle. If you are a HubSpot user, it is because you are looking for the best tools to help you simply reach your customers while allowing you to optimize the time dedicated to each of them, and focus on what truly adds value to your business.
You should analyze integrations between your other services and HubSpot well before launch because they differ in the specific experience they bring. In addition, it is better to select appropriate feature prioritization to focus on the most needed areas of business growth and services.
From our experience, integrations have the following advantages:
Time reduction. HubSpot integrations help to reduce the time dedicated to managing different operational tools. They eliminate the need to duplicate tasks, switch from one tool to another, as well as provide the possibility of obtaining data in a simpler way that helps to draw vital conclusions quickly.
Cut in price. Implicitly, you save cost whenever you get lucky to reduce the time in carrying out certain tasks. Or seen in another way, you increase the performance of your work. So, you have more time to dedicate to those tasks that truly add value.
Conversion improvement. Integrations help you give the customer what they need. This will depend on the type of integration, but those that focus on better understanding the customer and providing valuable content will help you make the user more comfortable on their way to purchase.
Better client segmentation. Integrating different tools gives you access to a lot of information about your clients. Some examples are: where they have come from, how did they know about you, did they contact your company at some point, or what content and mode of communication they prefer in the first place.
To recount all the tools conveniently, we can divide them into four categories according to application areas.
1 Integration: WordPress
In the case of WordPress, you can resort to the official HubSpot plugin. Your HubSpot account and all of your growth tools will automatically connect to your WordPress site, so you can work towards attracting and engaging your website visitors from within WordPress or HubSpot.
From WordPress and HubSpot integration, you will have access to:
Reports: it accumulates reports in the HubSpot dashboard that have information about the performance of your WordPress website/blog.
Lists: with access to the saved lists to better segment and organize your contacts.
Forms: you can modify forms on your website directly from HubSpot.
Live chat: a direct link to HubSpot's live chat functionality that promotes adequate support to your clients.
Configuration: to change the configuration of the HubSpot account that you have synchronized with your website.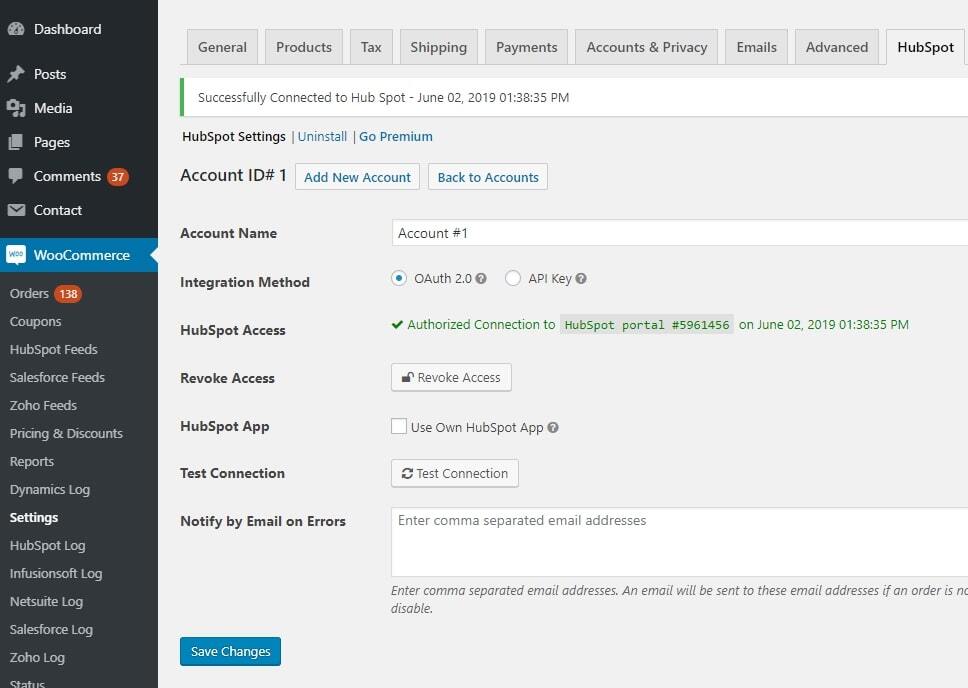 2 Integration: Social media
Writing a compelling copy and backing it up with visuals is not enough for making a solid social media presence. This process involves using different platforms and tools. Integrations with social media help you reach your target audience and boost your promotion efforts. The data about the success of your social media campaigns or the leads obtained from them is automatically added to your HubSpot CRM, so you can learn more about the people who interact with your business and convert them into customers.
With social media integrations, you can help and automate publications. In HubSpot CRM, you can connect with Facebook, Twitter, or LinkedIn.
LinkedIn Sales Hub is the native advertising platform for the world's largest professional networking site. With the LinkedIn integration, you can automatically sync leads between LinkedIn and CRM, allowing you to use data to create highly targeted audience segments that increase your advertising engagement.
Facebook integration allows you to connect your Facebook Ads account to HubSpot and attribute your ads directly to the prospect contacts. It provides you with real statistics on which ads affect your bottom line, simplifying the reporting process for all of your Facebook Ads efforts.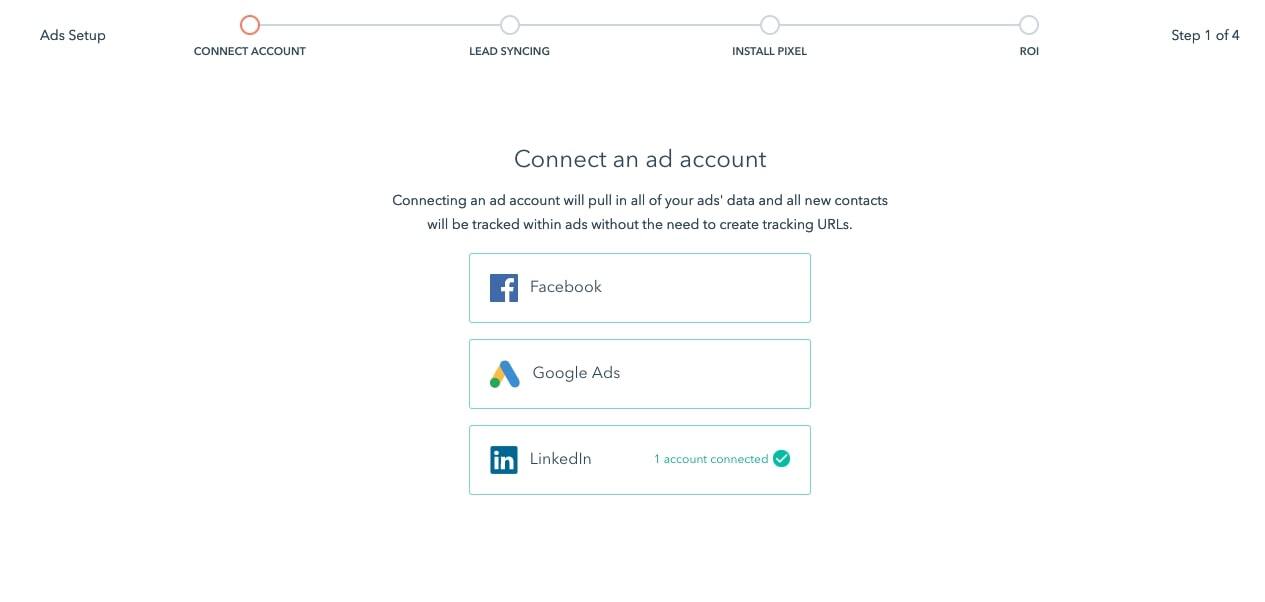 3 Integration: Email marketing
By integrating your Gmail or Outlook inbox with HubSpot, you'll be able to log all your emails, access productivity tools, and activate email templates and sequences. Most importantly, you can see all of your HubSpot contact details without leaving your inbox.

HubSpot comes with free lead generation and email marketing tools, so you easily organize your data and also grow it. Take care of your customers and use email hosting to create and automatically optimize sendings.

Send bulk emails to all your customers for free and then review if it was successful. Built-in analytics help you determine which emails, pages, offers, and traffic sources brought you the highest conversion rate.

Find out which emails are most received, see how many times potential customers visit your website before they make a purchase, spot trends in how you navigate your site, and use statistics.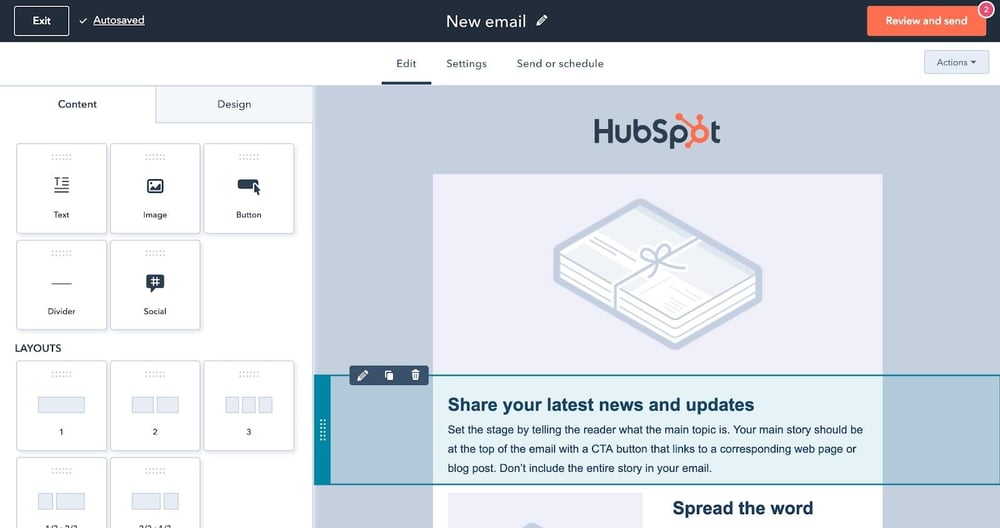 You can go further and integrate HubSpot with your favorite email marketing service. For instance, you work with Mailchimp. In this case, the integration will unify your mailings, update lists, and generate new addresses from your contact list.

Seventh Sense, on the other side, allows you to optimize mailings so that they have maximum opening rates. It proposes more personalized options for outreach sendings and helps to avoid spam folders.

To know more about crafting converting emails, check out this guide.
4 Integration: Data analytics
End-to-end analytics integrations provide comprehensive information on everything related to business processes in HubSpot. With this data, business owners can see the strengths and weaknesses of the website, sales funnel, marketing performance, refine their marketing strategy, export deals, and more.

In particular, HubSpot integration with Salesforce CRM gives you valuable data that answers how to attract new users, improve the interface of your site so that visitors find the information they need faster, and what content to publish so that users stay on the site longer. This is a kind of feedback from visitors who liked or did not like the web resource.
Forget about updating reports manually. Netsuite HubSpot Integration provides automatic reporting of sales activity, productivity, and individual marketing results to easily analyze all the data needed to make your team successful. Learn more about your leads and contacts through forms and custom surveys using tools like SurveyMonkey or Typeform.

Thanks to the built-in reporting in Google Search Console, you will get a clear view of the parameters you care about the most. The functions to extract leads and sales performance statistics, visualize dashboards, and other performance information are possible with easy-to-configure HubSpot to Google Sheets integrations. It only takes a few minutes to learn the interface and make it easy to keep track of every detail of your business relationships - all in one place.
Some additional integrations
The mentioned integrations are a must in some sense, but Hubspot offers many other options for integrating the tasks you need.

You can keep track of all the sales activities you need to perform by synchronizing your Google or Outlook calendar with HubSpot CRM. Using the two-way integration with the calendar, you can instantly register a meeting on your system, create announcements and even send invites.

Using a communication tool like Slack, you can improve team coordination and accessibility by integrating Slack with HubSpot. Then, a chat will be available directly in your communicator and in your CRM.

If you make calls and meet with your leads via video, then integration with Zoom, one of the leading video conferencing software, is a good choice. Conference details and contact information will be logged in HubSpot CRM for future reference and visibility.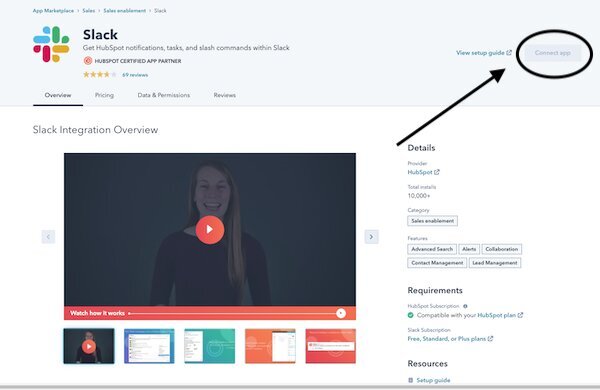 Suppose your company uses customer support or success tools (such as Zendesk or Service Hub). In that case, the integration with HubSpot will provide useful information for new base sales and even reduce the number of customer churns.

By integrating a document and proposal management tool (such as PandaDoc), you will be able to submit proposals and contracts in a single interface.

Even connections with chat tools like Chats, Chatbots, and WhatsApp will ensure that leads who interact with your website, blog, or landing pages have their conversations saved to their contact history within HubSpot CRM.
Wrap up
Integrating the diverse tools that you and your team use daily for business with Hubspot can make your work much easier and become a discovery of workflow optimization.

Streamlining processes by gathering marketing, sales, content-creating, and many other operations with Hubspot will increase your productivity and benefit the company.

Let us know which HubSpot integrations you prefer.
Author Bio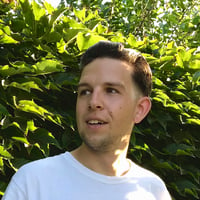 Dmytro Zaichenko is a Marketing Specialist at Coupler.io, a data importing and synchronizing service. He has 6+ years of experience in content making. Apart from writing, he's passionate about networking and the NBA.