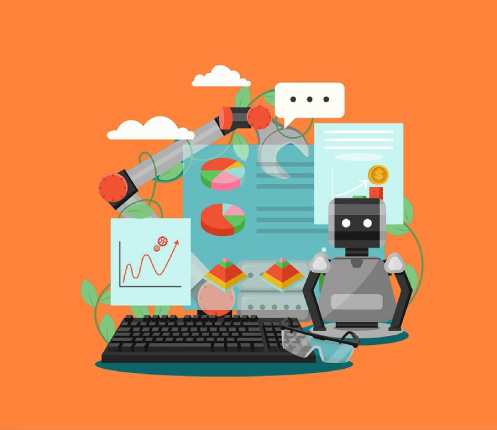 Business automation software is an extremely powerful tool for businesses: it eliminates time wasted on manual tasks and helps your employees improve their productivity.
That said, there are a lot of different types of automation tools, for all kinds of needs; most notably:
Email marketing automation
Social media scheduling and other social media automations
Sales and CRM
Customer support
Everyday admin tasks
In this article, discover 5 essential business automation tools that can boost productivity in various aspects of your business operations.
1. HubSpot: for sales and marketing automation
HubSpot is an inbound marketing company that offers suites of tools such as marketing, sales, customer service, and CRM software.
These tools help users to capture more leads, nurture them till they become customers, and serve customers effectively.
With the HubSpot workflow, you can automate different activities such as scoring leads, lead nurturing, transferring leads to sales, and others.
Also, the tool allows you to set up alerts so that your sales team is automatically notified when your leads engage in specific actions.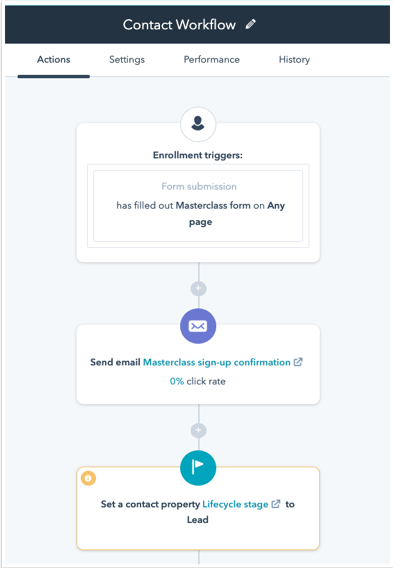 To make lead nurturing effective, you can set up personalized email sequences delivered to prospects based on their interests.
Consequently, prospects and customers receive the right pieces of content likely to result in conversions.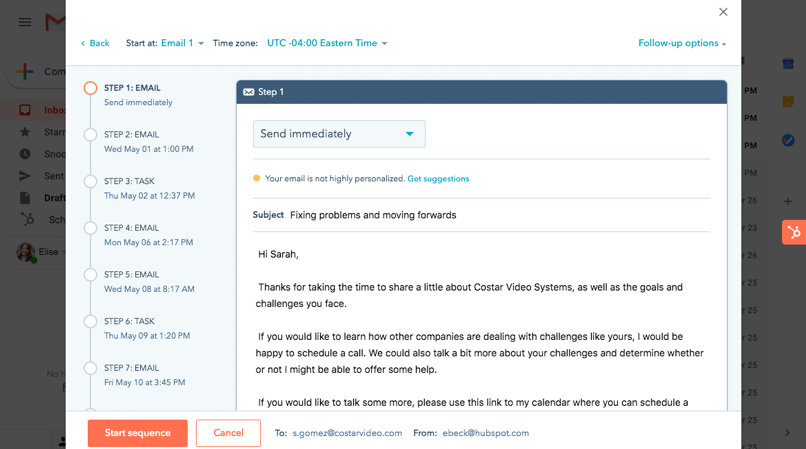 Added to this, you get detailed information about every lead. Every member of your team is able to track previous interactions with a particular contact: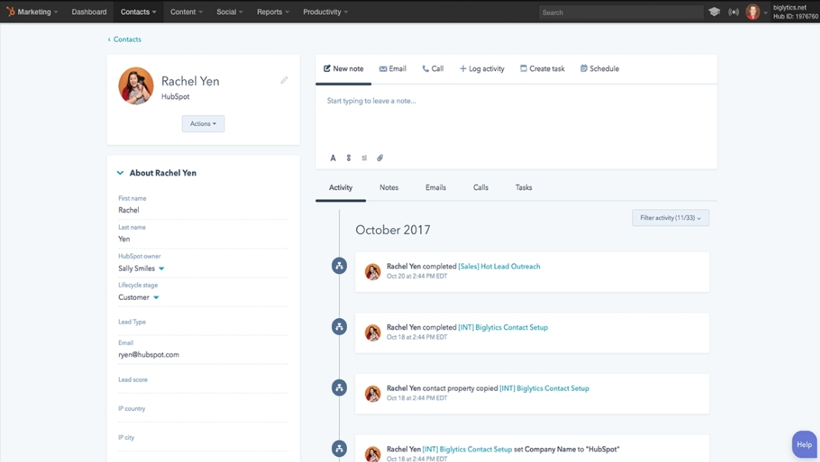 With HubSpot, you can automate your manual marketing, sales, and customer service processes. In other words, you can save a lot of time wasted on repetitive manual tasks and increase your employees' productivity and results – i.e. more conversions and more sales for your business.
2. Agorapulse: for social media automation
Your business needs to be on social media, because that's how to build trust with your prospects and turn them into customers – plus, consumers often expect to find you on their preferred social channels.
However, managing social media networks takes a lot of time.
With social media automation from Agorapulse, you can save time on manual repetitive tasks and improve productivity.
An obvious feature is managing your social media accounts on a single dashboard. With this, you can schedule your posts at different times of the week or month. Likewise, you can publish a single update on all your social media accounts concurrently.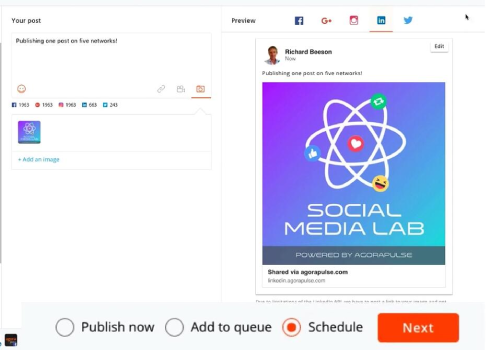 To get the best performance on your updates, you need to publish them multiple times. Luckily, the queue feature allows you to set a publishing schedule for an update. For instance, Jeff Bullas uses this strategy to gain 15,000 clicks to his website monthly.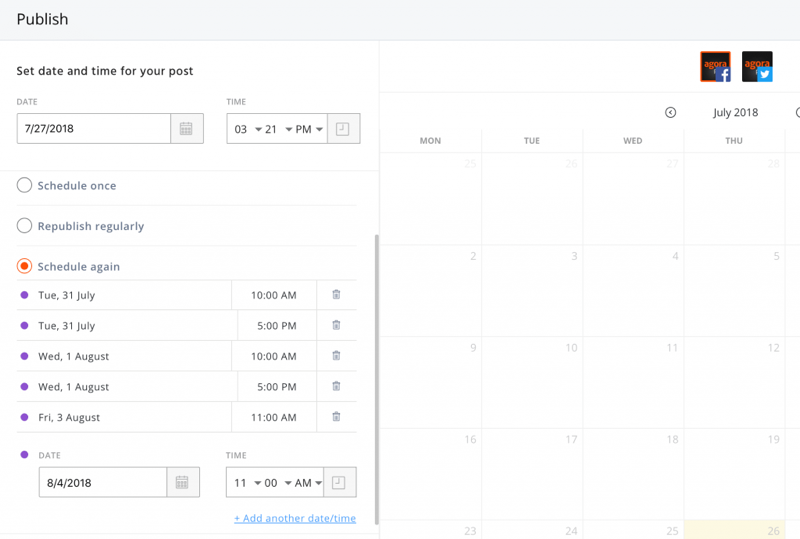 Another very time-consuming social media task is responding to comments and messages; if you receive lots of messages, Agorapulse provides automations that make replies easy. For example, if you get similar messages, you can save replies and simply respond to messages by selecting the appropriate reply: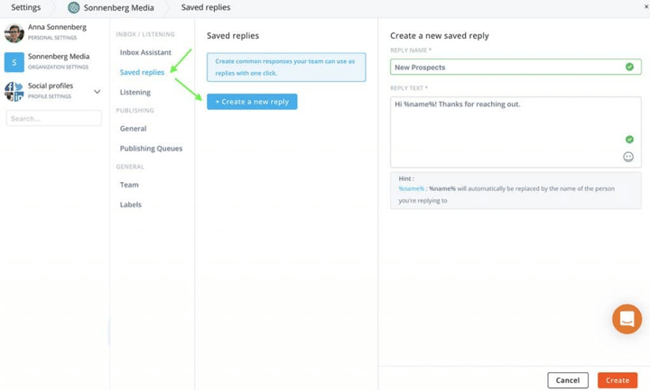 Furthermore, you can set moderation rules to organize your messages. Due to keywords present in messages, you can take actions such as hide, delete, or assign to a relevant team member.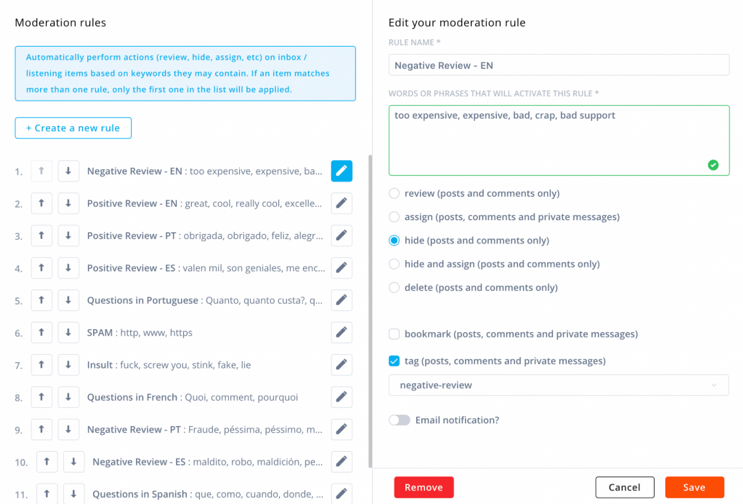 To be on top of what people are saying about your brand or industry, the listening tool allows you to track important keywords. In a nutshell, Agorapulse helps to automate time-sucking activities on social media, improve productivity, and results.
3. Zapier: for connecting and automating your apps
While conducting business, many tools become integral to your processes. And in most cases, your tasks involve 2 or more of these tools. For instance, you need to share your new blog post with your social media followers.
Now, going through 2 or 3 apps for manual repetitive tasks is a waste of time. Fortunately, Zapier helps you to connect these apps and automate the tasks.
With over 1,500 integrations with apps and tools, Zapier most likely connects with most (if not all) the tools you use. For popular tasks, you'll find zaps by using the search box.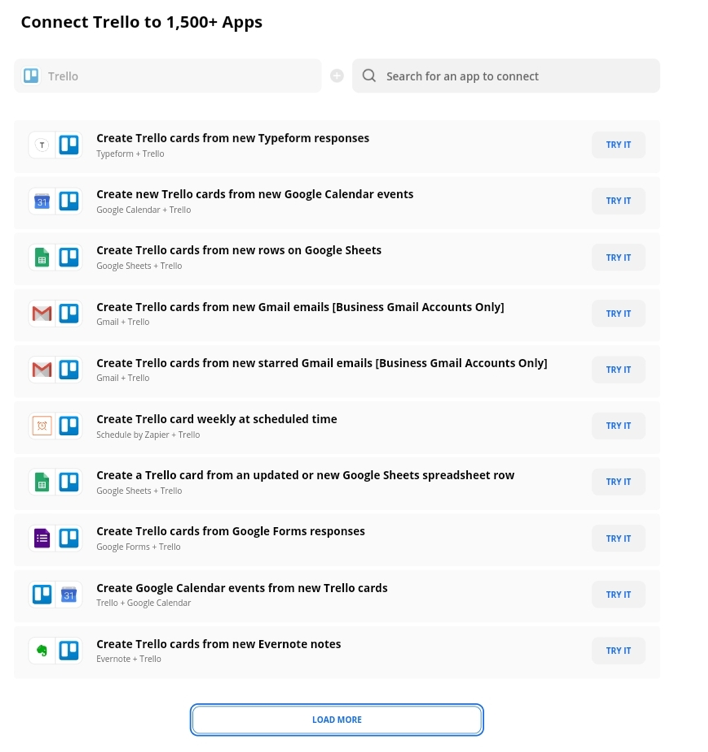 If there's no zap for this task yet, you can create new automation in Zapier. To do this, you'll have to set up the trigger and the corresponding action.
For instance, if you want to create Trello cards from your Google Calendar events, you can set up a zap that will do this. As a result, you can automatically track your events on Trello without manually creating cards.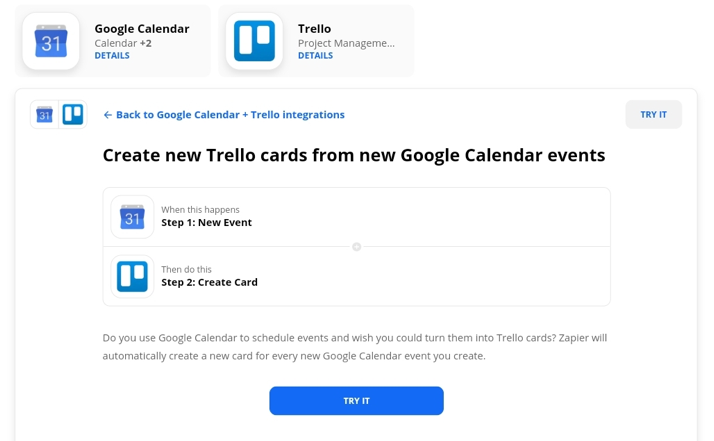 With Zapier's versatility, creating automations to improve every aspect of your marketing process becomes easier. Also, Zapier automations aid business processes through the following ways:
Content and social media management
Project management
Content curation
Sharing blog posts to social media
Lead nurturing
Data collection
Email list management
Tracking business mentions
By using Zapier, you can link your business apps to automate just about any task you can think of.
4. Kenshoo: for advertising automation
Managing your advertising accounts is a lot of work. However, Kenshoo allows you to manage your advertising accounts on a single dashboard. As a result, you can reach your ad targets and get higher conversions from your budget.
This tool allows you to manage advertisements on channels such as:
Ecommerce
Social media
In apps
Search
Apart from managing your account, Kenshoo uses machine learning to find the right audience for your ads. Therefore, it can determine intent and target ideal prospects who are likely to convert through your ads. And it can do these while your campaign is running.
Over time, you can refine your buyer persona through the available cross-channel data on this tool. Thereby, your ad targeting becomes better for future campaigns.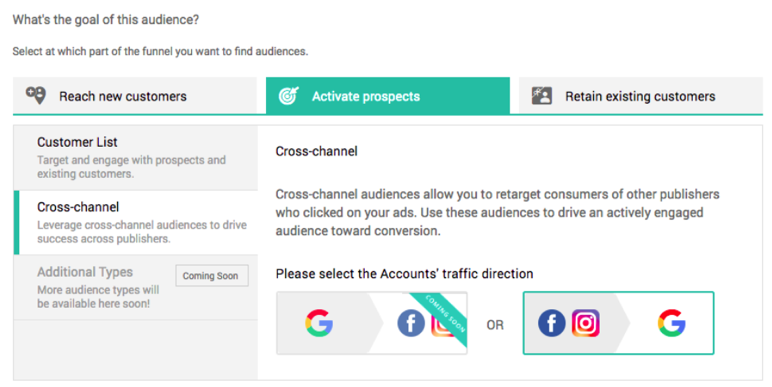 Furthermore, you can set goals for your campaigns on each channel and track results. You'll also find improvement opportunities with the recommendations Kenshoo provides in its reports.
While running campaigns, it's difficult to predict possible returns. Albeit, Kenshoo uses artificial intelligence to make forecasts based on your ad spend. This way, you have an idea of your possible ROI even before starting a campaign.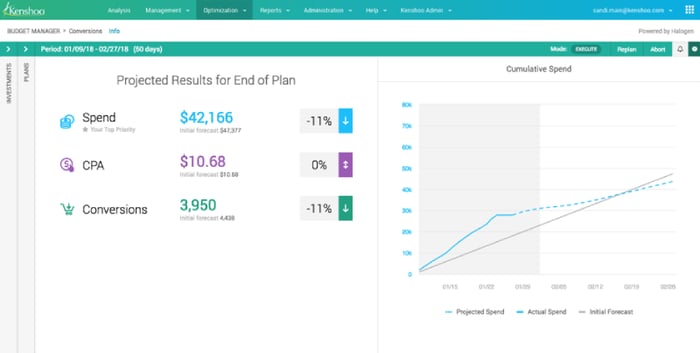 In a nutshell, areas where Kenshoo helps to automate your advertisements include:
Planning your campaigns
Building your campaigns
Targeting the right audience
Setting the best bids
Measurement and insights into campaign results
Optimizing campaigns for better performance
With Kenshoo, you can save time and improve your advertising results.
5. Freshdesk: for customer service automation
Customer support is one of the best ways to market your business. On the other hand, a negative experience from a single customer can turn out to be a PR disaster.
However, customer support agents deal with many manual repetitive tasks that waste their time. As a result, they have less time to attend to customers.
With Freshdesk, you can organize your customer inquiries and assign them to the right agents. Likewise, you can assign tickets automatically to agents based on the channel of contact and the content of the message.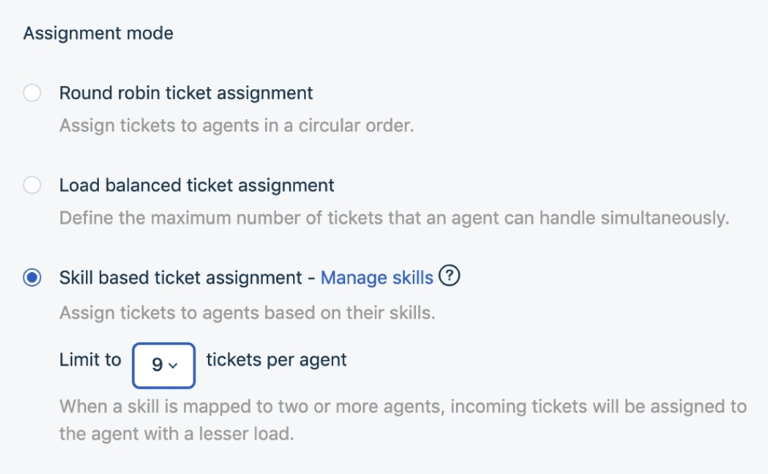 In the case a message needs urgent attention, there are rules based on specific keywords to alert the right agent. Furthermore, Freshdesk allows you to create as many simple or complex rules according to your needs.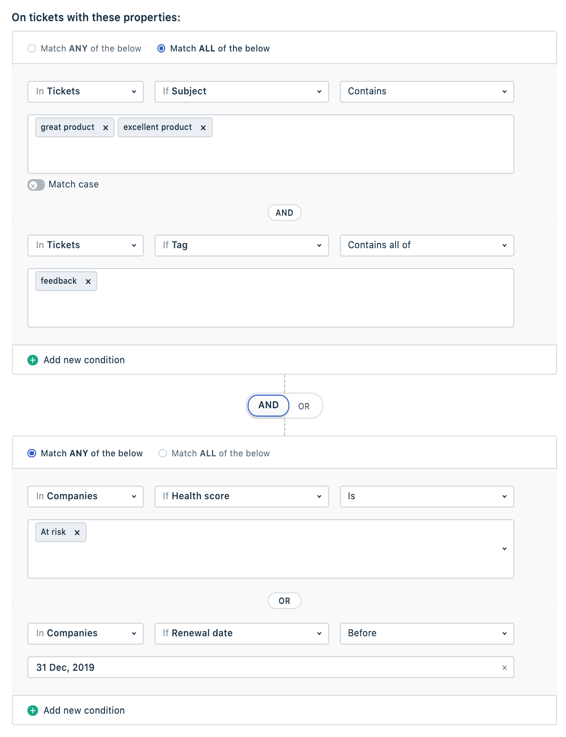 To know how effective a rule has been, the number of times it has impacted tickets is below the rule. And to ensure an automation rule is clear, there's a summary of the conditions and actions.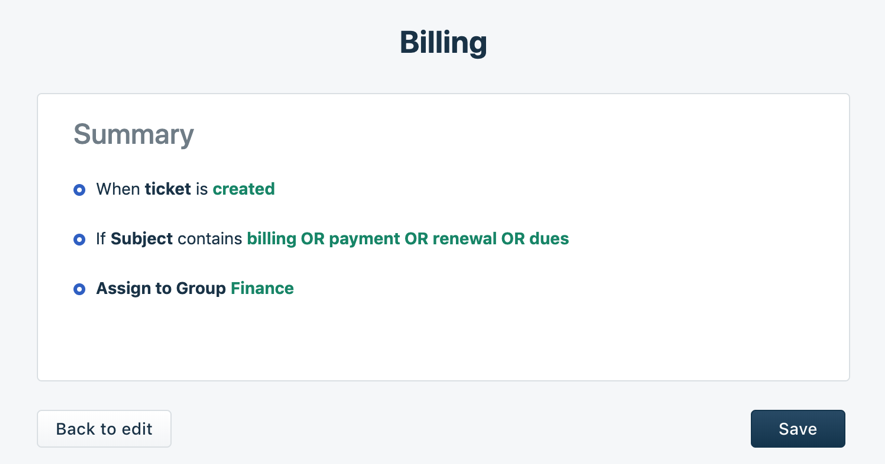 For common inquiries, canned responses help to eliminate the time taken to type the message. With Freshdesk, you can automate all the manual tasks so that customer support agents have time to respond to your customers.
Conclusion
There's no doubt about it, automation has become a must-have for busy businesses and marketers. And in many cases, it's not just about saving time: the best automation tools also help improve your results.
For every aspect of your business operations, these 5 business automation tools can save tens of hours across your employees, improve their productivity, and help them to acquire and serve customers better.
AUTHOR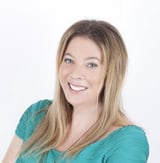 Bio: Highly regarded on the world speaker circuit, Lilach has graced Forbes and Number 10 Downing Street. She's a hugely connected and highly influential entrepreneur. She is listed in Forbes as one of the top 20 women social media power influencers, named one of 10 top digital marketers by Brand24 and was crowned the Social Influencer of Europe by Oracle. She is listed as the number one Influencer in the UK by Career Experts and is a recipient for a Global Women Champions Award for her outstanding contribution and leadership in business.

Contact info: www.lilachbullock.com