CRM software boasts of being the biggest software market in the world. Its revenue is anticipated to cross $80 billion by 2025.
Thanks to its accessibility, the CRM software market is growing really fast. It makes it possible for companies to access customer data in real-time.
From email marketing and customer service to personalization, companies can connect platforms and technologies with customer data so as to offer a more personalized experience.
As per a survey, 48% of companies say that improving their CRM sales funnel is among their top sales priorities. And why not? CRM applications are said to boost sales by up to 29%. It also increases sales productivity by up to 34% and improves the accuracy of the sales forecast by 42%.
But note that your CRM software will face total abandonment if you fail to adopt the technology and your sales team fails to integrate it into their daily work. Slow user adoption is the cause of 49% of CRM projects failing.
Here are four red flags of low CRM adoption you need to watch out for. And learn how to tackle them.
1. Your salespeople prefer to use old methods over the CRM software.
When you implement CRM, communication should be more consolidated, there should be a decrease in the use of paper and spreadsheets, and the sales processes should be accelerated and automated.
If your salespeople are still stuck with the old methods of using spreadsheets to input and store data, communicating outside the CRM solution, or corroborating data points, there is definitely something wrong. It indicates that your team is struggling to make the most out of your CRM software.
To solve the issue, you need to get into the matter and find out why your team favors the old methods over the CRM software. Sometimes, the reason can be resistance to change. But most of the time, it is because the CRM interface is complex, and no contextual, on-the-go training and support are available to your clients.
You can use the digital adoption solution by Whatfix that is not only easy to use but can provide contextual, interactive, real-time, and progressive training to your sales team. And since it is autonomous, it auto executes tasks like navigation and prompts users for data entry steps, and so on.
2. Poor quality data
High-quality data is crucial for every business. It will help you make more informed decisions, target an audience better, carry out more effective content and marketing campaigns, improve your relationships with your customers, increase profit, and give you a competitive edge.
As per the study, poor data quality costs businesses $15 million annually on average. If you can effectively implement the CRM software, your team will be able to manage and manipulate data on one platform easily and plan your sales activities better. Inaccurate and incomplete CRM data is a sign that CRM is not being used effectively.
Usually, complex interface and lack of training on how to directly input data into the CRM software is the cause. Your team may be lifting and shifting data from different sources.
As mentioned earlier, choose CRM software that is easy to use and train your sales team about the easiest method to input data directly into the CRM system.
3. Decrease in productivity
As per a study, CRM can increase the productivity of a salesperson by up to 15%.
Another report says that mobile access to a CRM can boost sales force productivity by 14.6% on average, while 3 in 10 mobile CRM users say that productivity has increased by over 20%.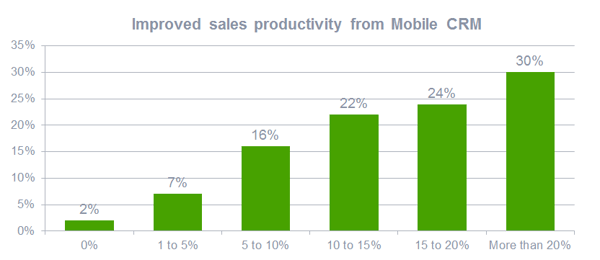 So in case, the productivity is low even after you implement CRM, it can be because your CRM solution is not able to deliver results, or your team is not fully optimizing it.
Consider having a look at how the reports are generated and compiled, sales analysis, decision making, new order processing, and problem resolution to comprehend and assess CRM adoption.
For instance, if the sales team is taking many days to make periodic reports, your CRM might be lacking strong reporting capabilities, or your users are not trained to make use of the CRM effectively.
It is most likely that your team is still gathering data from several sources and organizing them with spreadsheets during report making as they find it easier than navigating the CRM software that fails to offer them training at the right time.
There is also a chance that your team felt overwhelmed by the process of using the tool. Thus, they did not provide input data into the CRM from the start. In that case, they have no choice but to go back to the old method of creating and consolidating reports.
A digital adoption platform will come of great help here, a platform that will aid your team along their CRM onboarding and training journey. Find one that will allow your sales representatives to discover and learn how to use and leverage the CRM software at their own pace and as and when needed.
4. Your sales team is not reaching out.
Your sales team may not reach out when they have mastered using the CRM tool. But the results will show.
It often happens that sales teams stop exploring other beneficial features and capabilities of the CRM tool. So, if your clients are not reaching out, then it may also be a sign of their frustration with the tool.
Approach your CRM experts to ask whether your team members, especially the new ones, are asking for help. If the answer is negative, you will want to talk to your team to find out the reason behind it.
If they have mastered using the CRM tool, it's all well and good. But if they are struggling with the CRM software product, you will have to invest more time in training them on how to use the tool.
Wrapping-Up
There you have it - 4 red signs that will tell you of your company's low CRM adoption. These are the most common red flags. You can fix the issue by following the tips given in the article.
Choosing a digital adoption platform with an easy-to-use interface is crucial. Plus, it has to be able to provide contextual, interactive, and progressive training in real-time. Also, ensure that the platform is automated to make things easier.
Author Bio:
Hazel Raoult is a freelance marketing writer and works with PRmention. She has 6+ years of experience in writing about business, entrepreneurship, marketing and all things SaaS. Hazel loves to split her time between writing, editing, and hanging out with her family.