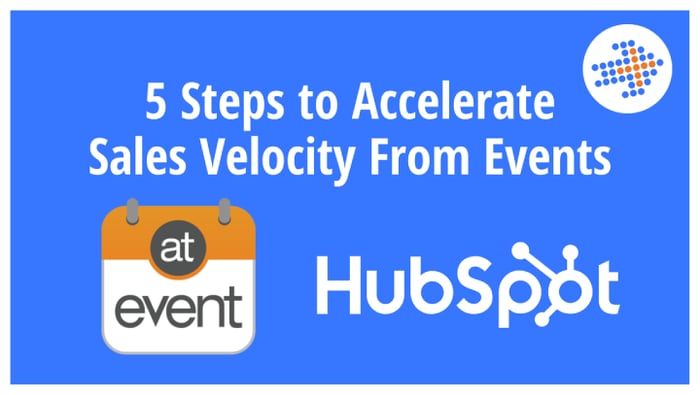 As a HubSpot user, you know that the path from digital marketing to successful sales is paved with nurture. It's no different for event leads, but traditional event planning and lead capture processes don't lend themselves to the kind of fast, personalized follow-up required to keep the attention of potential buyers. Connecting your event lead capture tool with HubSpot is a great start. To maximize your investment in both technologies—and move event leads through the funnel faster—companies should implement a strategy that starts well before the event and ensures that event reps can capture sales-qualified event leads and automatically trigger customized post-event flows.
Read on for 5 steps you can take before the event to leverage your HubSpot investment for faster, smarter follow-up and accelerated sales velocity.
Define an event lead nurture strategy that focuses on sales.
Too often, marketers fall into the trap of thinking that if we put on a great event, the sales will follow. To truly connect the dots between events and sales, we need to start by defining a post-event experience that maximizes the potential of our technologies and focuses squarely on delivering high-quality leads to the sales pipeline. Consider these possible post-event engagement experiences:
Event contacts receive a follow-up email within one week of the event.

Event contacts get sales follow-up from sales reps.

Event contacts receive a personalized follow-up email from the rep that scanned their badge, within 5 minutes of the conversation, with the follow-up action they requested. They are also dropped into a nurture series around topics they were interested in if sales follow-up is not warranted.
Needless to say, the third option does the most work to nurture the lead. But it does not take a lot more work. With the right technology and a little forethought, you can create a highly personalized experience for your future customers, taking full advantage of your MarTech stack to accelerate sales velocity.
Determine your event lead qualifiers.

Now that you've identified what you want to happen, it's time to think about what kind of information you'll need to qualify and segment your event leads. What actions and signals are necessary to trigger your different workflows? If these are the same qualifiers you use for contacts generated through digital engagements, you will already have HubSpot contact properties set up for them. But the event may present an opportunity to gather new information about your prospects. For instance, if you are giving a demo on a new, cutting-edge solution, you may want to create a new contact property to capture a contact's interest in that solution; you could then use this data to evaluate interest in the solution and segment your contacts for a targeted nurture campaign.
Depending on your lead capture method, you may also be able to use automatically captured information for segmenting. For instance, with atEvent, scan data (such as who scanned the badge or business card), can be passed to HubSpot in near real time, triggering a personalized email from the salesperson who had the conversation within minutes of the interaction.
Finally, if you are using lead scoring in HubSpot, you'll also want to review your scoring criteria. Will it be the same for leads generated from this event? Do you need to define the scoring criteria for new qualifiers? Make any necessary adjustments now so your hotter leads will bubble to the top for your sales force to take action.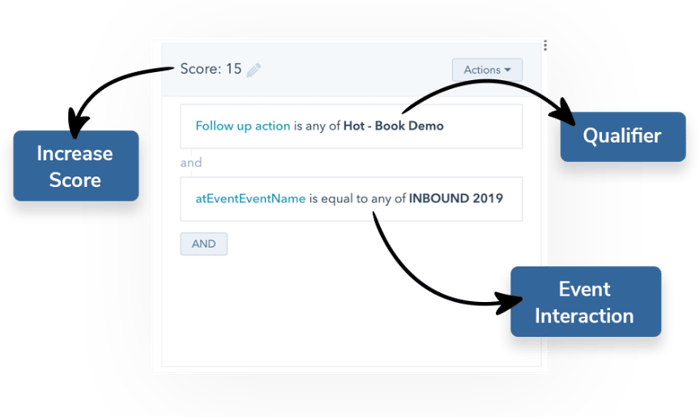 Set up source attribution tagging in HubSpot.
Often overlooked for events, source attribution tagging will allow you to identify which leads came in from your event, which is useful both for understanding how your event impacted sales velocity, and for comparing the number of high-quality leads gained from various events—both of which help you determine event ROI and justify your marketing spend.
Empower your reps to capture the data you need.
Now that you've determined what information you want event reps and field sales to capture at the event, you need to equip them to do that. Many event lead scanners charge by the user and are not set up to capture qualifiers, limiting your ability to capitalize on event interactions. An event lead management solution, like atEvent, allows you to set up custom qualifiers in the lead capture app and map those fields to your HubSpot contact properties, so the data can pass from the event floor (networking reception, happy hour, airport, or anywhere the app can be found in your pocket) into HubSpot in real time, automatically enrolling contacts in the correct workflows and setting your post-event engagement plan in motion.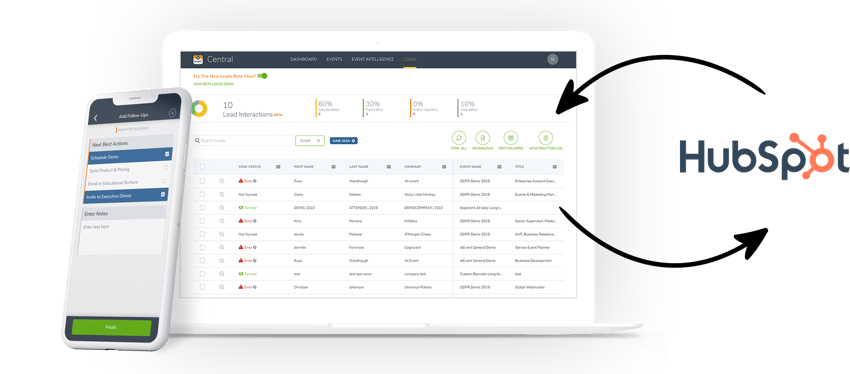 To understand the difference this can make for sales velocity, think about the contact properties you currently use to segment contacts for nurture—things like the stage in the buyer's journey or their persona. Most likely, you are gleaning that information from a combination of explicit and implicit data from multiple digital conversations. At an event, you have the opportunity for a sales rep to ask for that information directly, or very quickly determine it from information shared in the conversation. But, unless you provide explicit guidance to seek that information, along with a specific and simple means for them to capture that data, most of it will never appear in your contact record. As a result, your contact receives a generic event follow-up, rather than a contextualized nurture, which is a big missed opportunity to accelerate your sales velocity.
If field customization and HubSpot integration is not an option, make sure all booth staff and sales representatives are aware of the qualification questions, and your team has a method to capture responses. For example, they might enter responses into a notes field of a traditional lead capture tool and manually add them to the HubSpot contact to trigger enrollment in the workflow.
Create contextual emails for post-event workflows.
Now that your team is prepared to capture the qualifiers you identified earlier, you can set up the workflows that will carry out your event lead nurture strategy. You will likely be able to use existing emails and assets for this, but it's always a good idea to review the content for opportunities to make it more contextual to the event. For instance, you might add in the signature of the person who scanned the contact's badge, include language specific to the event, or insert personalization tokens that contain the qualification information you collected at the event.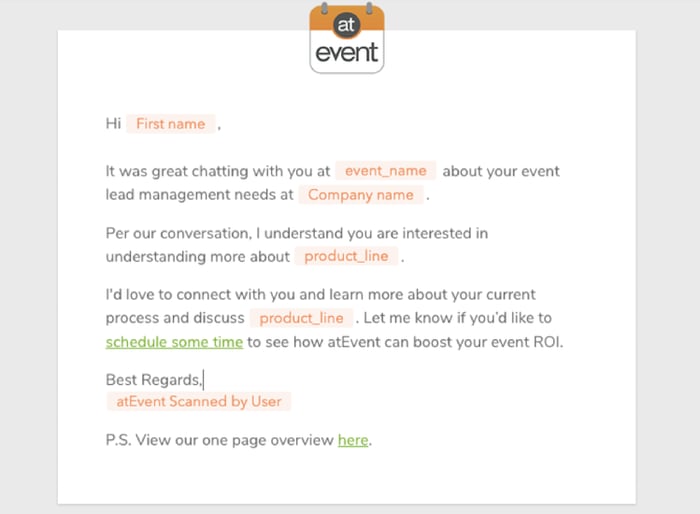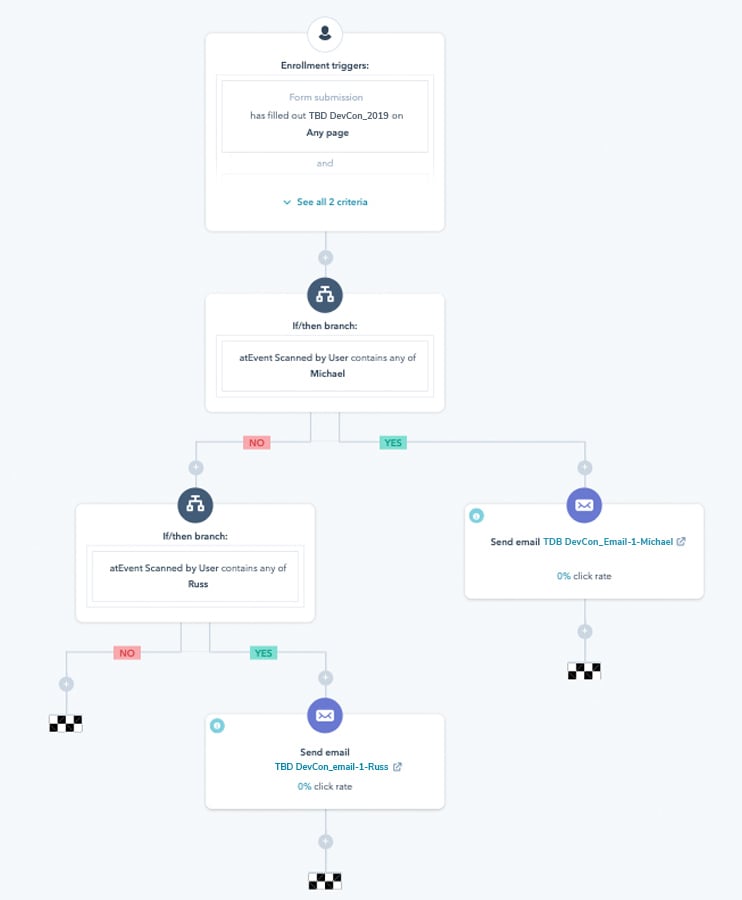 Pulling it all together: on the event floor
The benefits of this level of preparation are immediately noticeable on the event floor. With custom qualifiers connected to pre-planned workflows, event reps can contribute more significantly to your organization's bottom line by capturing the information that helps move leads along the funnel. And, if your lead capture technology works away from the booth, all those rich interactions that take place at breakout sessions and parties can be captured, and the contacts segmented and enrolled in the appropriate workflow, just like those captured at the booth. Best of all, all these potential customers will receive relevant, contextual content from your organization while the event experience is still fresh in their minds.
Don't forget to evaluate and optimize.
Pre-qualified leads, better engagement and nurture, and faster sales—we're done, right? Not quite yet, because of one of the greatest benefits of applying this digital strategy to events is being able to take a more intelligent approach to post-event analysis and determining event ROI. For instance, now that you have source attribution for the event, event leads can be identified separately when you generate a funnel report by the source in HubSpot, allowing you to gain insight into who attends particular events and how event touches compare to digital efforts. Other HubSpot reports that can now lend valuable insights into event performance include your campaign report and your source attribution report.

With an event lead management solution like atEvent, you can review event intelligence to gain insight into event performance and your event strategy. For instance, you might look at what accounts your team interacted with to bolster your ABM strategy, what trends existed among the event leads, and what percentage of captured leads were qualified, and then use this information to optimize your event presence, or even determine if a particular event was worth the investment.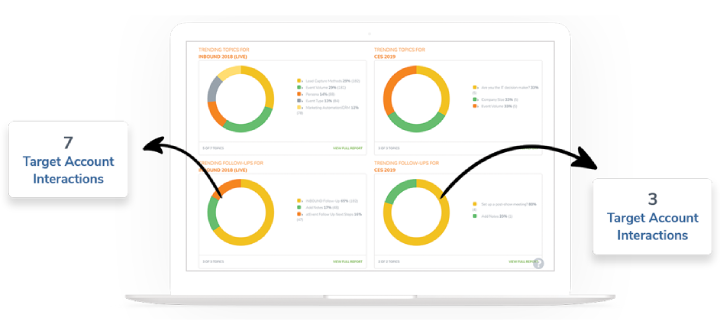 When it comes to moving leads along the funnel, events are the next best thing to a face-to-face sales meeting—but only if we treat them that way. Follow these steps to capture and nurture sales-qualified event leads, accelerate your sales velocity, and maximize ROI.
Written by: Uzair Dada
As CEO of atEvent, Uzair leads the organization's overall business strategy and vision. Under his leadership, atEvent has become a leading global event lead management platform serving enterprise and mid-market companies. Uzair holds a Bachelor of Science degree from the University of California at Berkeley and an MBA from Kellogg School of Management at Northwestern University.'
And finally...
To learn more about atEvent, and how our event lead management solution quickly and easily captures essential lead data for accelerating sales, click here.