Ecommerce growth is directly linked to conversion rate, which makes this metric the one you should be trying to constantly improve.
Digital marketers are well aware of this fact, which is why new tactics and hacks keep popping up quite often. In this post, we're adding our own two cents to the topic. Here are seven science-backed tactics that will help you boost your conversion rates and grow your ecommerce business.
Focus on the Value
Customers would always like to understand just what the value of a certain product is. They don't want vague promises and unclear product descriptions. They want to know what it is they are getting and how a certain product can benefit them.
Value-based selling focuses on customer needs and pain points. Its main aim is to provide enough information to eliminate all doubt when it comes to the worth and value of an item.
Your goal should always be to emphasize what a certain product does and what value it brings to the table. Even if it's just a colorful coffee mug, note how it can make mornings more cheerful and save you time by being dishwasher-safe. Go for simple things along those lines.
Here's how Future Kind does it. They have written a very short description underneath each product image, detailing the product's benefits. It's incredibly simple yet just as effective, as it provides plenty of value right upfront.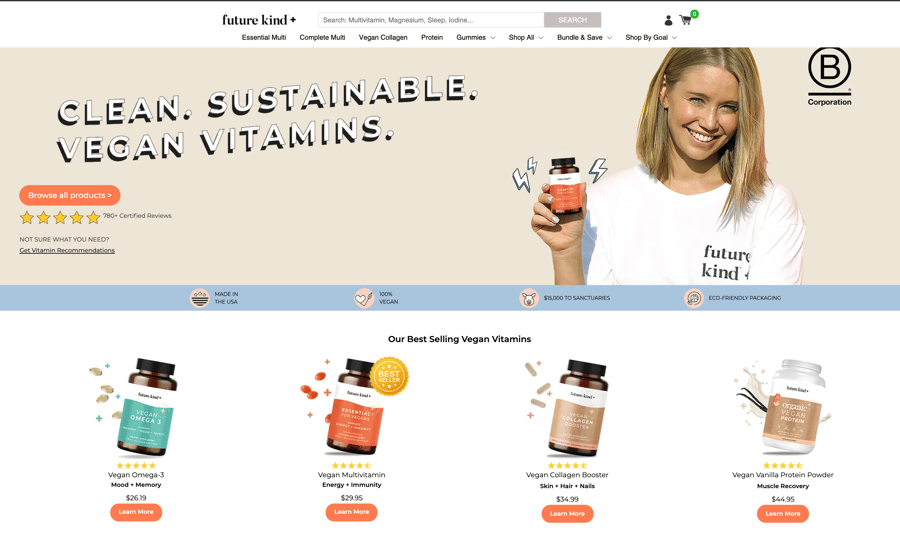 Source: futurekind.com
Try to distill your product's value down to a sentence or two (or a keyword or two if you can). Highlight them on your main pages and on each product page.
Give the Customer Plenty of Control
Most people would rather not lose $5 than gain an additional $5, which is a process psychologists call loss aversion. What this means for you as an ecommerce business is simple: ensure your customers feel like they have nothing to lose, and they will be happy to make repeat purchases.

Customers also like to feel they have some sort of control and that they are able to shop without any strings attached. 92% of them claim they will purchase from a brand again if returning a product is easy.
In other words: offer free returns, for starters. Of course, you'll accept free returns under certain conditions – for example, items have to remain in their original packaging. You may have to eat the costs of the extra shipping, but the additional revenue you'll be making can help you cover that.

You can also offer money-back guarantees if this move makes sense for your brand. There will always be customers who do return your product, but there should be more of them who are just reassured by the available option. The latter will be happy to invest, knowing they are able to change their mind.

This is what the Dollar Shave Club does with their 30-day money-back guarantee. There are no hidden fees and no extra costs.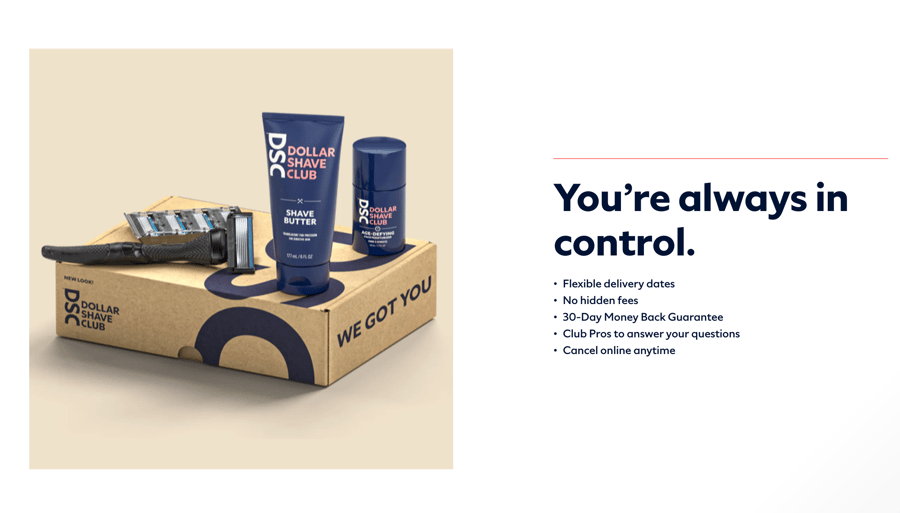 Source: dollarshaveclub.com
They've done everything to make their customers (or club members) feel they are in complete control of the purchase. Naturally, this has helped sway even those who were uncertain about placing that first order.
Spell out the Savings
Discounts and savings can literally make people happier. When you provide a lower price for a product a customer plans to buy or simply considers worth their money, they will enjoy an oxytocin boost.

The answer, then, is a simple one: provide discounts and savings as often as you can. Furthermore, make sure you clearly spell out just what these savings are and how the customer is benefiting.

Ever wonder why ecommerce sites always list the former price, the reduced price, and the percentage that is saved? Customers actually want to see these numbers spelled out and calculate exactly how much they are saving.

And when they do save, they might just be liable to spending a bit more in your store, as they now have what they perceive as extra money to play with.

Homestead Supplier has done a great job of spelling out these savings on their homepage. You can easily see just how much money you will be left with after making a purchase, so you won't have to do any complex math yourself. You can just enjoy the shopping experience.

Source: homesteadsupplier.com
Provide a Shopping Guide
When shopping from a new brand for the first time, customers want to know about a lot of different things. They want to know about:
delivery dates
delivery costs
the way items are going to be delivered
when their package will be dispatched
the payment methods you accept
when they might get their hands on their order
Providing a very clear answer to all of these questions is (or at least it should be) an absolute given. You don't want to leave any of your customers wondering about a specific detail or having to contact your customer service department.

Dedicated pages for shipping, delivery, returns, and payments will all help you boost your conversion rates. That is, as long as they are written in a clear language and provide actual useful information.

If the shopping and ordering process itself is more complex than usual (or if you cater to an audience that isn't as used to online shopping), you can also go the extra mile and film a video detailing the required steps.
Mixam has done this to great success, even though their ordering process is not all that complex.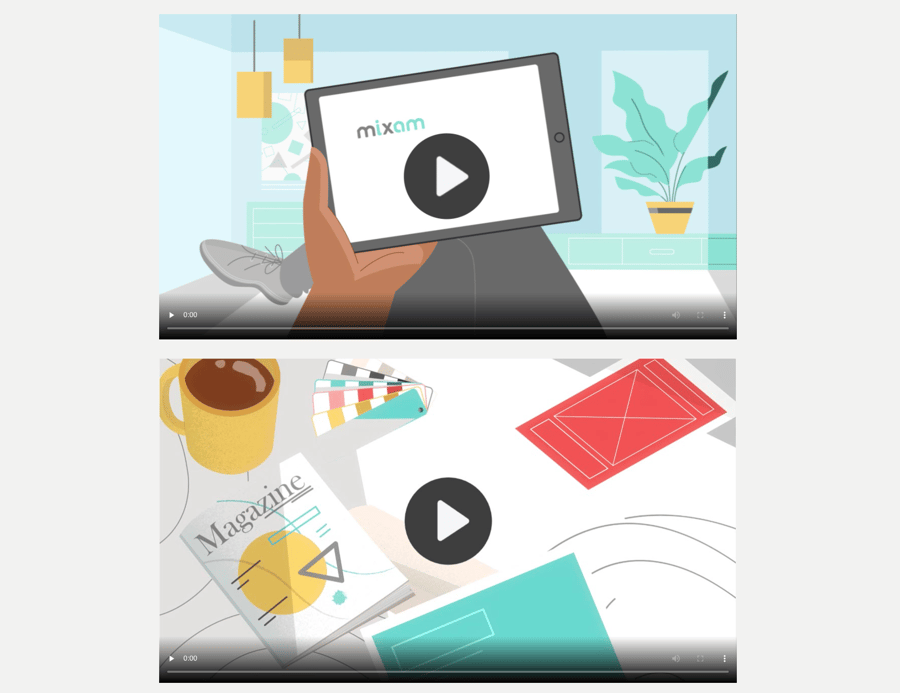 Source: mixam.com
They have filmed two short videos that encapsulate everything you could want to know about doing business with them. This helps eliminate any doubt and inspires additional trust. Thus, they've ensured that even those who may have been on the fence are more likely to convert.
Give Before You Take
Sometimes, customers will feel compelled to make a purchase if they feel they are in some way in your debt. For example, you may have given them a freebie or a huge discount which they felt very lucky to get, and they are now looking to repay the favor.

Even if this somewhat dubious psychological factor is laid aside, it's always a good choice to give your customers something for free, even if it's just a piece of content. This is, after all, why email marketing has such a high ROI. Customers like to get useful and valuable information from brands. They even appreciate the reminder that they might want to make a purchase.
What freebie you offer will depend on your industry and the products you carry. For example, it can be a:
product sample
how-to guide
detailed post about a specific product
guide that clarifies the differences between similar products, etc.
It can be anything you're able to offer, really.
Preset Love, for instance, offers 313+ free presets, which is an incredible move.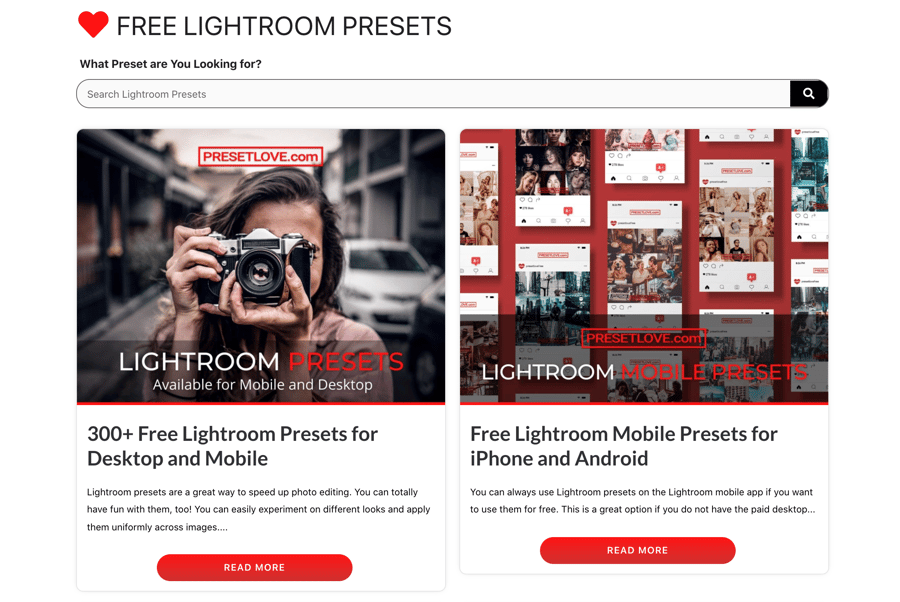 Source: presetlove.com
They have a bundle advertised on their homepage as well, and it includes both the free presents and some premium ones. It will certainly catch the attention of a lot of their visitors.
Raise Your Community Up
Community building is another incredible way to not only boost conversion rates but also to grow your brand. It will help you get to know your audience and better understand their needs and interests. With that, you can further tailor your product catalog and improve user experience.

The avenues for community building are also numerous. You can do it on social media, which is the most popular way. You can also do it on your website, via a forum or other similar platform where customers can exchange ideas and chat with each other.

Social media is the better option, as your audience will already spend a lot of their time there. All you will need to do is grab their attention (and there are plenty of ways to do that) and make sure you direct it to your website.

Don't forget to also display this community on your website. For instance, the North Face does a great job of lifting their community members up and showcasing their successes. At the same time, they're also promoting their products in a subtle way. It is these kinds of marketing tactics that often make the most impact on new visitors.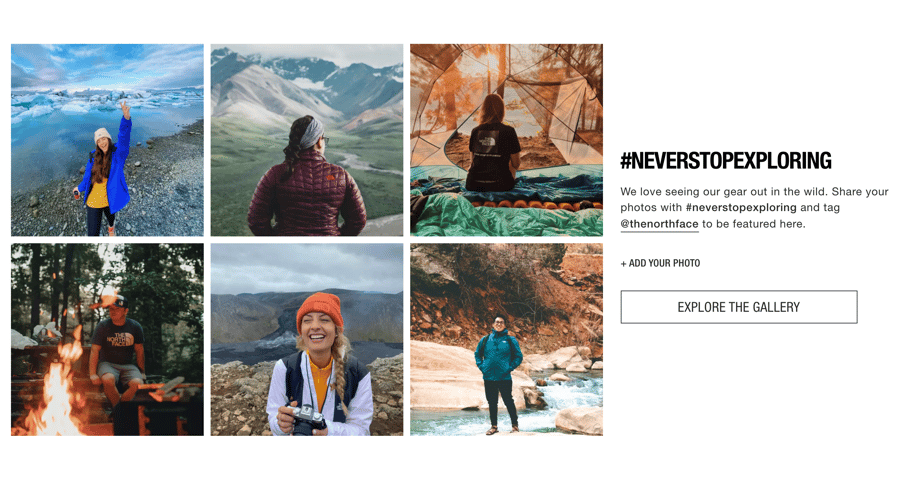 Source: thenorthface.com
Offer Instant Access
Finally, also make sure that your products, whatever they are, are available as soon and as easily as possible. This might entail:
overnight shipping
access to your digital products across multiple platforms
the ability to use digital products from different devices
Customers like to be given options, as we've already established. They love the chance to choose when and how they interact with you and receive your products. The more flexible you can be, the better.

You can take a look at how The Great Courses has solved this. Their app is available across different platforms, which means that customers can access their purchases across multiple devices and at their own convenience.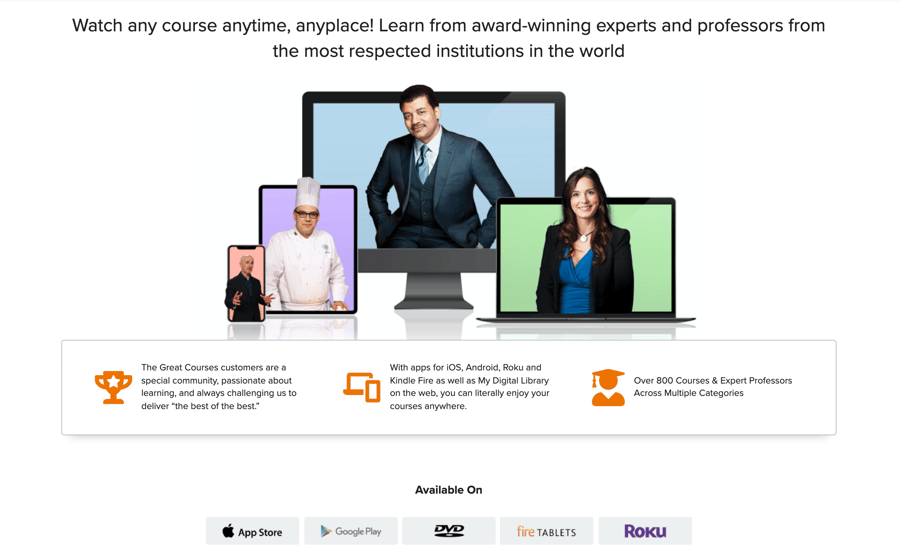 Source: thegreatcourses.com
Having your own app can also be a great move. Zara has done it with great success, for instance. Their app also happens to be more user-friendly than their website.
Final Thoughts
While all of these tactics have been proven to work, you will still need to determine which one will work best for your target audience and your specific ecommerce niche. Don't just select the one that you find the most appealing personally. Take your customers' interests and pain points into account when making any website improvement in order to ensure the best possible results.