The average conversion rate for ecommerce businesses falls at around 2.5% globally. With a few optimization techniques, that number can double or even quadruple, putting your business at the forefront of your industry. But even if you do achieve that elusive 10% conversion rate on your ecommerce pages, there's still the fact that at least 90% of all your website visitors aren't making a purchase.
So what can you do to ensure you're making as many sales as possible?

Well, to turn your ecommerce visitors into future buyers, you have to develop a fully functional approach – one that relies on a combination of website optimization, marketing, and customer relationship management techniques. So, if you're looking for strategies that will help you grab (and retain) your web visitors' attention, here are some of the best ways to build lasting and profitable customer relationships.
Start With a Website Audit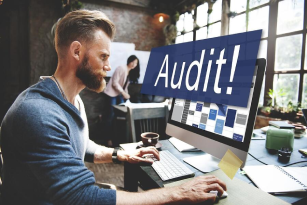 Source: depositphotos.com
The first step towards increasing conversions on your ecommerce website will be to take a good look at your stats. Even if you only have access to the most basic analytics tools, you can get an excellent idea of what you're doing right or wrong.

Pay special attention to your page views, sessions, conversions, bounce rates, and sources of traffic. If any pages are performing exceptionally well, you need to take a deep dive into what the causes behind this are. Do the same for poor results. Pay attention to details like copy, design, CTA buttons, and multimedia, and try to identify the instances that are showing the best results.

The easiest way to boost your conversions down the line will be to apply what's already proving to work. Once you've made these fundamental improvements, you can start experimenting with advanced techniques for building a base of loyal customers.
Basic Conversion-Boosting Strategies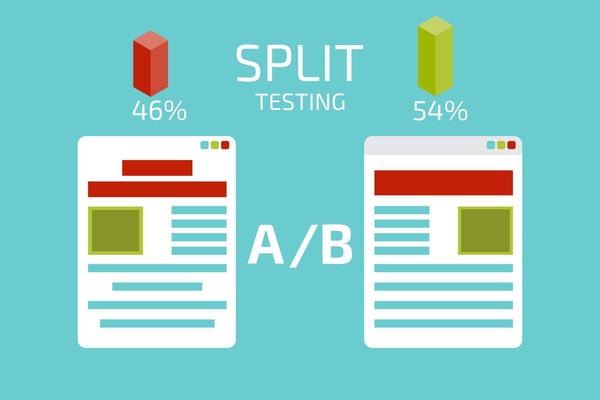 Source: depositphotos.com
Once you've identified the pages on your website that require work, it's time to start applying the most conventional marketing strategies out there. On the whole, you should try to make incremental changes over time to identify the exact techniques working for your business.

A/B testing is an effective way of optimizing for conversions because it allows you to find the variations that work with your audience. Moreover, it's a great source of data, allowing you to base your decisions on facts and numbers.

So, to stop visitors from slipping through your fingers (that is, navigating away from your website without converting), you should first look to conventional (old-school) methods.

You can study and improve your ecommerce website's conversion-boosting elements focusing on two desirable outcomes:
Improving immediate purchases; and
Lead generation, with the objective of nurturing potential buyers into paying customers.
Simplify the Checkout Process
Seeing that the average cart abandonment rate falls at 88%, the best thing you can do to boost immediate sales is to make the shopping experience as straightforward as possible.

In addition to working on your CTAs, try to simplify the entire checkout process. Start with product descriptions, photography, and on-page information. Moreover, make your cart work in your favor by allowing buyers to complete their purchases in just a few clicks.

For inspiration, you can look to SomniFix, whose site is fully optimized for immediately turning website visitors into buyers. They have an educational homepage made complete with product information and trust signals. But, what stands out is that the GET SOMNIFIX CTA button opens up a side menu that allows users to complete their purchase right on the homepage.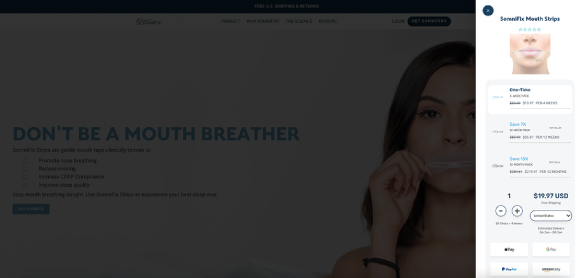 Source: somnifix.com
Users can choose from one of the available pack sizes and opt for their preferred one-click payment method for a speedy transition from visitor to a buyer. This is a great strategy, seeing that it sidesteps all possible distractions, aiming, instead, to minimize the time it takes from the moment a person first lands on the webpage and leaves having completed a purchase.

Furthermore, you'll find that appealing to consumer's fear of missing out works well when it comes to boosting conversions.

By adding a limited offer to your website, you can drive visitors to convert right away. For example, announcing current sales and their end dates will encourage consumers to speed up their purchase decision-making process. You can do this with notification banners and popups, as done by Mannequin Mall, or even showcase special offers in your homepage hero section.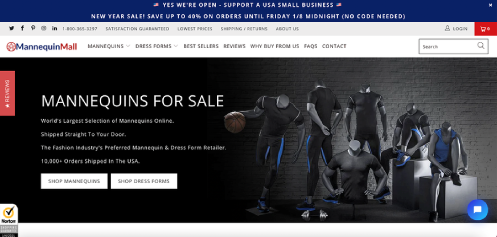 Source: mannequinmall.com
Generate Leads for the Future
However, even if you manage to influence some people's consumer behavior right away, it's safe to say that not all of your website visitors will be prepared to buy on their first visit. In fact, it takes an average of 6-8 touches to generate a sale. With this in mind, you need to make sure that each of your website visitors stays engaged with your brand in the long term, allowing you to turn them into your customer (instead of your competition's).

The most conventional method of generating leads is through adding popups, opt-ins, and other incentives to your homepage. For example, TOMS does this by inviting users to sign up for a giveaway, while Old Navy offers a 20% discount to all new newsletter subscribers.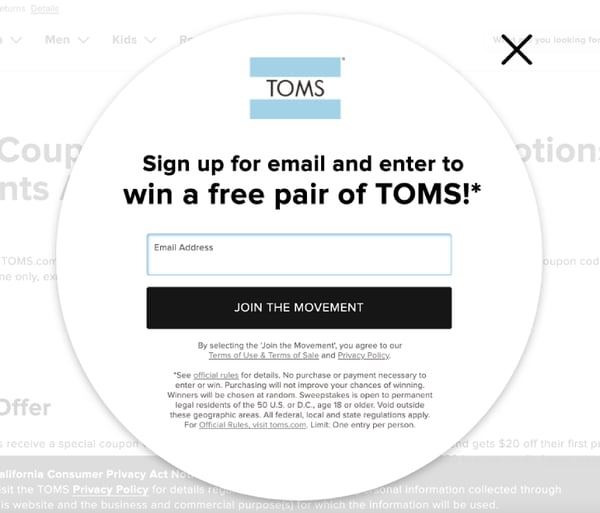 Source: toms.com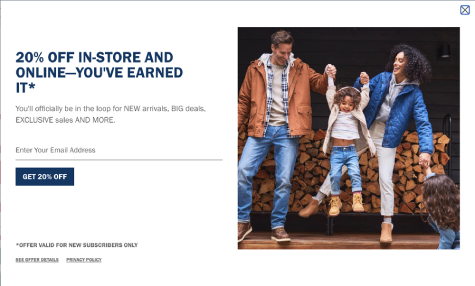 Source: oldnavy.gap.com
Other effective strategies for building your list of potential clients include adding a live chat feature to your homepage, where people can leave their details should your customer service team be offline. Alternatively, you can offer access to gated content in exchange for email data or crate exit-intent popups to ensure as few of your visitors leave without converting in one way or another.
Lead Nurturing
While you may feel like making a sale or acquiring a new follower gives you a reason to celebrate, it's best to get back to reality. Understand that new leads are just the starting point of your work. To ensure the long-term success of your business, you need to nurture potential customers into buyers. And this is where you'll need to step up your game.

There will be two invaluable tools in your arsenal when it comes to nurturing your leads.


1. Customer Relationship Management
The first is, of course, CRM software. With a bespoke HubSpot solution, you can keep an eye on every single aspect of your leads' buying journey, from acquisition to sale. Not only can you see the assets and pages your customers interact with, but even more, you can create insightful profiles for each of your contacts where you can keep an eye on their response, feedback, touches, and off-page behavior.

For example, by knowing exactly when and how many times a potential client opens your email, you can plan a call, knowing that more opens generally signify a higher interest. Alternatively, you can identify the sales that have the likelihood of closing soon, giving you the chance to focus on the most relevant sales activity at each moment.

Let's say that you sell a product that is meant to be used regularly. One of your courses of action may be to offer a subscription model akin to the one advertised by Elemental Labs.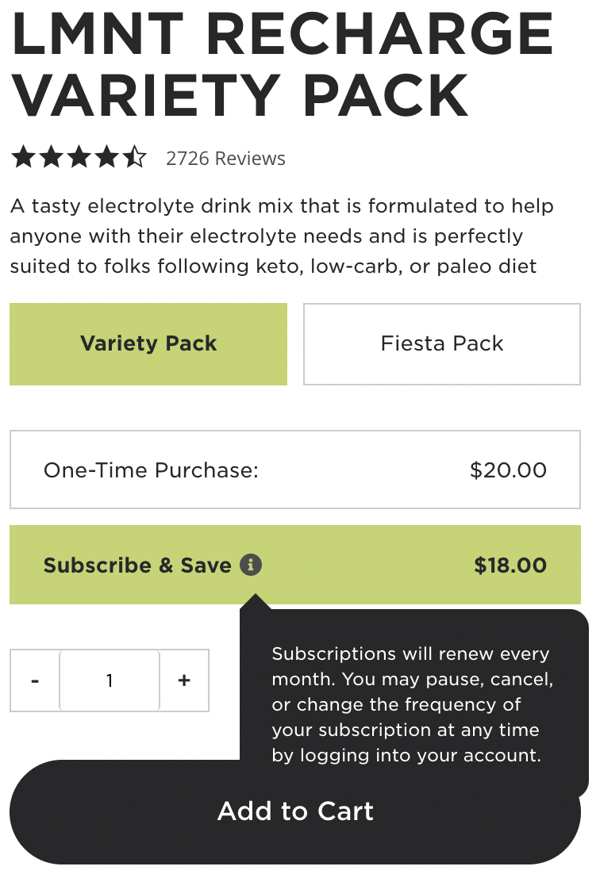 Source: drinklmnt.com
However, if your buyers haven't purchased from you before, they're unlikely to commit to a subscription. So, by using a CRM solution, you could minimize the number of one-time purchases and schedule a retention ad campaign to be launched at the most relevant moment for each customer.

Perhaps an even more valuable benefit of using such a software solution would be to have a singular place where all customer communication is kept. It's well-known that 80% of consumers prefer personalized shopping experiences. So, having insight into all past correspondence can allow customer service teams to make relevant offers that are more likely to end in a sale.
2. Content Production
The second aspect of a complete lead nurturing strategy comes in the form of content marketing tactics.

Although sales and marketing tools will allow you to make the shopping process more streamlined and user-friendly, it's still quite important that they're backed up by more than just selling messages.

A well-developed content marketing strategy can help you transform your visitors into future buyers by answering several needs:

It can position you as the authority in your potential client's eyes, cementing your status as the go-to in your industry.
Content marketing can be a part of your SEO strategy, ensuring a constant stream of organic traffic.
It can help you identify your potential customer's place in the sales funnel.
Depending on the distribution channel, content can help you engage with your audience, speeding up the discovery and evaluation processes.
Gated content can be used as a lead generation strategy.
Of course, the best type of assets to produce will depend on the nature of your business.

For SaaS companies, a resources page such as the one written by Clockify can help them answer common questions. Here, brands can share expertise and convince future clients of the value gained by investing in the software. For example, their DCAA Compliance resource gives an overview of the relevant US laws and the solutions their app offers.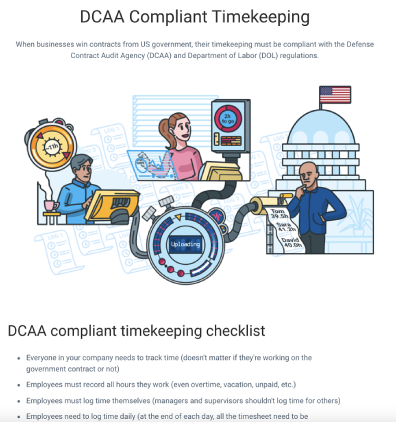 Source: clockify.me
More conventional ecommerce websites, on the other hand, can opt for a different type of distribution. GILI Sports has an extremely relevant content marketing strategy. However, what makes it efficient is that the brand uses a combination of CRM and marketing automation tools to deliver each email at just the right point in the customer's buying journey.

So, for example, after an initial onboarding email campaign explaining the ins and outs of paddle-boarding with a dog, users who follow the link are sent an additional message that expands on the topic they've shown interest in.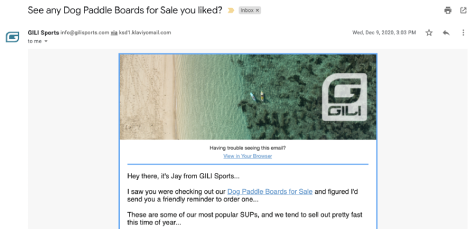 Source: gilisports.com email
The success of content marketing for turning web visitors into customers lies in its no-strings-attached nature.

By providing potential buyers with valuable information they find relevant, you're not just driving traffic to your website. More importantly, you're gaining their trust as a reliable source of information, thus proving that your products are worth the investment. When this is combined with stellar customer service and a personalized buying experience, you'll quickly see your effort reflected in growing conversion rates.
In Closing
As you can see, turning ecommerce visitors into buyers is more than a one-step process. It relies on a variety of elements. These include your website's performance metrics and the capabilities of your sales team.

However, it's evident that with the right software and marketing approach, you can achieve quite a lot to boost sales in the long run. The key is, as always, focusing on high-ROI tactics. And that means building engaged customer relationships, offering value, and providing a stellar shopping experience. And, of course, doing so consistently.