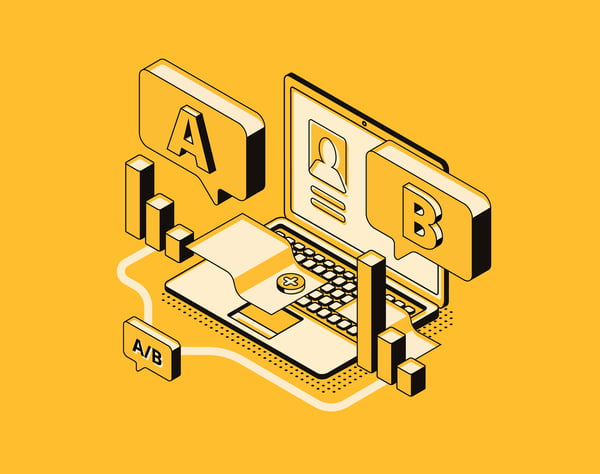 As your email campaign grows for your business, you may wonder how you can continue to improve your email campaigns. You want to increase your email marketing metrics, but you may need to try something different to improve those metrics. Consider using A/B testing to meet your new expectations and goals since they give you the chance to adapt and change your business for the better.
A/B testing means that you send out two variations of emails to see which one brings you the most success. This can include changing the subject line, adjusting the email format, and adjusting your emails in various other ways. While A/B testing may seem strange or different, consider the approach and benefits to see the effectiveness for yourself.
1. Why Should I Use A/B Testing?
Some people might question the effectiveness of A/B testing, especially if they aren't familiar with it. However, A/B testing gives companies a variety of benefits making it worth the effort. This includes increasing profits, gaining data, and other benefits. While A/B testing requires effort, the payoff makes it worth it the time and money it takes to effectively use.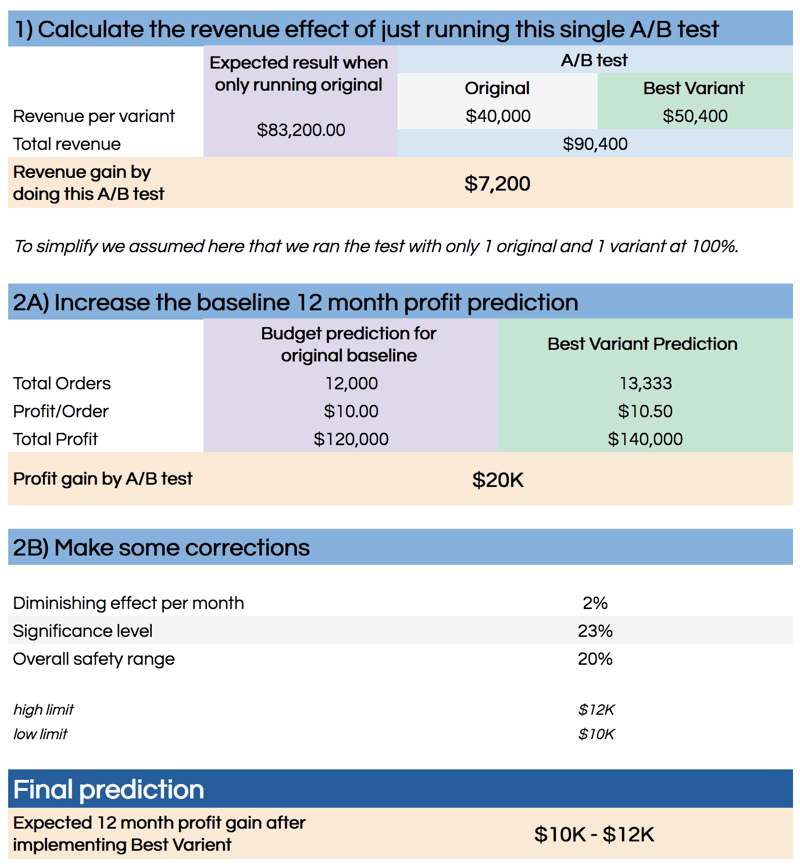 The above photo shows the improvement that a business made over time. They applied their original approach, Plan A, and a Plan B so that they could compare the results between the two. This allows the business to make money from both plans while continuing to collect data to improve their email campaign.
Think of it this way: if Plan B does better than Plan A, this lets the business know to use the changes from Plan B since it increases the business' metrics. If it's the opposite, then the business knows to stick with Plan A while looking for another approach to continue improving. A/B testing allows you to learn about your audience while continuing to make a profit.
2. Preparing for A/B Testing
While A/B testing can help your business to collect data and improve your email campaign, you do need to prepare. If you try to do A/B testing with no thought or reason, you won't see any significant results or improvements. It's important to identify your approach to maximize your data and results.
Ask yourself these questions as you prepare a plan for your A/B testing.
What is my goal with A/B tests?
What should I change about my email campaigns to reach that goal?
How will I split the groups?
When you want to use A/B testing, you should spend some time identifying your end goal. Do you want to increase your open rate? Your click-through rate? Your ROI? The answer to this will help you to think of a change that could increase your metrics. For example, you can try changing the subject line or the first sentence of the email to see if that improves your open rate.
When it comes to splitting the group, you want to aim for accuracy. You can do this by splitting the demographics evenly. Get a good mix of ages, technology usage, and other aspects to get two well balanced groups. By taking this approach, you can make sure that the different results between A/B tests will be as accurate as possible.
3. Deciding on an A/B Test Approach
Your A/B test approach will help you to see the differences between the two customer groups. Once you know your goal and what you're changing, then you can pick an approach. Maybe you want to improve your subject line, so you send customers the same email but with a different subject line to see how the changes affect your metrics.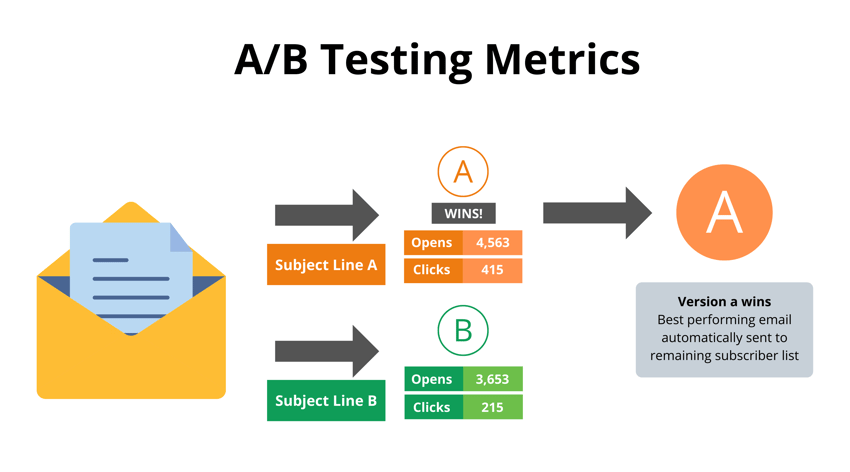 This example above shows that the company has more success with Subject Line A than Subject Line B. The company knows to use subject lines similar to A for the best results. A/B testing comes down to this: compare the two approaches and pick the best one. This will help you to improve your email campaign as you make adjustments according to what you learn.
You can go about A/B testing in various ways. This includes adjusting the format, using different pictures, placing the links in different spots, and similar approaches. The approach will depend on what you want to accomplish and what you think will benefit your company. Seek to make changes that will appeal to your audience so that your email campaign will grow.
4. Using Data Gained Through an A/B Test
Once people complete an A/B test, some may ask "now what?" Once you finish sending out the emails, collect the data so you can compare the changes between the two test groups. From here, you can look at them to see which one had the most success. Make note of the one with the higher rate so that you can continue to improve your email campaign.
Keep in mind that seeing which metric improved won't be enough to improve your email marketing. You need to look at the data and analyze it. Compare the changes and try to determine why those changes caused an increase in your metrics. If you can identify why that happened, then you can apply those changes to future emails to maintain higher metrics.
To effectively use data, you need to analyze it as you collect it. This will provide you with the information you need to adapt your email campaign based on your customers' needs. By keeping them in mind and changing things in a way that appeals to them, you allow your business to develop. This will naturally bring more success and profit to your business.
5. Final Remarks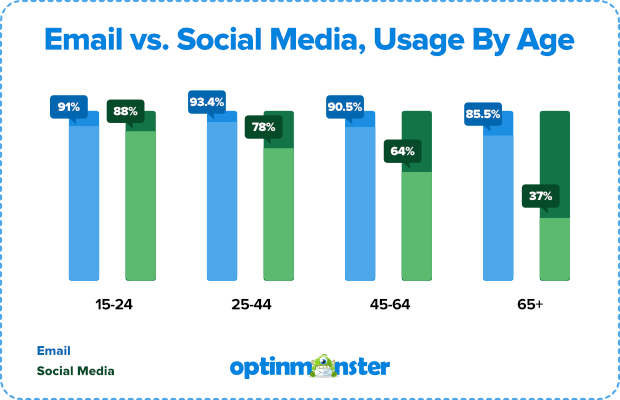 Since over 90 percent of the U.S. population continues to use email, it's important to have an email campaign and adapt it based on customer needs. By using the A/B test method, you can make those adjustments and draw in more customers. After all, with more people using email than social media, it makes sense to improve your email marketing strategy.
A/B testing provides you with the information to grow your email campaign. Even if your intended change fails, then you know to stick with the original approach. By continuing to collect this information while improving your campaign, you can reach more people. This will lead to growth in your business and growth in your profits.