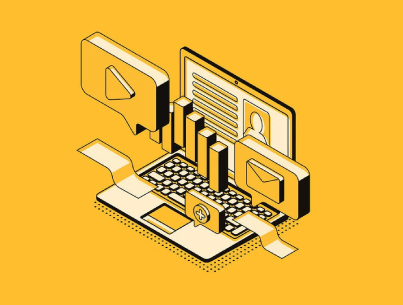 It's every digital marketer's task to contribute to the growth and improvement of a business. To achieve the goals they've set, digital marketers turn to various tools, strategies, and techniques. Marketing and email automation is on the top of the list. The processes behind marketing and email automation can make a huge difference for the digital marketing strategy and the team handling it.
But, how beneficial is automation? There are still those of you who are skeptical and need convincing. The list below will tell you why you need to learn and use marketing and email automation and apply it to your marketing strategy.
Here are 4 reasons why automation is highly popular and in demand.
1. Workflow Overload
Think about the way things used to work 10 or 20 years ago. Marketing strategies looked nothing like what we have today.
With the advancement of technology and the shift to online marketing, things have changed for marketers.
Digital marketers today need to handle and think about things such as:
conversions

organic traffic

measuring and tracking data

personalization

ROI

mass-production of content

extremely strong competition

lead nurturing

cross-sell and up-sell
There's a lot to handle and a single marketer or a small marketing team needs a hand in juggling all those tasks.
This is just one of the reasons why marketing automation is among the top trends in digital marketing today.
2.
The Benefits & Results
Naturally, if marketing and email automation wasn't so beneficial and useful, it wouldn't be so in demand. The truth is, there are numerous benefits that come with applying marketing automation.
Let's break them down and see what it's all about.
●
It Saves Time
Everybody needs more time and digital marketers are no different. When you think about all the things you have to finish during your work hours, you always feel like an additional hour or two would save you.
Well, marketing automation can give you the extra time that you need.
This is because of marketing automation:
takes care of repetitive activities

removes the redundant tasks

creates a smooth workflow

increases productivity
"When marketers have less repetitive tasks to handle, their creativity and productivity increases. This is beneficial for both the employer and the customers," says Mathew Pearson, the head of the marketing department at Pick The Writer.
●
It Saves Money
Digital marketers and marketing teams often question whether or not they should invest in marketing automation software such as, for example, Marketo.
But you have to be aware that marketing automation can only save you the money, and not increase your expenses. Here's why:
you don't have to hire more people

you don't have to outsource

your current team members become more productive

you get more things done in less time

you can accept more clients

you get an increase in ROI
It's that simple.
●
Generating Leads Efficiently
It's hard to keep up with every lead manually. It's better to say-impossible.
Automation can help you generate leads more efficiently and act upon every person that comes in touch with your website or social media.
Here's what you can do with automation:
determine each lead's place in the purchasing cycle

determine which products they're interested in

send customized, automatic follow-up emails
You could use automation software such as Infusionsoft. You'll be able to keep in touch with every lead and make the most out of every opportunity.

source: Keap
And one more great tool you will find on HubSpot. You could automate your follow up emails and even track emails to find the best performing sequences.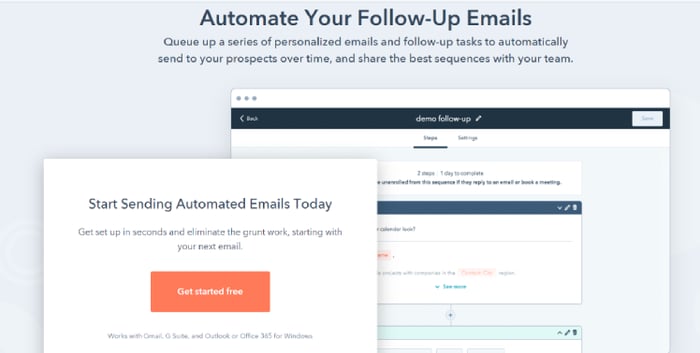 ● Gets The Right Message Across

Automation has another benefit that you should make the most use of. It raises the bar of email automation and helps you retain customers or gain new ones.
Here's how email automation works:
it builds your email list

it divides your list into subgroups of leads

it sends different email copies to different target groups
All you have to do is create several email copies and the automation processes will recognize who to send them to, and when. If you need help with writing, you can use services or tools such as Wow Grade, Grammarly, or Supreme Dissertations.
"The power of email marketing grows exponentially when you automatically send targeted messages based on specific customer behaviors rather than doing it manually".(Entrepreneur)
Automation is simply made for improving your email marketing strategy.
● Handles Social Media

Social media platforms are marketing powerhouses. You can't imagine running a successful marketing campaign without involving social media.
Automation can help you:
manage all social media platforms at once

pre-create and schedule posts for publishing

send personalized messages to followers
Marketers will spend less time adjusting and posting the same content on different platforms. Instead, automation will do it for them.
The listed benefits are just the tip of the iceberg but are more than enough to get you thinking about boarding the marketing and email automation train.
3.
Accessibility
The last thing digital marketers need is more complication processes they have to think about. Luckily, marketing automation is far from complicated.
If you check out marketing automation tools, software, or platforms such as Hub Spot or Pardot, you'll quickly learn just how easy it is to set up your marketing automation strategy.
Marketing automation is:
easy to set up

simple to configure

accessible for anyone anywhere
All you have to do is determine the goal of your marketing automation strategy, and choose the best tools for reaching your goals.
The simplicity of it is another reason why marketers love automation and continue to use it.
4.
Every Marketer Needs it
According to Hub Spot, nearly 90% of agencies say their marketing automation strategy is successful.
Statistics show that more and more marketers are turning to automation as a logical choice for improving their success rate.
There's no doubt that marketing automation needs to become a part of your marketing strategy.
You should think about the marketing processes that should be automated and start working on that as soon as possible.
Final Thoughts
After reading this article, we can together answer the initial question that we've raised. Why is automation now becoming so popular and in-demand? The answer is simple. because it works.
As we've covered above, automation can make all segments of your marketing strategy better. It will make things run smoothly, improve employee productivity, and deliver results.