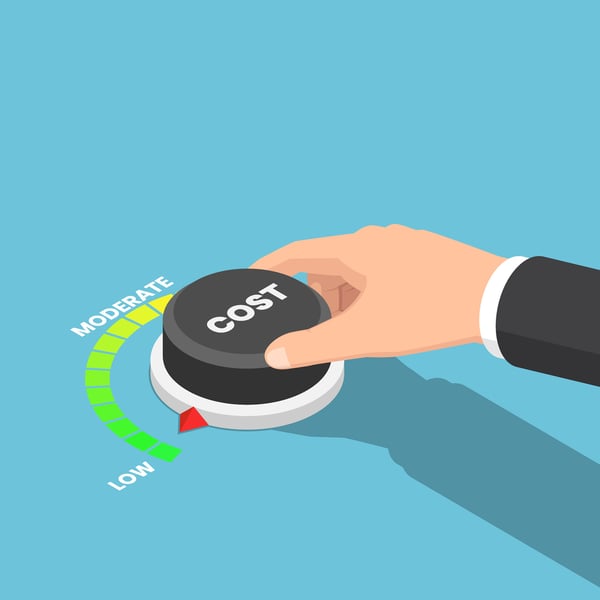 There is one sure fire way that'll help cut down unnecessary spending in relation to HubSpot subscription, and that's managing your contact list numbers.
How does HubSpot's 'Contact Billing' work?
This is how your contact billing works, as of October 2019:
Imagine that the number of contacts you have in your CRM are like a wave splashing up a wall, and the billing for contacts will be taken from the highest point the wave hits.
What happens if you sign up as 1000 contacts, but you then exceed that number?
When you exceed your agreed upon number of contacts, you will be billed at that level for the continuation of your contract unless contacts are removed 45 days before billing is issued. Applies to quarterly and annual payments NOT monthly.
Can you reduce your number of contacts and bring your monthly billing 'back down' again?
During your contract period, you can reduce the number of contacts but it will not reduce the amount you pay on a monthly basis.
If you remove contacts before your next contract period*, can you reduce your next monthly billing cycle payments?
Yes, if you remove contacts at least 45 days to be safe (40 days before is your renewal audit) you can reduce your next contract's billing payments e.g. as you've returned to 1000 contacts.
*Note: this is 'CONTRACT', not 'contact'.
If you tip over your agreed upon contact tier e.g. from 1000 to 1200, and you remove those contacts quickly, can you remain at your existing payment level i.e. for 1000?
Yes, but you need this to be done 45 days prior to your next billing date i.e. if you are on quarterly payments, you need to do it 45 days prior to when that bill will be issued (note: not when it is due for payment)
Important to note if on monthly billing: If you pay monthly and you go over 1000 then you will start paying for 2000 contacts on the next monthly payment. There is no grace period when contacts can be removed.
If you pay annually, and you have 1000 people as your contact tier and you go over that level during the year, but they are removed 45 days before your contract renewal, will you still get charged for the next year at the higher level? No, on that basis, you could return to 1000 contacts for the next year.
In summary: Once the number of contacts rises and is billed for, the billing will stay at that level of contacts for the rest of the contract term.
To recap: For those on quarterly or annual payments the consequence of the increased contacts can be managed by reducing the contacts 45 days before the next bill is issued. Monthly payments will be charged at the increased number of contacts.
Tip: you can set up an additional free HubSpot CRM portal - then import your archived contacts there. You won't, of course, receive notifications for revisits (for opted in contacts) and that data connection point will have been lost in the export/import process.
There we have it!
Want to chat about how we can help?
Well, please do get in touch with us here or call +44 2921 680180