How much are you willing to spend on PPC to see results?
According to a variety of reports, the average small business will spend between $9,000 and $10,000 on pay-per-click advertising monthly.
If you've got that kind of budget – great for you! However, if you're looking for ways to cut costs or maximize your ROI, you'll need to do much more than the average entrepreneur. Ideally, you'll want to make the absolute most of every cent you spend through Google and Facebook Ads.
One of the commonly overlooked aspects of PPC advertising is that it's far more than just a way to (temporarily) boost traffic. In fact, when done right, it can become a direct investment into SEO, UX, content marketing, and a host of other performance-boosting actions or website elements.
How You Can Use PPC Data
The power of PPC advertising as a data collection tool comes from the built-in option to split test your ads.
This means that, in addition to seeing what type of marketing messaging works best with your target audience, you can also focus on different website elements and change them in a way that'll boost key metrics like click-through rates and conversions.
Moreover, with the right approach to PPC, you can also gain insights into ways to improve your other marketing efforts. By knowing what tone, visuals, and targeting work best, you can avoid mistakes, wasteful spending, and ensure that you get the best bang for your buck with every campaign you run.
Getting Started
Before you create a Google or Facebook Ads campaign and spend your hard-earned green on average results, you should understand that split testing isn't something you'd mindlessly use on all your pages.
Instead, what I like to do is apply the Pareto principle to PPC data collection.
What this basically relies on is the theory that, in business, 80% of the results come from 20% of the work. Of course, this doesn't mean that the rest of your efforts are wasted. However, you need to identify and target the aspects of your input that bring in the highest profits.
If you're going to use PPC advertising for data collection (and use that data to improve other marketing channels), my suggestion would be to choose the pages on your website that get the highest amount of traffic. Ideally, these would be landing pages and product collection pages.
From my experience, sending visitors to your homepage isn't the best way to spend your money as there's too big of a chance of a bounce. But, if you're looking to optimize it for UX, it might also be a good fit.
How to Split Test
Creating an A/B or split testing campaign is relatively easy, especially with a powerful landing page tool like HubSpot's free landing page builder. Both Facebook and Google Ads offer pre-existing templates, and you can easily find instructions on how to set them up.
However, what you should pay attention to is what exactly you choose to test.
On the whole, there are two options:
You can launch variations of the same ad (A/B testing) to see what elements drive the highest click-through rates, or
You can split test your ads to lead to different versions of your landing pages to identify the approach that'll lead to the most conversions.
Whichever of these two alternatives you decide to go with, there's one rule to heed: you need to track data diligently and be well-acquainted with your analytics software. Moreover, go through your advertising platform and know what type of insights you can expect to receive.
While both Google and Facebook offer similar information regarding your ads, getting to that data is going to take slightly different journeys. So, know where and what to look for before your advertisements start to run.
Furthermore, my advice for both beginner and experienced marketers is to perform tests one by one to get the best possible data and eliminate any guesswork. If you consider the fact that paid ads effectively drive traffic, you'll be able to analyze all the details you wish to look at in a relatively short time, so there's no need to rush.
Elements to Test
Once you've decided which of your pages are worth testing and opted for a platform to run your campaign on, it's time to get to work.
Obviously, you can choose to A/B test a variety of landing page elements. However, if your aim is to apply the data to other marketing channels, the following are my top suggestions.
Headlines & Copy
As you're well aware, every piece of text you use on your website is going to be of importance. And there's more than one reason behind this:
Copy contains search terms, which are crucial for SEO, reach, and audience targeting. There are many

keyword research tools

you can use to identify short and long-tail phrases to rank for. But, your ad insights will give you information regarding how each of those keywords converts (which is, ultimately, what you want to aim for).
Various marketing messages are going to inspire different actions. So, by testing your copy, you can determine which messages perform best at lead generation, sales, building brand authority, offering value through educational content, etc..
Diverse marketing formats will require varied approaches (e.g., Instagram Stories vs. posts), so, by testing your copy and headlines, you can figure out what works best, then apply it to the rest of your efforts.
Testing Headlines & Copy to Boost SEO
Do you want to increase click-through rates or conversion on your homepage/landing pages? Are you looking to improve SERP rankings? If boosting SEO is what you're after, a Google Ad can help you determine the best way to shape your content.
For example, your product may offer a multitude of benefits, as is the case with Forms on Fire. Although this type of versatility is an excellent selling point, it can complicate the way you present information on your website. Focusing on just a couple of features could cause you to lose business. Too much text, however, lacks focus and could lead to the exact same effect.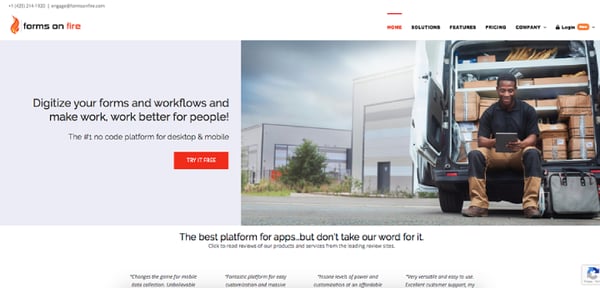 image source: formsonfire.com
One way to pare down text-heavy pages would be to use PPC data to identify the top points that drive traffic, as World Nomads did. The insurance company identified the keywords they wanted to rank for and created several ad versions. From there, they could track each link, looking for the ones that got the most clicks and conversions.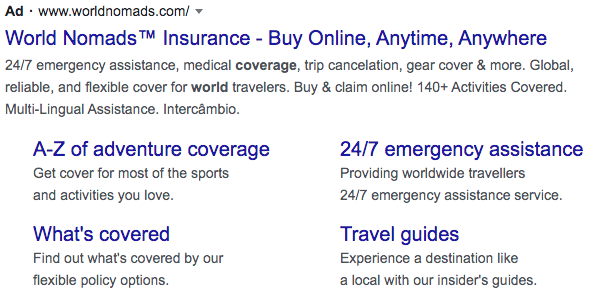 image source: google.com
The PPC data offers an opportunity to modify their website. With direct insights into what ad headlines had the highest CTRs, the company could feature them higher up on their homepage and include them in cornerstone content.
By going this route, World Nomads has the chance to unlock a lot of potential – not just in terms of reach, but even more, by ensuring that all their marketing efforts are as efficient as possible.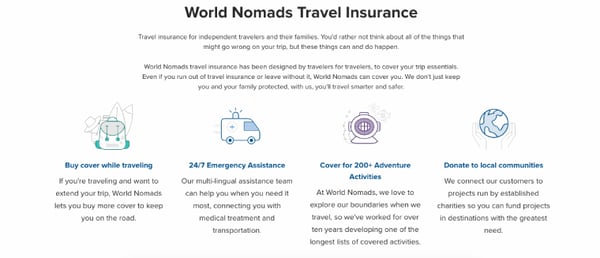 image source: worldnomads.com
Calls to Action
The CTAs you use on your website or social media pages are going to increase (or decrease) the likelihood of making a conversion. And though there are numerous articles on how to create winner CTA buttons, it's still highly recommended that you test whether your primary choice actually works with your target audience or not.
CTA Testing Options & Marketing Improvement
If your business is just getting started, you can run a PPC campaign to A/B test for the best calls to action.
If you've got more than a single CTA planned for your homepage, as in the case of Aura, the statistics from a paid campaign will give you clues on what button should take a central position. Ideally, you'll choose the one with the highest click-through and conversion rates.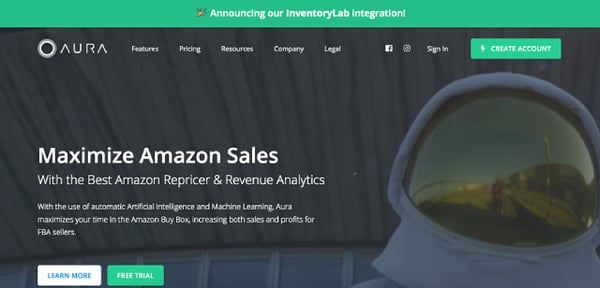 image source: goaura.com
As you can see from the screenshot above, the most prominent choice for the Amazon repricing software was the Free Trial button. Although equally important, Learn More and Create Account weren't as likely to lead to sign-ups by leads in the final stages of the sales funnel. So, both of those options are featured on the homepage. However, they're not as striking as the green button in the middle of the hero section.
But, that's not where the potential of using PPC data to improve CTAs on other marketing channels ends.
If you're planning a holiday sale, then a split test could help you determine which of your special offers should be highlighted. As paid ads tend to be quick at generating traffic, you can create a split test and not waste too much on a time-sensitive issue.
If you take a look at the Bay Alarm Medical homepage, you're likely to notice the rather wordy CTA button. Web visitors are being shown three messages (free shipping, up to 20% off select plans, and shop sale), which might lead to bounces instead of conversions.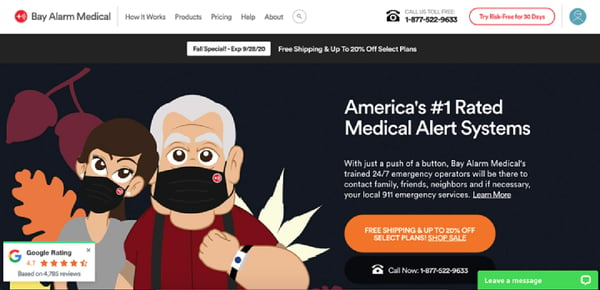 image source: bayalarmmedical.com
To avoid this, the brand should have run a split test PPC campaign and identified the ideal CTA message that's both short and compelling.
Images, Videos & Other Visuals
The sad reality of marketing is that both entrepreneurs and designers have a tendency to follow their personal aesthetic taste instead of basing their decisions regarding a brand's visual identity on data. You'd be surprised by how many times I've seen a brand try to be adorable when targeting college freshmen or fail to create inclusive visuals for a product developed around diversity.
Luckily, you can avoid these mistakes (at least partially) through running a PPC campaign and seeing what direction it takes you in.
A/B testing Instagram and Facebook content, for example, can be an excellent way to see what resonates with your target audience. Creating two or three versions of an ad, and then tracking down the version that inspires the most engagement or highest click-through rate is going to be a great way to plan your future posts.
For an example of a company that used data from visual ads in a way that benefits their business, you can take a look at what inFlow Inventory is doing with their social media profiles. A quick look at their Facebook page will show you that each type of post is followed up by a different sort of visual. So, blog posts include hand-drawn sketches, while their new feature posts come with an in-app view of the new functionality.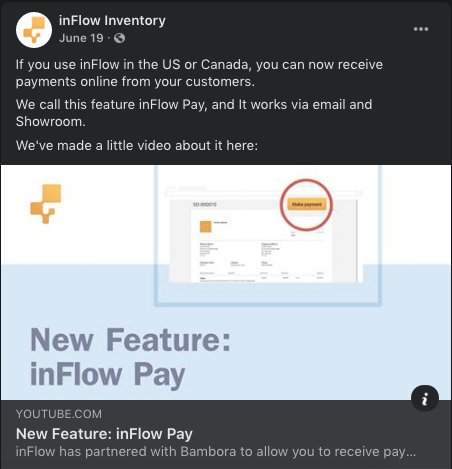 image source: facebook.com
The same choices are then carried over to their landing pages, where their content is highlighted with the same type of image or video.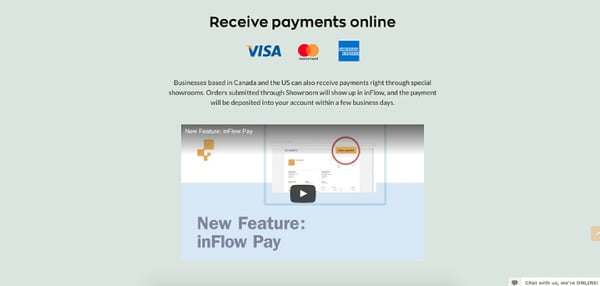 image source: inflowinventory.com
On the one hand, this practice creates consistency over several channels. On the other, it also trains the company's customers to associate different types of content with different visuals. This automatically contributes to steadier results in terms of traffic and conversions, simply because the audience knows what to expect. Things would be entirely different if the brand used a random stock image with each of their posts.
Other Ways Boost Marketing Efforts with PPC Data
Thanks to the numerous opportunities to test and analyze ad performance, marketers and business owners can make informed decisions on almost any aspect of their advertising. However, as the web becomes more saturated with businesses competing for those top SERP positions, organic traffic is automatically going to become harder to achieve.
That's why you need to use your PPC data to go a step further in reaching new audiences (not just optimizing what you show to existing leads).
One of my absolute favorite ways to do just that is to explore all the data I can get from PPC platforms – not just to test what I'm doing, but also to find opportunities to expand my operations.
For example, look at the search terms section of your Google Ads account. What are the phrases triggering your ads that you haven't targeted? How are they performing? If you find that a search term has a high CTR and conversion rate, perhaps you should consider creating content for your website that would drive organic traffic?
This is a strategy employed by SavvySleeper with their Studies & Research website section. By keeping a close eye on the search terms for their PPC campaigns, they've developed a blog that tackles unique topics scarcely covered by similar resources.

image source: savvysleeper.com
A step further would be to take that same PPC data and use it to target segments of their audience through forums, Reddit, or Quora. This way, they'd not only be investing in SEO, but by providing relevant content, they'd also be increasing the likelihood of making a conversion thanks to a well-researched content marketing strategy.
Next Steps
As you can see, the sky's the limit to what you can do with the data you get access to with paid ads. By exploring a variety of options and combining the insights with your already existing marketing strategies, you're bound to achieve great results.
Nonetheless, don't forget that nothing comes overnight.
On average, only 2-4% of your website visits will end up in a transaction. Your aim should be to learn as much as possible about these people so that you can become better at identifying (and reaching) other potential customers. Still, that doesn't mean you should give up on the remaining 96% of your visitors. Make sure you study them as well. Use retargeting, change your approach to see if something different works, and combine all the channels you have available to you.
This way, you'll work your way up from having to invest in PPC to doing even better with your well-researched and implemented SEO-based marketing efforts.
Author Bio:
Travis Jamison has founded a dozen online businesses over the past decade, mostly in e-commerce, SaaS and marketing services. As founding director of Smash.vc, he invests in bootstrapped, online businesses and helps them grow.