Keyword research is the foundation of on-page SEO. It is vital for search engine rankings and driving organic traffic to your website.
However, finding the right keywords can be tricky, especially if you are not an expert in the field.
Luckily there are some great keyword research tools on the market that can help you kick-start your blog or strengthen your content marketing strategy.
In this guide, you will get familiar with the best keyword tools that pros use for lead generation in 2020:
1. Soovle

[Source: Soovle]
Soovle is a keyword research tool that SEOs can use for free. It provides search suggestions from several sources including:
Wikipedia

Google

Amazon

Yahoo

Bing

YouTube

Answers
Though it has an outdated theme, it is fast and easy to use. Pros count on its help mostly because of its unique features like Soovled link, Saved Suggestions and customized search results.
By typing a broad topic in a specific niche, businesses can get a bunch of keyword options from different search engines at a single platform.
The best part about Soovle is that it is quite simple so everyone can use it.
2. Ubersuggest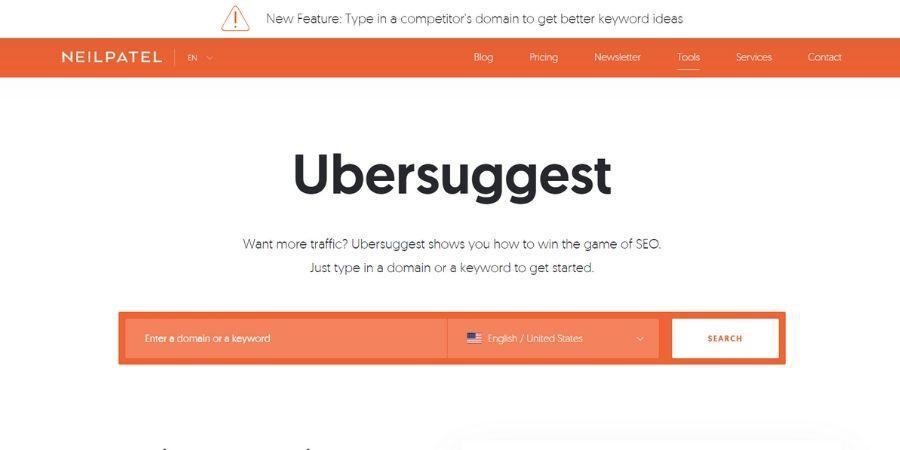 [Source: Ubersuggest]
From short terms to long-tail phrases, Ubersuggest provides hundreds of suggestions within seconds. It is free to use and brands can get an insight into the keywords' volume, competitiveness and seasonal trends.
SEOs can receive a list of key phrases based on what works for their competition as well as on what people search for in Google.
This keyword research tool also shows which content pieces people are linking to which allows businesses to understand how these links impact their rankings.
3. Jaaxy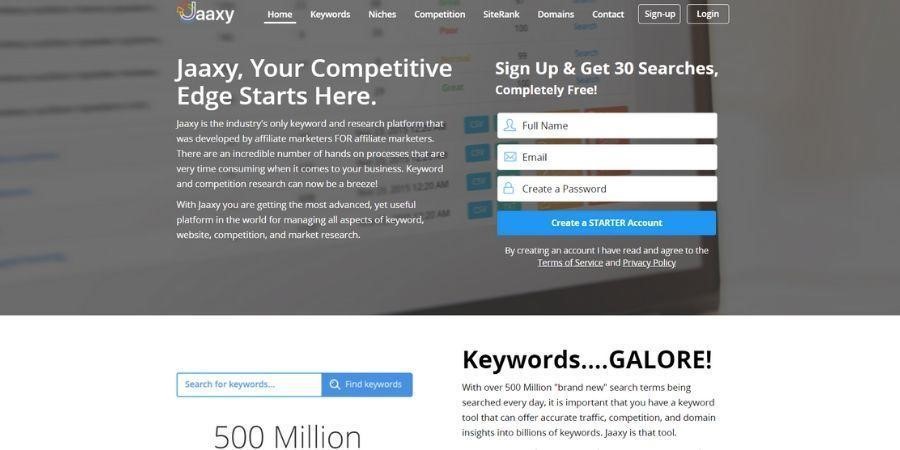 [Source: Jaaxy]
Jaaxy is another keyword research tool that uses data directly from Google. In a matter of seconds, it generates unique ideas and provides helpful data like search volume, competition and traffic.
What makes Jaaxy stand out from the other tools on the market is its Quoted Search Result (QSR) feature. It shows users how many websites rank for a specific keyword in Google.
This allows businesses to estimate how big their competition may be.
Jaaxy has three pricing plans:
Starter

(it is a free version that allows you to perform 30 keyword searches)

Pro

(it costs $49/month and it is most popular among new websites)

Enterprise

(it costs $99/month and it is the best option for SEOs who put together large lists of keywords)
4. SEMrush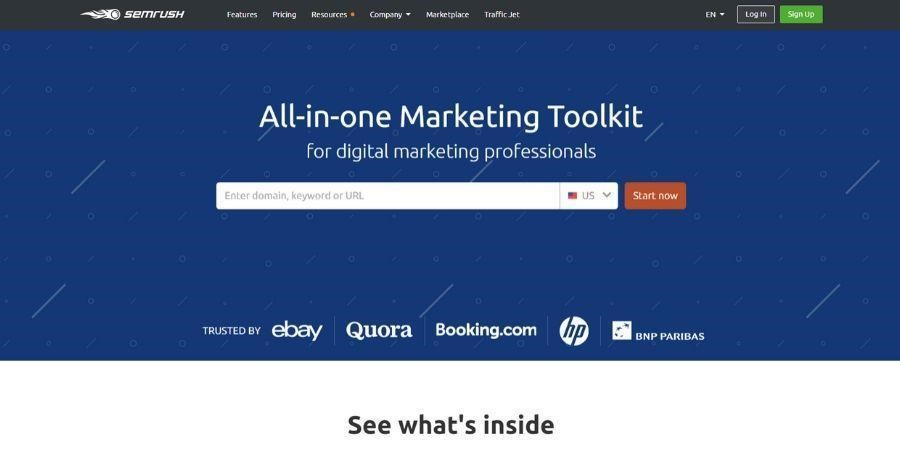 [Source: SEMrush]
SEMrush is a competitor and keyword analysis tool that puts together lists of the exact keywords competition ranks for. Brands can also get an insight into the paid keywords their competitors make efforts for.
This allows businesses to strengthen their SEO strategy by discovering unique key phrases that are proven to work.
5 million people worldwide use SEMrush to do organic and advertising research, conduct a deep link analysis and monitor their competitors' marketing activities.
This is a paid tool that offers three pricing structures:
Pro

(it costs $99.95/month and it is most suitable for freelancers, startups and in-house marketers with a limited budget)

Guru

(it costs $199.95/month and it is the best option for SMBs and growing marketing agencies)

Business

(it costs $399.95/month and it is a good choice for agencies with an extensive web presence
Brands can also get a seven-day trial for free.
5. WordStream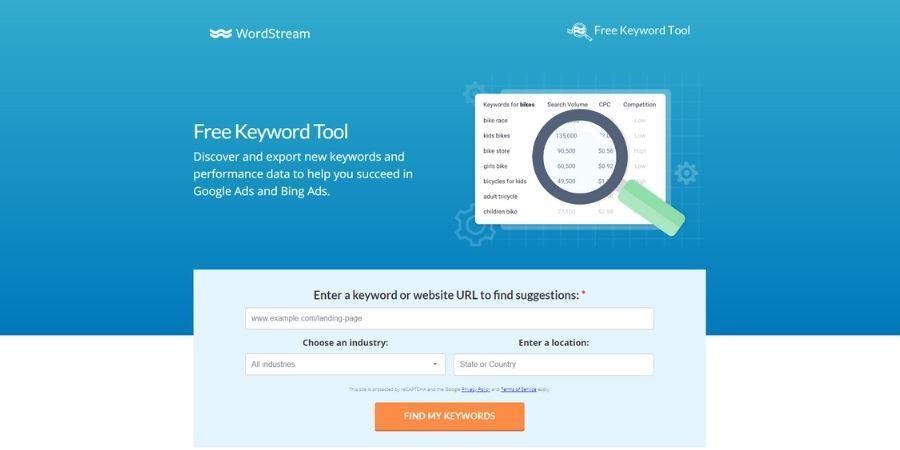 [Source: WordStream]
With the WordStream keyword research tool businesses can generate ideas by entering a topic or URL. Unlike other tools, it has special features - targeting specific industry and location.
Thus, brands can get hundreds of relevant results tailored to their niche and country.
WordStream provides its users with useful data on estimated CPC and competition scores while allowing them to download full lists in CSV formats.
Brands can use this tool for free and conduct 30 searches per month. Or, to get unlimited searches, they can subscribe to Wordstream Advisor and pay $229/month.
6. Ahrefs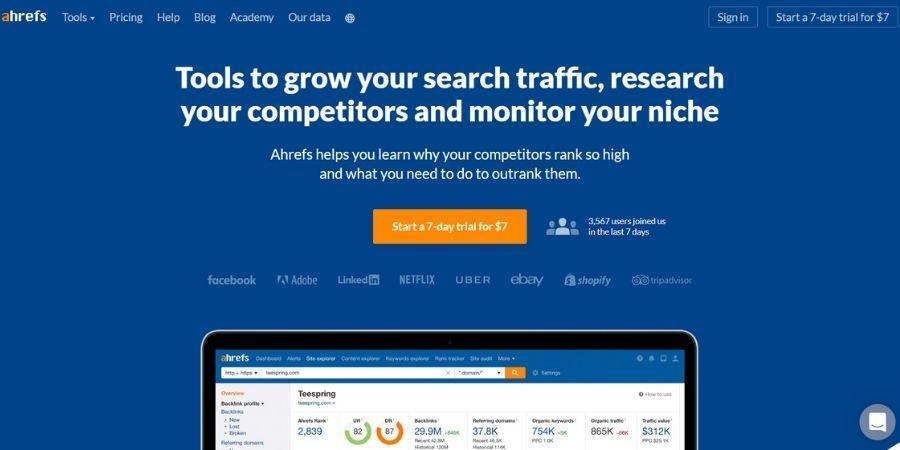 [Source: Ahrefs]
Ahrefs helps brands make smarter keyword decisions by providing them with in-depth information about each key phrase and the number of links you will need to become top 10 ranking and start generating leads and traffic for your site.
They can get useful data on keyword difficulty, volume, CPC and more. The tool can generate hundreds of variations for the keywords they type in while showing key insights into searchers' behavior and search engine ranking history.
Ahrefs allows businesses to:
Perform competitive analysis and see how their competitors rank in organic search

Conduct backlink research and see who links to their websites

Track desktop and mobile keyword rankings

And more
This keyword research tool is paid and brands can choose between four plans:
Lite ($99/month)

Standard ($179/month)

Advanced ($399/month)

Agency ($999/month)
Ahrefs offers a trial for $7.
7. Moz Keyword Explorer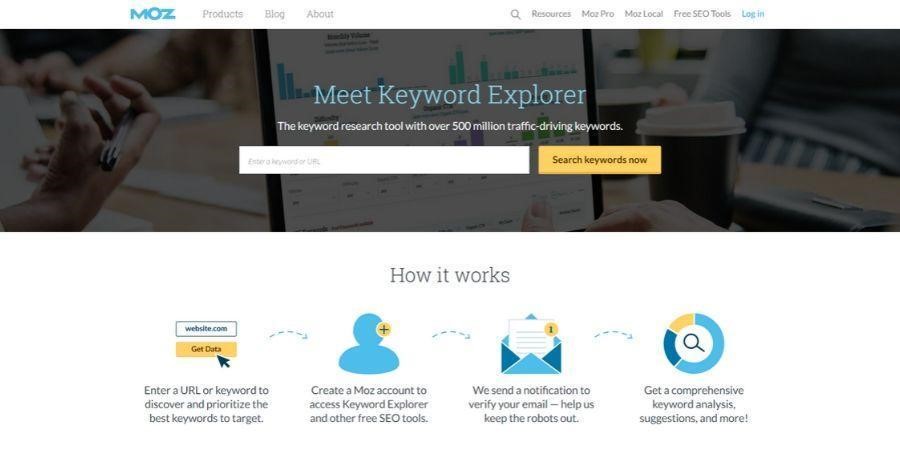 [Source: Moz Keyword Explorer]
Using the Moz Keyword Planner, businesses can conduct in-depth keyword and SERP analysis. The tool provides key data like keywords volume, difficulty and organic CTR that allows brands to predict their ability to generate traffic.
Businesses can see what keywords their websites rank for but also get insights into their competitors' most important keywords.
They can save keyword lists and export them into CSV files.
Moz Keyword Explorer has four pricing options:
Standard ($99/month)

Medium ($179/month)

Large ($249/month)

Premium ($599/month)
Businesses can get a 30-day free trial.
8. Keywords Everywhere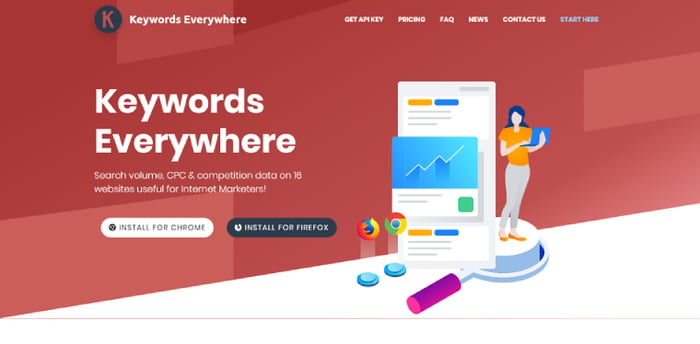 [Source: Keywords Everywhere]
Keywords Everywhere offers important keyword data on search volume, CPC and competition. It is, in fact, a browser add-on that web users can install on Chrome and Firefox.
It displays data from 16 websites including Amazon, Answer The Public and eBay and it also shows metrics for related keywords and people searched for phrases.
Keywords Everywhere is a paid tool, but unlike the other tools on the market, it charges one credit for a keyword.
Thus, businesses can buy:
100,000 credits for $10

500,000 credits for $50

1,000,000 credits for $100

2,000,000 credits for $200

5 million credits for $500

10 million credits for $1000
9. KW Finder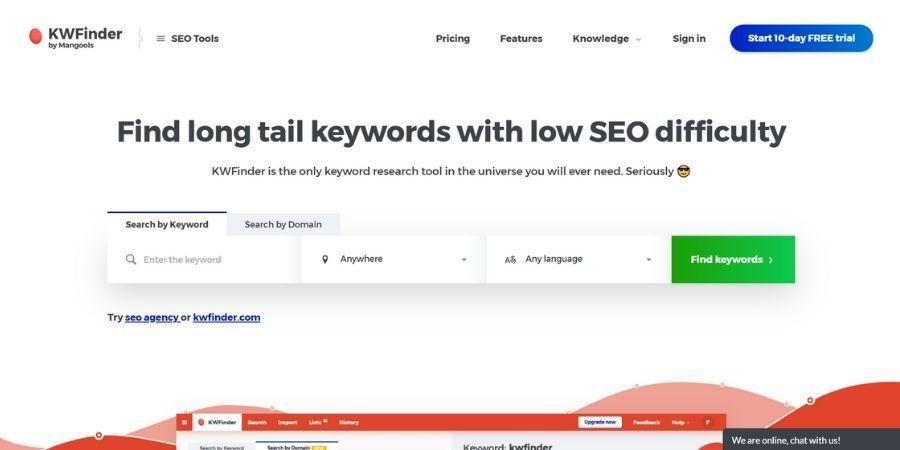 [Source: KWFinder]
KWFinder allows its users to find long-tail keywords with low difficulty and high search volume. In other words, using this tool, brands can find key phrases that they can easily rank for.
It tells how hard it can be to rank for specific keywords and also see what competitors rank for. Simply by entering a domain or URL, KWFinder will generate competitor's keywords within seconds.
When conducting their keyword research, brands can choose location and languages which allows them to personalize their search.
This keyword research tool is paid and offers three pricing plans:
Mangools Basic ($29.90/month)

Mangools Premium ($39.90/month)

Mangools Agency ($79.90/month)
10. QuestionDB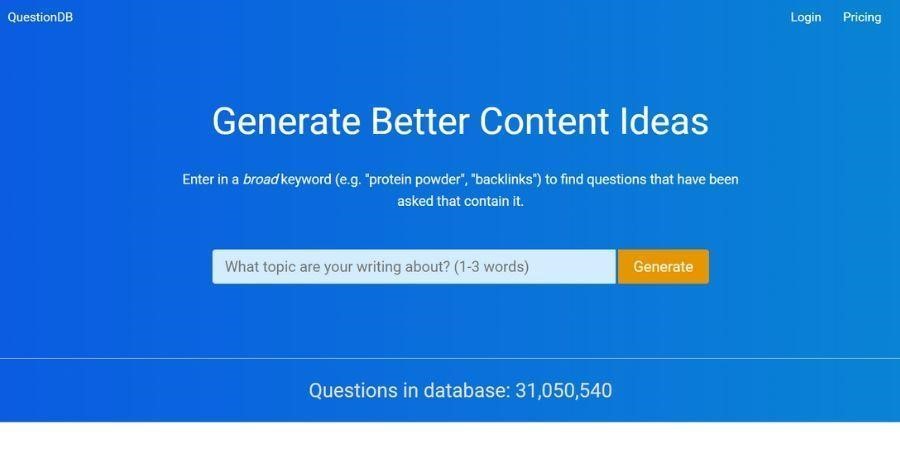 [Source: QuestionDB]
With QuestionDB, brands can generate better content ideas with content discovery. By entering a topic in the search bar, they will tap into its collection of user questions and get hundreds of original ideas for their new content.
The tool uses smart algorithms to categorize different questions and provide users with relevant data.
One of its best features is Popularity. It allows users to sort the results from the most popular to the least asked questions on search engines.
QuestionDB offers a free version where users can get up to 40 results per search. Or, they can purchase the paid version which is only $10/month and enjoy complete results.
11. Google Keyword Planner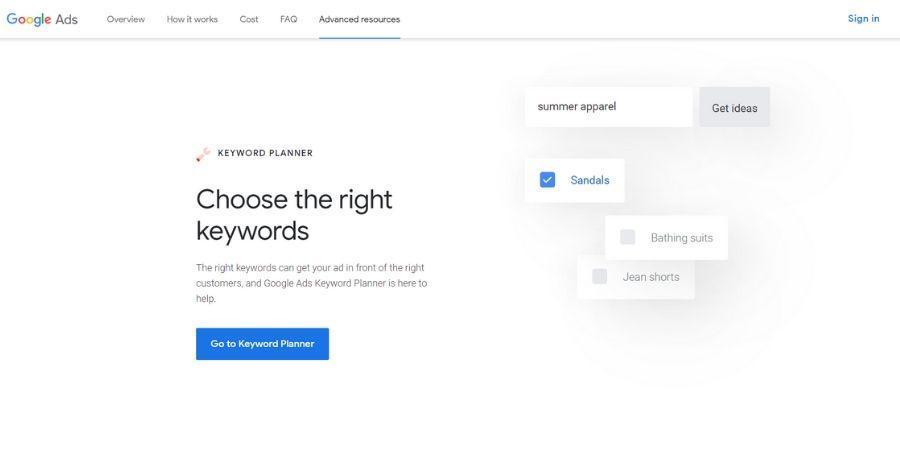 [Source: Google Keyword Planner]
Many pros consider Google Keyword Planner as the most reliable and accurate source for keyword research since the results it generates come directly from Google.
However, unlike most of the other tools that focus on providing keyword data for organic search, it's aim is to help brands with paid ads.
It helps businesses to find commercial keywords using the "top of page" bid range as well as discover how much advertisers bid on these keywords.
This tool is free of charge.
12. Keyword Tool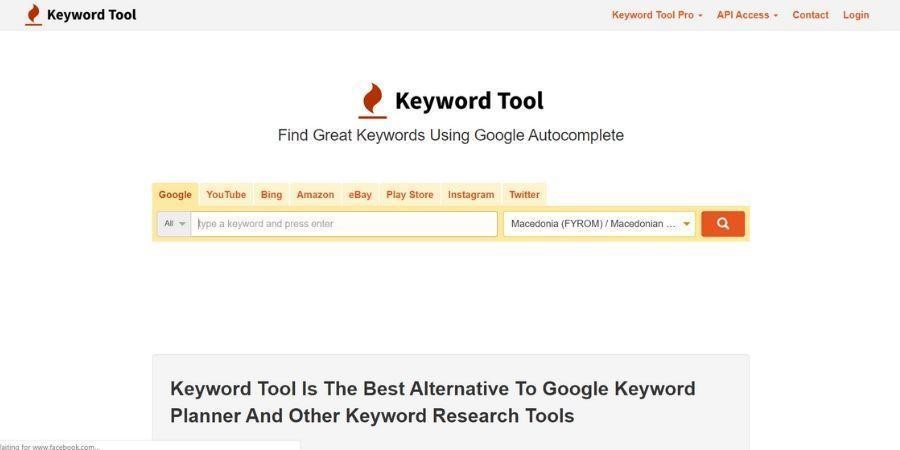 [Source: Keyword Tool]
Keyword Tool shows results from several platforms including Google, YouTube, Bing, Amazon, eBay, Play Store, Instagram and Twitter.
This is one of the best free, keyword research tools on the market because it allows brands to filter their searches and analyze their competitors.
Users can search phrases in images, videos and news and even select a location and generate more than 750 long-tail keyword suggestions for every search term.
Final Thoughts
Targeting the right keywords for your SEO and content marketing strategy is one of the most efficient ways to improve your search engine rankings and attract consistent, quality traffic to your site.
Using the above-mentioned keyword research tools will help you gather meaningful data and easily decide what key phrases will work the best for you.
Choose the one that works for you the best depending on your budget and business needs.