Background
When Overture came to the UK in the early 2000s it transformed how I thought about marketing.
Then Google Adwords took it up a level.
This was almost 15 years ago, and the Adwords platform has continued to develop - bringing negative keywords, remarketing, YouTube etc.
But this year was the first time I put a course together on it - with a real focus on one thing:
Making sure you track your cost per acquisition of a sale, not just a conversion to lead.
In the course talked a lot about setting clearly defined outcomes for your campaigns, and the basics all stand true:
Granularity is the key - in many of the Ad groups we only have 2 or 3 keywords
Check what is triggering your Ads on a Daily Basis.
Add Negative Keywords for anything undesirable
The sooner you can stop using Broad Match, often the better - but you have to build up enough data for a long time first
Treat the client spend on Adwords as if it was your own money
Test, test and test some more.
This was released in June 2016 and already has over 50,000 views.
https://www.lynda.com/PPC-tutorials/Intermediate-Google-AdWords/471974-2.html

The problem to solve:
One of the biggest issues I've had for Adwords in relation to lead generation campaigns has always been how to best close the loop i.e. how to know whether the leads converted to sales.
With Hubspot's new Google Ad on, they have solved this issue and I must say I am impressed with how easy it has been to get the evidence we need to have to justify spend.
In the 'manage section' not only can you review what is happening, but you can also set up a campaign right from within the dashboard:

But the real fun starts when you can get a clear view of the funnel, through the Analyze tab:

Even though you may think $1,100 is a lot for the acquisition of a new customer, actually our target cost per acquisition is $750.
With 21 'conversions to sale', and already one customer we are well on track for the month.
Why? Well, there is a lag time of many months from point of contact to point of sale, and this data is over the period of 10 days.

Being able to get the person' name that is a conversion to lead is handy:

And you can 'click' to get customers so far: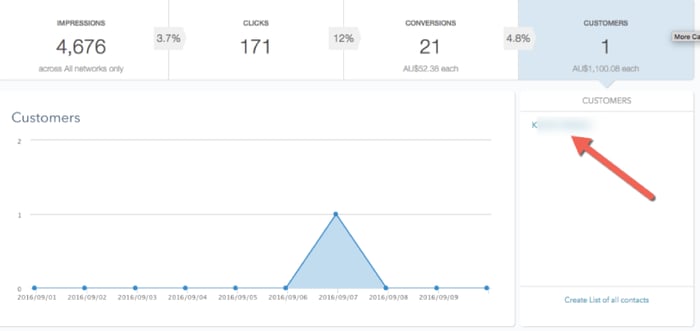 Combining this with landing page performance and you can see in a much more granular fashion what keywords/what pages are performing the best:
(and adjust to suit)

As you can see, there is a range from 9% conversion rate through to 50%

This is perfect information to have, providing you know that a conversion-to-lead is just one step in the process to moving people toward sale.
Going Mobile:
The greatest aspect of this tool though, is the mobile app.
The key thing here is this...
Using different landing pages for different stages in the funnel.
This is the top of the funnel one:
http://www.thecoachingroom.com.au/what-is-nlp-landing-page-two
This is middle of the funnel:
www.thecoachingroom.com.au/nlp-practitioner-certification-sydney-landing-page-one
It all depends on the Keywords>Page intent, and you are going to have to test a lot.
Then we can look at any split tests that could be run: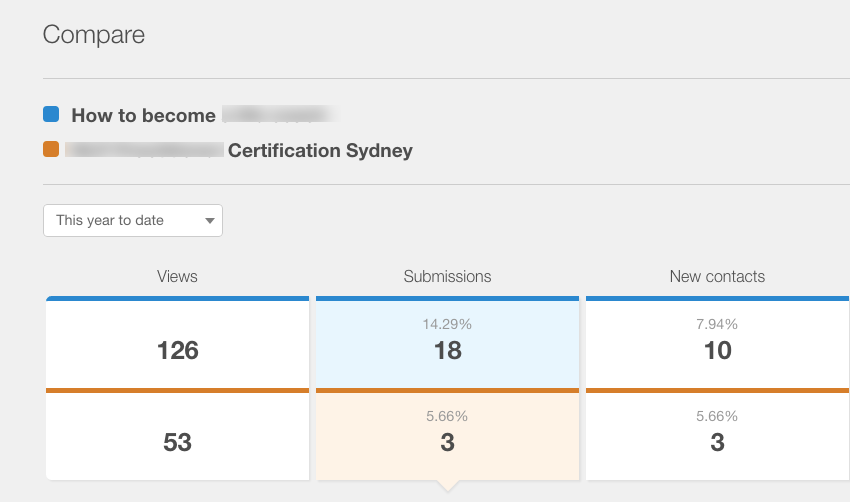 The %s can be telling, but you need to make sure you are measuring apples against apples i.e. that the pages serve the same purpose AND that they are able to deliver the key end point - sales.
Finally…
Let me say it again another way:
With the Hubspot plug in, you can CLOSE THE LOOP and see which keywords are generally sales, which pages are generating sales, and where your revenue is coming from via Adwords spend. This is fantastic as no longer are you blind to what happens when you leads are sent across to the sales team.
Also, it will help you justify more Adwords budget, and trim the fat along the way.
As an Official Google Small Business Advisor I am impressed with the result for the client, and it encourages me to suggest people with a growing business move to Hubspot sooner than I would have done before.
Want consulting? Contact me here.
Note: neither Google nor Hubspot have made any payment relating to this article.