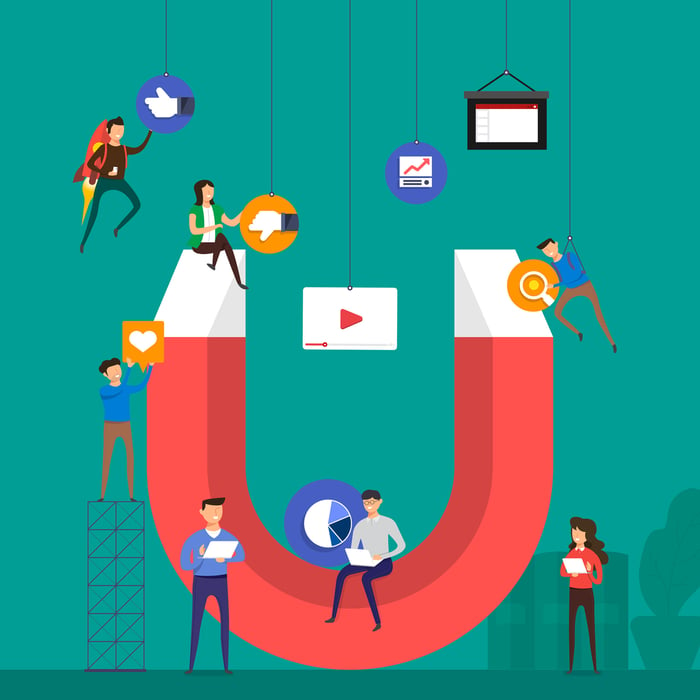 Engaging and retaining customers is one of the key principles of running a successful business in today's digital age. Given the sheer number of brands, value propositions and advertisement media served through omnichannel marketing channels, customers often have a hard time staying loyal to a single product or company. Thus, using specialized strategies to boost their customer loyalty becomes a necessity. Enter marketing automation, a strategy which revolves around scheduled lead outreach, customer loyalty nurturing and extended brand value.
According to HubSpot, marketing automation represents one of the most popular methods for creating personalized customer experiences as of 2019, and with 67% of marketing leaders currently using it; it's easy to notice its appeal. In addition, Adobe published data which showcased that 77% of CMOs advocate for marketing automation as an effective revenue growth marketing tool, with 88% of marketing experts stating that reducing the time spent on research and analytics is a valuable payoff for implementing automation in one's business.
Whether you already have a marketing strategy in place or are looking for ways to pilot your customer loyalty program, marketing automation is certainly worth a look. That being said, let's take a look at several practical ways in which marketing automation can streamline your processes and boost your customer loyalty.
1. Cart Abandonment Decrease
Indecision often leads to cart abandonment on e-commerce platforms regardless of how professional your service or affordable your products may be. However, extending your customer servicing via marketing automation and following up on abandoned carts via email can alleviate some of the frustration.
While this may be seen as an intrusive feature by some, many digital marketers use follow-up emails to remind potential customers of their abandoned carts, forgotten inquires or of new or updated product lineups available for purchase. Marketing automation and emails directed at potential customers will allow you to decrease your cart abandonment, raise the business' overall revenue and allow for more visitors to convert into leads.
Cart abandonment emails can also be retrofitted with feedback forms and surveys which can help you determine whether there is a deeper problem with your website, pricing model or customer servicing approach through the automated email marketing initiative. This will affect your customer loyalty in a positive way, showcasing that you do keep your visitors' and existing customers' satisfaction in mind whether they make a purchase or abandon their cart for whatever reason.
2. Lead Nurturing
Given how many businesses, and proportionally many customers, there are on the market, it's easy to understand the notion of businesses neglecting to nurture existing leads. After all, one-time customers have already paid for your products/services, why push for more spending?
Neglecting to nurture leads, however, can result in the opposite effect, where customers might feel abandoned once they've spent money on your brand, especially if you employ aggressive pre-purchase marketing and resort to silence after the fact. Once you've successfully converted potential leads into one-time customers, it will be time to keep them interested in your brand long-term.
Automated marketing content which can be used to reach out to existing customers via email, social media, messaging or other communication channels can effectively let customers know that you care about their wants and needs past their initial purchase. Customer loyalty can result in not only recurring purchases but also brand advocacy, social word of mouth and positive testimonial for your company.
3. Brand Loyalty Identification
We've touched on the idea of brand loyalty, but how does it benefit your company in the light of marketing automation? Customers who are satisfied with your product, services and post-purchase support will likely want to recommend your brand to their peers.
As such, these customers can be integrated into your community marketing and customer testimonials program quite easily. Social proof, as one of the most efficient marketing tools, can help sway future customers into giving your brand a shot through marketing automation and publishing of said testimonials.
In addition, dedicated localization platforms such as Pick Writers can be utilized to find a trustworthy company to translate social proof content into various languages, thus improving your marketing automation's chances at generating new leads. Customers who become your brand ambassadors will also be fully loyal to your brand and do their utmost to recommend products/services to their social circles, both online and off respectively.
4. Content Personalization
Once the proverbial ice has been broken and users become your customers, you can approach personalization from a new angle. Most importantly, the data collected from your customers in the form of their product preferences can be used to further refine the value proposition you present them with.
That way, your marketing automation efforts can be used to segment the customer base according to their profiles and thus cater to their tastes and expectations more precisely. This will have a drastic impact on your customer loyalty since every lead will feel as if you are "listening" to their wants and needs without placing every user into the same customer group.
The buyers' personas you establish via personalized content can also extend to pre-purchase marketing content published on social media, PPC, your company's blog and other communication channels. By relying on marketing automation, your content creators will have a much better idea of how to attract future and existing customers, as well as have much more time on their hands to craft more creative, appealing content as a result of automation.
5. Brand Storytelling Opportunities
Lastly, what differentiates your business from others on the market lays in your brand image and company values. Thus, you should make brand storytelling and company showcasing a part of your automated marketing initiative to better present your company to potential customers and even B2B leads.
You can use employee testimonials, departmental presentations as well as your mission statements, long-term goals and company culture as marketing materials. These will allow your customers to better identify with the people behind just your logo and product, helping them realize whether or not their lifestyles correspond with what your brand is advocating for.
This approach to brand awareness can be seen in Coca-Cola as a prime example of how company culture can be used to attract more customers and build a positive public image. Use a marketing automation platform to deliver brand storytelling content to your customers and their respect for your business will only grow as a result.
In Summary
These are only snippets of how marketing automation can help your brand in regards to boosting customer loyalty. However, marketing automation will only be as effective as the content contained within it.
Make sure to allow your content creators the freedom to represent your brand in original, creative and appealing ways without resorting to cookie-cutter, tried-and-tested content templates. Once you establish a communication channel with your users via marketing automation, the generated performance data will help you eliminate sales bottlenecks and boost customer loyalty going forward.