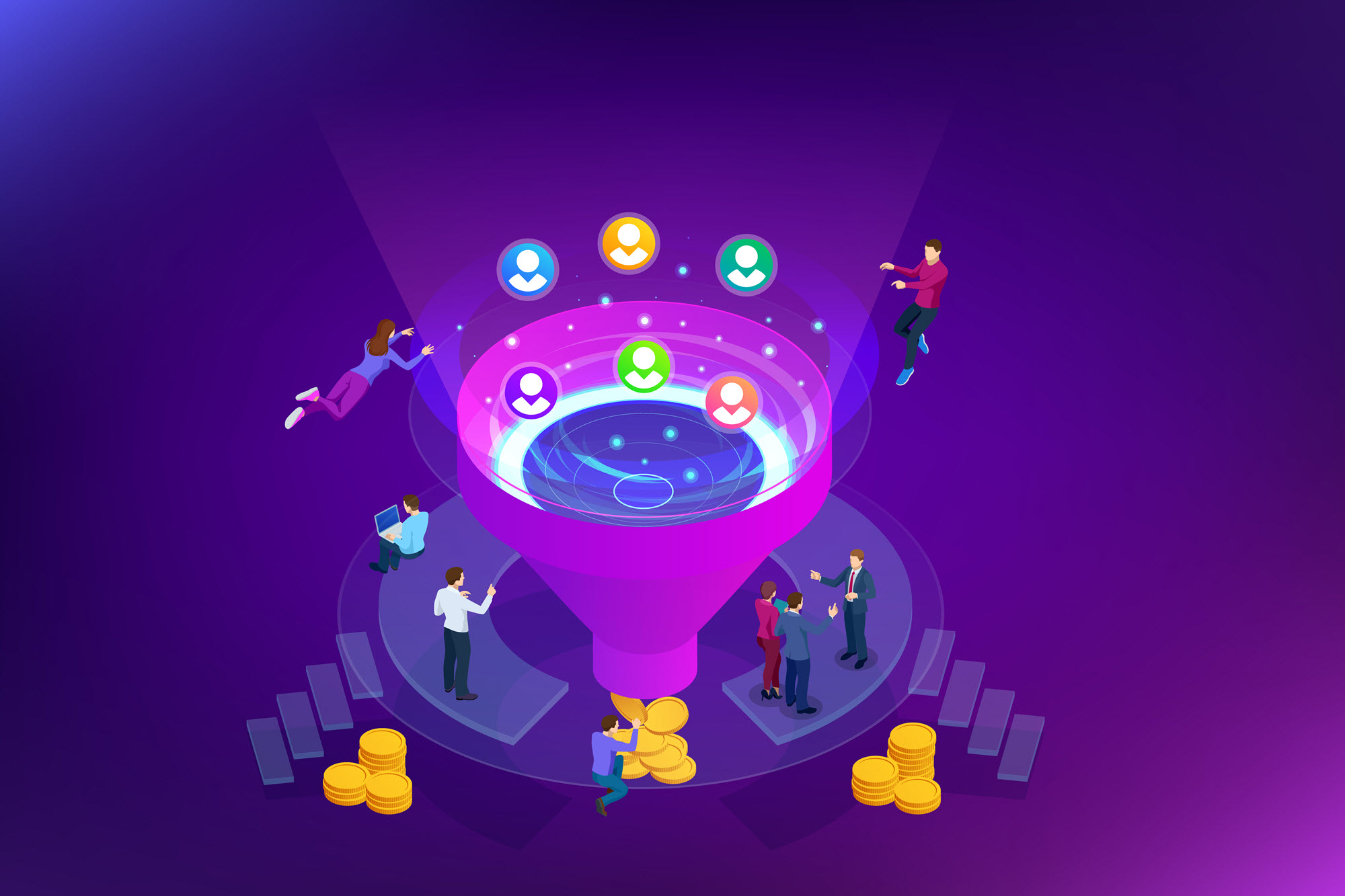 Whether you run a startup or currently existing business, you need to develop sales funnels that will be profitable. There are so many of them and easily you can make a bad decision concerning the sales funnels you decide on using.
So, how can you choose the best sales funnels for your business? Here are the seven types of online sales funnels that will work really well in 2020:
1. Lead Magnet + Email Funnel
Lead Magnet + Email Funnel is the most common method of getting more customers to make purchases. It's very effective when used correctly and mostly used for products ranging between $17 - $197, as it's challenging to sell costly upmarket products using email only.
The only tool you need to pull this off is an email marketing service provider that can be sourced online. The Lead Magnet + Email Funnel needs a landing page on your company website and a nurture sequence. Typically, the model looks like this:
Landing page > Email nurturing sequence > Customers make purchase > Upsell
Finding the perfect email marketing service provider is dependent on your personal preferences and the type of business you're running. However, remember to do research on each one on your shortlist before making a final decision.
2. Free + Shipping Sales Funnel
The Free + Shipping sales funnel model works for low-cost physical products and the offer you make is that they pay for the manufacturing and shipping costs only. When they pay for the shipping and manufacturing, you have the privilege to know that those buyers are willing to pay and not just seeking freebies.
The next step would be trying to upsell those customers to products that will be profitable to you. The Free + Shipping funnel helps you acquaint your brand to potential customers. Once it is indoctrinated to them, it will be easier for them to spend more money on you whenever you try to upsell.
3. Automated Webinar Funnel
A webinar will add a personal touch to the offer you're making because it's structured in a manner that makes you spend more than an hour with potential clients. Using an automated webinar funnel is mostly suitable for offers ranging between $297 - $1997.
When the webinar concludes, potential customers will most likely trust you more and better acquainted with you. That might lead to a great business transaction and, in that way, drive your revenue up.
However, before automating the whole process, ensure that you have a proven offer that was executed live. Begin by making live webinars and prove that you can sell that product/service being offered. Once you have found a successful method of executing a deal using webinars, follow that template and automate the process.
Provide the users with transcribed copies of your webinars and you must also plan translations for the purpose of geolocalization Use professional writer services or an assignment writing service like the UK writers to get any kind of writing job done.
4. High-End Client Sales Funnel
You need to use a different sales funnel for more high-end products or services to add that significance to the offer you're making. For example, if you have premium products available to offer, don't try to reach that audience using emails.
Instead, try calling them individually to add that personal touch on that offer. The same applies for tailor-made products or services if you would like them to really believe that they are important, get on a call with them.
The reason behind this is that people generally feel the urge to speak to a real person before they pay out hundreds or thousands of dollars. Ensure that the leads qualify before calling them to ensure that they are not a waste of time.
5. Using Challenges
When using challenges as a sales funnel, you get all parties involved and engaged in trying to beat that challenge. You can time the challenge to a couple of days and all interested parties work together to try and complete the same tasks together. Those challenges might include supporting social media campaigns to raise awareness for human rights injustice or other challenges.
Challenges can be a great way to engage the audience following you as it is exciting and adds value to the cause. That can help increase your social media following and also have a vibrant vibe around the brand you're promoting.
6. Affiliate Marketing
Affiliate marketing is a very effective sales funnel for digital entrepreneurs that work best for both parties. It initially works for the business selling the product and the affiliate marketer. The business benefits by getting more exposure and more sales closed and affiliate marketers get a certain percentage of the value of the sale.
If you would like to expand your business' reach, build an affiliate network that will have relevant affiliates promoting the brand you're managing. Offer them a percentage of the value of the sale or of the profit to encourage them to close more deals.
Encourage them to use high-quality content and maintain great website quality to get the desired results. For quality writing, you can suggest them to use paper writers who provide assignment help and paper writing service. Read through the killer papers review to know more about the writing services and what they provide in addition to thesis, dissertation and email copies.
7.Self-Liquidating Funnel (SLO)
When building a Self-Liquidating Funnel, you shouldn't have the goal of making a profit but rather aim for acquiring leads. In that way, you don't make a profit but instead, liquidate the expenses spent on marketing and advertising.
True, this approach of breaking even may seem stupid, but creating at least one front-end Self-Liquidating Funnel is highly recommended. How will it benefit your business? With a great SLO funnel, you can acquire leads for practically free of charge. When you make profits in the future, it will be totally yours and doesn't piggybank to the marketing expenses.
A typical SLO funnel will include a landing page on the business' website where the potential customers will find a really good bargain (tripwire). After the customers fall for the tripwire, you must upsell to them and market other products that you're selling at a fair price to you.
The bottom line
Online Sales Funnels are the cornerstone of digital marketing campaigns and building relevant strategies will help boost your business. Consider the pricing range before choosing any of the above sales funnels to make the strategy you use relevant.