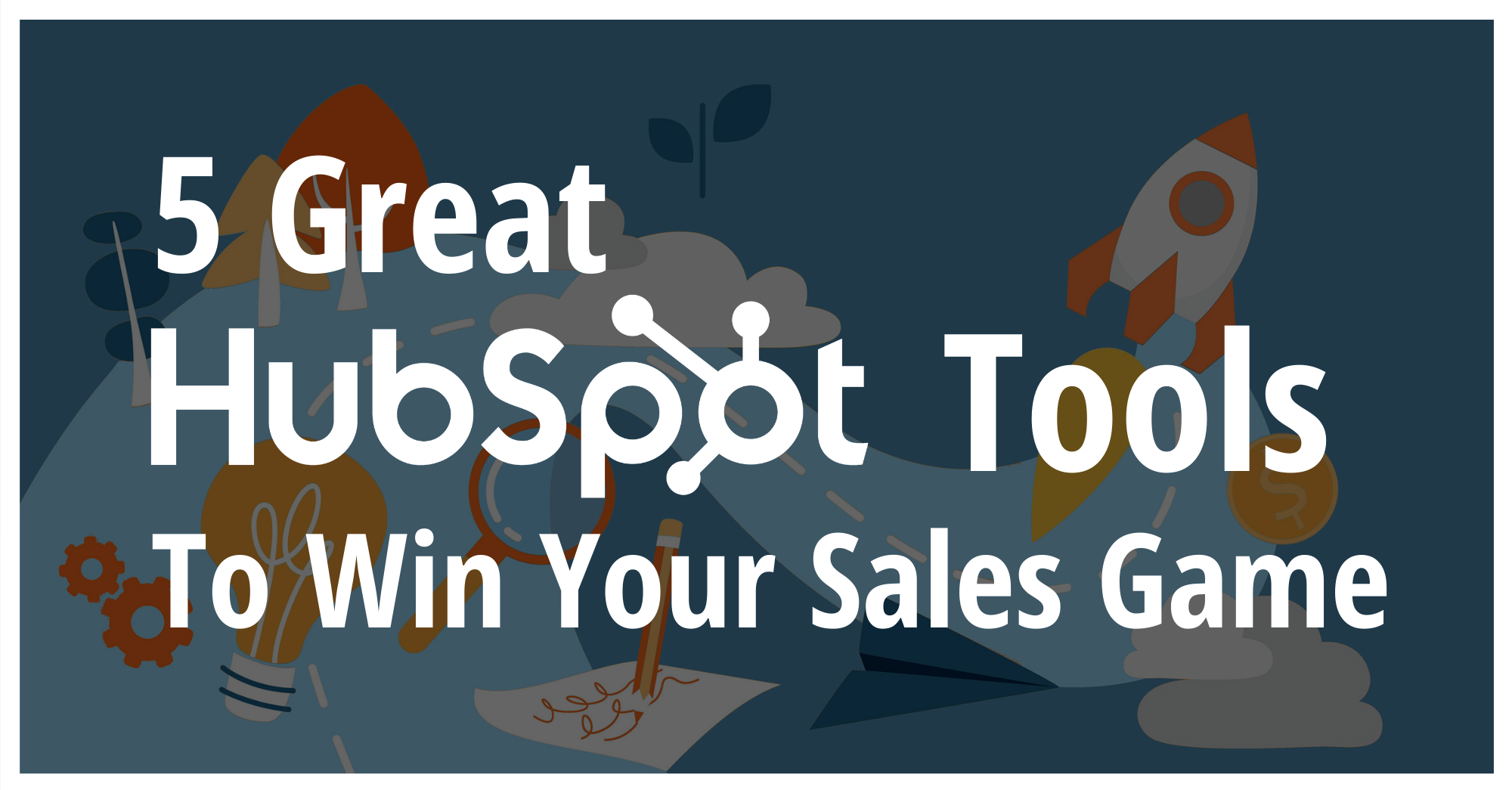 Just like the buzzword for making sales in real estate is location, location, location, the buzzword for every sales process is sell! sell!! sell!!!
If you are a sales rep or part of a sales team, and you find that you are always racing against time to meet your target, then you need to get in on some tools you can use to automate a significant part of your sales process.
Are you looking for great sales tools you can use to move one step ahead of the competition?
The truth is, whether you agree or not, the sales process is changing.
Sadly, a lot of salespeople today still use outdated and ineffective tools for sales prospecting.
You no longer have to race against time; you can save time by making use of the right sales tools.
Thankfully, Hubspot, one of the leading inbound marketing and sales software development companies in the world today, has developed some great tools you can use to automate tedious tasks in your entire sales process.
No doubt, the sales process can be a tough nut to crack, but when you're armed with the right tools, it can be easy-breezy.
Here are some great Hubspot sales tools you can use to improve and optimize your sales process.
1. Meeting Links Tool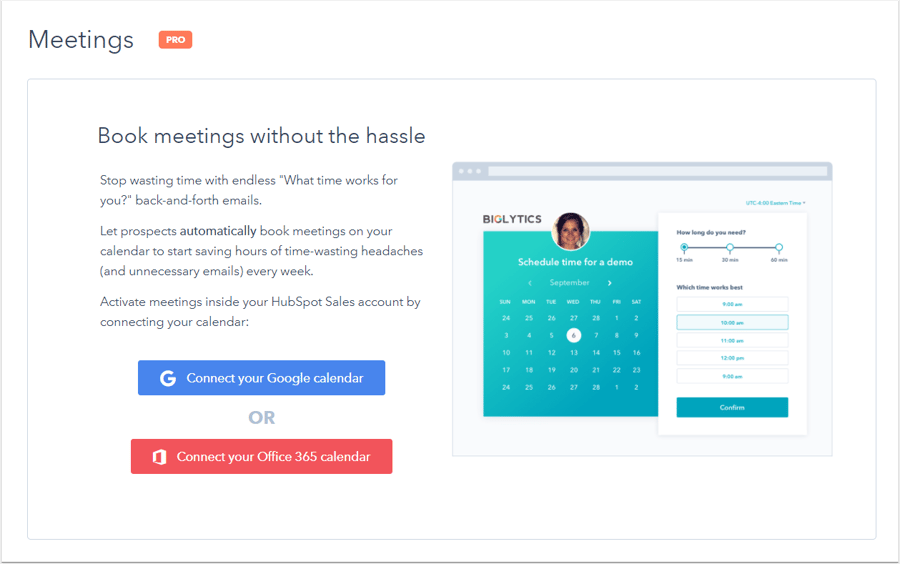 Are you tired of sending emails back and forth with a prospect just to find a suitable time to fix a meeting? Well, with Hubspot's meeting links tool, scheduling meetings just got easier.
All you need to do is connect your calendar to the meeting tool, when you do this, your calendar syncs to Hubspot.
After connecting your calendar, you can then generate meeting links and share links via email, or you can even embed the meeting links on your website. This would allow your contacts or prospects to book meetings with you easily.
One interesting thing about this tool is that if you have an event or appointment on the calendar that you connected, the synced calendar will show your prospects that you are busy on those days, and they will have to choose another day to book a meeting with you.
When anyone, whether a prospect or someone on your contact list, wants to schedule a meeting with you, and they click on your meeting link, they will be able to select the time, length, and the date of the meeting. After scheduling a meeting date, they will then be required to provide their contact information so that you can contact them.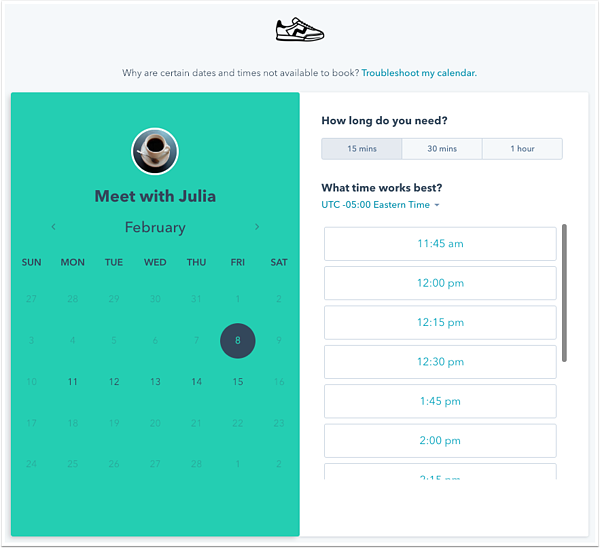 2.
Sales Revisit Notifications
You can set-up to receive notifications each time a lead revisits your website. You can do this with the Hubspot Sales Chrome Extension.
You'll get real-time notifications on every prospect that revisits or returns to your website. This would make it easier for you to reconnect with your leads. If you had earlier assigned the lead to a sales rep, the sales rep would also receive the notification when the lead revisits your company's website.
The email notification that you'll receive will contain detailed information about the potential lead who just revisited your website; the notification will also contain all the previous interactions or discussions that the lead has had with your company in the past.
You also have the option to customize and choose the leads you want to track and how you want to receive notifications when that lead revisits your website. You can manage all your lead revisit activity and sales notifications in your activity feed.
3. Track Prospects
As a salesperson, you'll agree that it is nearly impossible for you to manually keep track of all prospects and visitors to your website. However, using Hubspot's prospect tracking tool, you can, at least, monitor the traffic that comes to your site.
Hubspot's prospect tracking tool utilizes Hubspot tracking code to identify the IP addresses of all visitors that come to your website. After decoding the IP addresses, the prospects tool will then provide you with detailed information about the identity of the prospects or visitors to your website.
You'll be able to identify which prospects you should follow-up on based on their level of engagement with your website. You can also send personalized email messages in the local languages of your prospect with the help of translation services offered by The Word Point.
With the prospects tracking tool, you can manage the activity of prospects as they visit your site. You can segment prospects, hide prospects, favorite a prospect, and you can also add a prospect as a record in your company's database.
Also, with the prospecting tool, you can set up prospect notifications. You'll start receiving notifications as soon as your leads start visiting your website.
4. Hubspot Templates And Snippets
Do you desire to spend less time creating the same messages and more time focusing on the needs of your customers? This may sound like an impossible task to achieve, but it is now possible with Hubspot's templates and snippets tool.
Are you tired of creating the same emails each time to send to your customers? With Hubspot's templates tool, you can automate your email creation process. You can personalize and save emails you use on a regular basis as templates, so anytime you need to use them, just go to your library of pre-built templates and access them, you don't need to create new emails from scratch. Even better, you can see when your customers open and read your emails, and you can also see the emails that perform better than others in terms of how your customers engage with them.
Snippets, on the other hand, are similar to templates, only that they are not emails. They can be used in chat conversations, CRM records, contacts, emails, etc.
Snippets are short text blocks you can reuse whenever you need them. The short text blocks have a maximum character of about 500 words. They are short phrases you can even insert in your email. The fundamental aim of snippets is to save you time, so you don't have to type the same phrases over and over again. You can just save them and use the short command (#) to add them to an email or chat anytime you need to use them.
Even better, you can personalize content for your templates and snippets from tokens provided by Hubspot.
5.
Scan Business Cards Using the Phone App
Are you tired of carrying a pocketful of business cards that never see the light of day? Why not bring all your business cards into your Hubspot CRM. Hubspot's business card scanner is a completely free Android and iOS phone app you can use to scan and store contact information from business cards directly into Hubspot CRM.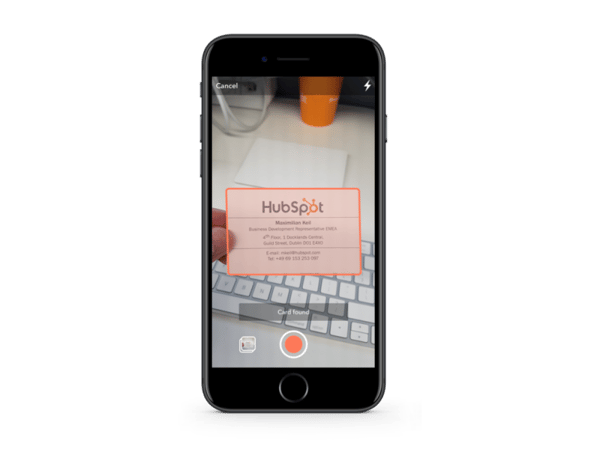 Here is how it works. Take any business card, open the business card scanner app, click on 'create contact.' As soon as you do that, Hubspot will scan and capture the information on the business card and merge it with the appropriate properties on Hubspot, thereby creating a contact from the information on the business card. Once the contact is created, you can manage the contact with all the tools available in Hubspot.
You can send tracked follow-up emails, calls, etc. Hubspot business card scanner is a creative way to transform business cards into digital contacts on your Hubspot CRM.
Final Thoughts
It is a fact that the sales process can be difficult, but here's the kicker, don't make your sales process more complicated than it is already.
There is no need for you to manually follow-up on leads with cold emails one after the other when there are handy tools that can automate the whole process of following up on leads and even notify you when they revisit your website.
The process of sales prospecting doesn't necessarily have to be stressful and overwhelming for you and your team; you can make it a smooth automated process for both your prospects and sales reps.
Start converting those promising leads into paying customers with amazing tools from Hubspot. Meet your sales target and bring in the sales.