Done correctly, you can catapult your online sales and make loads of money out of your ecommerce store.
The challenge is, running an online store involves many dynamic factors and you need to use the right strategies if you want to sell like crazy.
Although finding the perfect strategies and the best ecommerce tools can take some time and effort, we can give you a bit of a head start with this post.
In this guide, we laid out four tried and tested techniques for selling online and how they can help you skyrocket your ecommerce sales.
1. Find the right products to sell
Some online store owners begin with finding winning products, then they start developing their digital marketing framework, supply management, etc.
After all, each tool and approach you choose can change based on the products you're selling.
However, although choosing products for selling would initially require some blood, sweat, and tears -- there are ways to make this process less overwhelming.
You can go with niche products to narrow the field and focus on selling to a specific audience or items that appeal to buyers in general.
To help you drill down further on finding products to sell, here are a few things you can consider.
Look for products you're passionate about. You can turn your passion into fashion or any other products that you can sell and potentially make into the next big thing.

Determine if there is a market for the product. Selling unique products can give you opportunities for branding potential, but you'll need to check if there is a market for them first.

You can use tools such as Google Trends to check the popularity, including the seasonality, of your product idea.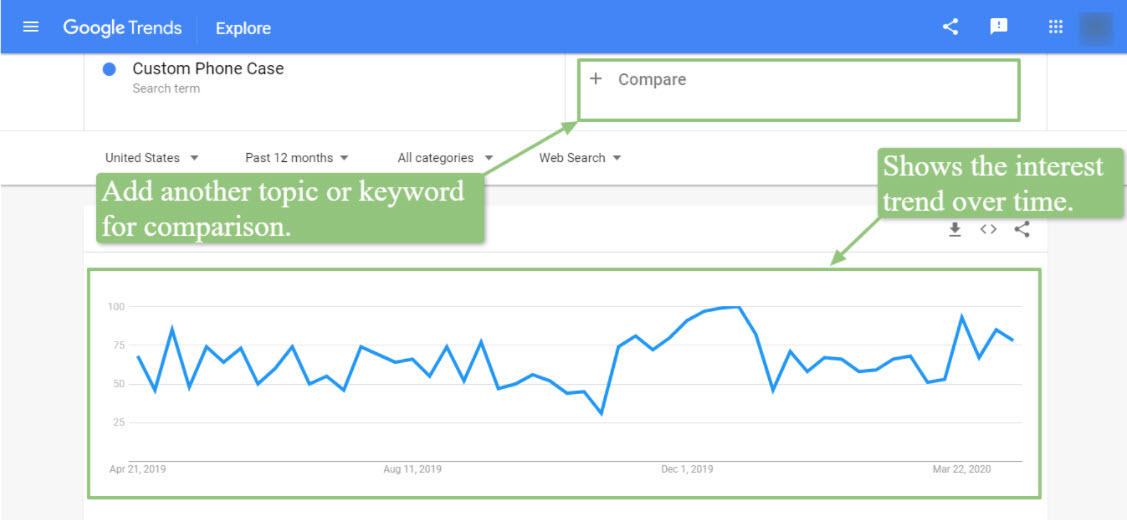 Choose products that address customer pain points. Pay attention to customer frustrations and experiences with the current commodities in the market and find products that provide solutions to those problems.
Leverage robust product management tools to help you manage everything — from product research, planning, and development to deployment.
2. Optimize your marketing strategies
An excellent way to optimize your marketing strategies is to leverage the power of automation tools and apps.
For instance, you can take your word-of-mouth marketing to the next level for your startup business through influencer marketing.
You can use tools such as Upfluence from Socialbakers to easily find influencers without needing to scour social media platforms manually.
The Upfluence database updates and indexes influencer profiles in real-time, plus, it uses AI and an algorithm to analyze each content for engagement and reach.
You can filter how you want to find influencers with advanced search options, use as many keywords as you want, and add other criteria -- including the number of followers.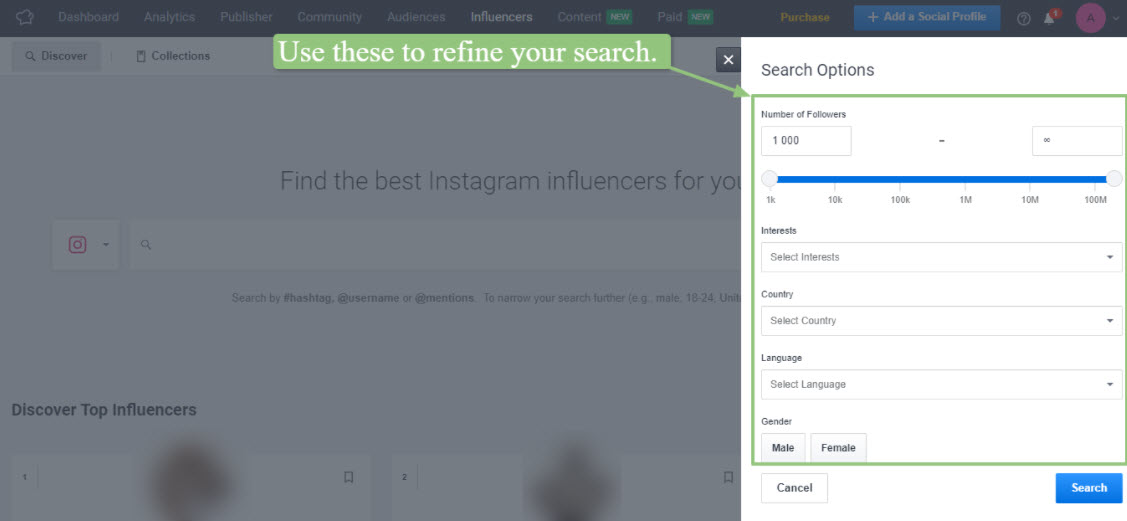 You can easily analyze influencer profiles in each social media platform — allowing you to quickly and easily find the best influencers to work with for your campaigns.
This is just one benefit of marketing automation since it includes more apps and software that can streamline your workflows, help your campaigns succeed, and, ultimately, boost your sales.
Automate where you can — from your drip email campaigns to chatbot responses using powerful customer service software.
With marketing automation tools, you can spend less time on repetitive tasks, get better data on your campaign performance, and stay on top of your efforts.
3. Compel your audiences with your copy
If you want more of your target audiences to convert into buyers, you'll need to do more than create attention-grabbing content.
Although it's vital to provide relevant content, creating a sense of urgency can help nudge prospects to your Buy Now buttons.
Reach into your potential customers' FOMO or Fear of Missing Out by offering them time-sensitive promotions, seasonal sales, or limited-edition products.
Marketing automation platform MailChimp, for instance, lets you create and customize automated emails that you can use to send your promotional offers to your leads and customers.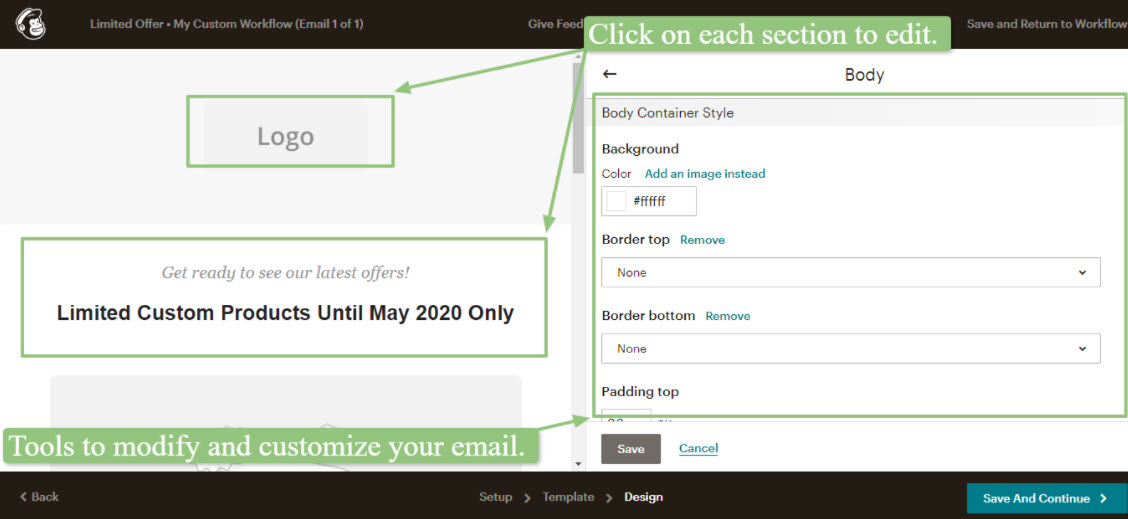 You can use keywords in your email marketing copy that evoke a sense of urgency, including phrases like Save today, Don't miss this, Get it now before, and more.
Presenting your products as something that your target audience will miss out on can help compel them into acting on your offer and increase your sales.
If you have a bit more room in your budget, work with a professional content marketing agency to nail your copy and get compelling content that drives conversions and sales.
4. Be consistent in your messaging
When it comes to finding ways to increase your brand awareness, one of the best techniques to start with is by being consistent with your messaging.
Why?
Because brand awareness is primarily about getting your target audiences to trust your ecommerce business.
Think of it this way.
The more consistent your branding is, the more your prospects get to know you — which can build their trust in your products and buy them.
Plus, it takes time and repetition to make your potential customers trust your brand.
If your messaging is inconsistent, they can easily forget you, and your brand can get lost in a sea of other businesses in your industry.
To help you establish consistency in your messaging, begin with defining your brand personality.
Although defining your brand personality can be an intensive process, start by answering these questions.
What makes your products unique? Think about your value proposition and what you offer that your competitors don't, such as offering affordable pricing and package deals for customers who want to get content with links.

Who are your target customers? Defining your ideal buyers will help you establish the kind of personality that will appeal to your audiences through your campaigns and products.

What are the core values of your business? It's crucial to establish what matters most to you and your consumers to help develop consistency in your branding and messaging.
Defining your brand personality allows you to assess how clever, casual, edgy, formal, humorous, and more you should be in your copy -- which helps you be consistent with your tone and messaging.
Also, consistency in your content can help people remember you better and trust you more -- increasing your brand awareness and sales opportunities.
Final thoughts
Selling online comes with its own set of challenges, but with the right attitude, approach, and the help of the right tools, achieving success isn't impossible.
The tips mentioned here are just some of the few you can use to bolster your efforts and run your ecommerce store.