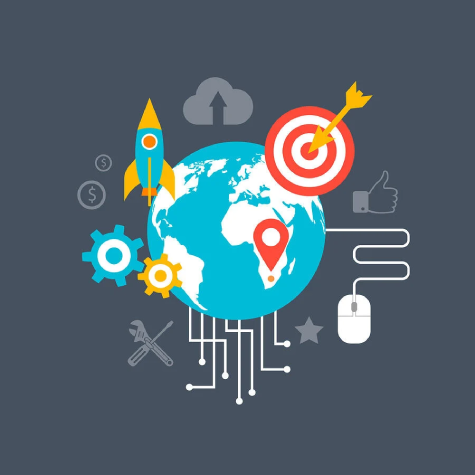 Digital marketers today have a tough task of promoting a business or a brand. In almost every niche and industry, the competition is strong. Everyone's fighting for their piece of the cake, and there's no room for hesitation or letting your guard down. One of the most important things is crafting a successful digital strategy. The best way to do this is to analyze your competitors and go from there.
Luckily, there are tools and apps that can help you learn about your competitors and their best moves. All you have to do is learn about those tools and start using them in your digital marketing strategy. We've put together a list of tools and tips to help you analyze the competition and quickly put together a strategy.
Let's break it down together.
1.
Monitoring Top Content
Content creation is a big part of your digital marketing strategy. Monitoring your competition is essential for learning about the best-performing topics and keywords.
To put it simply, you have to analyze what your competitors are writing about and which topics are performing the best.
You can use a tool such as Buzz Sumo or Social Animals. These tools can help you:
identify the best keywords
find trending topics
analyze the content published by your competitors
get a notification when something important happens
Tools such as these allow you to get instant insight into what your competitors are doing. You get the data necessary for understanding what's currently happening within the target niche.
You can learn about viral content in less than a minute.
With this valuable information, you know what to build your content around.
2.
Analyzing Social Media

Every digital marketer knows how important your social media strategy is. Staying current and growing your target audience is the key to consistent business improvement.
To set up a digital strategy, you have to analyze your competitors on social media.
You can use a social media analysis tool such as Sprout Social and get the necessary data for setting up a digital strategy quickly.
This tool enables you to learn about different aspects of your competitors' social media success:
compare your profile with your competitors' profiles
listen to what consumers and customers are saying about the competition
learn about your competitors' most used hashtag
learn how many likes, shares, or comment do they have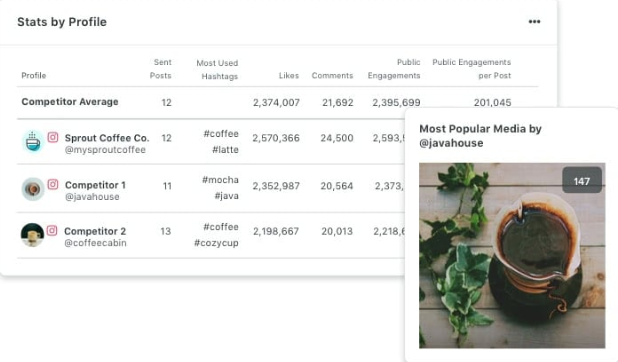 source: Sprout Social
With direct insight into the data you need, you'll be able to create a better digital marketing strategy.
Monitor and analyze Facebook, Instagram, Twitter and other social media of your competitors and use as much data as you can.
3.
Monitoring Mentions
Another way to keep a close eye on your competition is to monitor their mentions. Google Alerts is a free of charge, simple, and efficient tool that can help you do that.
All you have to do is:
create alerts for your competitors
receive information via email
use the information to monitor them
You'll know who their audience is, what are their main goals, and where are they most active online.
You can also use Social Mention, another mentions monitoring tool. It can:
enter a search term (keyword or company name)
see how often they get mentioned, and where
learn what others are saying about it
You'll be able to keep a close eye on your competitors and watch out for every move that they make.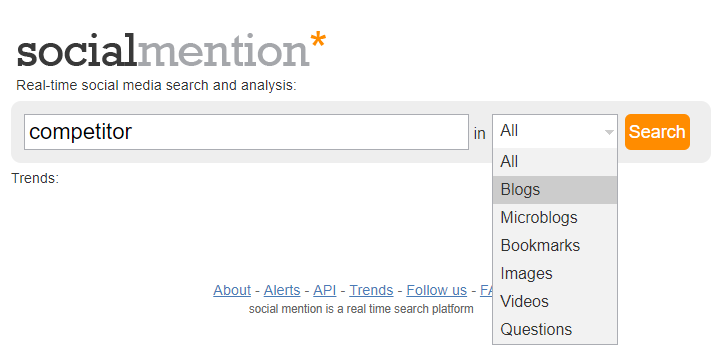 source: Social Mention
4.
Nailing Keywords
It's important that your content hits all the right buttons with your audience. And, if your competitors have better keywords than you, you'll never outrank them.
This is why it's crucial that you learn about the keywords, ranks, and traffic sources of your competitors.
One of the best tools to help you with this is SEMrush. It gives you instant insight into:
competitors' most used keywords
keyword volume
keyword traffic
number of Google results for each keyword
"SEMrush is super helpful and easy to use. All you have to do is enter your competitors' web address and get the full analysis you need" says Jonah Pearson, a digital marketing specialist at Studicus.
Keywords are crucial for improving SEO, so make sure you get this covered.
5.
Gathering Traffic Insight
Spying on your competition implies learning about each of their moves and using it in your digital strategy. Similar Web is among the tools you need to get the widest picture of what your competitors are doing.
This tool allows you to enter your competitors' website and lets you know about:
global, country, and category rank
number of visitors in the last 6 months
average visit duration
In less than a minute, you can learn so much about your leading competitors. You can even compare multiple competitor websites with your own and find out who's leading in which segment.
This way, you'll know what to focus on and how to set up your digital strategy.
Let's Rewind
Analyzing your competition is an important task. Make sure you follow the steps we've listed:
identify viral content
analyze social media presence
listen to what others are saying on the web
use the right keywords
learn about traffic sources
Finally, make sure you produce professionally written content. If you need help, use tools or services such as Trust My Paper, Grammarly or Grab My Essay.
Final Thoughts
Before you make any decisions regarding your digital strategy, you have to learn about your competitors. It's essential that you analyze their online presence, strategies, and marketing efforts. Then you'll know what to do.
The tools above can help you analyze your competitors in less than 40 minutes. Make sure you use them to gather valuable information. Then use that information to create the best digital strategy for your business or brand.